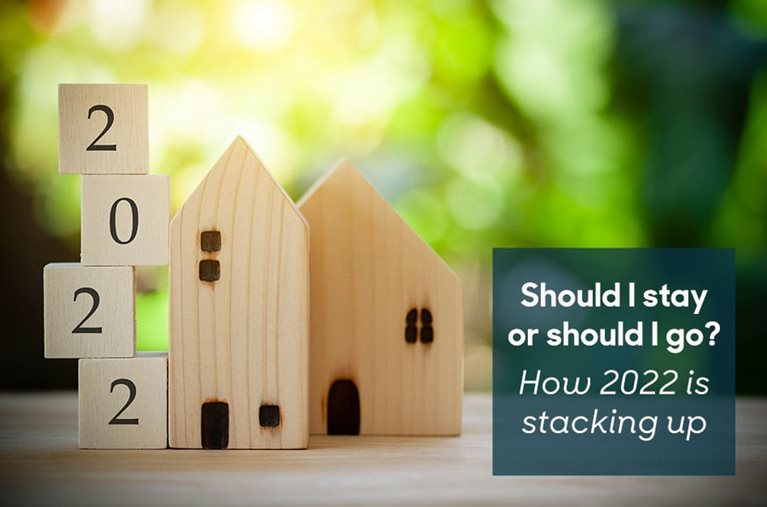 Housing Market Trends 2022: To Buy or To Sell? That Is the Question. We've Got Answers
Should I buy a house now or should I sell my house now? This seems to be a common question surrounding the 2022 housing market talk these days. And it makes total sense. After the almost unprecedented white-hot market we experienced in 2020 and 2021, many people are now wondering not if but when the housing bubble will burst — if there's a bubble at all — and if now is the right time to buy, sell, or sit tight.
Real estate and mortgage experts are already learning that 2022 is a tricky year when it comes to predictions for the housing market, as things just keep changing. For example, Zillow released its 2022-2023 annual home value and sales market forecast in March, only to release an updated report in April, and then another in May.
Similarly, by the end of the first quarter, the U.S. already surpassed the year-end interest rate projections made by top mortgage loan companies (and by several points), and we're experiencing inflation levels not seen in over 40 years. Add to that continuing supply chain issues, the ongoing up-and-down nature of the COVID-19 virus, and a forecasted recession, and it's easy to see why 2022 is such a wildcard of a year.
While we don't have a crystal ball (that would be cool, though, wouldn't it?), we can shed a little light on the pros and cons of buying a home, selling a home, or even renting out your home in 2022. We'll cover everything from the housing bubble to inflation to interest rates and point out good rules of thumb to help you decide if now's the time for you to jump into the housing market.
Housing market predictions for 2022
First things first, let's take a quick look at the housing market trends we're already seeing this year and what the experts are predicting for the rest of 2022. We'll go over these in more detail later and talk about the pros and cons of each when it comes to buying or selling a house.
Home price growth will eventually decrease
Home value growth will eventually decrease
Interest rates will continue to rise
The inflation rate will continue to rise
Some level of economic recession is inevitable
Should I sell my house now?
Experts may be predicting a dip in home prices from where they are today, but, so far, we've yet to see this happen on a large scale. According to Redfin, in April, both the median asking price for new homes on the market and the median home sale price rose 16% and 17%, respectively, signaling it is indeed still a seller's market. However, Redfin also reported that 15% of existing home sales dropped their asking price during the same period, compared to 9% from the previous year.
One takeaway is that the white-hot seller's market we've become accustomed to is causing sellers to jump into the market with high asking prices — and those prices aren't being met with the expected buyer competition. In other words, if you're considering selling your home now, one pro is that you'll likely be able to cash in on a healthy asking price, but don't expect the same bidding war frenzy from buyers that sellers experienced in 2020 and 2021.
Homeowners teetering between selling or staying put should also consider that experts are predicting a slowdown in the market in the coming years. For example, Zillow anticipates a 6.4% decrease in expected home sales, compared to 2021. Additionally, mortgage loan giant Fannie Mae also readjusted its 2022-2023 forecast and is now predicting home sales will fall 7.4% in 2022 (from an earlier prediction of 4.1%) and 9.7% in 2023 (from an earlier prediction of 2.7%).
So what's the con to selling your house right now? Interest rates and inflation are slated to rise throughout 2022, with a possible recession taking hold in 2023. If you've got a good mortgage rate, outright own your home, or are already working with tight finances, you may want to stick with what you've got for now. Plus, you may want to consider renting out your home instead of selling. With fewer buyers expected to come to market in 2022, it may mean a boost in the rental world.
Should I buy a house now, or is it a good idea to wait to buy a house?
Looking to buy? The aggressive seller's markets of 2020 and 2021 have effectively priced out many potential buyers, reducing the competition and providing tempting bait for potential 2022 homebuyers looking to jump in. And it's true; the declining bidding wars and gradual lowering (and predicted overall decrease) of home prices may be just what some buyers need to get their offers accepted.
However, the flipside is that these potential lower prices and a less competitive market will be balanced out by increased interest rates, inflation, and a yet-to-be-determined-level recession. Don't get us wrong; finding a great deal on the sticker price of a house is worthy of a celebration, but the math may not work in your favor, especially once you take into consideration a rise in cost of living, larger interest payments, and a struggling economy.
Higher Interest Rates and the 2022 Housing Market
Interest rates are already rising faster than even mortgage lenders have predicted. In 2021, 30-year mortgage rates averaged around 2.96%. Last year, Fannie May predicted a rise to an average rate of 3.3% by the end of 2022. But by the end of the first quarter of this year? Mortgage rates had already tipped over 5.5%.
So will rising interest rates slow the housing market? It's very probable. Rising interest rates create a barrier of entry for many potential homebuyers, meaning fewer homebuyers will enter the market. Fewer buyers reduces the demand and lessens the competition, usually cooling off the housing market. Higher interest rates not only shrink the pool of eligible home loan candidates, but they also increase the overall debt amount for homebuyers, giving them less flexibility in their purchasing budget.
The recent spike in interest rates has been brought on by the Federal Reserve attempting to counteract inflation. Currently, inflation rates are rising faster than they have since 1981. Between March 2021 and March 2022 the consumer price index rose a whopping 8.5%. Both interest rates and the inflation rate are forecasted to level off somewhat toward the end of the year, but nothing is guaranteed. Most experts agree that a recession of some sort is inevitable.
Do Housing Prices Go Down in a Recession?
Historically, home prices have dropped during a recession. Financial hardships brought on by the recession force many homeowners to sell their homes, and buyers can often find good deals.
Shopping for a home during a recession can yield good deals, though potential buyers should be cautioned against purchasing a home — great deal or not — that they cannot afford. Be honest about your financial situation and keep an eye on the market and economy as a whole when deciding whether or not to buy a home.
What to do if you've decided to move
As unpredictable as the 2022 housing market may seem, you can always rely on PODS to have your back. Decided to sell your home? Congratulations! Our portable storage containers can help you get an edge on the competition by providing easy and convenient storage options while you stage your home (or longer, if needed). Buying a home? Congratulations! PODS containers are a great choice for moving, and they're perfect for storing materials on site during renovations.
Whether you're coming or going, PODS can help you get your belongings where they need to be, safely and on your schedule, with easy container delivery and pickup service.
---
Alex Keight is a writer who has lived — and moved — all over the country and the world. She is an expert at packing, whether it's for a long-distance move or a short weekend trip. When she's not writing or on the move, Alex spends her time giving her cat booty pats, cooking up dishes in the kitchen, and buying way more books than she knows she'll ever actually get to reading.
Get a Quote
Choose the service you need
Comments
Leave a Comment
Your email address will not be published. Required fields are marked *