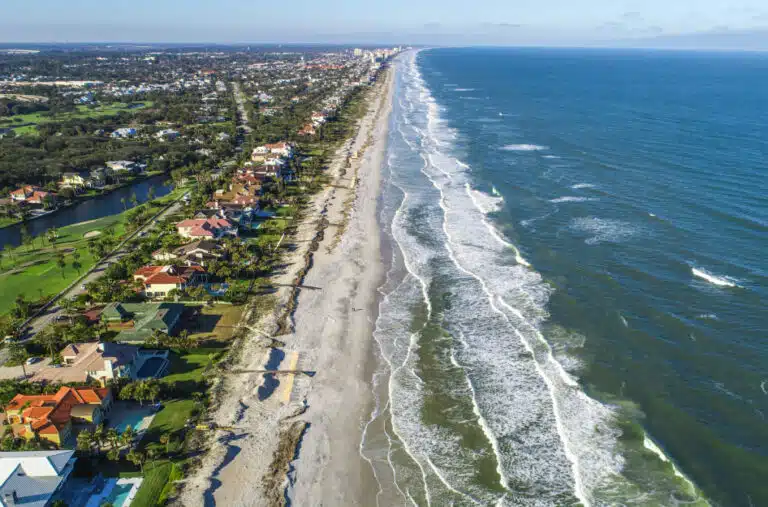 Moving to Jacksonville, Florida, in 2023? Here are the 10 Best Jacksonville Neighborhoods
Thinking about starting the next chapter of your life in Jacksonville? With its low cost of living, year-round sunshine, and exploding job market, Florida's "River City" is attracting more than its share of newcomers in search of the best Jacksonville neighborhoods.

Fortunately, whether you're into a condo on white-sand beaches with the roar of the surf in earshot, a comfortable single-family home in a kid-friendly subdivision, or an apartment off an urban main street stacked with shops and eateries, you'll find it here in Jacksonville.
In fact, if you're moving to Jacksonville, you'll want to know that it's the largest city in land area in the contiguous United States, so there are dozens of neighborhoods you can call home. Each offers its own style of charm, personality, and level of sophistication — along with its own set of urban- or suburban-, rural- or city-loving residents. But this is about you. What do you want in a home?
Before you start house-hunting, think about the types of activities and amenities that make the most sense for you and your family. How close to shopping and schools do you need to be? How long of a commute would you prefer? What type of home is your ideal setting?
Now that you've got a good picture in your mind of what you're looking for, you're ready to start your research. But like we said, Jax is spread out. To help get you started, we've put together a selection of some of the best, most popular, and well-known sections of Jacksonville.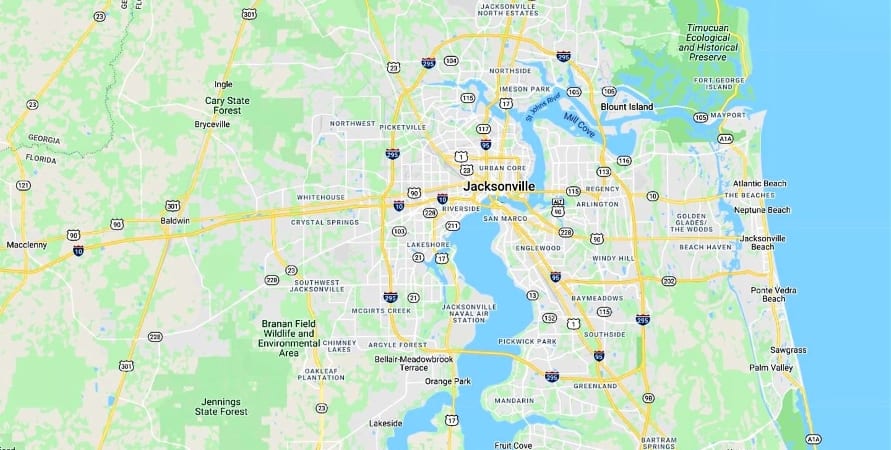 Q: Is moving to Jacksonville a good idea?
A: Opportunities abound in Jacksonville, making moving here a great idea to consider. With companies like JPMorgan Chase present and the Naval Air Station close by, there are plenty of jobs to be found. If you're in the hospitality industry, there's something there for you, as well. The city's average salary is $67,000 per year, not to mention the average cost-of-living is below the nation's average. And whether you're a young professional or a retiree, there's also plenty to do. Art walks, a thriving restaurant scene, the ocean, and plenty of parks are what await you in this city. Sounds pretty great, huh?
Guide to the best Jacksonville neighborhoods
Whether your style is urban, beachy, or suburban, you can quickly find some great neighborhoods to check out when you're looking for the best places to live in Jacksonville.
Urban living close to downtown Jacksonville
Love walking to dining and coffee shops and taking in the big city lights? These are the top places to add to your list.
1. Avondale
With its hip population and trendy bars and restaurants, Avondale is known for million-dollar colonial revival riverfront mansions and upscale apartment buildings. A housing revitalization boom is also evident in many sections, like Springfield, where getting down and dirty with a home renovation project and making the area vibrant, safe, and beautiful have gone mainstream.
Avondale is also filled with vintage flavor and character-rich local merchants and residents. From up-and-coming bohemians to established families, Avondale may suit the upscale hipster who likes hitting up a craft brewery after their work is done for the day, heading to the farmer's market for organic veggies on Saturday, or listening to live music on an outdoor eatery's patio.
2. Riverside
If wide tree-lined streets, large villa-style Mediterranean revival gems, and brownstones with 20th-century craftsman architecture are your jam, Riverside may be for you. The St. Johns River winds its way through this section of the city, filled with neighborhood boutiques and restaurants, coffee shops, and ice cream parlors. Walking is a way of life, and there's no shortage of activities, like popping into museums and gardens, antiquing, and bicycling across one of River City's many bridges.
3. San Marco
Just south of downtown Jax, you'll find another artsy abode, modeled after the Piazza San Marco in Venice, Italy. The Y-shaped shopping district is filled with the urban energy of mom-and-pop shops. Stroll along San Marco's quaint tree-lined streets, where you'll also find many of Jacksonville's historic homes. From fine dining and charming galleries to bookstores and bars, there's something for every urbanite to love in this cobblestoned section of the city.
Florida-Style Living in East Jacksonville and The Beaches
(Source: JaxParks via Facebook)
4. Arlington
In the eastern section of the city, suburbia mixes with urban development, offering old-fashioned charm and Florida-style living. Bordering the southside with bridges connecting to the beaches, Arlington is one of Jacksonville's oldest settled areas, with its roots dating to Europeans who arrived in the 1500s. You'll be pleasantly surprised to find Fort Caroline National Memorial and Park, Tree Hill Nature Center, and the Jacksonville Arboretum and Botanical Gardens here — some of Jacksonville's best things to do.
You'll also find retirees, families with children, and young professionals in and about Arlington neighborhoods like Fort Caroline and Regency. There's plenty of mid-century modern architecture amid quiet, oak-lined streets. And Arlington is best known for its Regency area business development, nearby restaurants, and shopping.
5. The Beaches
*Based on available typical home values for each of the four beaches on Zillow.com
Want to feel the salty ocean spray and watch the dolphins swim? Across the ditch, as the locals say, are Mayport, Atlantic Beach, Neptune Beach, and Jacksonville Beach — collectively known as "The Beaches." Living the "salt life" can be sweet, and everyone from seniors in beachfront condos and second homes to families with young kids enjoys the outdoor life at the beach. And we're not just talking vacation time; Jax beaches rank among the best neighborhoods in Jacksonville, Florida.
Let's take a look at the area's beaches in this video:
Living along the Atlantic Ocean is a top priority for many of Jacksonville's residents, who believe sand, surf, and riding your beach cruiser is a way of life. Naval Station Mayport is home to sailors and their families, with the adjacent Kathryn Abbey Hanna Park offering an ocean-front campground, miles of hiking and bike trails, and a premier fishing lake.
Atlantic Beach, Neptune Beach, and Jacksonville Beach all boast an eclectic array of restaurants, ice cream shops, coffee cafes, boutiques, and businesses of every ilk. The area also offers good schools, friendly people, nightlife, and lots of outdoor activities like year-round fishing, swimming, surfing, paddleboarding, and biking. And retail therapy abounds: Residents shop local and support artisans at green markets and art walks. Local tip: Beaches people don't drive over the ditch (the Intracoastal Waterway) unless they have to.
Q: What are the pros and cons of living in Jacksonville, FL?
A: The biggest pro of living in Jacksonville is easy access to big-city living with a small-town feeling. There are plenty of neighborhoods to choose from and plenty of things to do in each one. Whether you have a family or you're looking for a vibrant nightlife (or both!), Jacksonville has something to offer everyone. You're also close to the Atlantic coast, meaning unlimited chances for sunrise vistas and photo ops.
No city is without its cons, though. If you're used to living in a walkable city, you're in for a big change. You'll need a car to travel most places, and traffic can be hectic (especially during the morning and afternoon rushes).
Family-friendly Jacksonville neighborhoods and suburbs
If you're looking for more residential and family-oriented surroundings — and don't mind driving a bit to get into the city — there are many neighborhoods and suburbs to choose from, and some are considered among the best neighborhoods in Jacksonville, FL. Here are a few of our favorites.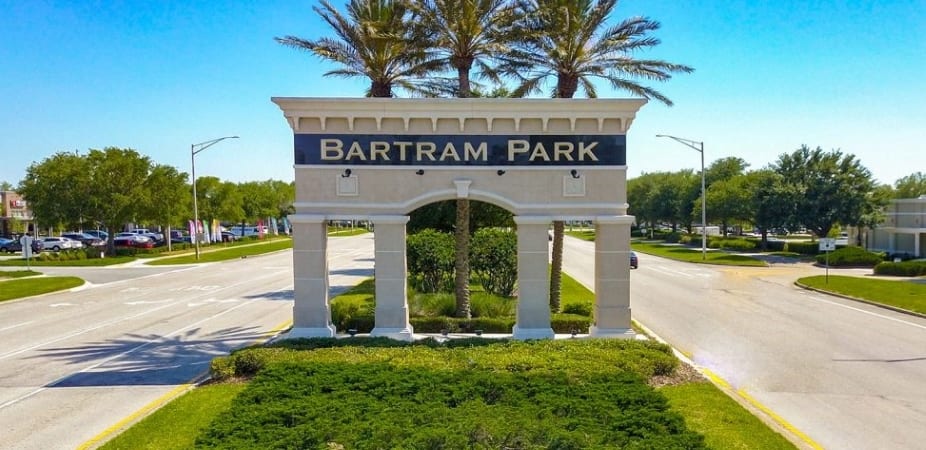 6. Bartram Park
One of many of Jax's up-and-coming areas, Bartram Park, with a prime location right off of Interstate 95, is a hop, skip, and quick commute from downtown or the beaches. Filled with families who flock to this southside haven for the good schools, a nature preserve, and neighborhoods of wide sidewalks and abundant bike lanes, there are many housing options to be found here — and tons of brand new construction.
7. Mandarin
This established southside neighborhood is named for the mandarin oranges shipped from Jacksonville's river port in the 1800s. Known for its good schools and large oak trees dripping in Spanish moss, Mandarin has a family-friendly residential reputation. This neighborhood sports good parks, stunning views along the river, a convenient commute to downtown and the beaches, and loads of local shopping.
You'll find rentals hard to come by here, as only five percent of households are renter-occupied, according to Zumper. Whether you're a retiree or a family with kids, you'll quickly see why Mandarin is considered one of the best places to live in Jacksonville.
8. Julington Creek
With its many master-planned communities and boating-friendly features, Julington Creek is another southside favorite known for its sparse urban feel. About 20 minutes from downtown, Julington Creek has excellent schools and is popular among families and young professionals. There are miles of biking trails, along with plentiful golf and shopping opportunities. Something to note: Tucked tightly along the creek, many of the area's subdivisions have small lots, and traffic can be quite congested.
9. Northside
Looking to spend more time in nature and have space to spread out? The northside provides spectacular views, an "old-Florida" feel, and some of the city's most outdoor-oriented living. This former industrial area has taken Jax by storm with an explosion of residential subdivisions and single-family riverfront homes. You can also find plenty of single-family houses and apartments to rent.
Living in neighborhoods like Oceanway or Yellow Bluff, you're minutes from downtown — but the quiet northside feels sublimely relaxed and rural. Home to the Timucuan Ecological and Historical Preserve, Jacksonville Zoo, and Huguenot Memorial Park, the area includes an expanse of coastal wetlands for wildlife-spotting, kayaking, and birding. New neighborhoods have been popping up for the past two decades, and new home builders and first-time home buyers can still find good deals here. One drawback? The northside may, unfortunately, include some areas of higher crime.
10. Orange Park, FL
Less than an hour southwest of downtown just off Interstate 295, Orange Park has a dense suburban feel with good shopping and plenty of conveniences. This is a popular suburb for military families moving to Jacksonville, as it's just a bit south of the gates of the Naval Air Station, where more than 10,500 active duty sailors work and 34,000 military families call home.
On the east side of Orange Park, the pricing is much more elevated, as that's where you'll find riverfront mansions and Tudor-style homes along the majestic St. Johns River.
Once you've explored the many neighborhoods of Jacksonville, you may find it hard to decide on the right one for you if you're moving here. We think that's a pretty good problem to have. Besides, no matter which Jacksonville neighborhood you choose, you can look forward to year-round sunshine and outdoor life, beautiful views, and friendly southern hospitality throughout all of the city. For more info tips on moving to Florida, visit the PODS Blog.
---
Jennifer Nelson lives and plays in "The Beaches" neighborhood of Jacksonville. She also writes for Realtor.com, Houselogic, and HGTV when she's not riding her beach cruiser.
Get a Quote
Choose the service you need
Comments
Leave a Comment
Your email address will not be published. Required fields are marked *