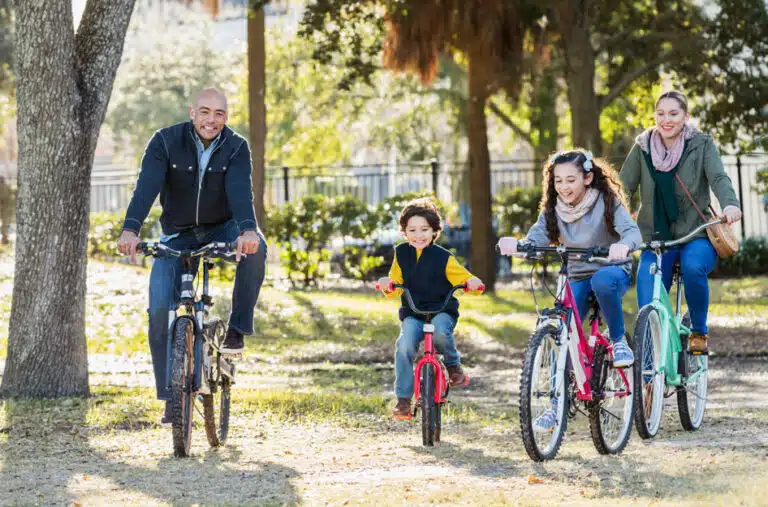 Making a Move to Northeast Florida? Here's a Look at the Safest Neighborhoods in Jacksonville, FL
Just about 30 miles from the Georgia border, Jacksonville, Florida, feels a little bit like it's part of both states: The city's got a Southern vibe you don't necessarily find except in pockets of rural Florida — but it also sports a cultural flair found mainly in larger cities, along with miles and miles of beautiful beaches. If you're considering joining the mix with a move to Jax, you likely have a few questions: What are the safest neighborhoods in Jacksonville, FL? What's the best part of town for raising kids? Where do young professionals live?

Planning a move to Jacksonville? Start by getting a quote from PODS.

We'll get to all that. But first, let's take a quick tour of some Jax facts:
Today, the metro population is just over 1.3 million, and it's been on the rise every year since 2019.
The cost of living in Jacksonville is 6% lower than the Florida average, thanks to crazy-high increases in recent years in South Florida and Tampa Bay, and 6% lower than the U.S. average. Factoring into those figures are things like housing (9% lower than the rest of Florida, 6% lower than the U.S.) and healthcare (14% and 18% lower). Interestingly, utilities in Jacksonville are 4% higher than the Florida average and 5% higher than the U.S. average.
Jacksonville residents average 36 years old compared to the rest of Florida, where 42 is the average age. In the U.S., 39 is the average.
Jacksonville is the largest city in the continental U.S. by land mass, has more shoreline than any other U.S. city, and boasts a park system that's the biggest in the nation. The city covers 747 square miles of Northeast Florida with 22 miles stretching along the beachfront and 1,100 miles of navigable rivers and creeks. Jax parks comprise 80,000 acres: seven state parks, two national parks, 400 city parks and gardens, a national preserve, and more. (And did we mention the beaches?)
Did you know? Duval County and Jacksonville are essentially synonymous, since Jacksonville's city limits encompass the entire county.
The arts and dining scenes are growing. Museums and galleries showcase local artists and national touring exhibitions in some of the best neighborhoods in Jacksonville, FL. MOCA Jacksonville, for instance, is home to six galleries, including a permanent collection of 1,000 contemporary works. Foodies are finding heaven in Jax, where innovative chefs are gaining a nationwide reputation for places like Silkie's Chicken and Champagne Bar, TacoLu, and Orsay.
Map of Jacksonville, FL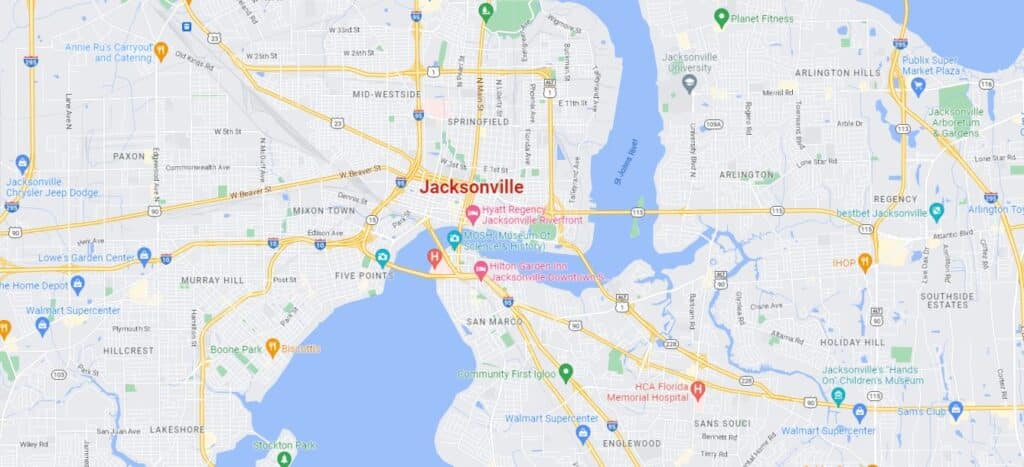 (Source: Google Maps)
Is Jacksonville, Florida, a safe place to live?
While Jacksonville covers a massive area and plenty of neighborhoods are quite safe, crime rates in the city are above average — mainly in the category of property crime. Jax scores an 8 on the NeighborhoodScout index, which means it's safer than only 8% of cities in the U.S. Chances of being a victim of a crime in Jax are 1 in 146, versus 1 in 255 overall in the state of Florida. For comparison, here are a few other Florida cities' NeighborhoodScout crime scores:
Naples: 32
Tampa: 20
Miami: 8
Tallahassee: 6
Orlando: 4
No matter where you live or travel, of course, you should always use common sense safety measures.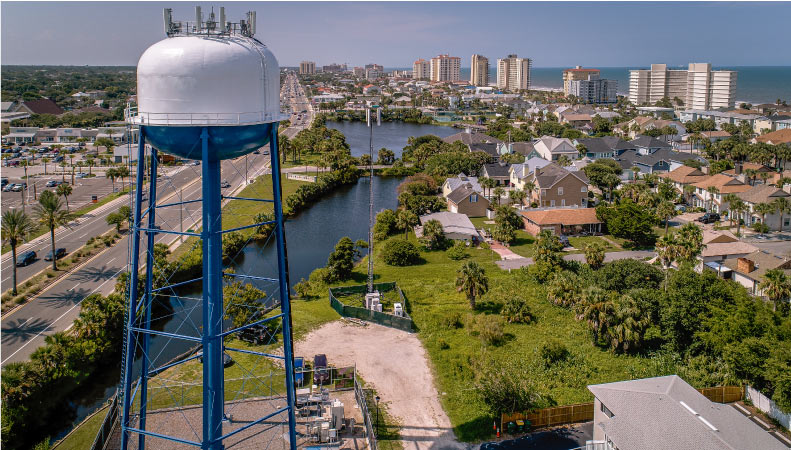 Jacksonville Beach neighborhood
What is the best area of Jacksonville, FL, to live in?
This is subjective, of course, depending on affordability, whether you have kids, what kind of neighborhood you prefer, and many other factors. That said, who can resist the Jacksonville lifestyle — with the opportunity to walk along miles of sugar-soft sands and swim in the deep blue Atlantic? The beaches are within easy reach from downtown (about a 20-minute drive), and even the far-flung 'burbs aren't too bad of a commute. Here are our three fave neighborhoods:
Jacksonville Beach
Its boardwalk dance pavilions and amusement parks may be bygone treasures, but today's Jax Beach has newfound charms: a fishing pier, plenty of hotels and inns for every budget, and restaurant options from barefoot-beachy dives to fine dining. Must-see: Casa Marina Hotel, the historic heart of the bustling beach scene since 1925 and an elegant destination for Sunday brunch — not to mention a marvelous place to stay any day of the week.
Neptune Beach
With a laid-back vibe and plenty of local flavor, Neptune Beach makes a terrific family vacation destination — and it's also among the best neighborhoods in Jacksonville, FL. Must-see: Pete's Bar, an multi-generation family business — the first bar to open in Duval County after Prohibition ended in 1933.
Avondale
This historic section of Jax offers tree-lined residential streets, walkable retail districts with artsy shops and eateries, and plenty of trendy flavor. Must-see: The Cummer Museum of Art and Gardens, established in 1958, where world-class touring exhibitions mingle with a permanent collection alongside the beautiful St. Johns River.

Q: Where do Millennials live in Jacksonville, FL?
A: Endless beaches, awesome sports teams, and plenty of cultural panache make Jacksonville a hotspot for Millennials and Gen Zers. And with a growing reputation as a business hub, Jax is definitely attracting young professionals. Millennial magnets include artsy enclaves Riverside and San Marco, along with Brooklyn, and, of course, the Beaches.
What area of Jacksonville, FL, is the safest?
Let's take a closer look at some of the statistically lower-crime neighborhoods in the Jax metro area — again, acknowledging that a 100% crime-free neighborhood likely doesn't exist. Here's a selection from NeighborhoodScout's list of the safest neighborhoods in Jacksonville, FL:

Mandarin
Average rent (one-bedroom): $1,625
Average home value:
$503,900
Great for: Outdoor enthusiasts, families, suburbanites
Lots of locally owned and indie businesses help keep this suburban neighborhood more free than usual from the sprawl that afflicts most 'burbs. And with plenty of greenspace, it's a great area for hiking, biking, and leisurely walking along the waterfront. At Mandarin Park, you'll find riverfront trails and a boat ramp for day use, plus shuffleboard, pickleball, and several playgrounds. Public schools in the area get a B+ rating from Niche.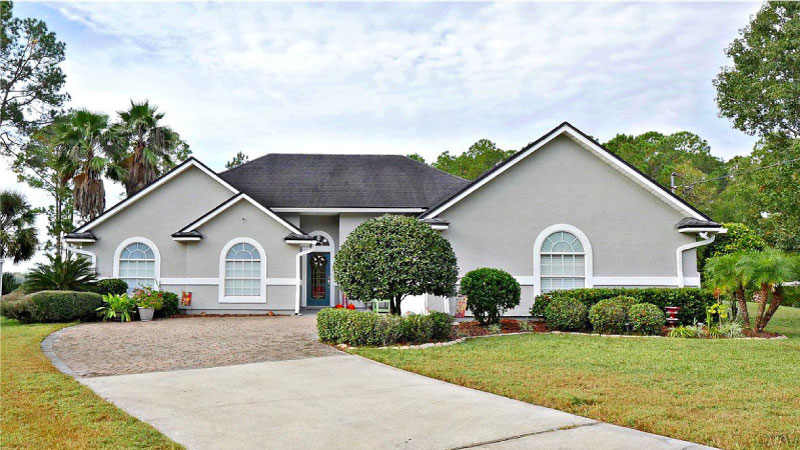 A home in Jacksonville's Eagle Bend Island neighborhood
(Source: Zillow.com)
Eagle Bend
Median rent (one-bedroom):
$1,700
Average home value:
$475,400
Great for: Families, commuters, outdoor enthusiasts
Like most of the safest neighborhoods in Jacksonville, FL, the Eagle Bend area is convenient to the city center and to the local beaches, with homes varying in styles and price points — but trending toward the upscale. Animal lovers from all over the area enjoy day trips to the nearby Jacksonville Zoo and Gardens, one of only a handful of zoos in the U.S. that features a wellness team.
Black Hammock Island
Average rent (one-bedroom): N/A
Average home value:
$468,600
Great for: Farmers, introverts, nature lovers
This seven-mile island surrounded by lush marshland is a slice of heaven for people who like their own space — and don't mind having to travel to the mainland for necessities. Just 30 minutes from downtown Jax, Black Hammock is the site of the Timucuan Ecological & Historic Preserve, a 46,000-acre national park that once was home to several tribes of Native Americans. Fun fact: The second-oldest piece of pottery ever found in the U.S. — dated to 2500 BCE — was uncovered on Black Hammock Island.
Dinsmore
Average rent (one-bedroom):
$1,025
Average home value:
$291,100
Great for: Families, commuters
Modest homes are the hallmark of Dinsmore, a suburban neighborhood about 10 miles northwest of downtown Jacksonville. Dinsmore Park and Community Center serves as the hub of the district, with ball fields and other recreational facilities, a health clinic, and several schools.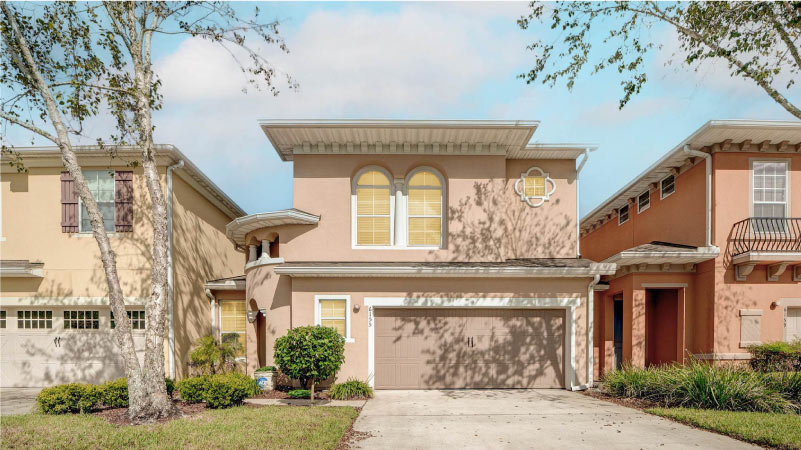 Homes in Jacksonville's Del Rio neighborhood
(Source: Trulia.com)
Del Rio
Average rent (one-bedroom):
$1,750
Average home value:
$353,500
Great for: Singles, young families, boaters, fitness enthusiasts
This area offers homes at various price points, from modest, one-story, Florida-style designs to luxury estates. Situated in part along Julington Creek, Del Rio is about 25 minutes from downtown Jax and, in the other direction, the Atlantic Ocean. The Julington-Durbin Creek Preserve features miles of trails for hiking, bicycling, and horseback riding. Boaters can put in at the former Clark's Fish Camp site or the kayak launch near the Bartram Trail Shopping Center.
Arlington
Average rent (one-bedroom):
$1,350
Average home value:
$203,800
Great for: Families, history buffs, boaters
East of downtown Jax along the St. Johns River, Arlington is an affordable area for young families and retirees. The site was one of the first places visited by Europeans in the New World and, today, features several historical sites, including the Fort Caroline National Memorial and the Timucuan Preserve Visitor Center.
Deerwood
Average rent (one-bedroom):
$1,625
Average home value:
$349,500
Great for: Young professionals, families, renters
Deerwood is a newer (early 2000s) affluent suburb with a bit of a city vibe, where renters outnumber homeowners by just over half. Resort-style complexes are the main draw, each complete with every high-end fitness facility you could want — golf courses, tennis courts, pools, and more. Families with young kids are happy here, too, with an A+ rating from Niche and plenty of playgrounds and parks for weekend recreation.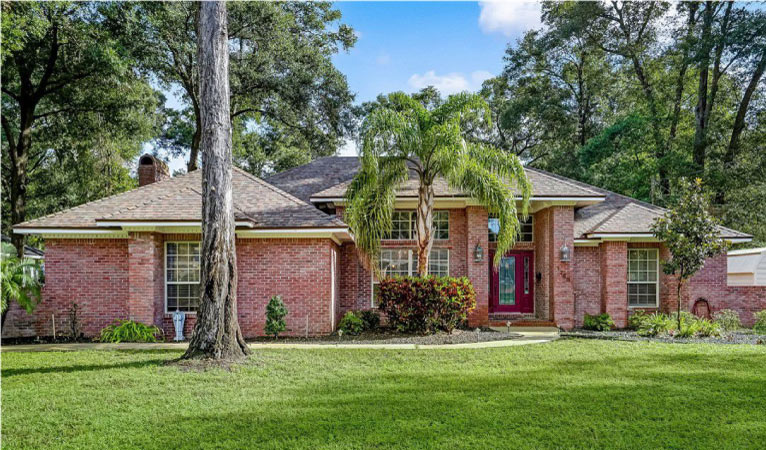 A home in Jacksonville's Holly Oaks neighborhood
(Source: Trulia.com)
Holly Oaks
Average rent (one-bedroom):
$1,525
Average home value:
$333,800
Great for: Families, ecologists, suburbanites
Just 10 minutes from downtown, Holly Oaks is home to young families, single professionals, and retirees alike. Like most northeast Florida suburbs, this area offers lots of opportunities for enjoying the great outdoors. The Jacksonville Arboretum and Botanical Gardens, for instance, has 120 acres of trails winding through 13 different ecosystems.

Q: What part of Jacksonville is nice?
A: Every city has its pros and cons, of course, but there aren't many parts of Jax we'd consider not nice. If forced to pick the nicest areas, however, any places with ocean access would take the top spots. Who could resist a beautiful sunrise over the Atlantic and miles of sugar-soft sand?
Where do the rich live in Jacksonville, FL?
If you're looking for luxury, follow the data to this trio of neighborhoods — the most expensive in Jax:
Avondale East
The average home value in this historic hood is priced at $867,200, which means it's in the top 91% of all neighborhoods in the U.S. One of the jewels of Avondale East is Five Points, a charming retail and dining district with an indie flair. The first "talkie" movie house was here; today's Sun-Ray Cinema opened in 1927 as the Riverside Theatre.
Ortega Forest
Next up is this exclusive neighborhood tucked on a peninsula along the Ortega River. The median home price is $899,500. The Florida Yacht Club has been a (private and pricey) social and sporting hub for many residents since 1876, with two marinas, a fitness center, 10 tennis courts, and the de rigueur croquet lawn.
Girvin/Greenfield
Taking the No. 3 spot for wealthy residents, this upscale district is partly situated on the St. Johns River. The median home price is $759,300 — more costly than 81.5% of U.S. neighborhoods. One of many outdoor hotspots is Huguenot Memorial Park, with camping, beach access (you'll need four-wheel drive, though!), and miles of trails to explore.
Thinking of renting in Jacksonville?
Rental homes and apartments abound in Jacksonville. And let's face it: Sometimes the best way to find your perfect neighborhood in a new city is to rent first, buy later. Jacksonville has plenty of options for renting — but what to do with your belongings if you're not quite sure where you'll land? With PODS, you can store the bulk of your things in a local Storage Center while you explore your surroundings and determine which part of the city is right for you. When you're ready, PODS will deliver your container right to your new home (in your perfect Jacksonville neighborhood). Then you can unload and unpack at your leisure.
Southeastern cities are booming — particularly for outdoor lovers. Check out the PODS Blog for the lowdown on living in Charleston; moving to Tampa; moving to Columbia, SC; and more.

Shannon Jacobs is a Tampa-based freelance writer and frequent contributor to the PODS Blog. She has lived in Atlanta, the Berkshires, and Nashville, but always returns to the warmth of Florida's Gulf Coast.

Editor's note: For ease of reading, monthly rental prices were rounded to the nearest $25 and home values were rounded to the nearest $100.
Get a Quote
Choose the service you need
Comments
Leave a Comment
Your email address will not be published. Required fields are marked *