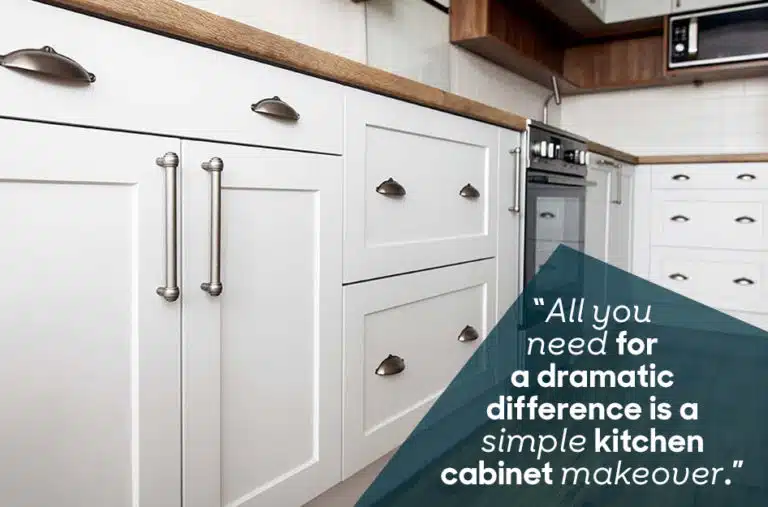 Kitchen Cabinet Remodeling Ideas That Won't Break the Bank
We've all been there — when you can't peel your eyes away from the quirky couple on TV who can turn a kitchen from drab to fab in what seems like the blink of an eye. When you start looking at incredible kitchen cabinet makeover before-and-after pictures on your IG feed and, all of the sudden, two hours have passed by. And when you find yourself dreaming of a burst pipe under your kitchen sink just so you can make an insurance claim and get the kitchen of your dreams.
Okay, okay, that last one may be going a little far, but it's safe to say you're not the only one dreaming about a kitchen update. And you're certainly not the only one wondering how to make improvements without breaking the bank. The good news? You have plenty of options. The even better news? You can make a huge impact without even touching those big-ticket items like countertops and appliances. In fact, all you need for a dramatic difference is a simple kitchen cabinet makeover. And, lucky for you, you've come to the right place for kitchen cabinet remodeling ideas.
How much Does it Cost to Renovate Kitchen Cabinets?
When it comes to a kitchen cabinet remodel, costs aren't necessarily cut-and-dry. It all depends on how much of your existing look you want to change. For instance, if you're just wanting to update the hardware and change the color of your cabinets, you can easily do that for a few hundred dollars. If you're wanting all-new cabinets installed, however, that can cost upwards of $20,000 or more, depending on the size of your space and the customizations you include.
Pro Tip: When you're adding up the costs of your project, don't forget to include any necessary prep items like degreaser, sandpaper, TSP cleaner, microfiber cloths, and paint brushes. They may seem insignificant, but they can certainly rack up!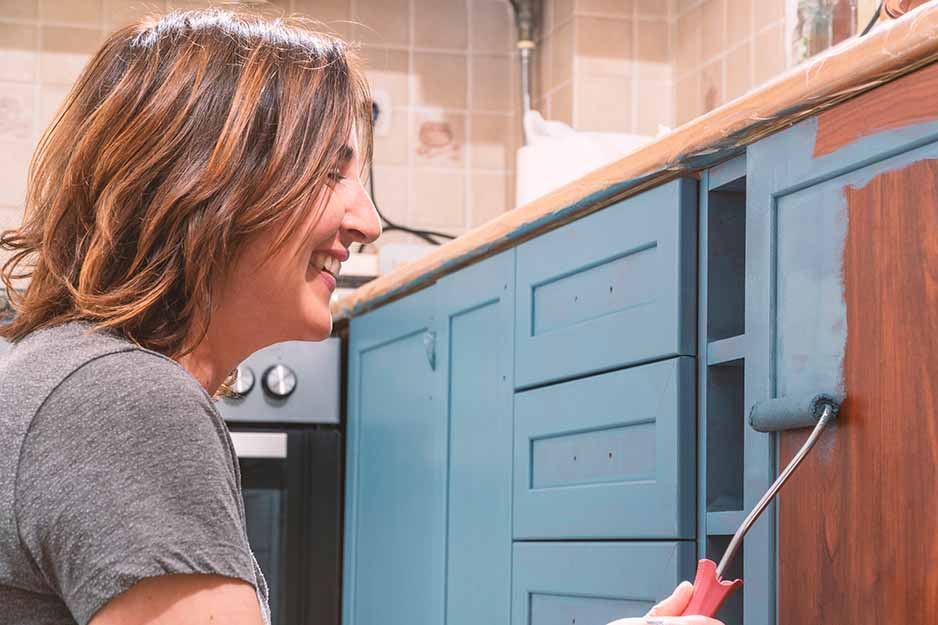 So how do I do an old kitchen cabinet makeover?
As in all home remodeling projects, you want to first make a plan. Decide how much money (and time, if you're a DIYer) you want to put into the project. From there, you can decide how you want to go about your refurb. From resurfacing or staining to refacing or all-out replacing, there are many ways to update your cabinets. Money's no object? Feel free to start from a clean slate with a more expensive renovation. Wondering "How can I renovate my kitchen cabinets cheaply?" Check out some other, less-expensive options. Here's a look at some of the things you can do at different price levels:
Level 1 - Cheapest: Painting
A fresh coat of paint will instantly give your kitchen cabinets an all-new feel. Depending on the size of your kitchen — and your paint and primer preferences — you can expect to pay between $350 and $1,300 for that new look. The national average is about $800. Now that's some bang for your buck!

Level 2 - Cheap-ish: Refacing
Cabinet refacing (also called resurfacing) involves replacing the doors, drawer fronts, and hardware but keeping the existing framework. The cabinet and drawer boxes do receive a fresh coat of veneer, though. Think of it as a facial for your cabinets — with really good makeup. Most homeowners spend between $4,000 and $9,000 to reface all of their kitchen cabinets, which gives an all-new look for nearly 50 percent less than the cost to fully replace the cabinetry.

Level 3 - Expensive-ish: Replacing (Lower Cabinets)
Many homeowners are choosing to replace just their lower kitchen cabinets for a change that's still noticeable and clean. This is a great option if you're also replacing your countertops or perhaps the lower cabinets have suffered water damage. You could then refurbish your upper cabinets with a nice sand-and-stain or a fresh coat of paint and add matching hardware to bring the look together.

How much does it cost to replace lower kitchen cabinets? Well, the cost to replace all of your kitchen cabinets averages from around $2,000 to $20,000 or more. So if you're only replacing the lower cabinets and drawers, while you may be able to simply cut that cost in half, you're definitely going to save some moolah.
Level 4 - Expensive: Replacing (All Cabinets)
Feeling fancy? Depending on the bells and whistles that you decide to go with, replacing all your kitchen cabinets can set you back upwards of $20,000 or more. Whoa!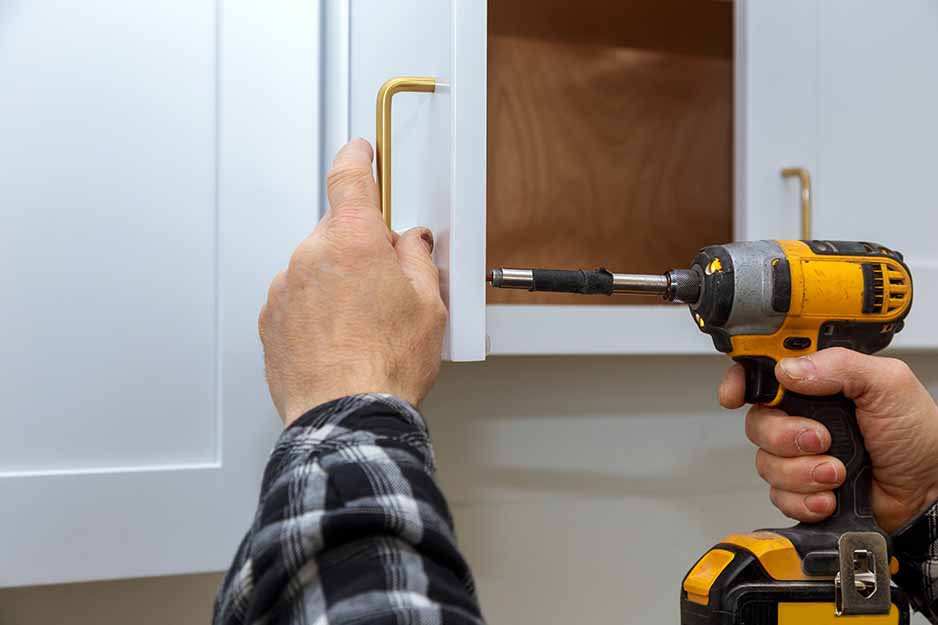 How can I update my kitchen cabinets without replacing them?
Here are six kitchen cabinet remodeling ideas to get you from out-of-date to on-trend in no time:
Elevate Your Hardware
Give your cabinet hardware an update. This simple addition can modernize your kitchen with hardly (get it?) any effort. If you have dated brass or pewter knobs, for example, spray paint them a dark bronze or brushed nickel shade.
Don't have any hardware or want to replace the ones you have? Opt for straight bar pulls — the longer, the better — and square knobs to be on-trend. Play with shapes and colors, too, using both horizontal and vertical ideas on tops and bottoms of cabinets. Also on-trend? Matching your cabinet hardware and your appliance details. This will add some dimension, fun, and whimsy to your kitchen. Bright gold faucet, anyone?
Set the Tone
Tempted to join in on the white cabinet vibe? It's super popular, and even the smallest kitchens feel cleaner and airier with this neutral hue. But also consider other neutral shades, like gray and, yes, even black. A light silver or dark graphite/black coloring would look fantastic contrasted with lighter counters and floors. These colors are always versatile and can bring a room together.
Bolder kitchen cabinet remodeling shades will be on the rise this year, too. Deeper, darker tones in shades of blues and greens will rule. Imagine all steel blue cabinets with white countertops or forest green cabinets against a gray floor — beautiful!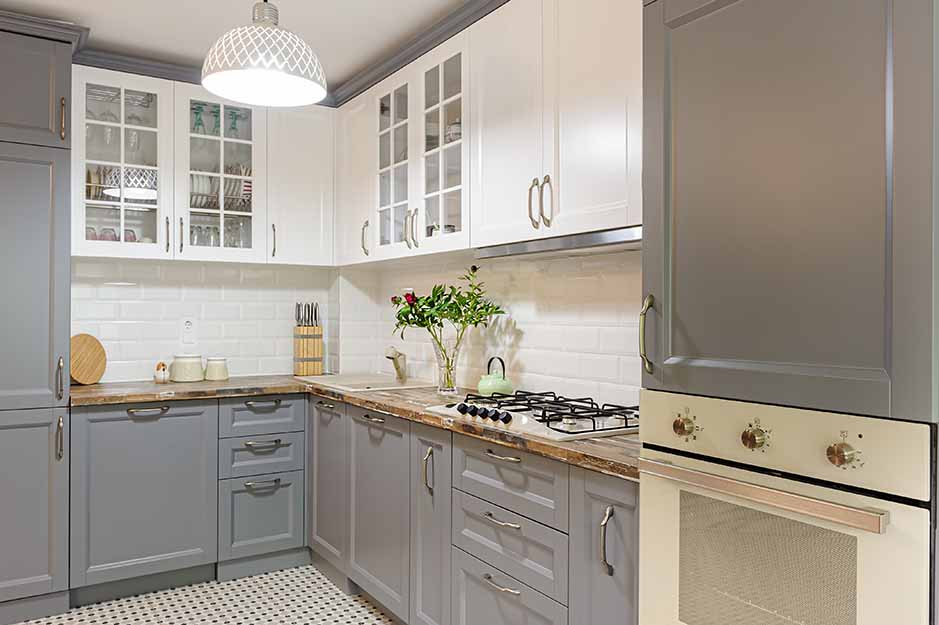 Consider Color Blocks
Color blocking shades are on the rise and, we think, underrated. You can instantly add depth and dimension to your kitchen with this trick. Depending on the space, you can color block vertically or horizontally to make a big difference in perspective. Vertically, you can have all-white cabinets with a strip or "block" of gray cabinets at either end (or both) of the kitchen, for example. Horizontally, an example would be white cabinets for the tops contrasted with moody blue cabinets along the bottoms. It's a look that's updated yet still classic.
Reach New Heights
Gone are the days of the trailing fake ivy plants above the cabinets. The taller, the better, for wall cabinets now. Use crown molding to fill the gap, but be sure to actually get to the ceiling with the molding. If there's just too much space, opt for a smaller cabinet on top of your existing cabinet. Not only will you update your kitchen, you'll also add some more kitchen storage space.
Let It Shine
A simple way to modernize your kitchen cabinet remodeling is to use some extra lighting. Long LED strips of light can be used just about anywhere! Be sure to measure how much you need and stick a strip or two along the tops or undersides of your wall cabinets. It's easy, inexpensive, and makes such a difference to the kitchen — especially at night. Bonus: Many LEDs include the option to change the color of the lights. You can create a new ambiance every day of the week!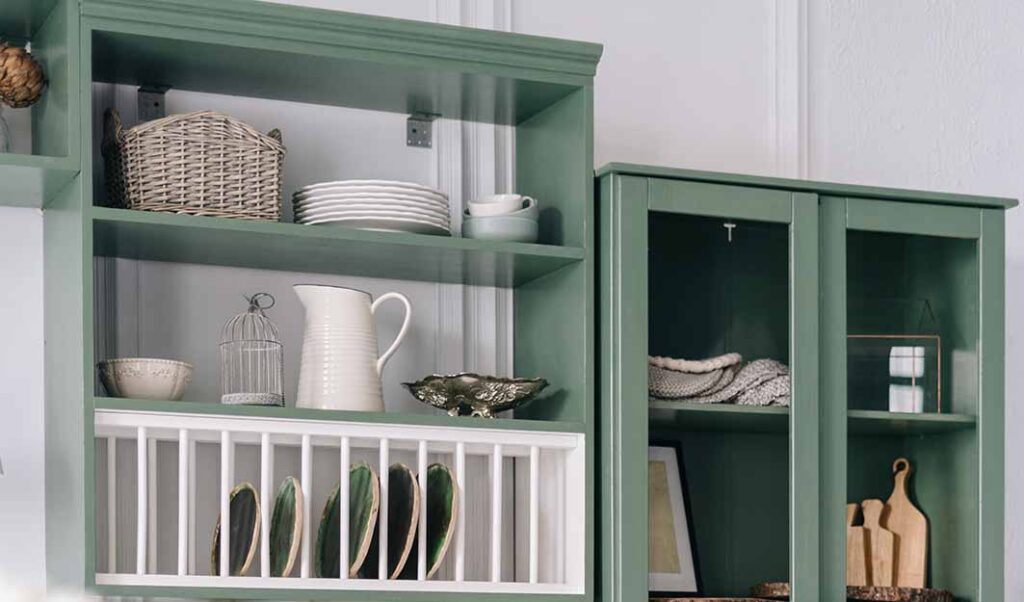 Open It Up
This tip may be the most impactful for your updated kitchen. Read closely: After removing the cabinet doors, leave them off.
That's it!
Open cabinets look beautiful next to paneled ones. But if you want your dishes protected or don't like the open-air concept, choose a glass panel (clear or even slightly frosted) to cover the space. Love the openness but not into the box look? Consider replacing some of your cabinets with floating shelves. Genius!
Insider Tip: Open shelving looks amazing! That is, if your cabinets aren't filled to the brim. People want to see neat, clean stacks of beautiful dishware when they come into your kitchen — not your Jenga skills at work. Before taking this bold design leap, consider doing a thorough kitchen declutter. Want some tips and tricks, so you don't get overwhelmed? Visit the PODS Blog for expert advice — in the kitchen and beyond!
Kitchen cabinet makeover: DIY or hire a guy?
So now that you've planned the what, let's focus on the how-to. A kitchen cabinet makeover DIY sounds easy enough, but it can quickly get overwhelming. And, in this case, you definitely want the job to be done correctly the first time — you don't want paint to come off of your cabinets every time you touch them, right?
Start with the smaller tasks first, like replacing the cabinet hardware, and then go from there. For those of us with knowledge that doesn't extend very far past using a screwdriver, hiring a professional may be best. Sure, there will be a price increase for hiring the help, but it will be well worth it to see the job done right.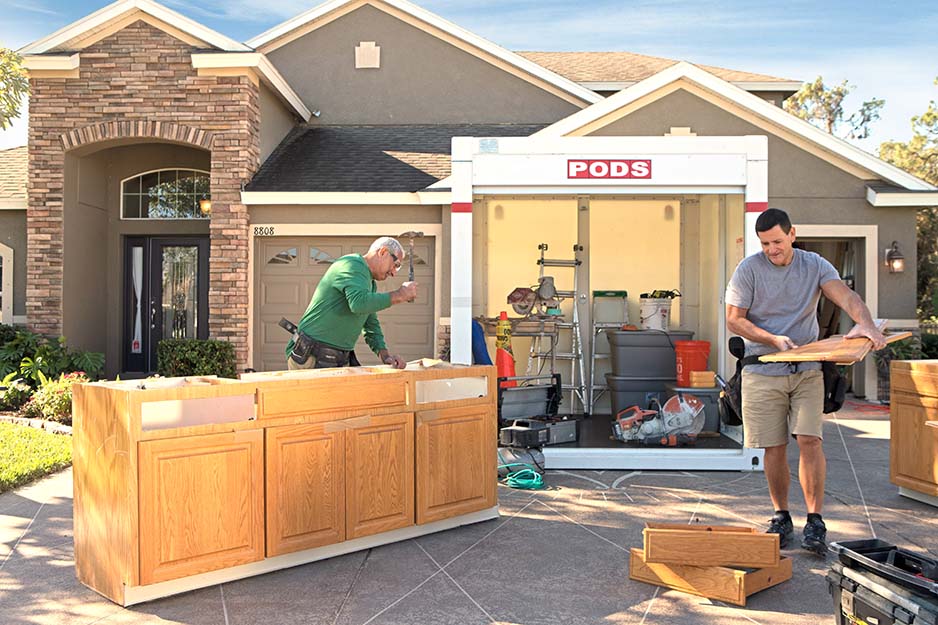 How do I prepare for my kitchen cabinet remodeling?
A renovation of any sort upon completion is a success, but you want the journey along the way to be as efficient as possible, too. Realistically, working in your kitchen will likely involve a lot of dust, debris, and noise, so it's important to plan for that ahead of time. Save your sanity and have a PODS storage container delivered right to your driveway. You can use the storage container as extra storage space to stack materials, tools, and even your displaced kitchenware from all your cabinets and drawers. You can also begin to store all the debris in the unit, so it's all together when it comes time to dispose of it at the end. When the project is complete, simply call PODS, and a driver will come to pick the container up.
So is it worth doing a kitchen cabinet makeover? The answer is a hard YES. You'll have a kitchen that's not just on par with current home improvements trends — it's on par with what you want. And the best part? Unless you start from a clean slate, you've likely saved a hefty sum of money in the process!
---
Kiran Bahl is a freelance writer who loves discovering how to make something better yet simpler at the same time. She lives happily and peacefully amongst her family and enjoys dessert every day — especially after meeting a writing deadline early.
Sources:
Get a Quote
Choose the service you need
Comments
Leave a Comment
Your email address will not be published. Required fields are marked *