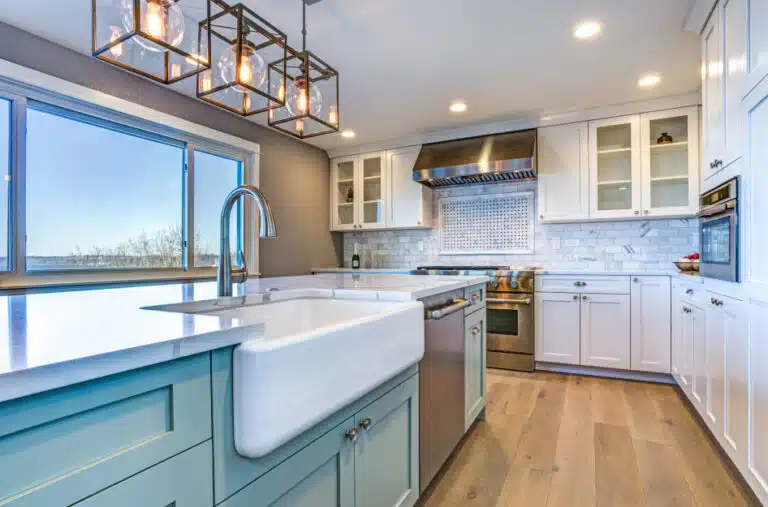 29 Inspiring Modern Farmhouse Kitchen Ideas for 2023
If you're considering implementing some modern farmhouse kitchen ideas to spruce up the heart of your home, we don't blame you. "Modern farmhouse" is the best kind of design combo: a cozy, welcoming space with the conveniences you need for today's lifestyle – all put together with style. So, how do you achieve that trendy mix without making a mess? Our primer offers a guide to modern kitchen farmhouse ideas, from cabinets to colors and lighting. But what exactly does "modern farmhouse" mean? Read on.
What Makes a Kitchen Modern Farmhouse?
Imagine a traditional vintage farmhouse out in the country – but with chic, stylish elements. It's comfy but contemporary – and above all, it's livable. After all, your kitchen is the heart of your home. But even in a busy household where meals are often on-the-go and homework gets done last-minute at the kitchen table, "farmhouse" doesn't have to mean frumpy.
Here are three of the common modern farmhouse characteristics you'll want to consider as you're planning your redesign:

Neutral Colors – Creams, grays, and earthy tones are calming and stylish.
Natural Materials – Wood, stone, and brick add warmth and texture.
Sleek Appliances – A stainless-steel refrigerator, range, and dishwasher put the "modern" in "modern farmhouse."
How Do I Make My Farmhouse Kitchen Look Modern?
The best approach to modern farmhouse kitchen design incorporates simplicity – nothing too intricate or complicated – with vintage accents. Antique touches are key to the look, but stick with a neutral color palette in your lighting elements, tile, and decor. And be sure to focus on function and practicality rather than frou-frou.
Here are some specifics to consider as you plan your design: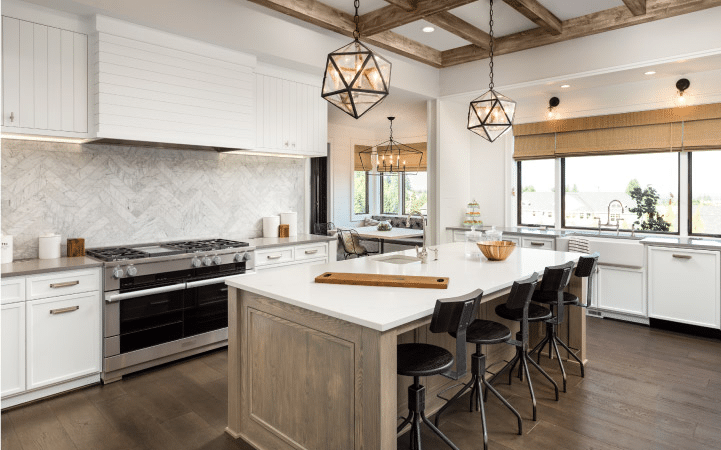 Modern Farmhouse Kitchen Lighting Ideas
Natural Light
Big windows! What better way to evoke the style and charm of an old-fashioned farmhouse than with sunlight? Oversized windows and skylights are terrific ways to let the sun shine in. And you can use wide window sills as a stage for fresh-cut flowers or a pretty planter of greenery.
Pendant Lights
These come in a variety of styles for hanging over the sink or a kitchen island. They're especially popular in kitchens with high ceilings for a dramatic, sweeping look. Look for a bronze or brushed-nickel finish for a cozy glow.
Sconces
Besides natural light, these are the most vintage-feeling lights you can get. Imagine candles lighting the kitchen in the old days, tucked (safely!) along the walls. Plenty of styles are available in vintage looks.
Chandeliers
Another way to add some drama to your kitchen. Find interesting materials like wrought iron or wood for an especially rustic feel.
Under-Cabinet Lighting
These add a warm glow – think cozy late-night conversations over a nightcap – and are useful during cooking and food prep. Also great for homes with children or midnight snackers – night lights!
Q: What are some small modern farmhouse kitchen ideas?
A: Space is often a premium in a farmhouse-style home. Open shelves and glass-fronted cabinets can make your kitchen feel more spacious. You'll create an open, airy vibe – and you'll also have a place to showcase your vintage collections. 

Pro Tip: Stack your family cookbooks atop the fridge for easy access and a decorative element that adds height to a small room.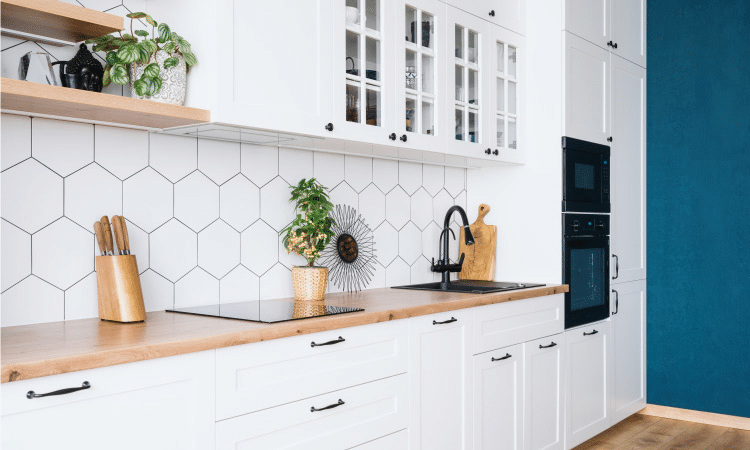 Modern Farmhouse Kitchen Cabinetry Ideas
Shaker-Style Cabinets
Distinguished by their 5-piece door (essentially a frame with a recessed center), these classic cabinets are common in modern farmhouse kitchens – and for good reason: their simple, clean lines never go out of style. To create an even more-vintage look, use a glaze or distress the wood.
Glass-Front Cabinets
The perfect way to show off your pretty dishes and vintage glassware.
Open Shelving
These add an open, airy feel to your kitchen and make accessing your dishes a breeze – and like glass-front cabinets, they double as a great display case for pretty collections.
Metal Accents
Brass or copper fixtures provide an interesting contrast to neutral colors and natural materials and textures. Plus they're hardy and sustainable.
Q: What color cabinets are best for a modern farmhouse?
A: Create warmth and texture with natural wood cabinetry like oak or maple. Another option is a light neutral like ecru, alabaster, or eggshell – any shade in the white/beige family will give you an elegant antique touch. For serious retro drama, go two-tone, with the doors painted a different color than the main cabinets. Or use peppy, bright-white handles to liven up natural-dark wood cabinetry.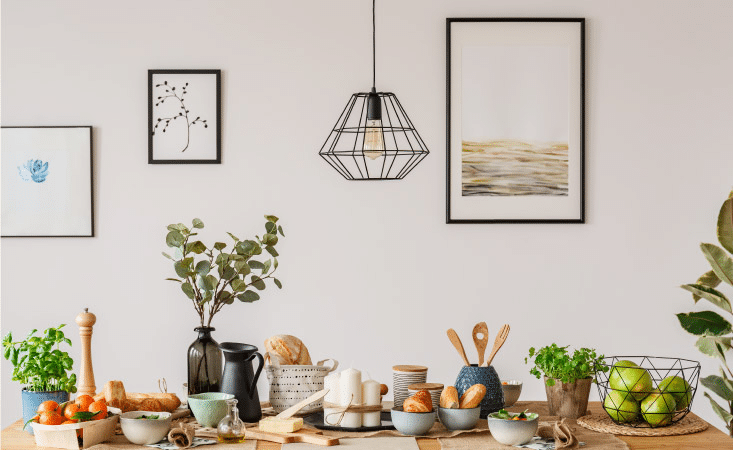 Modern Farmhouse Kitchen Wall Decor Ideas
Old-Fashioned Signs
Rustic signs with fun images or inspirational sayings add a charming touch. Remember the old Coca-Cola signs at the corner gas station? Check your local antique and thrift stores for retro wood or metal signs to hang on the wall or prop on an open shelf.
Antique Mirrors
The frame is the key to making a mirror into art. Find an ornate, vintage frame to add an heirloom-style feel. Or go DIY – pick up an inexpensive mirror at Target and touch up the frame in shimmery gold or an elegant soft white.
Vintage Prints
Landscapes are elegant and timeless. Go with earthy, muted colors and natural motifs to add to your modern farmhouse style.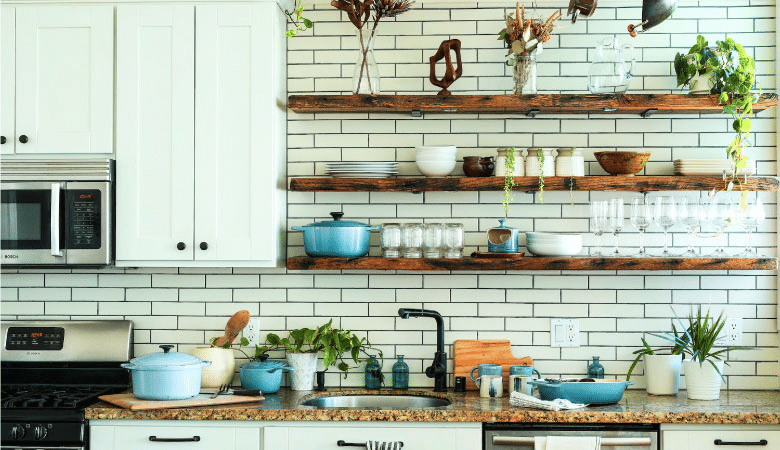 Modern Farmhouse Kitchen Backsplash Ideas
Natural Stone
Natural-anything is really the way to go in the modern farmhouse kitchen – and your backsplash is no exception. You can't go wrong with marble or slate, either with a subtle inlaid pattern or a bold color variation to contrast with your countertops.
Brick
Exposed brick adds warmth and texture no matter where you see it. And you don't have to use actual brick – a brick veneer is easier to install and a bit less expensive than the real thing. (We won't tell.)
Subway Tile
A classic choice for any kitchen style. Consider white or off-white, or go with a muted primary color to pick up other accents in the room like your dishware, kitchen linens, or wall decor.
Beadboard
This grooved paneling makes a modern kitchen more cozy with a cottage-inspired look. Paint it white or go bold – maybe try a bright yellow to complement the sun coming in through your oversized farmhouse kitchen windows.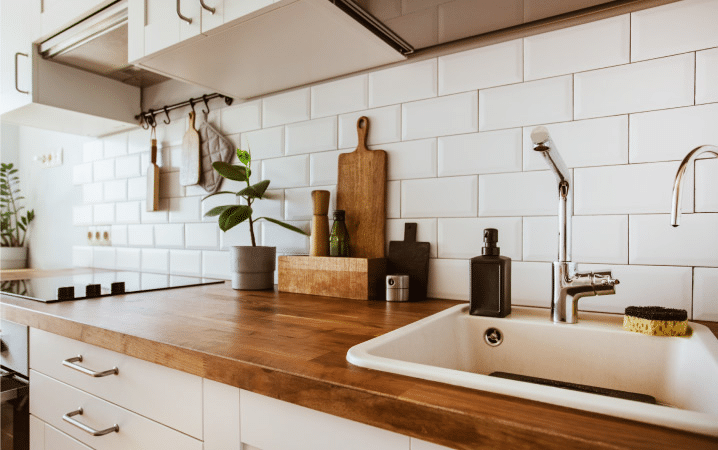 Modern Kitchen Farmhouse Countertop Ideas
Butcher Block
These are convenient and appropriate for every kitchen – but in the modern farmhouse, butcher block adds texture and a natural tone. They're also durable. Consider maple, oak, or cherry.
Quartz
Stylish and practical. These countertops come in patterns and colors that look like natural stone – but they're stain- and scratch-resistant so they need fewer repairs or replacements over the years.
Soapstone
This smooth, heat-resistant surface is ideal for baking and other food prep. It's a classic and elegant look for your busy modern farmhouse kitchen.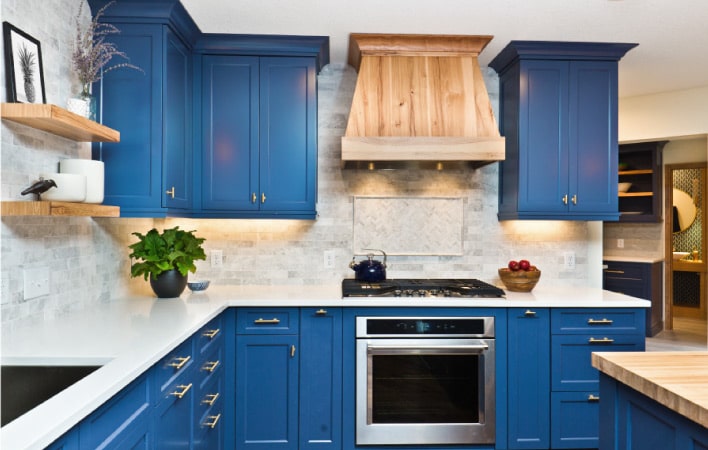 What Is the Best Accent Color for a Farmhouse Kitchen?
Your colors will depend on your personal taste and the decor of your kitchen. But there are a few colors that work particularly well in a stylish modern farmhouse kitchen:

Navy Blue
A perennial classic and easy to incorporate in decorative bowls, dish towels, and wall decor.
Ruby Red
Any jewel tone works, but ruby red in particular is a bold choice that adds spice and energy to your kitchen. Try mixing it up with an accent wall or on two-tone cabinets. A pretty red tea kettle on the stove makes a nice color-pop contrast to stainless-steel.
Sage Green
This blends well with natural wood shades and adds to the earthy feel of a modern farmhouse. How about soft sage green curtains over the kitchen sink?
Black
Puts the "modern" in modern farmhouse. Try it for your light fixtures and hardware like drawer and cabinet knobs and handles – super dramatic with white cabinetry, too.
What Are Some White Modern Farmhouse Kitchen Ideas?
Timeless and elegant, all-white is always an option. Here are some ideas for making your white kitchen feel cozy – and not antiseptic.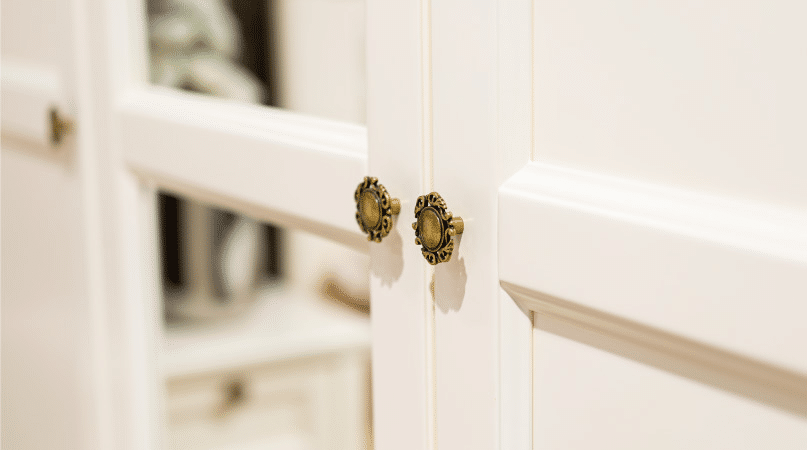 White Modern Farmhouse Kitchen Cabinet Ideas
Mix Up Your Accents and Hardware
Bronze or black knobs on your drawers and cabinets make a nice contrast to all-white cabinets. You can also mix-and-match your styles – pick a vintage look for the drawers and a modern vibe for your lighting fixtures.
Blend Materials
Use glass, wood, or tile for other non-cabinetry elements in your kitchen — like the countertops and flooring.
Add Texture
Try subway tile for your backsplash or arrange woven baskets on an open shelf to add depth. Find other ways to add movement – like a printed rug or patterned curtains – and break up the monotony of all white.
White Modern Farmhouse Kitchen Curtain Ideas
Combine Curtains With Blinds
Layer your curtains with bamboo or natural wood blinds for a rustic look – or go with the mid-century modern roller-shade for a sleek appearance.
Use Decorative Hardware
Go with on-trend hooks in a metal finish or flat-black for a sophisticated feel. Find a curtain tie-back in a bright, fun pattern to keep them in place – or just to look pretty and add a splash of color.
Layer With Texture
Add a sheer panel behind your curtains to create some depth. And think about a fabric like linen or burlap for an authentic farmhouse feel.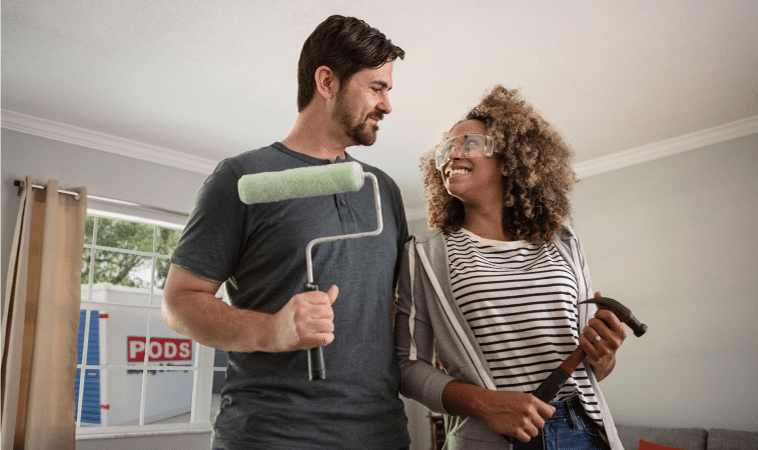 What Should I Do With My Belongings While I'm Remodeling My Modern Farmhouse Kitchen?
One of the biggest challenges in a home remodeling project is figuring out what to do with all your stuff. The guest bedroom can only hold so much and, all too often, hallways become crowded and stuffed with old kitchen appliances, pots, pans, and even cabinets. You can make room for home remodeling by renting a PODS portable storage container, kept conveniently in your driveway. Use it to store everything from appliances (old and new) to cabinets, tools, paint, and more. When you're done, PODS will pick it up. Easy!
Got the remodeling bug now that your kitchen re-do is underway? Check out the PODS Blog for ideas to redesign your bedroom, maximize space in a small bathroom, and renovate every room in the house in award-winning style.
---
Shannon Jacobs is a Tampa-based freelance writer and frequent contributor to the PODS Blog. She has lived in Atlanta, the Berkshires, NYC, and Nashville, but always returns to the warmth of Florida's Gulf Coast.
Get a Quote
Choose the service you need
Comments
Leave a Comment
Your email address will not be published. Required fields are marked *