Shape Up the Heart of Your Home With These Kitchen Floor Plans
Spring cleaning sometimes sparks remodeling ideas — especially these days, after two pandemic-life years of working, dining, and socializing primarily at home. Wouldn't it be great if your pantry was just a liiiitle bit bigger? Or if you could finally be done with scrubbing inside the oven and replace it with a steam-cleaning model? If you've decided to go big on your seasonal refresh and redo a room, you're not alone: Large renovations were up 15% in 2021 compared to 2020, and kitchen renovations are projected to be at the top of the list in upcoming years.
We all want to get to the fun part of a renovation, right? Picking out the flooring, lighting, backsplash, and any other personalized design touches. Before you break ground and even start thinking about those personal touches, though, it's critical to choose a specific kitchen layout to work from.
Here are some questions to consider as you assess the different types of kitchen floor plans available and begin to make a customized plan specific to your kitchen remodel.
What are the 6 types of kitchen layouts?
In the realm of kitchen floor plans, designers pretty consistently cite six specific layouts, each with lots of opportunities for artistic touches and customization. Let's take a quick look:

Galley
Named for the likeness to a ship's kitchen, a galley kitchen is typically a long, narrow hallway with cabinets and appliances lining one or both sides. Small kitchen floor plans in apartments and cozy homes are often galley-style. And galley kitchen floor plans are surprisingly versatile, with potential for energy efficiency (not as much real estate to heat and cool) and lots of space for storage. Plus, with your kitchen tucked into this compact space, you'll have more room for more rooms — like a home office or an exercise cubby.
Island
Whether we're talking about a small, mobile island on wheels or a larger, more permanent installation, kitchen floor plans with islands are super popular. The bigger the space, the more convenient you may find an island — as an additional work space for slicing and dicing, for example, and for extra seating when you're entertaining or chatting with the family while dinner simmers.
L-Shaped
Just as the name implies: L-shaped kitchens are composed of two adjacent walls that come together in a corner. These kitchens are popular, uber functional, and a common must-have among top chefs (and architects tasked with determining kitchen floor plans with dimensions). This layout gives easy access to the "work triangle," the three essential spots a cook utilizes during food prep: oven, sink, and refrigerator. Conceptualized as a kitchen design tool, the triangle is a way to promote efficiency by minimizing the number of steps needed to be a successful cook. And why does the triangle work so well in an L-shaped kitchen? Because the two adjacent walls make the angle part of a triangle. Tada!
Open
The most versatile of all designs, open kitchen floor plans offer a clean slate to shape how you wish. They're also incredibly popular in modern home designs. Even in small kitchen floor plans, an open concept done right can feel spacious and airy, making the home feel bigger. The open plan also helps ease the inevitable kitchen-crowding during parties — because everybody always ends up in the kitchen anyway, right? Need extra seating and storage? Add an island, which, in the absence of actual walls, does double-duty as a visual and physical dividing line between the kitchen and living areas.
Straight
You might also find these called "single-line" or "one-wall" kitchens, which are apt descriptions — all appliances are aligned along one wall. The straight kitchen is most often found in apartments and smaller houses where space is at a premium. It's efficient, of course, because the cook can simply slide side-to-side to complete essential tasks. And although the design options might seem limited, there are actually some fun things you can do with this layout.
U-Shaped
The more popular of the two alphabetical designs, the U-shaped kitchen resembles the galley, but it's typically larger. With space along its three walls, this layout allows for a coveted window, if feasible, and interesting cabinetry possibilities. An island is a common addition in the U-shape that offers lots of square footage.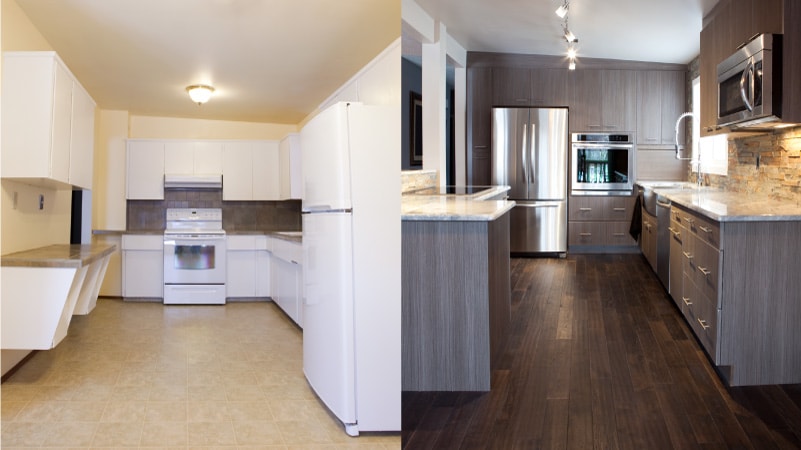 What is the most desirable kitchen floor plan?
This depends on your home, the space devoted to your kitchen, your personal style, and how you use your kitchen. Are you a serious cook? A kitchen with a clearly defined, easily navigable work triangle is likely the way to go. Entertain a lot? An open kitchen floor plan might be your best bet, keeping you accessible and able to chat with guests while you're serving drinks and snacks — without packing people into the kitchen like canned sardines. But no matter which of the six basic designs you choose, an island can be a game-changing addition, providing more storage space, seating, and a countertop to work your culinary magic.
How do I lay out my kitchen?
We've whittled down the necessities of layout planning to five basic rules of thumb. Keep these guidelines in mind as you're crafting your kitchen space:
Start with your must-haves. Everybody's got non-negotiables – what are yours? A window? A shelf for your cookbooks? Open cabinetry and a wine fridge? Work your design around these faves.
Place your stove against an exterior wall. This makes ventilation much easier. No need for elaborate ductwork to connect your exhaust fan to the outdoors, and it's also a safety consideration.
Arrange everything around the sink. Think about it: You spend the most time here (even if you have a dishwasher, it's likely immediately adjacent), so decide where you want it — under a window, perhaps? — and go from there.
Keep your work triangle in mind. Oven, sink, refrigerator. Efficiency is key.
Make sure you have enough breathing room and room to move. This is particularly essential with an island kitchen design. Keep sufficient space for walking between the island and your walls and countertops.

Another piece of advice? When you've landed on a design, get a professional to help out. Today's supply chain-challenged economy requires expert guidance, with ongoing delays for many goods and parts that might make a difference in your design choices. It's best to enlist pros who can navigate the ins and outs of contracting and permitting, give you realistic options if the project runs into a snag, and negotiate with suppliers as needed. 
Two important points to keep in mind:
Work with someone who specializes in kitchens. You want someone experienced specifically in kitchen design and construction. After all, this is the heart of your home. You spend much of your time here, even if you're not a culinary wizard, so you want it to be comfortable, functional, and aesthetically pleasing. It's essential to select a partner who knows the principles of design and how to maximize space. (Litmus test: Are they familiar with the "work triangle"? No? Keep looking.)
Get everything in writing. Even the most honest, dependable, highly recommended professional can sometimes forget a promised tweak to an agreement. Make sure you document your plans — including cost estimates, timelines, and subcontractors.
And as your renovation gets underway, keep "renovation clutter" from being under-foot. Make room for remodeling with a PODS portable storage container right in your driveway. Store tools, equipment, appliances, and anything else you want to keep out of the way (but close at hand). And keep it as long as you need it. When you're all done, PODS will pick it up.
Is there an app to design your own kitchen?
There are several — and they're loads of fun. A variety of 3D apps allows the fledgling designer to upload photos of actual furniture, appliances, and anything else you'd like in your kitchen and arrange and rearrange to your heart's content. Need that island a little to the left? Your call.
Here are three of our favorite apps for DIY kitchen design:
Now that your kitchen refresh is in the works, it's time to think about those other remodeling projects you might want to tackle. Check out the PODS Blog for ideas on renovating your laundry room for maximum storage potential, redoing your home office, modernizing your primary bath, and much, much, more.
---
Shannon Jacobs is a Tampa-based freelance writer and frequent contributor to the PODS Blog. She has lived in Atlanta, the Berkshires, and Nashville, but always returns to the warmth of Florida's Gulf Coast.
Get a Quote
Choose the service you need
Comments
Leave a Comment
Your email address will not be published. Required fields are marked *