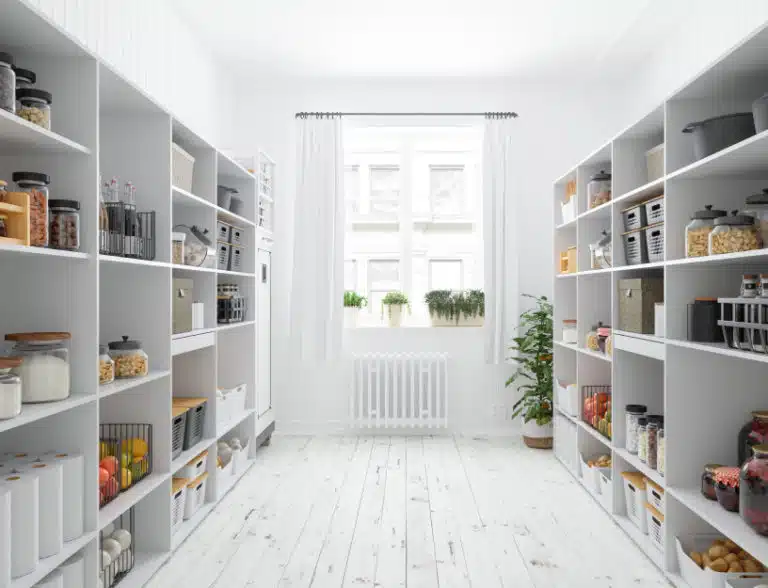 8 Pantry Remodel Ideas for Your Kitchen Storage Makeover
A good pantry is the pinnacle of a functional kitchen, but it can be difficult to know where to start. Shelves should be enough, right? But what if you could have more? Whether you're overhauling your entire kitchen or you're simply trying to create more storage, planning the details of your kitchen pantry remodel in advance is essential to ensuring you're happy with the final result.
Luckily, our pantry remodel ideas and tips are here to help you start off on the right foot. Here's everything you need to know before remodeling your kitchen pantry.
Kitchen Pantry Remodel FAQ
Before you start your pantry build-out, there are a few questions you'll probably want answered. From your budget to the potential return on investment, knowing what to expect before you get started can help you not only plan but also effectively execute the remodel itself. Let's take a look at some frequently asked questions (and their answers) before we jump into our kitchen pantry remodel ideas.
Q: Is a pantry cheaper than cabinets?
A: Typically, yes. A pantry is going to be cheaper than cabinets. On average, building a pantry costs around $2,000, ranging from $20 to $40 per square foot. The average cost for kitchen cabinets is about $11,000, with a range between $4,000 and $13,000, but that number can climb to $20,000 or more depending on the type of cabinets you opt for.
The exact difference in cost is also going to depend on your project's size, whether or not you DIY, and how custom you're looking to get. Custom cabinets made with high-end materials are going to cost you a lot more than a DIY pantry remodel completed with upcycled materials.
Q: Do pantries increase home value?
A: With storage becoming a commodity in recent years, you can be sure that a pantry will increase your home's value. In fact, you can expect to recoup anywhere from 52 to 67 percent of your investment should you choose to sell in the future. Of course, how much you get back is going to depend on things like your pantry's size, the materials you use, and even your design choices (think colors, patterns, etc.).
Q: How do you modernize a pantry?
A: The first thing you should do is eliminate dated wire shelving and go for wood. Investing in clear, resealable, storage containers for cereals, flours, and other frequently used dry goods is also a great idea. Finally, place baskets near the top or bottom of the pantry for storing duplicate and rarely used items out of sight. When a clear storage container becomes empty, you can replenish from the items in the basket. These simple changes might seem small, but they can give your pantry a more modern appearance while keeping things clean, fresh, organized, and accessible.
Did you know? Having nicely organized spaces free of clutter throughout your home can reduce stress and anxiety and actually make you feel happier and more confident. Yet another reason to create a pantry space that's easy to organize and keep clutter-free.
Q: How much does it cost to redo a pantry?
A: Updating (not building) a small reach-in pantry can run you anywhere from $250 to $1,500, while a large walk-in can run anywhere from $2,000 to $3,500. The exact cost depends on a few different factors. Consider the size of your pantry, along with the changes you're making and finishes you're choosing.
Top 8 pantry remodel ideas
From clever storage space to eye-catching design elements and functional lighting, mix and match these eight pantry remodel ideas (or use them all!) to create your perfect dry food storage hub. Let's dive in!
1. Opt for custom solutions
If you have a spacious pantry with unused storage space, installing custom solutions is a great way to maximize your remodel. Whether it's drawers, shelving, baskets, racks, or bins, designing something tailored to your specific needs is a great way to create an easy-to-organize pantry and add value to your remodel.
Adjustable shelving, for example, adds a custom touch without committing to a certain layout. You can go for high-end materials — like hardwood — or keep it budget-friendly with wire racks and baskets. No matter which option you go with, adjustable shelving means you'll have pantry storage you can easily rearrange as your needs change without having to worry about remodeling again in the future.
2. Pull-out drawers & turntables
Whether you have a small reach-in pantry or a walk-in, drawers make it easy to access items stored in the back of your pantry without having to move a bunch of other things first. You can organize your drawers by item or category, keeping everything accessible, and preventing the wasteful dilemma of forgotten snacks and expired pantry basics.
Additionally, you can use turntables to keep a variety of smaller items easily accessible. This is perfect for spices, extracts, and small snacks — or rather, anything that will fit on the turntable.
Pull-out drawer party hack: Stay party-ready without having your liquor on constant display. Using a two-drawer system, you can create a pull-out bar in your pantry. Reserve the bottom drawer for stand-up bottles, and use the top drawer for bottles that can be laid on their sides. Use section dividers in both drawers to keep things from moving around when you open and close them.
3. Bold design elements
Just because it's a pantry doesn't mean it can't be as stylish as the rest of your home. To achieve a bold design, opt for patterned tile and dark cabinets or shelving. For a nice contrast, choose a bright wall color to make your design choices stand out. This, paired with glass storage containers, is a great way to make your pantry more accessible without sacrificing aesthetics.
4. Try a pocket door
Opting for a door that eliminates the "sweep" that traditional doors bring can help you not only maximize space but also preserve anything that your current pantry door might be hitting.
If your kitchen is small enough, the door is likely to hit a countertop, cabinet, or even an appliance, whenever you open it. A pocket door, on the other hand, eliminates this and any risk associated with it, leaving you with freed-up floor space and extra peace of mind.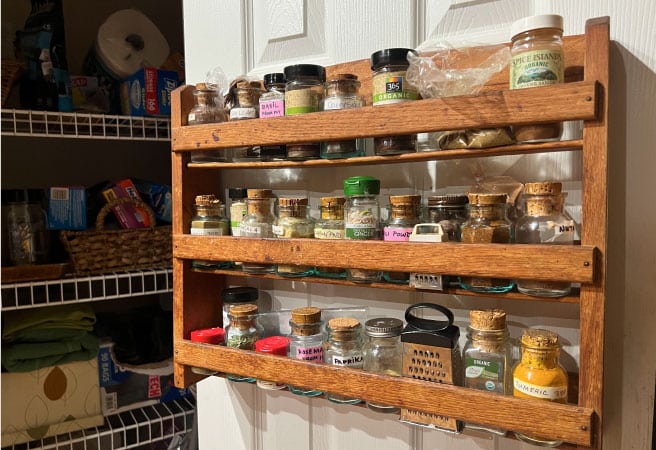 5. Utilize door space
If a pocket door isn't right for you, there are ways to make use of and maximize the extra vertical space that comes with a swinging door.
The best way to do this is with an over-the-door storage rack. You might think these are only good for shoes, but there are options out there for aprons, spices, snacks, drinks, and other small essentials. These racks usually just hook onto the top of your door and are a great no-hassle storage option.
6. Separate cleaning supplies
Brooms, mops, and spare cleaning supplies often get stuffed into coat closets or leaned up against walls. If you have extra space in your pantry, designating a spot for all these cleaning essentials can be a big help. They'll still be hidden out of sight, but you won't have to go searching another part of the house every time you need to sweep the kitchen floor.
7. Glass doors
Not only do glass doors make it easy to see what's inside your pantry, they also add a modern touch that opaque doors simply can't compete with. Glass doors do an excellent job of inviting natural light into your pantry, making it feel more open. No matter the size of your pantry, a windowed door will add a sense of spaciousness that's normally lacking in storage closets.
8. Don't neglect lighting
Your pantry is prime real estate for creative lighting. Ditch the idea of one overhead light and reach for LED strips, motion sensors, and even an automatic door switch to really maximize on the luxury of your storage space.
The best place for those LED strips is below each shelf, as it's going to provide you with task lighting that makes it a lot easier to access those ingredients you can't quite identify at the back of the bottom shelf. You can even find LED strips that come equipped with motion sensors so you don't have to worry about turning lights on and off as you go in and out of the pantry, arms full of ingredients.
If you're a bit more technically savvy, you can set up an automatic switch to power on your overhead light as well, or have your remodeling contractor take care of that.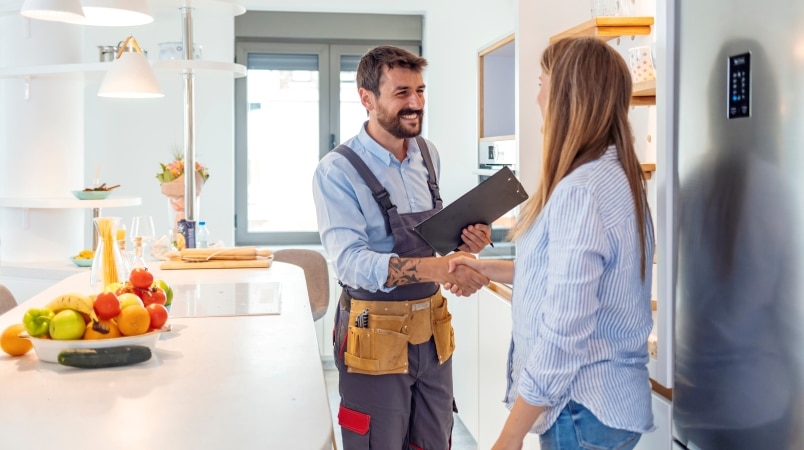 Getting started on your pantry remodel
Finally, the time has come to start your renovation. Before you dive head-first into demolition, though, there are a few steps you'll need to take to prep the space.
Step 1: Take some time for mental preparation
That means accepting that not everything will always go according to plan and being prepared for changes and compromises as they come. Be sure to check our home renovation checklist to learn about everything you can (and should) expect before getting started.
Step 2: Figure out your temporary kitchen
If you're redoing your entire kitchen, it's important to create a temporary station for yourself to cook with. That means packing up everything you won't need and creating a space to house all the essentials. Making use of small appliances, like a toaster oven, air fryer, microwave, crockpot, and even small electric grills during this time can be immensely helpful. Be sure to keep utensils, cups, and bowls or plates on hand, as well as essentials that you normally keep in your pantry — cooking oil, breakfast cereal, oatmeal, etc. From there, you'll be able to pack everything else up and get it moved out before your renovation starts.
Step 3: Make your wish list
Finally, it's time for the fun part. What kitchen pantry remodel ideas do you want to make a reality? What are your must-haves and what would you like to see added?
It's important to create a storage space that meets your needs and also has room for you to grow. No matter what your remodel looks like, it's important to include design elements that accommodate your life now and will also continue to serve you well into the future.
If you're stuck on where to start, use our list for inspiration. Whether you want brightly-colored walls or plenty of drawer space, you'll be able to find it in our top eight pantry remodel ideas.
Step 4: DIY or hire a pro
If your DIY skills are on point, you can save money by handling the remodel yourself. However, if you're feeling less than confident (or just don't have the time), hiring a home remodeling contractor is the way to go. They can offer solutions to your current pantry problems and help you achieve the final result you've envisioned.
Step 5: Get the goods
If you're working with a home remodeling contractor, they'll likely take care of this step for you. If you're going the DIY route, it'll be up to you to procure the materials and hardware necessary to complete your project.
Home improvement and hardware stores are the traditional go-to places for wood, nails, nuts, and bolts. However, online marketplaces like Etsy and Facebook Marketplace can be great resources for everything from wood planks and custom knobs and pulls to decorative shiplap and tiles.
If you don't want to have to refinish raw wood, you could purchase finished floating shelves. These will often come with their own hardware for mounting inside your pantry. If you really want to be thrifty about DIYing it, you could repurpose parts of other pieces of furniture that you aren't using anymore (like a set of standing bookshelves).
Step 6: Keep it clean and orderly
You can avoid the clutter that typically accompanies a home remodeling project by using a PODS portable storage container as temporary on-site storage. They're great for conveniently storing tools, supplies, equipment, and anything else you need kept out of the way but easily accessible. At the end of each day, have everything put back in your PODS container and give the construction zone a quick sweep. This'll help you maintain your sanity during a project that could otherwise become overwhelming.
Get creative with these pantry remodel ideas
Taking on a remodel in your home is almost always stressful, but things can get especially hectic when you begin taking your kitchen apart. Whether you're planning a small kitchen remodel in your RV or overhauling your large butler's pantry, living without full access to your cooking space for any amount of time is never easy.
With advanced planning and budgeting, though, you can successfully carry out your renovation quickly and efficiently. You'll have full access to your brand-new remodel in no time. Luckily, we can help you out every step of the way. Check out the rest of the PODS Blog for more inspiration and tips, no matter what phase of the process you're in.
---
Katlynn Mullins is a St. Petersburg-based freelance writer whose only roommate is their cat. A frequent PODS blog contributor, Katlynn loves finding ways to make moving into new spaces simple and stress-free. Between yearly apartment hopping, you can find them on the waterfront or experimenting with new ways to make coffee.
Get a Quote
Choose the service you need
Comments
Leave a Comment
Your email address will not be published. Required fields are marked *