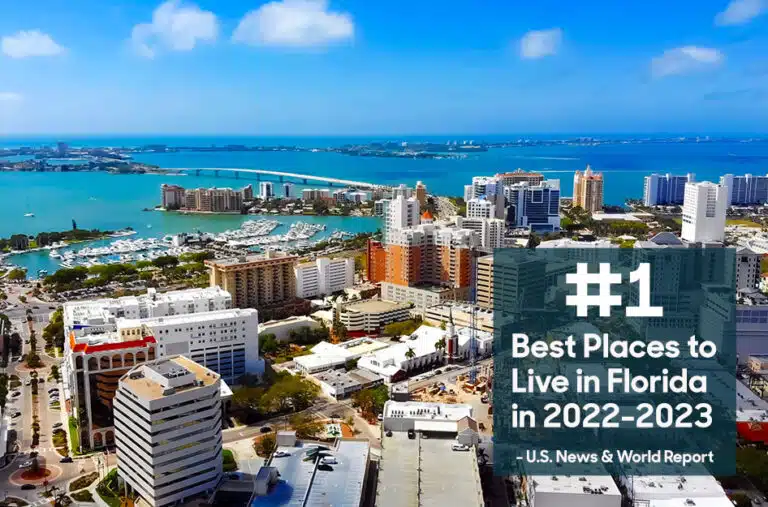 11 Things to Know About Living in Sarasota, FL
The name "Sarasota" is thought to be derived from a Spanish term for "a place of dancing" — an apt name for this Florida Gulf Coast city just south of the Tampa Bay area. With a lively arts scene, gorgeous beaches, and a burgeoning business center, Sarasota is a magnet for people looking to relocate. If that sounds like you, and you're thinking about living in Sarasota, FL, read on to find out what you need to know.

Planning a move to Sarasota? Start by getting a quote from PODS.

But before we get into the nitty gritty, let's take a virtual spin around Sarasota's downtown and beaches.
Sarasota at a Glance
Perched along the Gulf of Mexico about an hour south of Tampa, the city of Sarasota covers around 15 square miles of land in Sarasota County.
Its population estimate of nearly 57,400 is part of the Sarasota-Bradenton-North Port metro area's 462,000+.
The median household income in Sarasota is a little more than $62,600, but Longboat Key — a lovely stretch of beaches just off the Sarasota coast — boasts a median income of close to $122,000.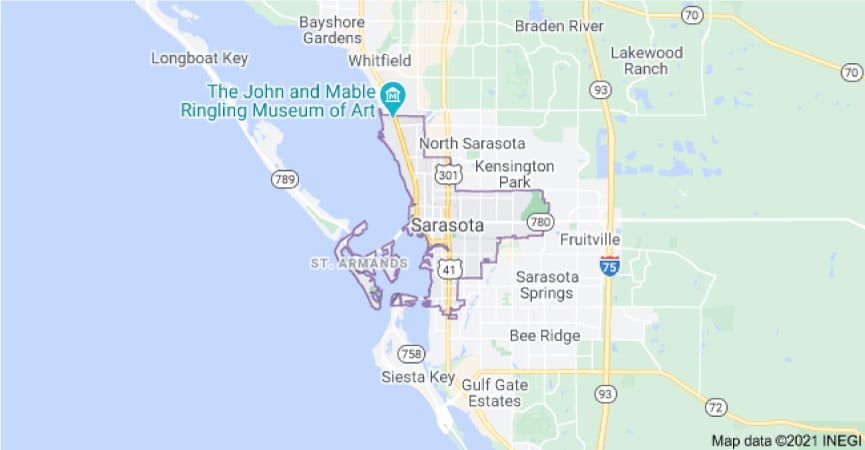 Map of Sarasota, FL
(Source: Google)
1. Experts agree: Sarasota is a sensational place for both retirees and families.
Beautiful beaches, warm weather, and enviable recreational and cultural amenities earn Sarasota a spot on "best of" lists almost every year. In its 2022-2023 edition, U.S. News & World Report honored the city as No. 5 on the "Best Places to Live" list and No. 11 on "Best Places to Retire," naming the superb offering of restaurants in Sarasota among its many attractions. And even compared to Florida's many hot spots, Sarasota is the top place to live in Florida for 2023-2024, beating out ritzy Naples to the south and bustling Tampa Bay to the north.
People are paying attention to the great things about living in Sarasota, FL. Based on PODS customer moves for 2023, the city had the highest growth rate in Florida, and the second highest in the U.S. In 2022, it placed first in both spots.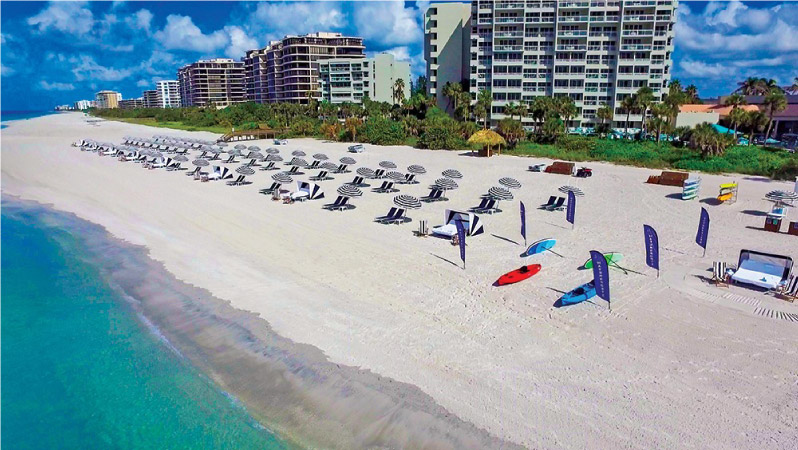 The beach at Longboat Key
(Source: Visit Sarasota County via Facebook)
2. Some of the most beautiful beaches in the world are in Sarasota.
While the entire Gulf Coast is abundant with award-winning beaches, Sarasota's more than 35-mile stretch of sand and surf boasts some particularly stunning gems. Six keys (barrier islands) hug the coastline, all with gleaming-white, sugar-soft sand and glorious sunsets, but each with its own distinctive vibe. And like many Florida beach towns, Sarasota's keys quiet down quite a bit in late spring when the snowbirds head north for the summer.

Here's a closer look at each one:
Longboat Key
This 12-mile island features resorts, beach cottages, and seaside hotels, plus established residential areas with lovely homes alongside the intracoastal canals that lead out to the open Gulf. A quaint downtown district bustles with restaurants, shops, and beach bars.
Lido Key
Easily accessible from downtown Sarasota, Lido Key offers three main beach areas. North Lido Beach is somewhat secluded, with limited parking and no amenities. Lido Beach is a popular destination for tourists and locals looking for a relaxed but lively setting, with restrooms, concessions, and a public pool. And at the tip of Lido Key, South Lido Park offers views of downtown Sarasota and the Gulf of Mexico, plus a picnic area and a nature trail.
Siesta Key
Two bridges from the mainland lead to 8-mile-long Siesta Key, where you'll find a bustling area of shops and cafes in the village area. And the three beautiful Siesta Key beaches? They consistently rank among the best in the U.S. and the world. Siesta Beach has a park and tennis courts, along with a playground for kids. At Crescent Beach, adventurers enjoy exploring Point of Rocks — a half-mile-long rock formation surrounding tidal pools and coral reefs. And at Turtle Beach, boat docks and picnic areas make it a family favorite.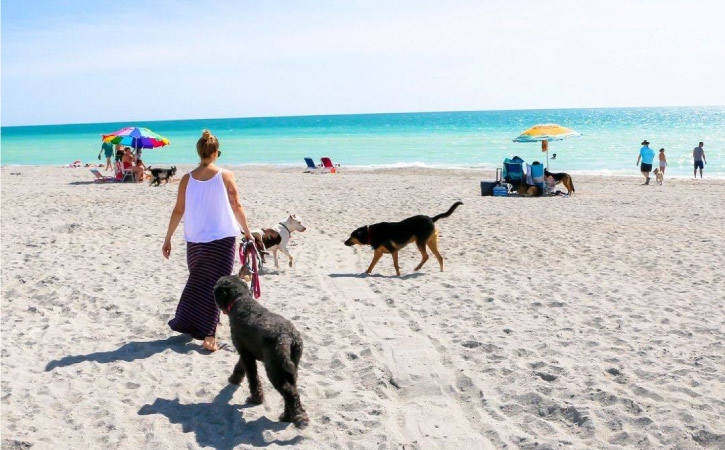 Brohard Paw Park near Venice Beach
(Source: Visit Sarasota County via Facebook)
Venice Beach
Sharp-eyed beach strollers may find a treasure or two on this gorgeous beach, which sits atop a fossil layer, 30 feet deep and filled with fossilized sharks' teeth. Besides these ancient relics, Venice Beach offers pavilion-shaded picnic tables and a waterfront cafe. And the nearby Brohard Paw Park welcomes furry friends to the county's only dog-friendly beach.
Casey Key
Tucked between Sarasota and Venice, Casey Key is a narrow island that's home to Sarasota County's oldest public beach, Nokomis Beach, and the area's most coveted real estate. Head to the North Jetty Beach Park for bird watching, fishing, hiking, and picnic spots — and stay for a spectacular sunset from your perch on paved rocks stretching out into the gulf.
Manasota Key
This 11-mile barrier island is the very definition of a hidden gem. Four beaches attract visitors with lush mangroves and dunes: Manasota Beach, Blind Pass Beach, Stump Pass Beach, and Englewood Beach. Go for a hike along the trails of Stump Pass Beach, a state park. And at Englewood Beach, picnicking and beach volleyball are among the main attractions.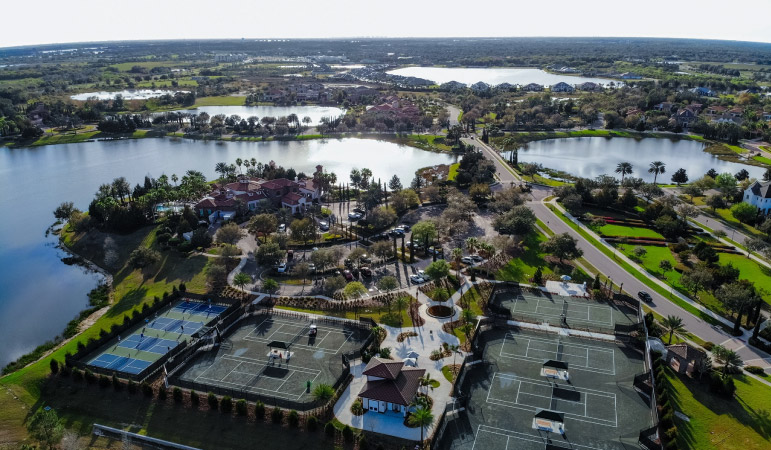 Lakewood Ranch
(Source: Lakewood Ranch via Facebook)
3. Looking for the best places to live in Sarasota, FL? Try Lakewood Ranch, Venice, and Downtown Sarasota.
A flood of newcomers in the early 2020s drove up competition and home prices in Sarasota. In the past year, though, things have settled down a bit. The average home value in Sarasota in September 2023 is $462,200, a 1.1% drop from the prior year.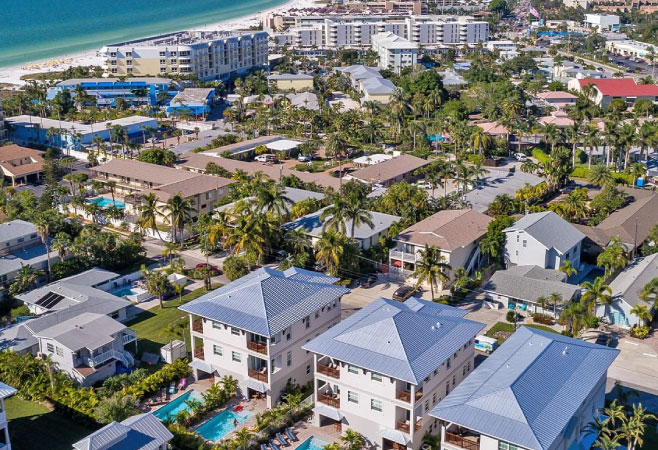 Siesta Key
(Source: Visit Sarasota County via Facebook)
Of course, the prices will vary wildly, depending on where you want to live. Many consider any of the beach communities mentioned above to be the best places to live in Sarasota, FL, but these come at a steep price. For example, Longboat Key and Siesta Key have average home values of over $1.1M and just under $1M, respectively, with many properties stretching into the multi-millions.
The mainland has plenty of great neighborhood options, too, but for more availability and affordability, you may want to venture outside Sarasota proper. Here are three favorites (plus more to include on your list):

Downtown Sarasota
(Source: VisitSarasota.com)
Downtown Sarasota
Walkable neighborhoods stretch out from all sides of the downtown area, offering side streets filled with vintage bungalows and bayfront condominium towers with majestic views. Being so close to downtown's charming restaurants and boutiques will cost you, though (the average rent is almost $2,150).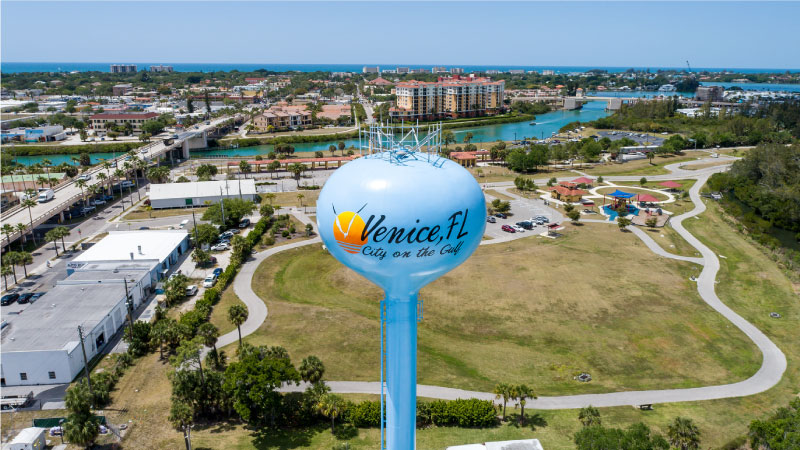 Venice, Florida
(Source: Venice, Florida Municipal Government via Facebook)
Venice
Venice offers a relaxed beachy lifestyle with a dash of elegance. The city was designed as a master-planned community (one of the first in the U.S.), and many of its original 1920s homes have been restored to their former glory — with all the modern conveniences, of course. You'll find bountiful shopping and dining options on Venice Avenue, just a quick hop away from Venice's beaches.

Venice, Florida, home prices tend to be more affordable than their counterparts in their namesake Italian city, but back in the States, they're comparable to Sarasota homes, coming in at just over $450,000.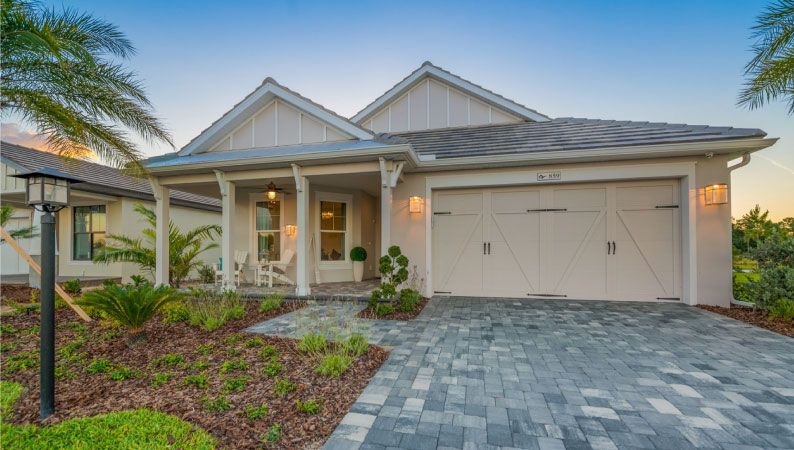 Single-family home in Lakewood Ranch
(Source: Lakewood Ranch via Facebook)
Lakewood Ranch
Families can find their niche in one of the 20+ distinctive villages of Lakewood Ranch, among the nation's most highly rated planned communities. Businesses, golf courses, schools, and every possible amenity are here, along with the renowned Sarasota Polo Club — one of the many charms that come with living in Sarasota, FL. The typical home value in upscale Lakewood Ranch is about $668,800.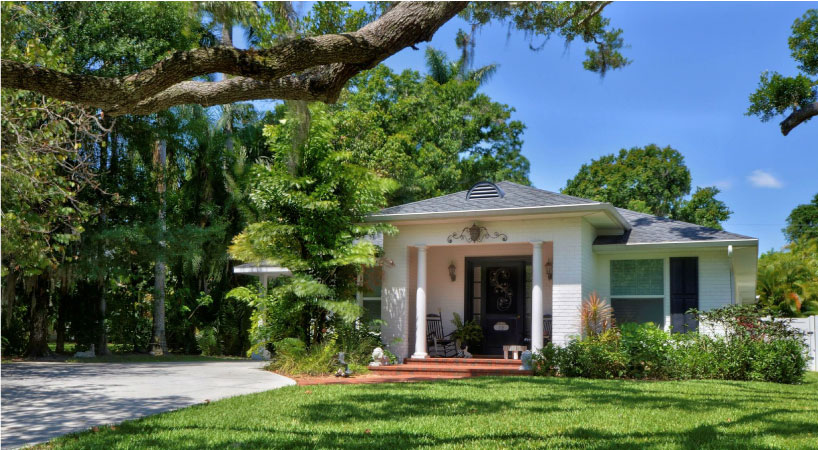 One-story home in Bradenton River District
(Source: Bradenton River District via Facebook)
Other Sarasota neighborhoods and nearby areas to investigate include:
Bradenton
Heritage Harbor
Manatee River District
River Forest
Rosemary District
Southgate
Southside Village
Wellen Park
Q: Is it expensive to live in Sarasota?
A: It can be — especially on the beaches. Home prices and cost of living vary throughout Sarasota County, but it's an overall affordable place when compared to its neighbors, like Naples, where rent is around 10 percent higher. For a family of four, living in Sarasota, FL, runs a little over $4,300 a month, excluding rent or mortgage, and for a single person, it's about $1,200.
4. There are plenty of things to do in Sarasota (besides going to the beach).
Stunning beaches are the main attraction for visitors to the Sarasota area, of course, with golfing coming in at a close second. But when the temperature and humidity reach brutal levels in the summer months, locals look for less weather-dependent activities. Here's a quick look at a few of our favorite things about living in Sarasota, FL:
Yes, those Ringlings. John and Mable were serial art collectors throughout their lives, with the Museum opening as a legacy to their passion in 1927. Beyond visual art, the museum also hosts regular theater screenings, lectures, and more.
Naturally, any list of things to do in a coastal Florida town is going to include some semi-aquatic adventures. Mote opened its doors in 1955 and has since grown into one of the largest marine research labs in Florida. A trip to its aquarium will have you encounter everything from manatees to sea turtles, and even a trip into virtual reality. Plus, it's open 365 days a year — perfect for when you're looking for something new and Googling "what to do in Sarasota."
Take a right off Fruitville Road and look for the angular, lavender building. The Van Wezel regularly hosts concerts, comedy shows, musicals, plays, and dances year-round.
The botanical gardens have two campuses: one in downtown Sarasota and the other in Osprey, as part of the Historic Spanish point. The beautiful gardens teem with plant life, history, walkways, and community events.
Another Ringling creation! St. Armands Circle is a luxurious shopping center located on St. Armands Key. Dotted with statuary, abundant palm trees and patios galore, it's the perfect place to sip on a margarita or three while you watch the sun set.
This one's perfect for your list of things to do in Sarasota with your kids. Ever wanted to get face-to-face with a flamingo? This is your spot. The daily animal shows and petting zoos are sure to please the kids, while the plentiful walkways are sure to give parents a relaxing, tropical experience.
If you're looking to go on a major shopping spree, the Mall at University Town Center is here for you. The sprawling complex is right off I-75 and just a hop, skip, and a jump from Lakewood Ranch. The best part? The University Town Center covers around 880,00 square feet, so it will take you weeks to get to know every little bit of it.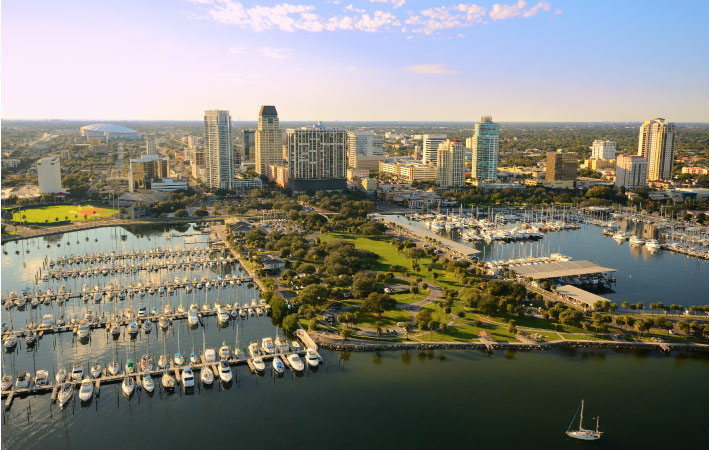 St. Petersburg, Florida
Q: Should I move to Sarasota or Tampa?
A: The good news is you can spend time in both places, no matter which you choose to call home. At just over 61 miles apart, these two cities are close enough for a commute over the glorious Sunshine Skyway Bridge, which lights up in colorful tribute to various holidays. But while Sarasota and Tampa share some common attributes — amazing arts and dining scenes, along with fantastic neighborhoods — they're quite different. Tampa is a major city, for starters, with just over 398,200 people calling it home, while Sarasota is home to almost 53,400. So start with your preference for population size, and make your decision from there.
5. Sarasota has some awesome neighbors, as well.
As much as Sarasota has to offer, there are some pretty amazing places to visit within an hour or two's drive. Both Clearwater and St. Petersburg boast award-winning white sand beaches with dolphin tours to boot, and Tampa is a hub for live music and sporting events. (Go Bucs and Bolts!)
Are you into theme parks? Tampa has Busch Gardens and Adventure Island to quench your thirst for adventure. Love to fish? You can charter a boat out of Clearwater (or really any of these cities) and take to the high seas — er, well the high "Gulf." And for the culture enthusiasts among you, check out The Dalí Museum in St. Petersburg.
You can learn more about life in these beautiful Tampa Bay cities on the PODS Blog:
Moving to Florida? Compare moving costs and options with our Florida Moving Guide or call PODS at 855-706-4758 for a personalized quote.
6. Sarasota schools are outstanding.
Serving almost 44,000 students, Sarasota County Schools consistently earn high ratings, and is the top district in the state for 2024, according to Niche. Several individual schools have earned a 9 or 10 out of 10 review from GreatSchools and impressive marks from the prestigious "U.S. News & World Report Best High Schools in America."
Here are a few Sarasota standouts:
Pine View School is ranked by U.S. News & World Report as second-best overall in Florida, No. 13 in America, and No. 1 in Sarasota County high schools.
Sarasota Middle School, with around 1,200 students, ranks No. 3 in the county from Niche (only behind Pine View and Sarasota School of Arts & Sciences, respectively), thanks to its emphasis on academics and better-than-average student-teacher ratio of 18:1.
Southside Elementary School and Bay Haven Elementary are two historic schools built during Sarasota's earliest days — and they're both still kicking. Today, Bay Haven is called Bay Haven School of Basics Plus, Sarasota's only magnet elementary school, and is recognized as a National School of Merit (Blue Ribbon School) for 2023 and a "Five Star School." At Southside, the Panthers' vision is "to learn, to dream, to laugh, to love every child every day — whatever it takes!"
7. It's easy to feel younger in Sarasota.
Despite the glorious Sarasota, Florida, weather, beaches, and slew of recreation opportunities that tend to make anyone feel young, age demographics here skew on the high side compared to the rest of the U.S. At 49, Sarasota's median age is higher than the national median age of 38 and Florida's median age of just over 42. What contributes to this higher median age? In addition to the many retirees making Sarasota their full-time home, many residents are "snowbirds," meaning they flock south for the winter months and head to points north when the weather heats up.
Retiring to Sarasota? Make the transition easier with these top moving tips from retirees who relocated to Florida and Arizona.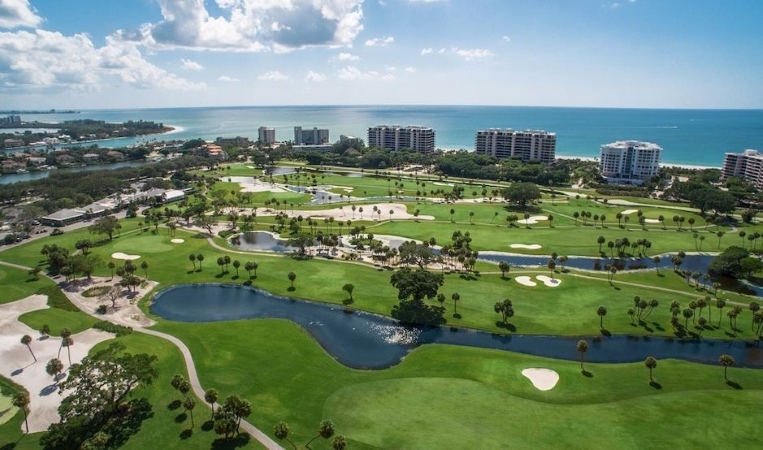 (Source: The Resort at Longboat Key Club via Facebook)
8. Scottish settlers built Florida's first golf course in Sarasota in 1906.
It's no surprise that the first golf course in the state of Florida was built by a real estate developer in Sarasota. Sent from Scotland to manage a struggling colony of about 60 Scottish families, J.H. Gillespie is known as the "Father of Sarasota." In addition to building the city's first roads, establishing its first railroad service, and starting the tourism industry with its first hotel, Gillespie constructed two holes for golf in 1886. He officially opened the golf course in 1905.
Today, Sarasota residents and visitors can choose from hundreds of premier golf courses in the area, from The Highlands to The Groves, a challenging public course.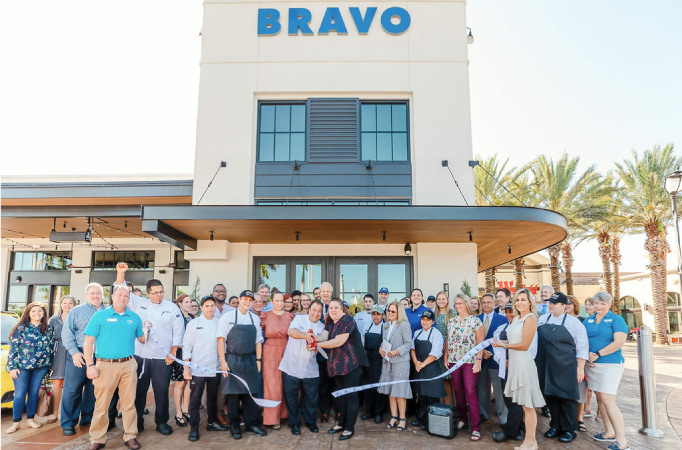 (Source: Greater Sarasota Chamber via Facebook)
9. Tourism is no. 1 – but all kinds of business is booming in Sarasota.
The medical industry is a big employer in Sarasota, as are grocery stores and law enforcement agencies. Tropicana, known for fresh orange juice (this is the Sunshine State, after all), still operates in Bradenton, where it was founded in 1947 by an Italian immigrant who arrived in America with $25 in his pocket.
Sarasota has also earned a bevy of business honors in the past decade. Accolades include: home to several of Yelp's Top 100 Florida Restaurants, among the top five cities in the U.S. to pop the question, and the No. 3 Florida destination for a family vacation — behind only Orlando (duh) and Tampa.
The top six Sarasota employers include:
Sarasota Memorial Healthcare
PGT Innovations (building materials)
Venice Regional Bayfront Health
Helios Technologies
Sarasota County Schools
Tervis
A performance at The Circus Arts Conservatory
(Source: The Circus Arts Conservatory via Facebook)
10. Sarasota is a major cultural destination.
Besides the glorious weather, one reason so many people are making their way to Sarasota is its vibrant arts scene. From the elegance of the Sarasota Opera House, the Sarasota Ballet, and the Asolo Repertory Theatre to Sarasota Contemporary Dance, the Sarasota Cuban Ballet School, the Circus Arts Conservatory, and the world-renowned Sarasota Film Festival — to name a few! — creativity thrives here.
And it's not just about highbrow events. One of the most intriguing neighborhoods in Sarasota is the Towles Court Artist Colony, a downtown district of bungalows on brick-lined streets, founded in the '90s as a live-work haven for artists. Today, the colony is vibrant with galleries and studios, salons, cafes, art therapists, teachers, and more. Visitors are welcome, but the best time for newbies to check out the neighborhood is during open studio nights.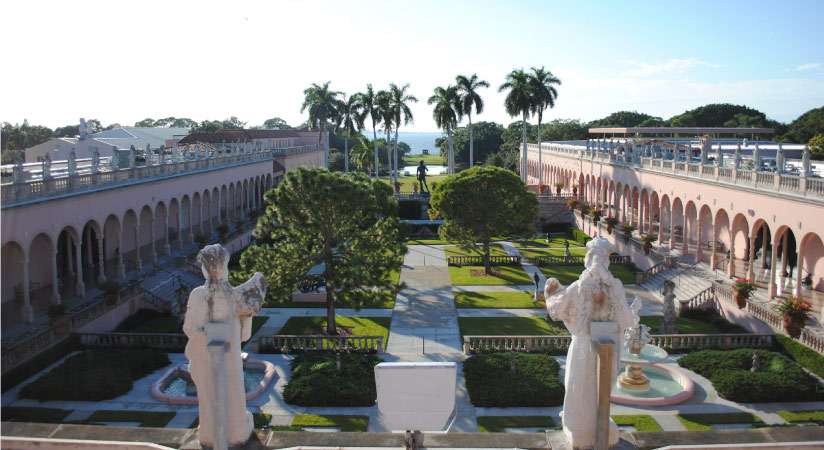 The promenade at The Ringling
(Source: The Ringling via Facebook)
11. The Greatest Show on Earth used to call Sarasota home.
The Ringling name is synonymous with Sarasota. For starters, the Ringling College of Art and Design, opened in 1931, earns the highest accolades, with a renowned program in animation complementing its art and liberal arts curriculum. The school was founded by John Ringling, who, with his four brothers, started the Ringling Bros. and Barnum & Bailey Circus.
On their annual trips to Europe to scout circus acts, John and his wife, Mable, toured art houses and built a tremendous collection of baroque masterpieces now on display at The Ringling, the State Art Museum of Florida.
Adjacent to the museum, Ca' d'Zan, the couple's five-story, 41-room Venetian Gothic manor, presides over Sarasota Bay. The name means "House of John" in Venetian dialect, but the home might have more suitably been named after Mable, who was obsessed with all things Italian and wanted her Florida manse to reflect the beauty she'd witnessed on many trips to Italy. Completed in 1926, the home cost $1.65 million, which included a $35,000 Napoleon-style bedroom suite.
The home eventually fell into disrepair but was renovated beginning in 2002. The $15 million facelift restored the opulent beauty of the home, now open for tours and special events as part of the Ringling Museum.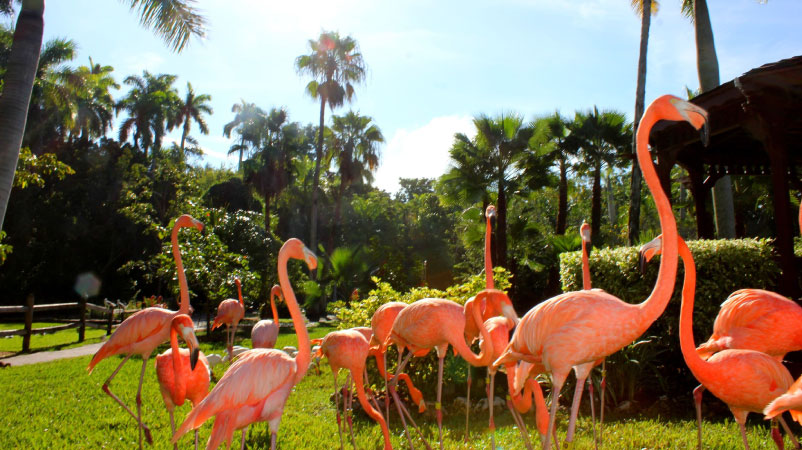 Flamingos at the Sarasota Jungle Gardens
(Source: Sarasota Jungle Gardens via Facebook)
Convinced that moving to Sarasota, Florida, is the right move for you? Whether it's out of state or just down the beach, check out the PODS Blog for advice on how to get there — every step of the way.

Shannon Jacobs is a Tampa-based freelance writer and frequent contributor to the PODS Blog. She has lived in Atlanta, the Berkshires, and Nashville, but always returns to the warmth of Florida's Gulf Coast.

Editor's note: For ease of reading, monthly rental prices were rounded to the nearest $25 and home values were rounded to the nearest $100.
Get a Quote
Choose the service you need
Comments
Leave a Comment
Your email address will not be published. Required fields are marked *