Trading in your current digs for Sarasota's sunny shores? Consider us jealous. Moving long-distance to Sarasota can be a challenge for sure, but with a little planning, you'll be enjoying your home by the gulf before you know it.
Sarasota, Florida, is a growing and incredible place to live, known for its breathtaking beaches, many art museums, and being the perfect place to escape those brutal northern winters. 
We'll cover your top options for moving long-distance to Sarasota, take a look at the reasons why people are moving here, give you some tips and tricks, and share our picks for the top Sarasota neighborhoods and suburbs. Let's jump in!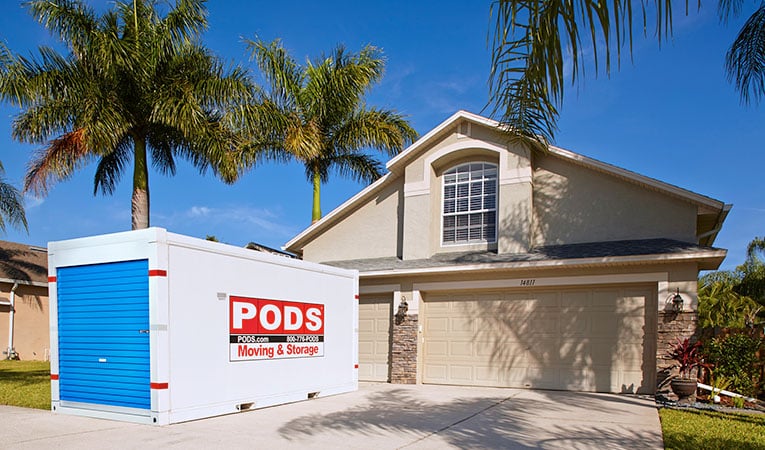 Know the Different Types of Movers for Long-Distance Moving
We bet you're jonesing to get a move on, but you may be wondering, "What's the best way to move long distance?" Rest assured, when it comes to the nitty-gritty of moving to Sarasota, you've got options. We've broken down your best choices for moving long-distance — ranging from the flexible, take-it-as-you-go approach to the rough-and-tumble DIY method. 
PODS Moving & Storage Containers
A bit of a humble brag, but one of the best and most efficient ways to move long distances is with a moving and storage container through PODS. PODS moving and storage containers make moves, especially long-distance ones, flexible. All you need to do is load your container up with your belongings right in your driveway, schedule a date for PODS to pick it up and take it to your new destination, and then unload it once you get to Sarasota! No need to worry about driving, and if you need some extra time for any reason (impromptu beach day?), just have PODS hold on to your container until you're ready for it. 
Full-Service Movers
If you're looking for a point-A to point-B, white-glove move and have some extra dollars to spend, a full-service mover may be worth looking into. 
They can help you with pretty much everything — packing up your home and loading the truck, driving it to its destination, and then unloading everything into your new Sarasota home. But be aware, should anything change during your move (say your closing date changes), you may be stuck paying extra fees to store your things. It's more common than you may think. With PODS, a month's storage is built into every move, so you wouldn't have to worry about that.
Rental Trucks
If you have the time, muscle, and gumption to take on all the work yourself, a rental truck can be an economic option. 
They're pretty easy to rent, just keep in mind that you're the one doing all of the hard, physical labor. You're responsible for loading all of your belongings in the truck, driving, and unloading everything once you get to your new home. You'll also be responsible for fuel costs and (depending on the agreement you sign) other miscellaneous fees. If you've never driven a truck of that size before, you may want to get a moving container instead and let the pros at PODS handle the driving.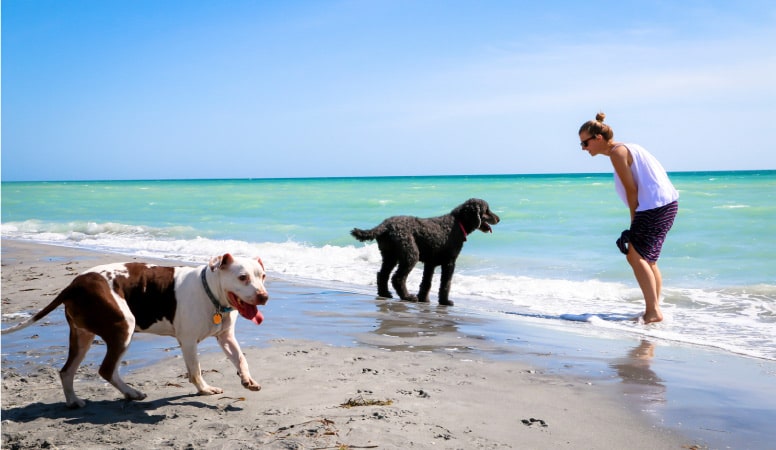 Why Are People Moving to Sarasota, Florida?
Sarasota has seen remarkable growth over the past year, so much so that it was 2021's most moved-to city in the entire country, according to PODS moving data. There's a blend of reasons for this: an overall lower cost of living than other places in the U.S. (for now), a relaxed lifestyle, and more space — especially if you're coming from a big city like New York, LA, or Chicago.
Cost of Living in Sarasota
The most important thing to think about when it comes to living in a new city or state is the cost of living compared to where you lived before. Sarasota living is very affordable compared to big cities, such as New York for example. To put it into perspective, it's about 22% less expensive to live here than in New York. Rent alone can be around 37% less.
But, in comparison to the rest of Florida, Sarasota is one of the more expensive cities to live in. It's more costly than Tampa and has a comparable cost of living to beach towns St. Augustine and Venice (Sarasota's neighbor). 
The Lifestyle of Sarasota
You'll be happy to know the Sarasota lifestyle is very calm, relaxing, and even tranquil because of the beautiful beaches, warm weather, and all of the outdoor recreational activities. Sarasota County is home to some of the best beaches in the U.S., including Longboat Key, Lido Key, and Siesta Key. It's no wonder these beaches see a huge influx of spring and summer vacationers. 
Art lovers will be just as comfortable here as beach bums, with The Ringling Museum of Art, and the Van Wezel Performing Arts Hall bringing in some of the best acts from around the country. Sarasota's downtown is also thriving with plenty of charming restaurants and boutiques to choose from.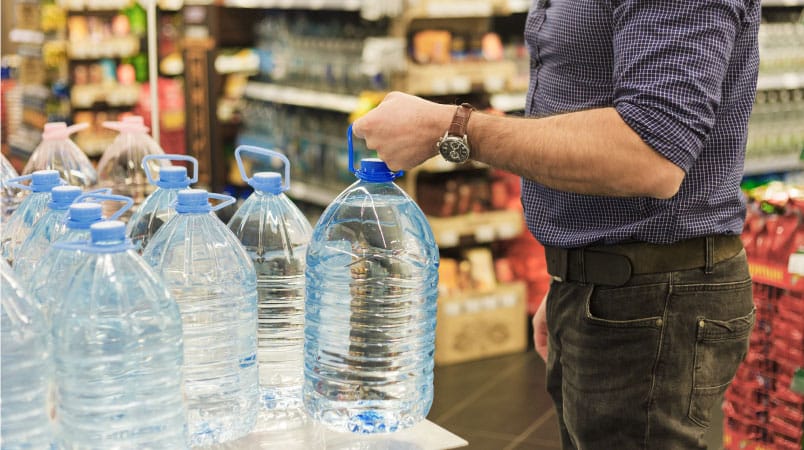 Tips and Tricks for Long-Distance Moving to Sarasota
Picking up your life and moving long distances to a new city or state can be a lot to handle, especially if it's your first time. Learning how to approach such a move (no matter where you're moving) is essential, and it can help to make the journey just a little bit easier for you as well.
If you're moving to Sarasota, Florida, and are traveling a long distance, here are some tips and tricks to prepare you for the big move!
1. Houses Are Largely Ready for Move-In
As we mentioned earlier, Sarasota is booming. There's new construction all over the city, so many of the homes you'll find on the market will be move-in ready, with little to no renovations needed. Great news for those who don't want to take on the challenges of a fixer-upper. However, if you relish the opportunity to make a home your own, the PODS Blog has your guide to living in your fixer-upper while you fix it up.
2. Pick Up Some Hurricane Safety Skills
Another factor to consider before moving to Sarasota, and really anywhere in Florida (especially the coast) is that it's prone to getting hit with hurricanes. It would be wise to get familiar with a standard hurricane preparedness kit, which includes essentials like nonperishable foods, water, flashlights, batteries, candles, lighters, and games. Once you have your new address, look up "Sarasota County Flood Zones", find out what zone you're in, and keep your eye on weather reports. Once you get a couple of hurricane seasons under your belt, you'll be braving storms like a true Floridian. 
3. Bring Plenty of Water if You Move During the Summer Months
It's the world's worst-kept secret: It's hot in Florida and Sarasota is no exception. Summer is typically peak moving season, so it's important that you bring a lot of water with you for your move to Sarasota. Summer temperatures can get up to 93 degrees (and beyond), while the coldest it will likely get is 57 degrees in the winter.
4. Get Your Home Inspected for Termites, Roaches, and Other Pests
Florida lies within a humid subtropical climate zone. And, if you go south enough, it's a fully tropical climate akin to the Bahamas. So, with your main dish of sunny days and palm trees, you get a whopping helping of pests, bugs, and unwelcome multi-legged roommates. Bummer. 
Termites are the top pest problem for Sarasota homeowners, and unfortunately pose the greatest threat to homes. If you're building a new home, pest control companies can offer treatments to prevent termites from coming, and if you're moving to an already-built home, have it inspected ASAP. The sooner you get a handle on the pests, the happier and healthier you'll be.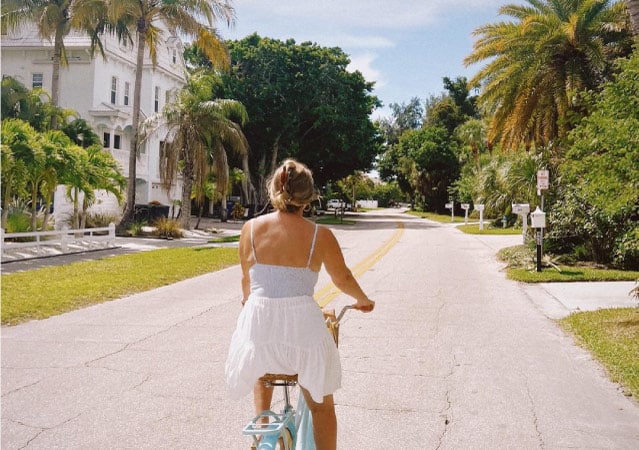 The Best Sarasota Suburbs and Towns to Live in
There's nothing more important than choosing the best place to live before you move to Sarasota, Florida. Sarasota is an amazing place all over, but within the city and its surrounding suburbs, there's a wide variety of communities to choose from. And of course, it all comes down to picking the right one for you. We've compiled our top picks to get you started on your search.
Longboat Key
Are you looking for one of the best places in Sarasota to live? If so, then you should consider checking out Longboat Key. It's a long barrier island that spans both Sarasota and Manatee County. A small resort town with waterfront golf, tennis, beaches, and spas dotting the coast, Longboat is a luxurious dream. It's an expensive place, with home prices exceeding the million dollar mark. But if you can swing it, it's definitely one of the best places to live in Sarasota, if not all of Florida.
Sarasota Springs
If you're looking for easy access to downtown while still keeping a suburban feel, you've found your spot in Sarasota Springs. There's a good mix of people here, from married couples with families, to singles splitting the rent. Families tend to flock here, as it's one of the top places in Sarasota County to raise kids. 
Venice
Just a few miles south of Sarasota, Venice is another beach town worthy of attention. A bit of a slower pace than Sarasota proper, Venice's beaches include a coral reef just offshore and some of the best golfing in the state. The big benefit here is that Venice isn't growing as quickly as Sarasota, so you may be able to find similar properties for less moolah. A worthy trade, in our book!
Fruitville
Looking for a large and lively suburb in Sarasota? If so, then you should consider moving to Fruitville! This beautiful suburb offers lovely coastal ranch-style homes, affordable apartments, and has an impeccable restaurant scene, outdoor recreation parks, and so much more to check out. 
Making the Move to Sarasota
Long story short — if you're a fan of amazing weather, beautiful beaches, affordable cost of living, a lifestyle you can thrive in (and so much more!), then moving to Sarasota, Florida, is the way to go.
In addition to simply packing boxes and purchasing a colorful new swimsuit, there's plenty to plan before your move, especially when you're moving long-distance. Use our moving out of state checklist to keep track of everything while you prepare for your new life in sunny Sarasota, Florida.
Get a Quote
Choose the service you need
Comments
Leave a Comment
Your email address will not be published. Required fields are marked *