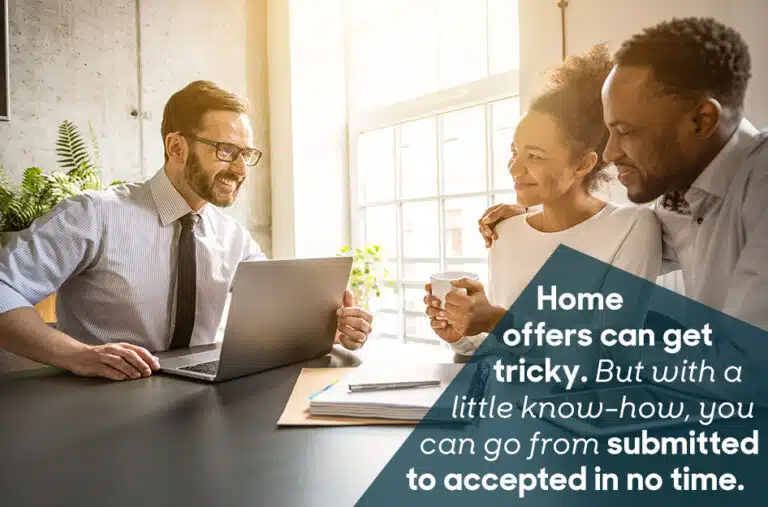 Home Offers 101: How to Make an Offer on a House in 2023
So you've found the perfect house to buy, huh? Now it's time to figure out how to make an offer and go for that dream home you've always wanted! Sure, making a home offer may seem simple: You work with your real estate agent to come up with a price and then submit it to the sellers. But that's just the big picture. A home offer also includes elements that you may not immediately take into consideration — such as contingencies, requests for home inspections, and any cost negotiations before settling on that final number.
With this in mind, you're likely to develop a lot of questions about the process of making a home offer, and that's normal. Let us save you some panic and help to get you prepared.
We've compiled answers to some of those questions, including whether you can make an offer on a house without preapproval, deciding how much house you can afford, and thinking through the process of writing a home offer letter to the homeowners. You should also be prepared to know what contingencies you're comfortable asking for — maybe you want a fast closure or to skip home inspections — that are in your budget and that make sense for you as the potential owner of that house. 
In the housing market, competition can be fierce and homes can go under contract very quickly. That's why the negotiation process is so important and why writing a home offer letter well really matters. It's also why you'll want to have most, if not all, of these decisions made as early in the game as possible.
Let's get started.
What do you need to have in place before you make a home offer?
In short order, you need several things to be ready to make a home offer on your dream abode.
Payment Method
You need to be preapproved by a financial institution for a mortgage or home loan, or you have to have the cash in hand to make the payment in full. Otherwise, your offer will go straight to the rejection pile.

Agent
Decide whether you want to work with a real estate agent or go solo. Making an offer on a house without an agent is certainly possible, but having a pro by your side gives you a massive advantage.

Price
How much do you want to pay for the home? Be sure to get the necessary paperwork in front of the seller. 

Down Payment
You need to think about how much down payment you'll want to make, and a house calculator can help you with that decision.
Did you know? Once you've found the house you want, the home-buying process can typically be completed within a month!
How do you get started making an offer on a house?
The first step in the process is the easiest one: You have to decide that it is time to buy. For first-time home buyers, this is the moment of truth. That means setting up a budget to know how much you can afford, deciding whether to work with a real estate agent, and figuring out what neighborhood or city you want to live in. Eep!
Once you have that settled, go online and use a mortgage calculator to determine how much house you can buy with your income and any debt you may have. Look with your real estate agent or go onto a reputable home-buying website to see how much homes are selling for in the particular neighborhood your perfect home is in.
Next, think about your timeline: Do you need to move right away, or can you wait for the current homeowner to find a place? Can you avoid contingencies like a home inspection, or do you want certain contingencies to make sure the home is ready to move into — and a wise investment, for that matter?
How much should you offer on a house?
How much you should offer on a house is determined by three things:
Your budget for a monthly house payment
What you can afford in terms of a down payment
Mortgage rates at the time you buy
Once you've worked these numbers through honestly and completely, you can determine whether you have enough funds to make an offer. In a hot market, most buyers have to come in at the home's asking price or slightly above (sometimes significantly so), as well as compete with multiple offers. Keep that in mind and check with your lender to see whether you can bring cash to the table as well to cover any extra costs that go beyond the home's appraised value. 
Negotiating a home offer is challenging, and the home seller may want to check with an agent on each and every offer, so have some patience at this step of the process.
How do you make a good offer on a house?
This is the tricky part. You need to determine how much you can afford to throw at a house that you may have fallen in love with or one in an area where you want to live. If you really need the home, then you will want to make a house offer that is at least near the asking price — perhaps within 5% to 10% of that asking figure. For most sellers, coming in close to what they want to get and what the market bears for that particular home is considered a good offer.
You may be wondering, however, when it comes to a competitive housing market, "How much over asking price should I offer on a home?" The answer: You may have to go at least 5% to 10% over the asking price — especially if you're looking in a hot neighborhood or a city where a lot of people are looking to live. 
In the end, what is a reasonable offer on a house? It's what you are comfortable paying every month, taking into account what mortgage rate you received and what kind of lifestyle you want to have once you're in the home. 
Insider Tip: This is the time when you may want to write a letter to the home seller that your real estate agent can include in your home offer. This letter should highlight why you want that home, what you like about it, and how you can see your family living there. This tends to make the home seller feel like you will appreciate the home, and your home offer may be taken more seriously if you take the time to write something from the heart. These letters don't have to be very long — one or two pages at most are considered ideal. Check with your real estate agent first, though, to ensure this is a standard practice with home buying and selling in your area. 
How do I improve my chances of getting the home I want?
Here's where things get interesting. Negotiating a cash offer on a home has proven to be one of the most effective ways to buy a home — sellers love a cash offer. That's because someone who pays in cash is likely going to make the deal happen. If you need to work with a mortgage lender, there can be delays or sometimes buyers fall through, and a seller doesn't want any setbacks when it comes to moving.
Now, chances are the seller will do something some buyers dislike: make a counter offer. It's when the seller comes back from your original house offer amount and asks you to raise it or change some contingencies. Whether you decide to come up with more money or change your offer is up to you. But if you are committed to that house, you may want to come up with the additional funds or make the necessary changes to get you to the finish line — that is, the closing table, where you can sign the papers that will make that house offer turn into a house closing. If you need more help, you can find ideas, suggestions, and advice on the home-buying and selling process from start to finish right here on the PODS Blog. 
How do you make an appropriate offer on a house?
The answer is somewhat simple: Carefully. What does that mean? Basically, it means you need to throw away what you see on television and realize that you're working with real people and real money here. In other words, you need to know how to make an offer on a house that is respectful, sensible, and something both sides of the process can accept with some amount of happiness. Think you can "lowball" it and offer half of the asking price? That's both insulting and unrealistic. Rather, you need to evaluate many things about a home, its neighborhood, and its potential value to come up with a reasonable price that you're willing to offer and pay. The home itself is where you should start. Does it need major or even a lot of minor repairs — a "fixer-upper" of sorts? If so, you can likely drop a certain amount off of the original asking price on what you decide to offer. As far as the neighborhood goes, are you the best house in an up-and-coming neighborhood? That may be something to consider when making your offer — perhaps the house is overpriced because the owners put so many improvements into it. If that's the case, then you might be able to change how much you offer to reflect that. A home's potential also weighs into what you feel is appropriate to offer. If the house needs a lot of improvements to bring it up to the area's housing value, then you might want to talk with your real estate agent about that and let them know you want to subtract those improvements you deem necessary from the owner's asking price. How to make an offer on a house that's going to make you pleased and not get outright rejected is a fine art, but your real estate agent will be glad to help walk you through the whole process.
Should I be offering 20k over asking price?
The right answer to this question is going to depend on the market, your budget, and how much you really want to own that house. When you're wondering how to make an offer on a house, the current market is a huge factor. If it's in a highly desirable area and the house is completely updated, you may have to go over the asking price to get your offer accepted. Or if your budget can afford to pay over and above what the house is valued at in cash, then you may be able to go over the asking price or the bank's evaluation of what the house is said to be worth. The final consideration is how much you really, really, really want to own that piece of property and the house on it. If it is the ideal location, perhaps by a lake or near your children's ideal school, you may want to put in a bid that comes slightly or well over the asking price. That way, your offer is sure to get noticed if not outright accepted in certain housing markets. Coming in with a generous offer that gives the owners a bit extra is a smart way to start the negotiations, especially if you think there are going to be multiple bids on a home. If your real estate agent recommends you come in with your best offer on the first try, you may want to listen.
Once you get your offer accepted and negotiations are finalized? It's time to get moving! Your contract will determine your move-in date, but oftentimes, there will be about one to two months between closing and your occupancy date. Don't leave it all to the last minute! You can get a head start, and save a headache or three, with PODS portable moving and storage containers. Keep one (or more) in your driveway while you pack and load, and when you're ready, PODS will pick it up and deliver it to your next home or keep it in a PODS Storage Center.
---
Karen Dybis is a freelance journalist and a frequent contributor to the PODS Blog. Her work has appeared in Time magazine, U.S. News & World Report, The Detroit News, and more.
Get a Quote
Choose the service you need
Comments
Leave a Comment
Your email address will not be published. Required fields are marked *