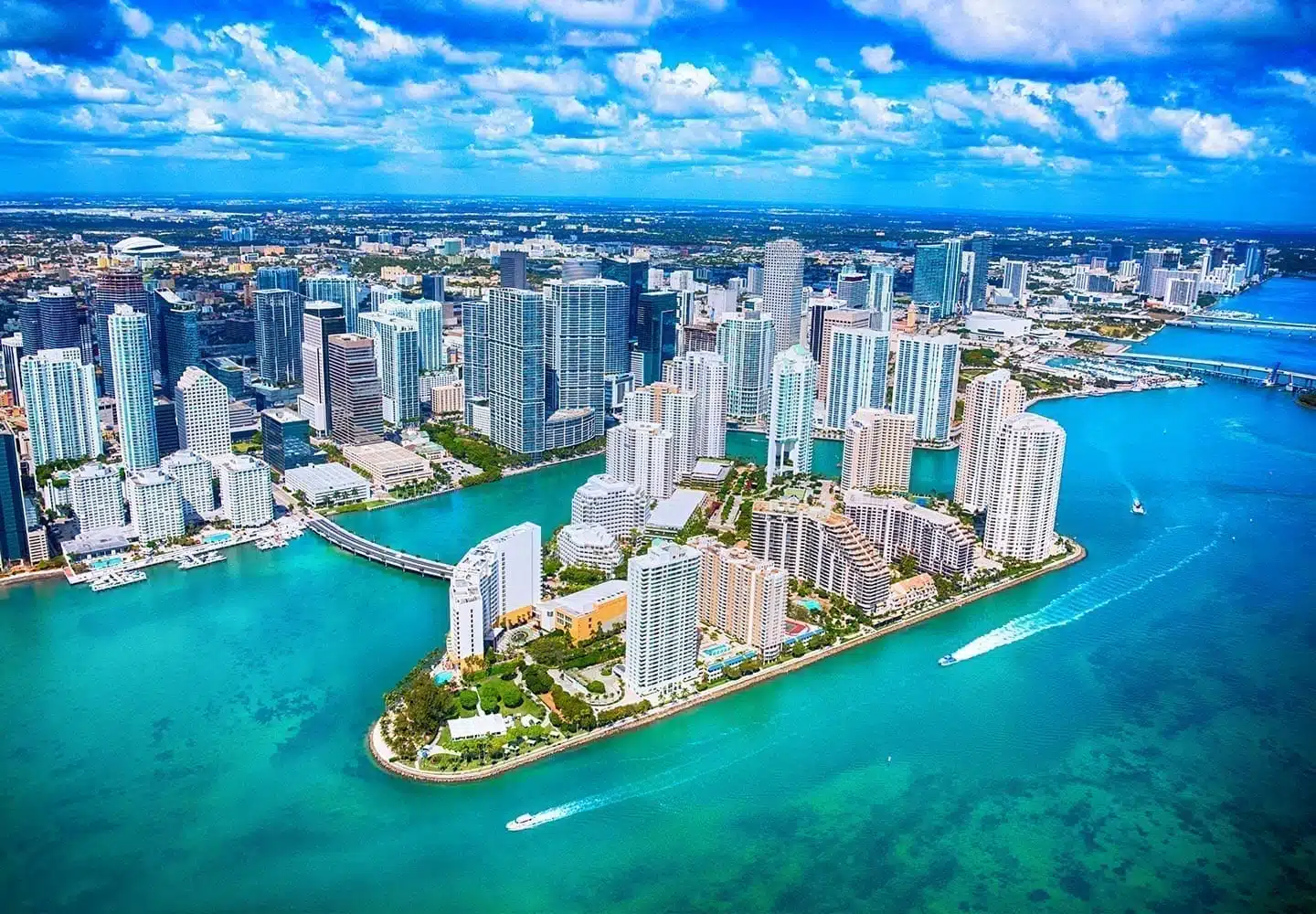 2023 Miami Moving Guide: Find the Best Neighborhoods in Miami for You
Ah, Miami. What comes to mind when you think of the famous Florida city? White sand beaches, Cuban food, art deco architecture, a tropical atmosphere? The Magic City has so much to offer, both on and beyond the beach. If you're making the move to Miami, you might be wondering what living in Miami is like…and where to live in Miami! Read on for our guide to the best neighborhoods in Miami to help you decide which area will be the perfect fit.
ABOUT LIVING IN MIAMI
Located on the southern tip of mainland Florida, Miami's bordered by Biscayne Bay and the Atlantic Ocean to the east and Everglades National Park to the west. While more than 2.7 million residents live in Miami-Dade County, that includes about 440,000 in Miami proper, with the rest dispersed among 33 small cities, from famous Miami Beach to stately Coral Gables.
Living in and exploring Miami can be a total blast if you're up for some adventure. Teeming with diverse cultural experiences, artwork, nightlife, and beauty, there's something fascinating to see around every corner. If you've only read about Miami or visited on vacation, the first thing you should know is that it's more than just the beach! Yes, Miami has phenomenal beaches and the nightlife to go with them. But venture inland and you're in for fun discoveries, as well.
Culture
Miami's vibrant culture draws from a strong Latin American and Caribbean influence, with nearly 70% of the population in the county identifying as Hispanic or Latino. Although English is the official language, since two-thirds of Miamians speak Spanish, brushing up before visiting or moving will serve you well! In neighborhoods like Little Havana and Little Haiti, especially, expect to experience the culture of their namesakes and enjoy the tastes, sounds, and people keeping traditions from afar alive here in Miami.
Cost of Living
How you view Miami's cost of living will differ depending on where you're moving from. Compared to other cities like New York, LA, or San Francisco, your rent and other expenses may feel low. Moving from a smaller city? Your bills may come as a bit of a shock. On the plus side? No state income tax!
Transportation
Transportation in Miami, like any growing city, can be challenging. Depending on your neighborhood, commuting to downtown and other areas for work can mean sitting in traffic congestion longer than you'd like. BestPlaces cites the average commute as under 30 minutes, but this will vary widely based on where you work and live.
Although Miami has a number of transit options — from buses and trolleys to the Metrorail and Metromover — it's not easy getting around without a car, which is the case in a lot of Florida cities. Here's a quick breakdown on what's available via Miami public transit.
MIAMI NEIGHBORHOOD GUIDE
Wondering exactly where to live in Miami? Finding the perfect home among roughly 40 Miami neighborhoods can feel overwhelming. But if you know what you're looking for, you can take some shortcuts with our Miami neighborhood guide. Before you dive in, ask yourself — What do I value most in a neighborhood? Walkability? Beach access? A quiet street? Knowing the answers, combined with our quick tour of some of the best neighborhoods in Miami, will help you determine where to plant your roots.
If you're moving to Miami to experience culture, art, or a more bohemian vibe…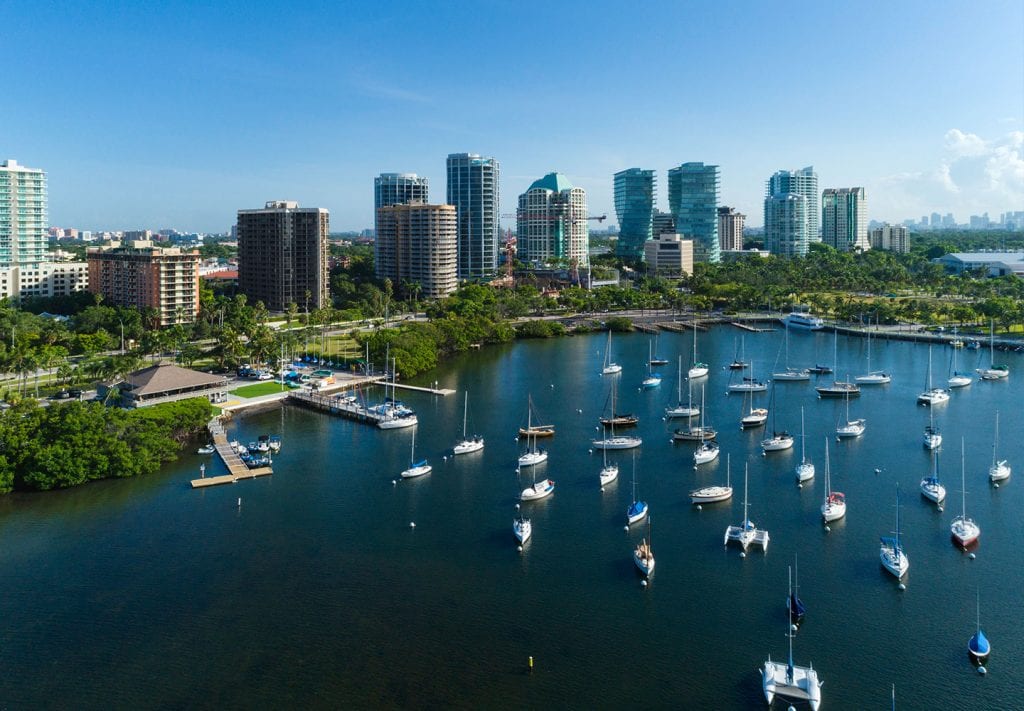 COCONUT GROVE
Coconut Grove, or "The Grove" to many locals, has an ideal blend of interesting things to do and a laid-back environment for enjoying them. Once home to Miami's artists and writers, Coconut Grove has maintained the artsy, relaxed feeling. This pedestrian-friendly neighborhood is celebrated for exploring beautiful art deco residences and gardens, biking along the boardwalk, and shopping in eclectic boutiques. Rich with history, Coconut Grove is a relaxed and gorgeous place to call home.

WYNWOOD
Though you'd never know it by walking down its bustling streets, the neighborhood now called Wynwood was once fully industrial, filled with auto shops and warehouses. Today, Wynwood is one of Miami's hottest neighborhoods, dubbed the arts district of Miami. Filled with galleries, phenomenal bars and restaurants, artisanal coffee shops, and more, Wynwood is well worth your time to explore as a home. The neighborhood is eclectic and friendly, and you'll never find yourself with nothing to do, whether you prefer brewery hopping, yoga, farmer's markets, or simply wandering through the streets and admiring the art that's truly everywhere.

LITTLE HAVANA
West of Downtown Miami, you'll find the epicenter of Miami's Cuban culture: Little Havana. Teeming with history, this area is where many refugees settled in Florida. You may find older gentlemen playing a game of dominos or sharing stories over a cup of Cuban coffee in a sidewalk café. If you choose to call Little Havana home, you'll enjoy culture, residents who love their neighborhood, and fantastic food and drink around every corner. And be sure to mark your calendar for Viernes Culturales — an outdoor cultural festival occurring every third Friday of each month.
EDGEWOOD
Niche.com says it best: It's the #2 Best Neighborhood to Live in Miami, the #1 Best Neighborhood for Young Professionals in Miami, and the #3 Best Neighborhood to Raise a Family in Miami. Pretty impressive, huh? Perhaps it's because of its proximity to several attractions and other hot-spot neighborhoods, like the Perez Art Museum Miami and Wynwood. Or maybe it has something to do with that stunning, 8-acre, waterfront, and dog-friendly park, Margaret Pace Park. Whatever it is, Edgewood seems to have it all — relaxing vibe and affordable housing included.
If you want to be in the thick of city (or party) life…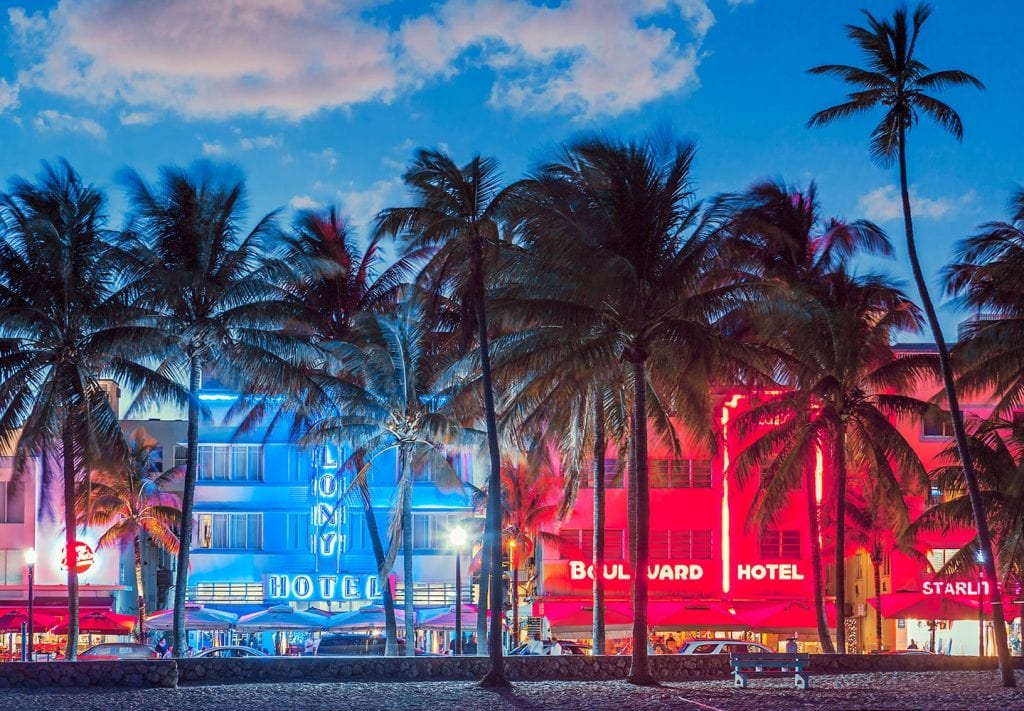 SOUTH BEACH
When most people think about living in Miami, what they're thinking about is South Beach: beautiful people on an even more beautiful beach, an insane party scene, celebrities, and art deco architecture. Basically, if what you're looking for is to extend Spring Break as long as possible, South Beach might be the perfect place for you. In all seriousness, this area is gorgeous, and there's always a party going on. If you live for the beach and a good time, consider South Beach for your new home.
BRICKELL
As Miami's financial district, Brickell spent many years as a place where people worked, but not where they lived or played. Adjacent to Downtown Miami and not too far from South Beach, Brickell has had something of a revival in recent years, as young professionals came in waves, bringing with them new development of high-rise condos, trendy restaurants and bars, and other trappings of urban living. With excellent walkability, Brickell may feel a little less Miami than other more historic neighborhoods, but if you're a city dweller who values accessibility and always having something to do, you'll love Brickell.
MIAMI DESIGN DISTRICT
While the Design District doesn't boast as many nightclubs as South Beach or the historic culture of Little Havana, this has become one of the hippest ZIP codes in the city over the last few years. Not unlike Wynwood, this formerly industrial district has undergone swift development that has taken it from Warehouse Central to Miami's best shopping district. Exploring Miami Design District, you'll find showrooms of unique furniture, designer boutiques, and some of the best museums and dining in the city.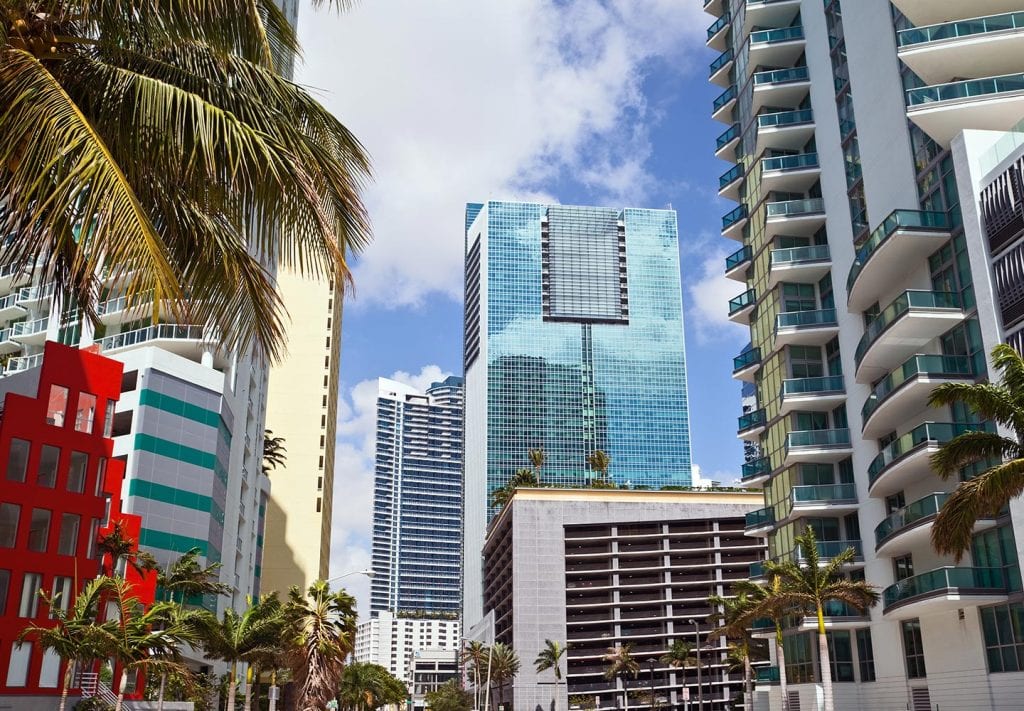 DOWNTOWN MIAMI
Centrally located, Downtown Miami has a lot to offer a city-lover, despite being overlooked and underdeveloped for a number of years. Today, Miami boasts one of the best skylines in the nation, filled with gleaming skyscrapers — and more taking shape. Downtown offers many outdoor spaces and parks, along with shopping, restaurants, nightclubs, and coastal marketplaces.
If you're looking for a more relaxed vibe for you (or your family)…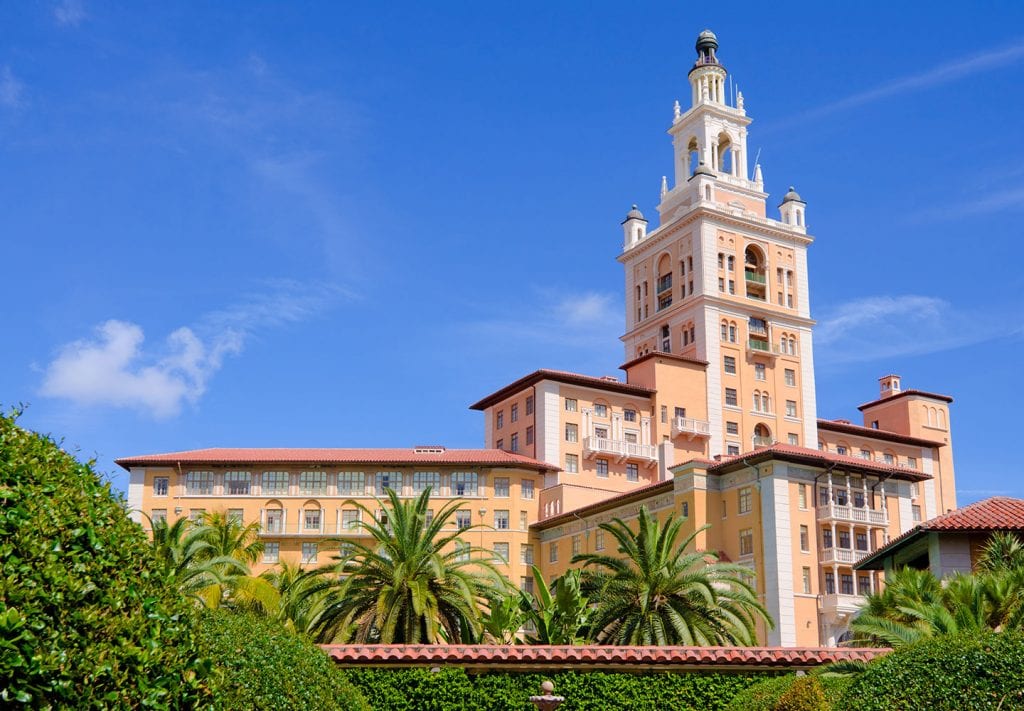 CORAL GABLES
Let's just get this out of the way: Much of Coral Gables is plush. This affluent area is described by many as one of the most beautiful neighborhoods, not just in Miami, but in America. And it's easy to see why: Coral Gables is filled with 1920s Spanish architecture in jewel tones, Florida oaks, and lush greenery everywhere you look. Just a few minutes from the beach, it also features excellent public schools and is one of the safest neighborhoods in Miami, attracting families from other parts of the city.
Q: Where do the rich live in Miami?
A: We all know there's a lot of money in Miami, but the area with the most expensive real estate? That's Indian Creek Island — also known as the "Billionaire Bunker." Other areas for affluent residents include North Beach, South of Fifth (of "SoFi"), Key Biscayne, Pinecrest, and Coral Gables.
PINECREST
Located southwest of Downtown and directly west of Coral Gables, the Village of Pinecrest is a popular destination for families. With a less frenetic feel than other areas of Miami, the Village neighborhoods feature more suburban daytime activities with farmer's markets, playgrounds, and community programs. Pinecrest is considered one of the safest neighborhoods in Miami and has a great network of public schools to boot.
KEY BISCAYNE
Boat due east from Coconut Grove and find yourself in the island-luxe of Key Biscayne. Once home to mostly coconut plantations, today Key Biscayne is home to terrific parks and outdoor spaces featuring biking paths, making it a very family-friendly destination for those who can afford it. Key Biscayne is serene and peaceful and boasts a very low crime rate, making it one of the safest neighborhoods in Miami.
KENDALL
Located east of Pinecrest, Kendall is a comfortable suburb well away from Miami's hustle and bustle. At a more affordable price point, Kendall is a great option if you're looking to save up for a mortgage or pay off student loans. One of the safest neighborhoods in Miami, you'll find a slower pace of life in Kendall, while still offering access to amenities Miami has to offer.
AVENTURA
One of Miami's largest suburbs, located in the northernmost reaches of Miami-Dade county, Aventura offers the perfect blend of a peaceful, suburban lifestyle with all the urban amenities you could want. This family-friendly area is clean, safe, and quiet. And there's plenty of greenspace and water access to go around. The best part? Aventura Mall is always bustling with shopping, dining, art, and architecture to fit every taste.
Now that you have more perspective on some of Miami's best neighborhoods, you're better prepared to begin your apartment search. Next step: Learn the tips and tricks for landing a great rental in the Magic City with our guide on how to find an apartment in Miami.
Get a Quote
Choose the service you need
Comments
Leave a Comment
Your email address will not be published. Required fields are marked *