Relocating to a new city can be both overwhelming and exhilarating, especially if you're moving to Miami. On one side, you have the famous Miami beaches and glistening waters of Biscayne Bay, while to the west you'll find stunning natural wildlife in Everglades National Park. The city itself is teeming with diverse cultures, art, music, and food. There's so much to discover!
But first you've probably got all kinds of practical questions like … What's the average rent in Miami? Where should I live? Where can I find affordable Miami apartments? Should I work with a real estate agent even if I'm just renting? Read on for answers to those questions and more in our guide to how to find an apartment in Miami.
What's the average rent in Miami?
In Miami, 1-bedroom apartments average around $1,800 per month. That said, there's a lot of variation depending on the neighborhood. For example, apartments in Little Havana average $1,400 a month while digs in downtown Miami average $2,200. Our Miami Neighborhood Guide will give you a quick overview of rents in different areas.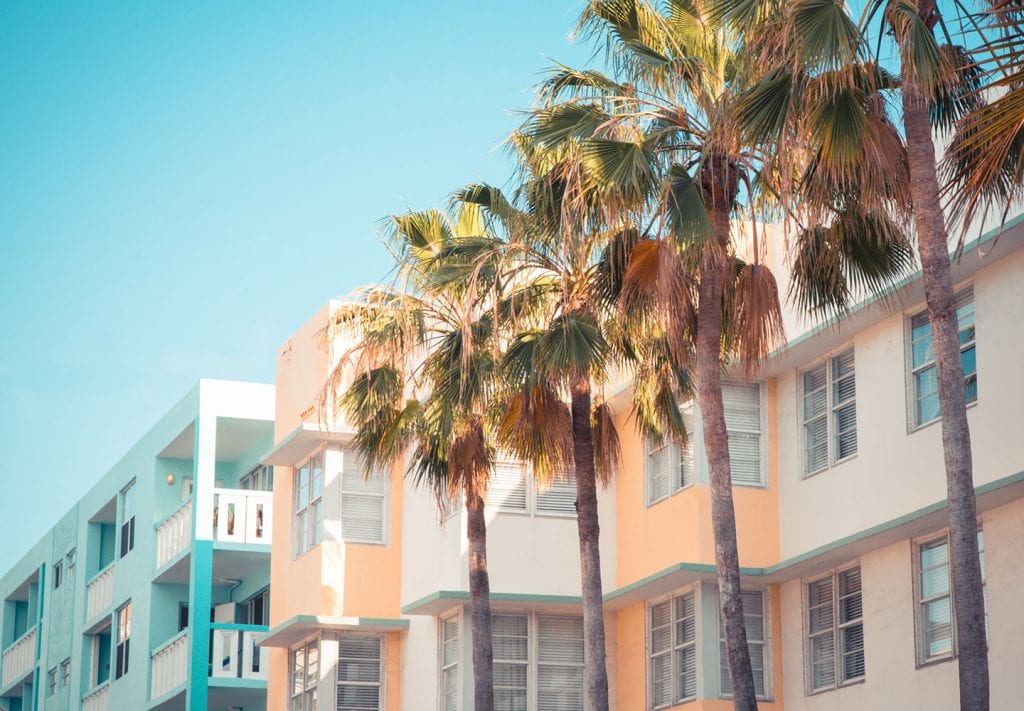 Should I rent or buy an apartment in Miami?
If you're thinking about buying an apartment in Miami you'll want to do some quick research on the local market first. While housing costs in the Magic City are still lower than places like New York City or San Francisco, real estate may still run hotter than you're used to. You can start with our moving guide to Miami Neighborhoods to narrow down the areas where you may want to buy. Then use tools like Zillow, Trulia, and Realtor.com to check prices in those neighborhoods, calculate what you'd need for a down payment, and see how a mortgage payment might compare to monthly rent.
If you're moving to Miami and looking for a place to live, the decision between buying and renting usually comes down to two things: Finances and your interest in staying put. It's best to plan on making a 10-20% down payment on a home. If you can't swing the cash or don't know how long you plan to stay, it may be wiser to focus on finding an apartment in Miami to rent.
Investment buyers beware: If you're looking to buy an apartment in Miami to rent out as an investment, be sure to check relevant laws and condo association rules. Short-term rentals like Airbnb are banned in some areas and some condo associations require new owners to wait a year before even renting their unit out on an annual basis. Enforcement is no joke, with fines starting at $20,000 if you're caught skirting the law. To learn more, see this recent article in the Miami Herald.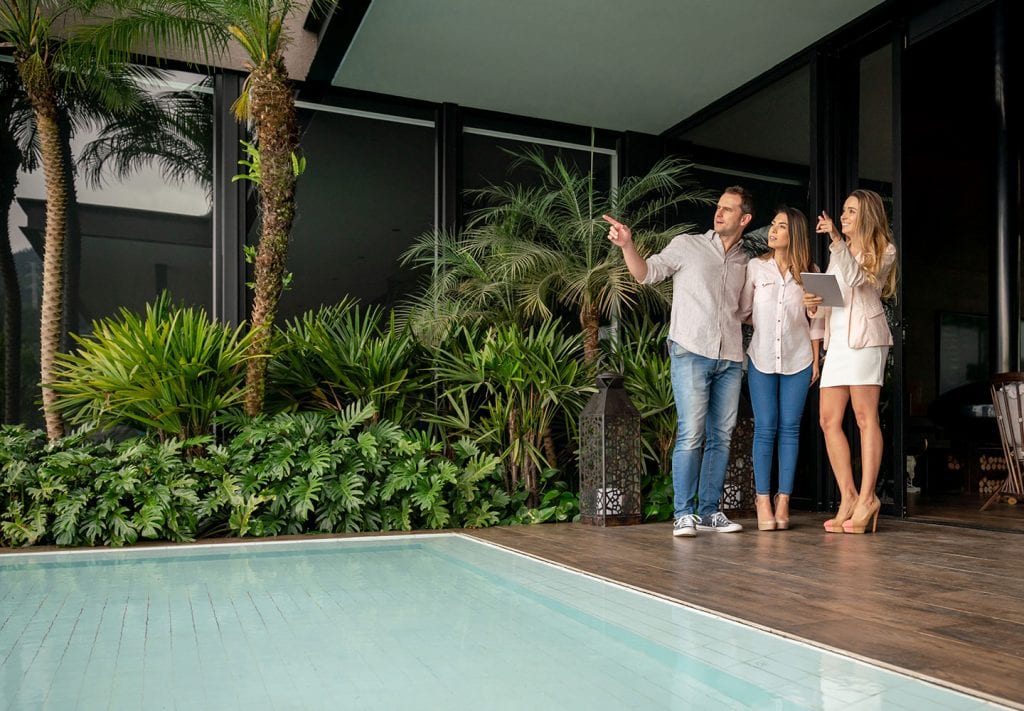 Should I Work with a Real Estate Agent to Rent an Apartment in Miami?
The answer is YES, if you want free expert help with your Miami apartment search! One of the most unusual but positive quirks about finding an apartment in Miami is that it's common for renters to use a real estate agent at no cost to them. You read that right. While in most cities, using a real estate agent for an apartment search isn't worth the extra step or cost, it's the opposite situation when looking for housing in Miami. Here, it's more the norm for renters to use a real estate agent. Why? Because in this market, there really is no downside. In Miami, the landlord pays any and all fees to the agent who helped connect you to the building or unit. That's right — a licensed professional at your disposal, with no cost to you whatsoever. Who could say no to that?
An agent with strong knowledge of the rental market in various areas can be a huge asset for your Miami apartment search. They'll save you time combing through listings and setting viewing appointments. They'll often drive you to each property viewing so you don't need to worry about getting lost and can focus on observing the neighborhood. They may also know of more affordable Miami apartment listings before they hit the market, which could save you money.
To find a good real estate or rental agent, you can start by asking for referrals from people you know on Facebook or LinkedIn, as well as your employer if you're moving to Miami for a job. You can also look at Miami Association of Realtors, Realtor.com, Zillow.com, or other online sites. Check Yelp and other review sites for notes and comments about your specific agent, not just the brokerage or firm where they work. Your apartment search can feel like smooth sailing or stormy weather depending on the agent you choose. And remember, you can always change agents if you're not satisfied.
What IF I Prefer to go solo on My apartment search in Miami?
For a small subset of people looking for apartments in Miami, working on their own sans real estate agent could have a cost savings advantage, as you'd be working directly with the landlord or leasing agent. A few factors to consider if you're tempted to go it alone:
This is only a favorable scenario if neither you nor the landlord has an agent representing them. Don't get caught in a situation where it's just you up against both a landlord and their paid, professional agent, especially if you're looking to stay in the category of affordable Miami apartments.
Apartment hunting in Miami without an agent could be right for you if you know the area extremely well, as well as the local real estate laws. If that applies to you, have at it. Just be sure to watch out for scams. If this isn't you, then go ahead and choose a highly rated agent.
If you're searching on your own, use the usual online resources like Zumper, Craigslist, or other apartment listing sites.
How Do I Get Ready for My Miami Apartment Search?
You'll save yourself time and increase your odds of success by doing a little prep work before you dive into the job of finding an apartment in Miami. These steps are all about you – knowing what you can afford for housing in Miami and what factors are most important to you. If you're working with an agent, being clear about what you want will help them do the best job for you.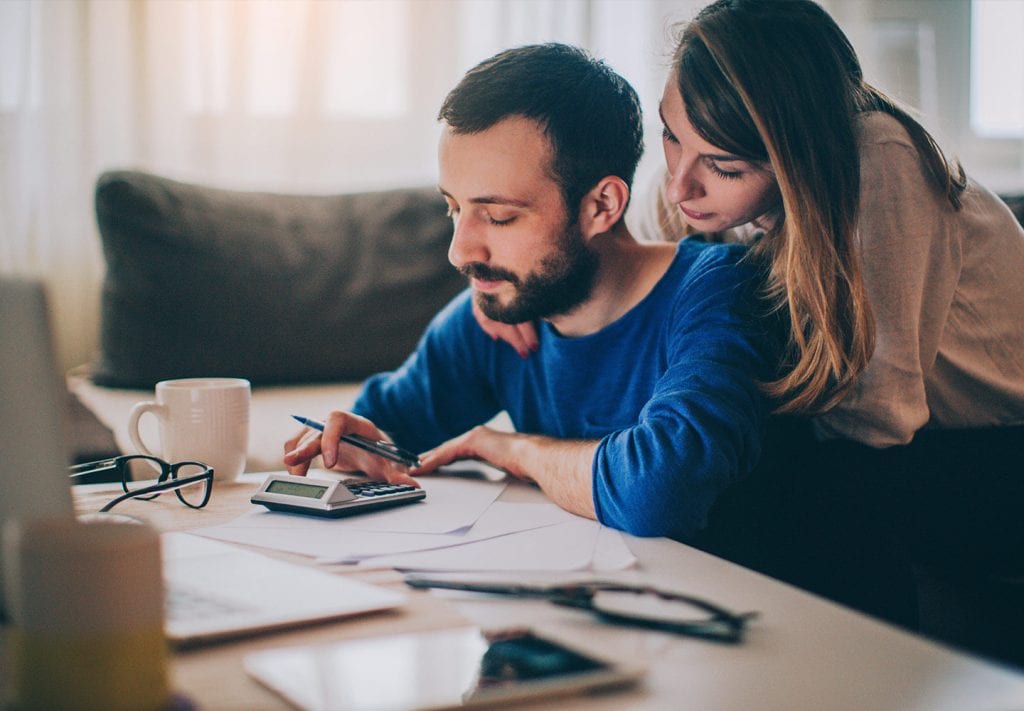 Settle your budget: Look closely at your income and other expenses to decide how much money you can afford or would like to spend on housing. Nationally, it's recommended that you keep your housing expenses to under a third of your total income. However, in Miami you'll find many people spend a higher percentage of their income on housing because wages haven't kept up with real estate costs. As you work through the numbers, remember to factor in things like utilities, Internet, and parking fees if you have a car and plan to live in an urban apartment that doesn't include free parking. Speaking of cars, you may need to budget significantly more to insure your wheels, as NerdWallet rates Miami in the top 10 most expensive cities for car insurance. On the plus side? There's no state income tax.
Define your priorities: What factors are most important to you in a home? Do you prefer more space or are you willing to sacrifice some room for lower costs or a shorter commute to work – or the beach? What amenities are most important? Is being pet-friendly, having your own washer/dryer, or hassle-free parking non-negotiable? Do you need a roomy kitchen for lots of cooking and entertaining or want a balcony or your own outdoor space for a small garden? Make a list of your deal-breakers – what you can't live without – plus your wish list of "nice-to-haves" and even those factors that aren't important to you at all. This will help you target your search, especially as you enlist others for help.
Know what you value most in a neighborhood: While a great realtor will introduce you to the best Miami locations, only you can know what makes a neighborhood feel like home. Before you've seen three dozen apartments, think about what you're hoping to experience in Miami. Nightlife? More of a quiet atmosphere? Beach access, or perhaps more of an eclectic, arts-focused neighborhood? A place with lots of cultural diversity, where speaking Spanish is common? Miami has all this and more, but not necessarily all in one place. Make a list of your top three or four must-haves for your neighborhood.
Consider your commute: As Miami is a growing and diverse city, both traffic and access to public transit can vary widely by neighborhood. While you might fall in love with the feeling of one area, you'll quickly become disenchanted if living there means a 45-minute drive to work. Our Miami Neighborhood Guide will give you a quick idea of what commuting and public transit is like in specific areas.

Know your timeline: How soon will you be moving to Miami? On average, you'll need about six weeks start to finish to find and move into an apartment. But that doesn't mean you should wait until the last minute to start looking. It's never too early to do some preliminary research with online listings and learning about the different neighborhoods. That way you'll have a solid frame of reference when it's time to start apartment hunting for real. Ideally, you can schedule a visit to Miami for some reconnaissance. Who wouldn't want a little trip to Miami? Just keep in mind that January through March or April are high season with sky-high lodging rates and scarce availability because that's when all the snowbirds want to be there. Factor this in if you're considering getting temporary housing first so you don't feel pressured while looking for potential homes in Miami. You'll have much better luck booking short-term rentals at lower rates from May-December.
Be ready to move fast: As in most large cities, the rental market moves quickly in Miami, with heavy competition for the best deals and most sought-after locations. Always have your checkbook and all your documentation on hand – proof of income, rental history, and references – so you're prepared to complete an application, pay fees, and even make a deposit on the spot.

Do your due diligence: Though time is of the essence, you should still plan to research your prospective community, landlord, or property management company. It's quick and easy to check them out on Yelp and other review sites. Look for patterns – are there frequent complaints or happy residents?
How do I find affordable Miami apartments?
The best way to find an apartment in your price range is to be upfront with your real estate agent about what you can afford. Have an honest discussion in the beginning so they'll be able to tell you if your budget and priorities are realistic, or whether you need to adjust your expectations. As of summer 2019, there frankly aren't many online listings below $1,400, but you can ask if they have access to deals before they hit the Internet. This is also the time to work your network – don't be shy about asking friends and colleagues if they know of any rentals available. You can increase your chances of landing an affordable Miami apartment by allowing more time to look. Start your search at least a few months early or find temporary housing first. But be ready to jump fast and seal the deal when a good opportunity arises.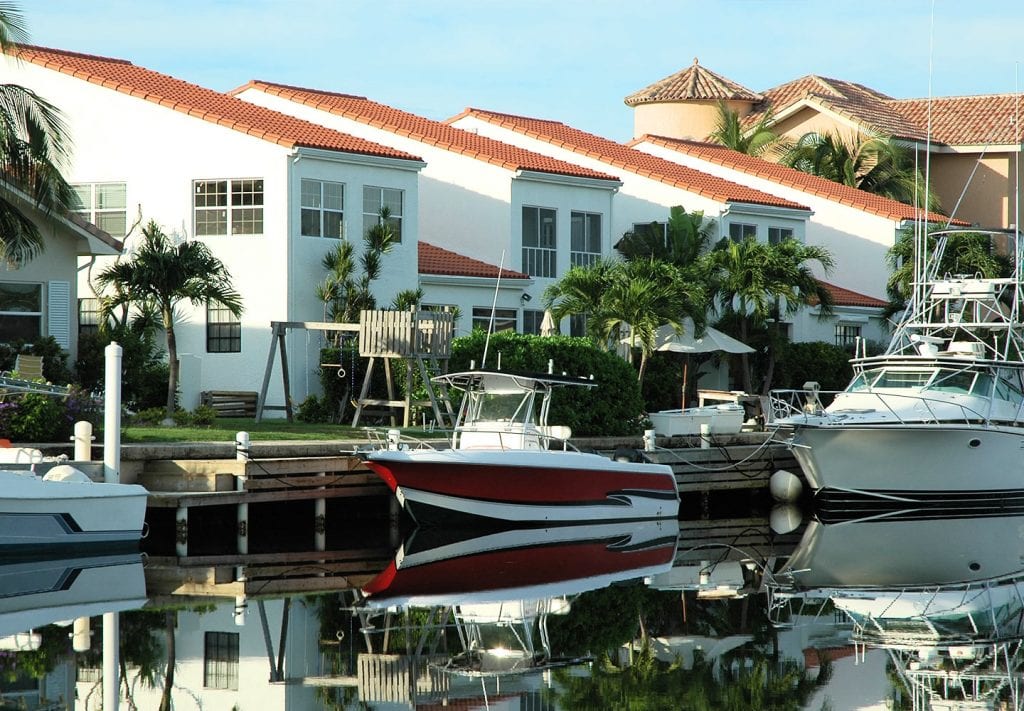 I'm Ready! How Do I Make My Miami Apartment Search a Success?
If you're not very familiar with Miami, your first goal should be getting to know the neighborhoods so you have a sense of where you want to focus your search. A great place to start is our Miami Neighborhood Guide for a quick idea of what areas match up with your priorities. If you've done some apartment shopping online, drive by the addresses to size up the immediate surroundings. You can cross some places off your list without even making an appointment. Take a day or two to visit the neighborhoods, walk around, pop into shops, stop for coffee or a bite to eat, and chat with the staff and other patrons to get their sense of the area. You'll find people in Miami are friendly and easy to talk to because they're used to welcoming visitors from all over the world. And who knows, they may even know about a rental that hasn't hit the market yet!
Now that you've confirmed your top neighborhoods, let your agent know so they can home in on listings in those locations. Review their recommendations and tell them which units or properties you want to see so they can set appointments. Then prepare yourself for an exhausting day of viewings. Make sure you've eaten a hearty breakfast and packed some protein snacks and a bottle of water. Take a notebook, record clear notes on each place, and snap photos. You'd be surprised how fast details start to blur together.
Start early so you have time at the end of the day in case you want to return to your top choice and lock it in with an application and deposit. If you want to take things a bit slower, just know that some locations and price points will be in such high demand that you need to be ready to make a decision and act fast. Your agent should be able to tell you if it's okay to wait or if you run a big risk of losing out if you don't make a move.
We know — finding an apartment in Miami is no laid back Florida vacation. But with the help of a real estate agent and a little patience, you'll be setting your move-in date soon. Now get out there and enjoy Miami's sights and sounds while you explore!
Get a Quote
Choose the service you need
Comments
Leave a Comment
Your email address will not be published. Required fields are marked *