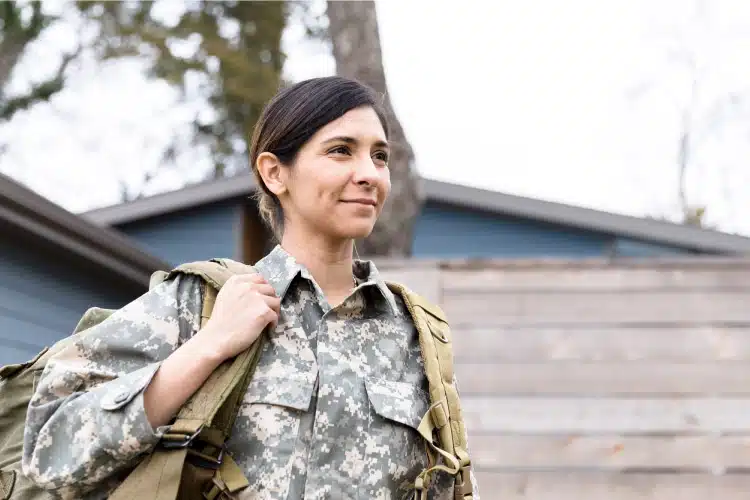 Moving in the Military: Storage That Makes the Most Sense for You
PODS is proud to serve the men and women who serve our country. Active, Retired, and Veteran members of the military receive a 10% PODS military discount. For PPM/DITY moves or storage during deployments, call 866-556-9574.
If you are a member of the U.S. military (or a family member who is supporting someone who is), you know this life of service comes with its opportunities as well as challenges. One of the biggest challenges? PCSing on a regular or semi-regular basis. We get it, and we'd like to help simplify the process.
We've compiled this military storage Q&A to help you figure out what can be stored, how it should be properly stored, and who can provide the best storage solution for your specific situation — be it military school, your next deployment, the end of your career, or any other situation that often comes up while serving.
Ask yourself these questions when approaching your next military moving adventure.
Should I look for a storage company with a national reputation?
The short answer? Yes. It doesn't matter if you are moving locally or if you're moving across the country; you'll want a company that can satisfy your individual needs as well as understand the special needs of a military family — and with plenty of nationwide experience to boot. If you are moving out of state, in particular, you'll want to find someone who is used to storage in the new area where you are planning to move. For example, if you're moving to a state with high humidity or extreme temperatures, you'll want a storage company who knows the unique considerations of the items you'll want to store and how to make sure they'll maintain their current condition while being stored.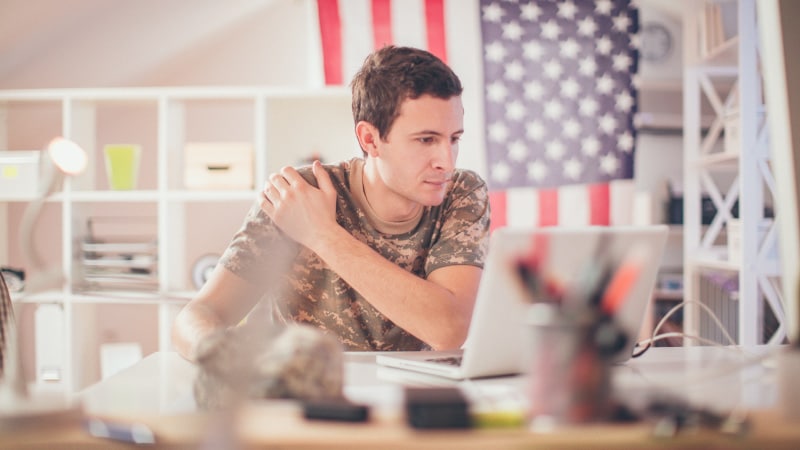 Does the storage company offer military discounts?
Is the military helping you move? Have they provided any options or applicable information that can help with the moving costs? Regardless, some storage companies willingly provide discounts for members of the military. For example, PODS offers a 10% military discount, which is one of the largest military discounts among storage container companies. Be sure to ask about any potential discounts that you could take advantage of!
Insider Tip #1: Check out what kind of payment programs a company has and whether you can do online or automatic payments to make your life easier. If you're actively deployed, the last thing you're thinking about is payment due dates, right? The term of the contract, whether it is month-to-month or longer than a year, should also be a factor in your decision.
What are my options when it comes to packing items before loading them?
This is where a storage company can really stand out. Do they come in and pack things for you? What is the cost if you pack versus if they pack? Another aspect you'll need to think about is whether the business offers guarantees or policies on breakage. This may be different, depending on whether you handle the packing or they do. Check into whether special items you want to move have different packaging needs, as well, such as high-end stereos or flat-screen televisions. Do they provide shipping containers so the products don't get damaged? Ask as much as you can upfront to avoid any confusion later!
What size unit should I use for military storage?
Fortunately, there are storage units and portable containers of all sizes that will make your selection easy. From a handful of military storage boxes to entire homes, there are storage solutions that are sized to fit everything.
Thinking about a storage container and wondering how much one can hold? This is where having a background in math may come in handy. Just kidding! There are many guides that companies such as PODS offer to help make this easier than you might expect. For example, a 12-foot PODS moving and storage container can hold the items found in a typical 600-square-foot studio or a one-bedroom apartment. A 16-foot PODS moving and storage container can hold the items found in an 800-square-foot one- or two-bedroom apartment. Remember that these are estimates, though, and you are ultimately the best judge of how large your individual items are and whether you may want to consider downsizing or decluttering before making your moving and storage container needs known.
Insider Tip #2: Want to get specific with your items before deciding on a container size? With our moving and storage calculator tools, you can easily determine what size and how many portable moving containers your family needs.
What items am I storing, and what kind of storage do I need specifically?
Sure, you can store all kinds of things. However, some items may require some extra TLC. If you're moving typical household goods, for example, that storage may be different from, say, storing a car or other motorized vehicle. Likewise, larger storage for vehicles isn't available at every storage facility. If you need to store a large item, such as a car, there are things you'll want to make sure the ones that do accept these items have ready, such as around-the-clock security cameras or keypad access to the storage unit or building. Bottom line: Every item you are thinking about storing should be considered when you are selecting a company to work with during your PCS move. Many items require unique applications when thinking about short- or long-term storage solutions, so take those nuances into consideration.
Do I need climate-controlled storage?
Speaking of some items needing a little extra TLC, this type of storage has its advantages, depending on what you are storing. "Climate-controlled" is what storage companies say when they are describing the kind of air temperature and humidity inside their space. Typically, a climate-controlled storage environment will keep the temperature inside between 55℉ and 78℉ and the humidity lower than 55%. This requires the use of an air-conditioning system and dehumidifiers. If you're like many people in the military, you'll want to know everything you can about the environment where your personal belongings will stay while they're in storage. And a reputable company will gladly share that information with you so you can make an informed decision.
Insider Tip #3: Moving your grandmother's antique quilts? A favorite chair? First-edition books that you inherited? All of these are best stored in climate-controlled storage.
How can I avoid mold or mildew issues while my items are in storage?
Mold and mildew? They can take over quickly in the right conditions: damp and dark. The storage unit will likely already be dark when it's not open, so it's up to you to ensure it's also dry when you're loading it. Check and then double check every item you put into storage before walking away. The items should be dry and as clean as possible. Rain or fog in the forecast on your storage move-in day? You may want to reschedule until the weather clears up. You should also consider wrapping individual items with things like moving blankets or large sheets of plastic wrap to protect them inside the storage unit or container. Plastic bins are also a great way to avoid any kind of mold or mildew. And there are moisture-absorption products that you can also add to your unit to help with these issues. Just be sure they don't have the potential to tip over, spill, or leak.
Insider Tip #4: Clear bins that have strong sides and lids are often the best solution for storing things long-term. That way, you can see into the bins to find out what you packed and how it's arranged. They are also easy to carry and won't get mold or mildew, like cardboard boxes can.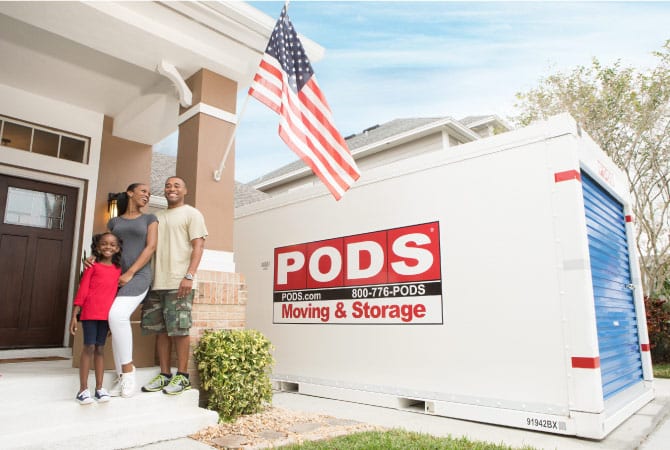 How secure will my things be in storage?
If you are going with a storage container that can be moved easily, you'll want to know what kind of vehicle your belongings are going to be moved in. This is especially true if the items will be shipped somewhere. If that's the case, it comes down to whether the storage containers are sent on a regular trailer versus an air-ride trailer. If you're moving across the country, for example, your items may get beaten up on the highway as potholes or other road conditions jar the containers. But if you are using a company that has air-ride trailers, much of the damage can be eliminated from a move of any distance.
Also, you'll want to know if there is a difference between the amount of stuff you're moving and the amount of stuff required on a load. If it's not a full load, will the storage company put other things on the same trailer? If that's the case, every time items go in and out of the container, there is a greater chance of your items getting lost.
Want to avoid that stress altogether? Consider having an individual storage container that you load all of your items in and seal. Then, no one should be able to open it up. If you work with PODS, for example, you'll get the size you need, and that container will have only your items inside. Moreover, PODS Storage Centers are secure indoor facilities that aren't open to the general public. You are the only one with a key to your container, and if you need access, you can get in touch with PODS and schedule a visit.
What kind of insurance should I think about for my stored items?
You may want to consider having insurance if a company offers it on your items. You should check to see if the insurance is automatic or whether you can pay an additional amount to have it. You also want to be well informed about what is covered and what is not. You will need to look at how you can claim that insurance if an item is damaged, so you'll want to review every storage company or military storage container business's policies on damage and how to make a claim if you need to at any time.
Insider Tip #6: There are certain items that should travel with you instead of the rest of your belongings. These can include important papers, financial information/deeds, enlistment papers, or any research you've done into the military history in your family, to name a few. You wouldn't want any of those to get lost along the way, right?
What is my timeline for storage?
There is a huge difference between moving into Wisconsin in January and setting up storage in Arizona in August. If you're going to be in an extreme climate during its harshest season, you'll want to consider how long your items will be stored and what kind of systems the storage unit or building has in place. You'll also want to know if there is a charge if they have to hold your items for a certain amount of time beyond the original time frame, in case something changes. There could be hiccups in any move that may require you to adjust your time in storage, so you'll want to know the total cost, if possible. Likewise, you may want to inquire about the cost of storage along with moving those stored items to your final destination, if that is an option as well.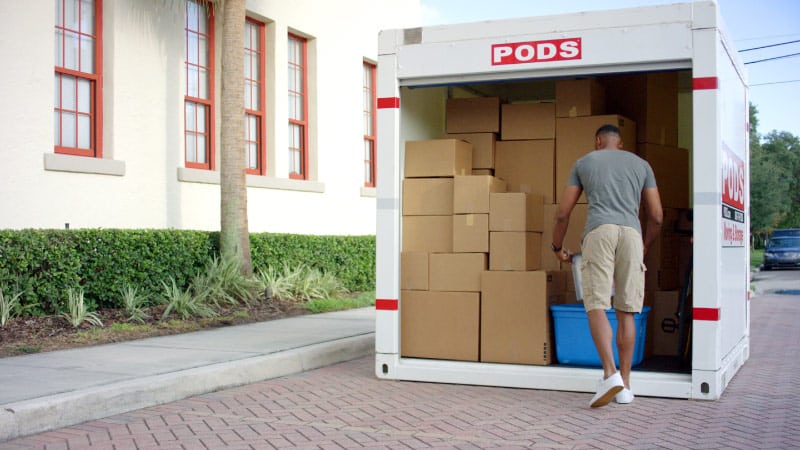 What is the policy if I need to get my belongings back sooner than expected?
Sure, the military may sometimes modify assignments. So if something happens, you want to work with a company that will allow you to get your belongings in a timely fashion, if there is a change in orders. That is why you'll want to ask about and understand the cancellation policies if you make a move and, for some reason, your storage needs change or the move gets canceled. You'll also want to know what each storage company's policy is for long-term storage versus quick turnarounds. In some cases, the rates are different for different lengths of time.
Want more military moving advice? Check out the PODS Blog for tips on quickly getting settled after your military move and more!
---
Karen Dybis is a freelance journalist and a frequent contributor to the PODS blog. Her work has appeared in Time magazine, U.S. News and World Report, The Detroit News, and more.
Get a Quote
Choose the service you need
Comments
Leave a Comment
Your email address will not be published. Required fields are marked *