In this fast-paced life most of us find ourselves in, a satisfying work/life balance can seem out of reach. There are certainly ways to achieve it, but sometimes it takes picking everything up and moving in Canada to a new location.
Relocating to a whole new part of the country is a life-changing adventure in itself, no matter where you choose to move. And while exciting, it can also seem like a mammoth challenge to move your stuff – especially if it's a long-distance move and your plans are a bit uncertain. A little research to find your perfect place and some help, like moving with the convenience of a PODS portable storage container, can go a long way.
With that in mind, we created a list of perfect Canadian places for any lifestyle. Each of our selections offers ample job opportunities as well as access to sports, recreation, culture, entertainment — and of course, natural beauty in abundance.
HALIFAX, NOVA SCOTIA
From vast beaches and whale-watching excursions to nightlife and bustling business, Halifax is all about balance. The small-town maritime vibe is unmistakable – and yet it comes with all the conveniences of big city life. As the capital of Nova Scotia and the major economic hub of eastern Canada, you'll find employment opportunities in both government and private business along with plenty of fun.
Nature lovers will find themselves right at home here, whether you're strolling along one of the world's longest harbourfront boardwalks or taking a drive along the coast to see some of the scenic villages. And for the adventure seekers, there's deep-sea fishing, surfing, and sailing.
Halifax has a fascinating history and the museums and architecture to match. According to halifaxpartnership.com, it is considered the "cultural heart of Canada's East Coast" – and no wonder. It has enough galleries, cafes, and restaurants to keep you entertained for a lifetime.
BOUCHERVILLE, QUÉBEC
If you'd rather not live in a big city but would enjoy easy access to one, consider Boucherville, Quebec. This suburb is only a half-hour drive from Montreal and nestled along the south shore of the St. Lawrence River — giving you city convenience a stone's throw away but with a breathtaking national park, complete with all the kayaking, hiking, and cycling you can dream of, right out your back door in Iles-de-Boucherville.
After you've had your fill of adventure at the national park, we think you'll love exploring Vieux-Boucherville (Old Boucherville). Like a charming old European village, complete with narrow streets and ancient homes, it's bursting with galleries, cafes, and restaurants. Founded in 1667, it's recognized as a Heritage Site and considered one of Quebec's architectural treasures.
With all its adventure and charm, you might think Boucherville is simply a tourist destination. But there's a practical side to Boucherville that makes it a worthwhile destination for job seekers as well – it's home to one of Quebec's largest industrial parks, Boucherville Industrial Park. The park is home to more than 600 companies that generate nearly 22,000 jobs in sectors such as agri-food, logistics and distribution, transport, and life sciences.
OTTAWA, ONTARIO
Ottawa often finds itself on "best places to live in Canada" lists, and with good reason. The city is recognized across North America for its high quality of living and cleanliness. And, as Canada's capital, it's home to the federal government and all the employment opportunities that come with it. But what about fun?
Don't let notions of politics and bureaucracy get in the way of loving Ottawa – it's so much more than that. The great number of foreign embassies attracts visitors from around the world, giving Ottawa a vibrant cultural diversity and the energy to match. The nightlife is just what you'd want from a world-class city, with plenty of bars, pubs, and an enviable selection of restaurants. At ByWard Market, you'll find the more down-to-earth side of Ottawa as you shop at the huge outdoor farmers' market famous for its fantastic street art.
Ottawa's culture is incomparable. Parliament Hill with its stunning Victorian architecture is the proverbial jewel in its crown, and the National Gallery of Canada houses some of the country's finest collections. There are museums aplenty, including the Canadian Museum of History, the Canadian Museum of Nature, the Canada Agriculture and Food Museum and the Canadian War Museum.
AIRDRIE, ALBERTA
Just north of Calgary, you'll find Airdrie, an up-and-coming community with youthful energy. About a 30-minute commute to the city, it's a big draw for those looking for more affordable housing, but its own thriving economy means lots of local opportunity. Not only is it 90 minutes to the Rockies, but you'll also have access to all Calgary has to offer, including the famous Calgary Stampede and the always-amazing Calgary Zoo.
Airdrie's Festival of Lights, the largest outdoor Christmas light display in all Western Canada is an absolute must-see. If it's greenspace you're after, there are parks galore. Nose Creek Regional Park is 20 acres of greenery in the downtown core so you can easily get your fill of nature trails and fishing. Chinook Winds Regional Park offers 55 acres, all devoted to the pursuit of fun – you'll find playgrounds, a skate park, a spray park, eight ball diamonds, and more.
PORT MOODY, BRITISH COLUMBIA
Those who seek the majesty of the mountains may be drawn to Port Moody. It offers the natural beauty you'd find in Vancouver – but without that city's high cost of living. According to the city's website, 35 percent of its land is dedicated to green space. You have 56 kilometres of trails and paths for hiking and biking. And the wide ribbon of shoreline means endless opportunities for kayaking or canoeing. But when you do crave the lights of the big city, Vancouver is a 30-minute drive away – you can even take the subway.
There's lots to nurture your love of the arts, too. The Port Moody Art Centre not only houses captivating galleries, but it's also dedicated to developing artistic pursuits in adults and kids alike. The city hums with festivals and events to keep the entire family active all year round.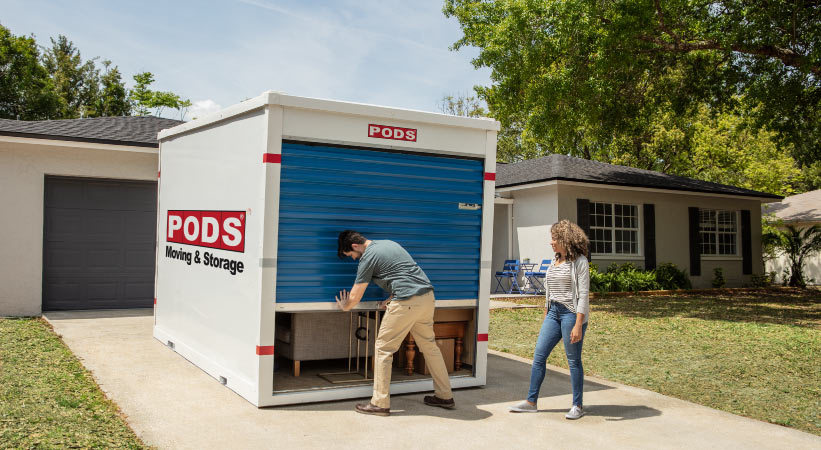 Finding your perfect balance may come down to finding the community that allows you to enjoy all aspects of your life. In a country as beautiful, diverse, and exciting as Canada, you have so many great options.
Visit the PODS blog for more on moving to Canada as well as other great tips on planning for any move.
---
A freelance writer for 25 years, Lori Fournier lives, works, and plays in Toronto, Ontario. She keeps a keen eye on the ever-changing worlds of real estate, green energy, and food innovation. When not tapping away on her keyboard, she's reading or pulling weeds.
Get a Quote
Choose the service you need
Comments
Leave a Comment
Your email address will not be published. Required fields are marked *