Take advantage of our limited time offer. Enter promo code HOLIDAY25 to save up to 25%.
See offer details
.
Searching for affordable housing in Toronto? Buckle in! With low vacancy rates and a heated real estate market, getting an apartment in Toronto is more competitive than ever before. But it doesn't have to be all doom and gloom. There are cheap apartments and hidden gems to be found among Toronto's best neighbourhoods. It does take a little creativity, flexibility and quick action, though. Sometimes that involves moving in ways you might not expect or sooner than you were planning. Prepare yourself for the apartment hunt with our guide on moving in Toronto's tough housing market and how to best navigate the uncertainties ahead.
How to Start Your Toronto Apartment Search
1. List your nice-to-haves
Before you start the hunt, think about your priorities in an apartment. Do you want the best bang for your buck with the largest apartment you can afford? Or are you willing to sacrifice space to live in a trendy part of town with easy access to restaurants, shops and conveniences? Eager for a view of Lake Ontario or the CN Tower? These are all important elements to consider but be sure to be as flexible as possible. If you have firm deal breakers, like in-suite laundry or an above-ground unit, be clear about your priorities, while understanding this will narrow the field. Just remember to keep an open mind once you begin your apartment search in Toronto.
2. Consider your commute
There are plenty of ways to get around in Toronto. Most commuters in the city's core use the TTC's subways and streetcars while regional commuters may hop on a bus or GO train. Keep the weather in mind for your commute. Winter will make walks and streetcar rides a little slower (and sometimes impossible as streetcar service may stop in extreme cold). If you're searching for an apartment in the downtown core, see if your building is connected to the PATH, the Financial District's series of subterranean walkways. It'll make your winter commute infinitely more enjoyable. 
3. Crunch the numbers
Whether you're moving from elsewhere in the country or within the city, you'll likely be in for rental sticker shock once you begin searching for affordable housing in Toronto. Crunch the numbers for a budget of how much you can afford. In an ideal world, you should be spending under one-third of your pre-tax monthly income on rent. But there are plenty of ways to be a prudent saver or frugal spender in Toronto to help stretch that budget.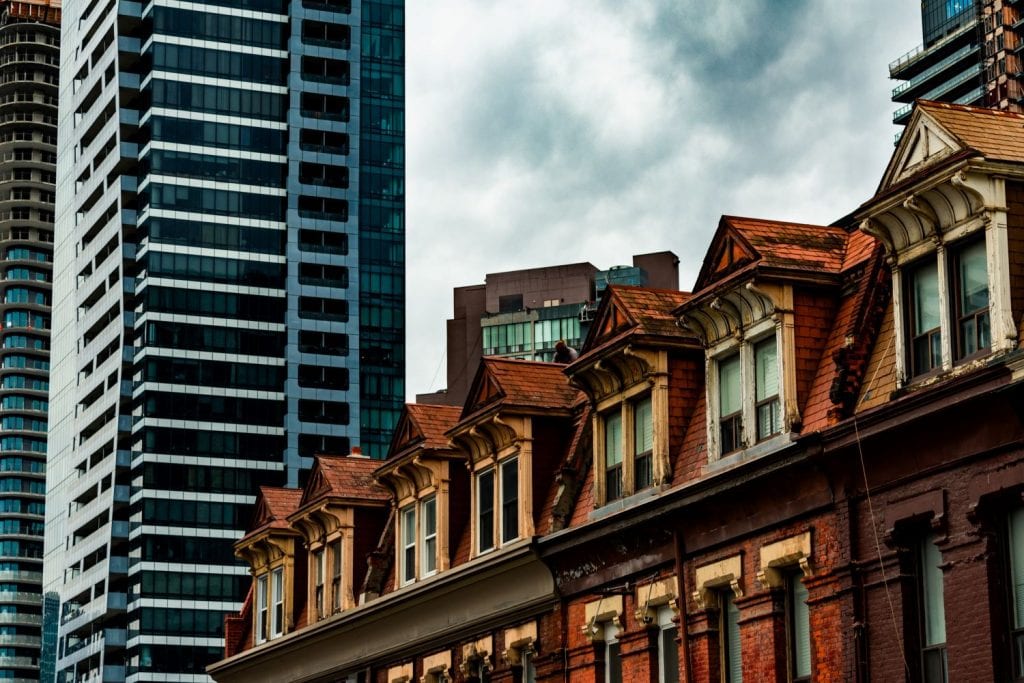 Best Neighbourhoods in Toronto to Find Rentals
While most of us think of Toronto as just its downtown core, the geography of the city is more complex. As rapper Drake's nickname for the city implies (The 6ix, The Six or simply The 6), there are actually six boroughs that comprise Toronto: Etobicoke, North York, Scarborough, York, East York, and Toronto. Technically, a Scarborough apartment is still in Toronto, although most in the city wouldn't consider it as such. So keep an eye out for listings that could have a misleading location. Here's a quick rundown on some of the best neighbourhoods in Toronto to start your apartment search.
Hot condo hubs
Thanks to a spurt of new developments, you'll find the bulk of apartment vacancies in the city's core are condo units. Two popular condo hubs are the CityPlace and Liberty Village neighbourhoods. CityPlace, located around Spadina Avenue and Bremner Boulevard, benefits from its proximity to the iconic Rogers Centre (home of the Toronto Blue Jays) and the Financial District (about a 30-minute walk away). While Liberty Village is further (a 30-minute streetcar ride), the neighbourhood has more entertainment amenities like bars and restaurants, along with historic buildings and warehouses giving it a unique personality. Average one-bedroom rents in both neighbourhoods are around $2,300.
Head north and east
For more budget-friendly options, you may want to expand your search out of the city core. For that, head to the edges of the subway map. Up north, the Yonge & Finch area (around $2,100/month) will appeal to younger tenants looking for cheap eats and nightlife. In the east end, Scarborough's older apartment buildings (around $1,800) will appeal to the wallet-conscious.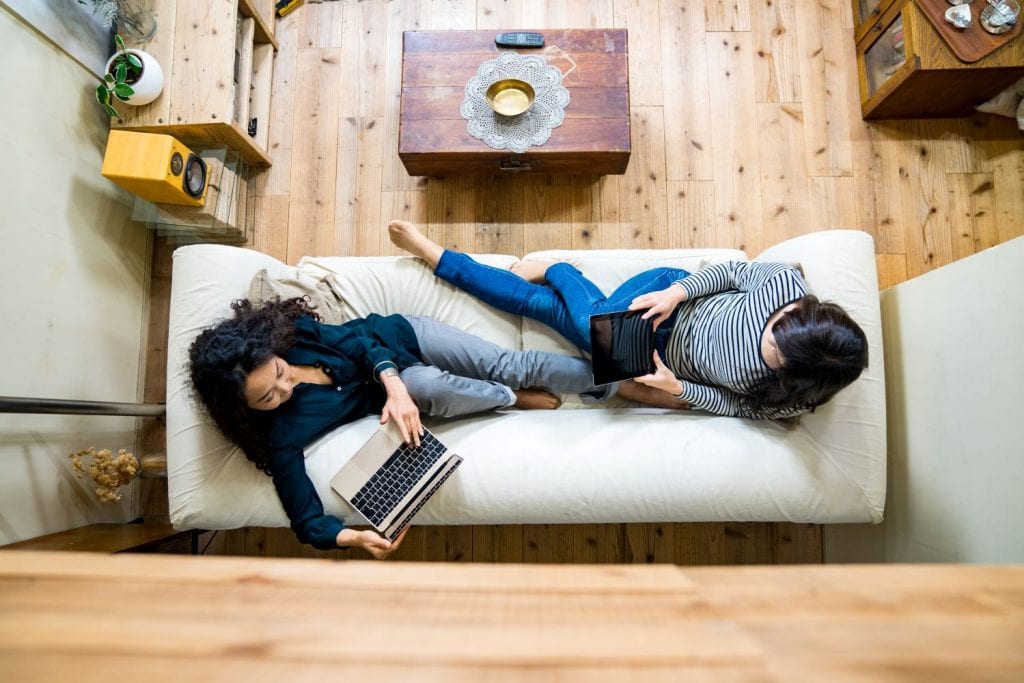 Sharing is caring: A guide to shared housing in Toronto
The best deal in town is shared housing with existing tenants, one of which will be the current leaseholder. That's because these leases will have been signed in years prior when the housing market was cheaper and the lower rent is protected under Toronto's rent control bylaws. This can mean cheaper rent by the hundreds, depending on how far back the lease goes (or if the landlord hasn't imposed annual rent increases — it does happen!).

Popular neighbourhoods for affordable shared housing in Toronto include Parkdale, the east end and the Junction. Rental costs vary widely but expect to pay around $800-$1,200 for a private room with a shared bathroom, kitchen, and common spaces. If you're willing to forgo a bit of privacy to save cash, you'll find a handful of living rooms-cum-bedrooms with curtains or portable screens as "walls" for as low as $600 a month. Torontoroommates.ca is a simple but popular resource for finding rooms for rent. They've also created subgroups based on neighbourhoods, schools, and lifestyles (vegetarian, pet-friendly) to further hone your search. Apartmate and Roomster are also great user-friendly sites to check out.

Alternatively, for a stress-free shared housing experience, try a co-living service like Roost, Sociable Living and Soul Rooms. These new start-ups rent out all-inclusive furnished rooms starting at $1,400 and can include services like house cleaning, Wi-Fi, and Netflix subscriptions along with social activities for their tenant network. It's a good option for those looking for a simple approach to shared housing.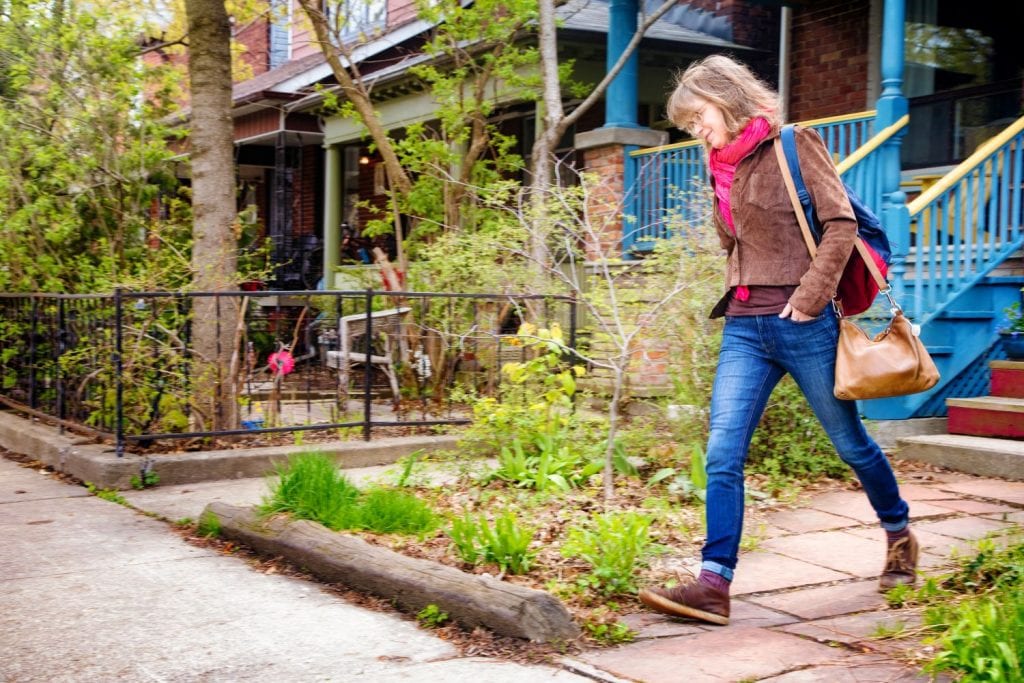 How to find apartments for rent in Toronto
Old-school listing services like Craigslist, Kijiji, and Viewit.ca are still popular and widely used ways to find an apartment. You can also join Facebook groups like Toronto Home Zone and Toronto Student Housing for more apartment postings. These are usually geared towards a younger demographic of house hunters. Realtors can also be a good source for finding good apartments in Toronto, although since they are commission-based (don't worry, the landlord pays this) they typically work with renters that have a higher budget. There's also the old-fashioned method of wandering around your target neighbourhood and looking for "For Rent" signs in the window. Senior landlords that are less technologically savvy favour this method and it's a great way to find hidden gems in an older neighbourhood.
Regardless of what method you use, the summer months — May to September — will be the busiest times to move. This is when apartment vacancies in Toronto will be at their greatest, but so will competition for these units. Be ready to act quickly if you're moving in the summer. For those on a budget, you might find slightly lower-rent apartments during the slow season from January to March. Regardless of what time you move, keep your guard up for rental scams. Don't send deposits before seeing an apartment in person (and meeting the landlord) and avoid paying in cash or wire transfers which are difficult to trace.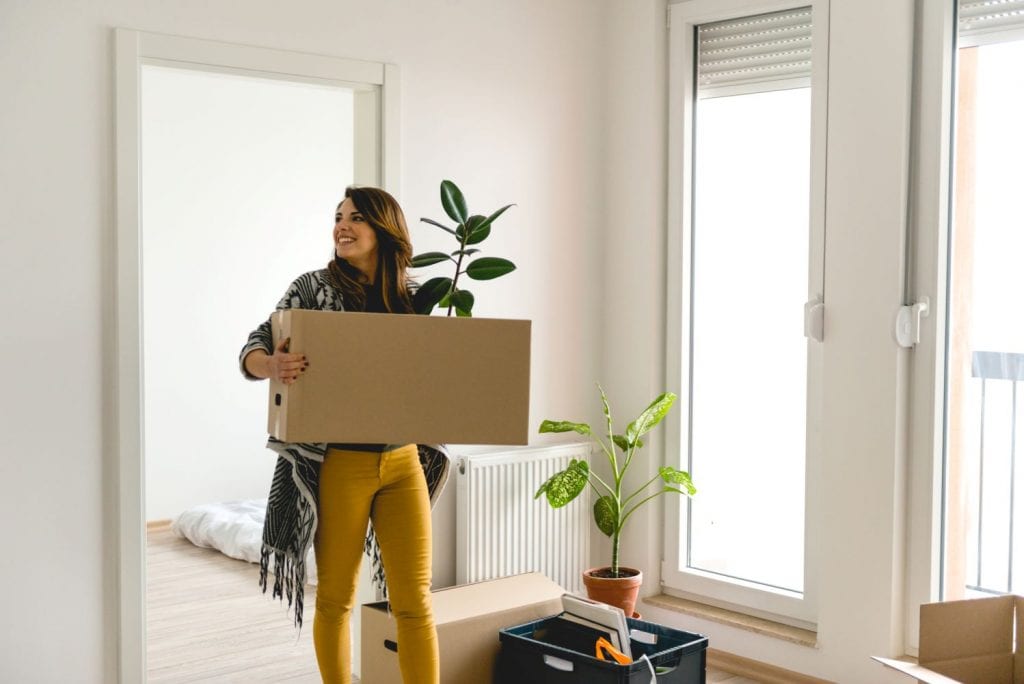 Moving Guide: How to Make Your Move in Toronto
Once you've found your next apartment in Toronto, you'll need to decide how to move. There are four main options available:
Rental trucks
If you've got a license, renting a truck is a budget-friendly option. Keep in mind you'll need to hire help to move or rely on muscle power from friends and family while keeping an eye on the clock to make sure you don't go over your rental time. Many Toronto streets are one-way or very narrow, so plan your route and parking spot ahead of time. Speaking of parking, pay attention to special regulations regarding moving trucks and don't block the bike lanes to avoid getting a ticket (and endless scorn from passing cyclists).
Full-service moving
If you're eager to outsource all the tasks of moving, a full-service moving company is what you need. If you're willing to pay a premium for the full treatment, they'll not only take care of moving, but also packing and unpacking at your new apartment so you won't have to lift a finger. Just be aware that a higher price tag doesn't mean you're guaranteed to have a stress-free experience -- the traditional moving industry has higher breakage and loss rates than other options, and some people may feel uncomfortable giving up control over their items to someone else.
Portable container moving and storage
Having trouble finding the perfect new apartment but already gave notice on your current lease? Downsizing but don't have enough time to sell your belongings? If you find yourself with an apartment full of belongings and nowhere to move them, a portable container solution like PODS is your best bet in Toronto. This service makes it easy for you to pack up your life and store your belongings securely while you crash with friends or family, or perhaps take a vacation from the city. As an option, you can hire hourly professionals to help with the packing, loading, or both. These pro-movers know the best ways to Tetris-in your belongings, so you can get the same full-service experience that you'd find with a traditional mover.
Unlike self-storage units in Toronto, with portable storage, you don't have to worry about driving your belongings to a facility, loading, and unloading into the storage unit only to repack and move everything to a new spot when you've found a place to settle down. Instead, PODS will deliver your container right to you so you can load up your belongings. When you're ready, PODS will pick up your portable container and drive it to PODS' local Storage Center for safekeeping. After you've found a place to live, they'll deliver the container for you to unload. Even if you have a place lined up and don't need storage, a portable container can be a great option if you have room to keep it on your property so you can take your time packing and loading instead, instead of racing through the usual moving marathon.
Moving Container Service Specialized for City Moves
Don't have a driveway to keep a container while you pack and load? Or maybe you'd just rather not deal with the hassle of driving and parking a rental truck? Try an urban portable container service like PODS City Service. This metropolitan alternative to traditional PODS moving comes with a dedicated driver who knows the ins and outs of parking and navigating Toronto's busy streets. The driver will stay with the truck and guard your container for four hours (or more if you need it) while you're loading or unloading, so your stuff stays safe. You have the option of having the container moved to your new apartment or to the PODS Storage Center in Toronto, where it will be secure until you're ready to have it delivered to your new home.
Now that you've got a clear view of your options, moving in Toronto needn't be too intimidating. By keeping an open mind and planning out all the details, you can help make everything go smoothly. Good luck on the hunt!
Annie Lui is a freelance writer born and raised in Toronto. After moving over a dozen times and sharing spaces with countless roommates, she's finally settled into a bachelorette pad in the Annex, where she's been living for six years. You can find Annie cycling around town on her vintage road bike in search of cheap eats and puppies to pet.
Get a Quote
Choose the service you need
Comments
Leave a Comment
Your email address will not be published. Required fields are marked *