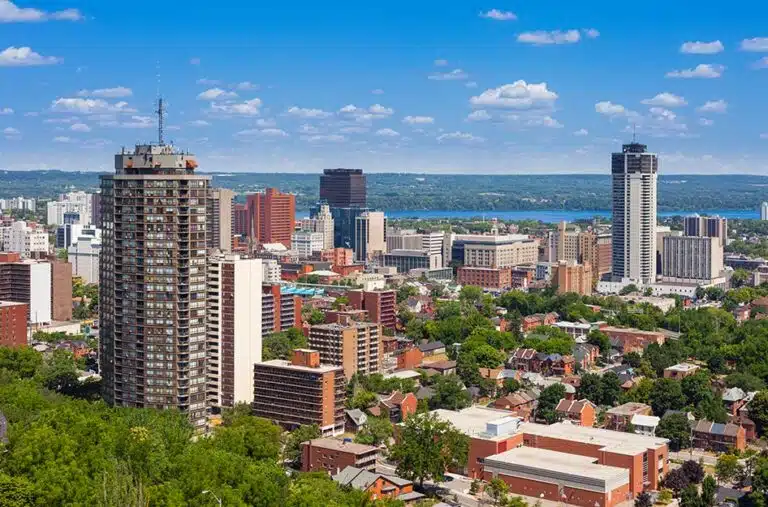 Moving to Hamilton: Toronto's Adventurous Neighbour
News Flash: Hamilton is making big waves these days. In fact, it's been rebounding for the past several years. Once a booming industrial centre, specifically for steel, the city struggled as production and manufacturing jobs left the area in the late 20th century. But since then, Hamilton has diversified — even being named one of the top cities nationwide for economic diversity by the Conference Board of Canada and reclaiming its place among Canada's most prominent cities.
But is Hamilton, Ontario, a good place to live? With its diverse population, access to nature, affordability, and world-class health care, we think it's an unequivocal yes.
Local restaurants, shops, and amenities have sprung up in many neighbourhoods, and on roads like Locke Street and James Street North, there are hip eateries and cafes interspersed between family homes, creating a lively community feel. If you want it all, "the Hammer" has it.
Hamilton at a glance
As Ontario's third most-populous city, Hamilton is located on the western tip of Lake Ontario. The population of Hamilton, Ontario, is just under 730,000, and by land, the city is one of the largest in the world, with 138 square kilometres of space set against the scenic backdrops of the Niagara escarpment, Lake Ontario, and Burlington Bay.
A short drive from Toronto, a 45-minute drive from Niagara Falls, or an hour from the Kitchener-Waterloo corridor places Hamilton within easy reach of the rest of Canada. What's more, there's John C. Monroe International Airport, which was once a military training airfield during WWII, giving you access to the rest of the world. It now operates as a major shipping hub with convenient passenger flights — miles better than driving into Toronto to use Pearson, and it's a lot faster to pass through, as well. The Canadian Warplane Heritage Museum is also housed in two of the hangars here, if you want a taste of history.
And speaking of, the history buffs love living in Hamilton. From the city's countless innovations to monumental battles to a laundry list of firsts, this region has a rich history dating back to pre-settlement when the first nations cultivated and tended this truly stunning landscape. Hamilton was first incorporated back in 1846, which means that it's older than the country of Canada!
Nowadays, Hamilton boasts a thriving urban centre filled with a plethora of historical landmarks, and, in addition to its fascinating history, the city includes some eye-catching architecture, sure to please the artistic crowd.
Why do people like living in Hamilton?
Location
One of Hamilton's biggest perks is its proximity. It's often regarded as an extension of Toronto, as it is part of the GTHA, the Greater Toronto and Hamilton Area, that is. The Hammer remains a particularly popular choice in part because of its easy commute to other cities. You can easily get around and out of the city via Hamilton's highway network, whether you're heading to work or headed out for a fun-filled night on the town.
Union Station is also accessible by GO trains every hour from Hamilton, providing access to downtown Toronto. And staying connected couldn't be easier, with multiple lines connecting Union with the outlying towns.
Landscape
There is plenty of nature here for you to enjoy. We're talking 3,480 acres spread out over 394 sites in the city, including waterfront areas!
Nearly 7,500 acres of conservation green space and over 50 parks are open to the public, like Confederation Park on the lake, which has Hamilton's longest beach and some of the best ice cream in the city.
Hamilton is also home to one of Canada's great green spaces: The Niagara Escarpment, designated as World Biosphere Reserve for its majesty and beauty. The Escarpment is rife with hidden waterfalls, rare plant life, and endangered reptiles that would make it an impressive destination on its own, but when you combine its 750 kilometres of mountainous terrain teeming with fossils and idyllic trails, you have a natural wonder like no other. The city is actually known as the waterfall capital of the world because of this mountain ecosystem, home to 156 falls.
In winter, some falls will actually freeze. Meaning you can icepick your way up a waterfall, then ski down the mountain on the other side. Knowing that, it's easy to see why the Escarpment is such a popular attraction year-round.
Another nature space that deserves its own mention? The Royal Botanic Gardens. With its five unique gardens, 27 kilometres of nature trails, and vital role in preserving and protecting the Niagara Escarpment ecosystem, the RBG is more than just flowers. In the 1930s, the RBG was established to beautify Hamilton. Today, it is devoted to conservation, horticulture research, and education. The park is a highlight of Hamilton's outdoor spaces and a must-see for sure.
Q: Why are people moving to Hamilton?
A: Two words: breathtaking nature. A famous trio in the nineties told you not to go chasing waterfalls, but if you're in Hamilton, you may not be able to help yourself! With trails leading to beautiful waterfalls along the Bruce Trail, Hamilton is the perfect place for hikers and sightseers! A few favourites include:

— Lovers Leap at Albion Falls, a spirited waterfall kept alive (or maybe not) with local ghost stories
— Devil's Punch Bowl at Albion Falls, a whopping 37 metres tall
— Webster's Falls, 22 metres tall and the perfect place to view gorgeous fall foliage
— Tiffany Falls, 21 metres tall in a conservation area
Lifestyle
Over the past few decades, Hamilton's waterfront has undergone an ambitious regeneration program. At the western end of Hamilton Harbour, Bayfront Park has been transformed from a former landfill site into one of the city's most attractive green spaces.
There is a network of level bike and walking trails that connect to Pier 4 Park (and further, if you take the Waterfront Trail), making it a delightful place to visit. And on the 1,800 metres of shoreline, you'll find a natural fish habitat, a sandy beach that's great for kids, a public boat launch (plus a nearby marina), and plenty of parking. There's good fishing here, too, so don't forget to get your fishing licence.
Downtown has also seen a revival. Once dominated by manufacturing plants and towers, the landscape is now alive with murals and greenspace. Local bands play the bars at night and creative arts studios dot the streets. The RiversEdge amphitheatre holds regular concerts year-round, even hosting a series of free shows in the summer, including David Shaw's Big River Get Down, the Hamilton Parks Conservancy event series, and much, much more.
Is Hamilton a good place to live?
Absolutely! The future is bright for Hamilton. In fact, its downtown area, in particular, is poised for an entirely new era as it focuses on pedestrian traffic, bike options, public transportation, and creating walkable communities.
The City of Hamilton has diversified its economy greatly, but is still one of Canada's leading industrial centres, making it a thriving community. With its iron and steel industry dating back to the mid-19th century, it is Canada's largest, accounting for a significant portion of national steel production — perfect for those working in the industry.
Employment Opportunities
Speaking of thriving in Hamilton, the unemployment rate is low, and there's a diverse mix of businesses, ranging from the film industry to manufacturing to retail to agriculture.
One of the world's leading health science research organisations, Hamilton Health Sciences, is the city's largest employer. It is composed of seven hospitals and a cancer centre, including McMaster Children's Hospital, a paediatric hospital rated among the best in the world.
Having two respected post-secondary school campuses in Hamilton, McMaster University and Mohawk College, provides a great pool of employment opportunities, as well. There are also a few satellite campuses such as Central Michigan University at Mohawk College, so you don't have to go far to find educational opportunities.
Education
In addition to McMaster University and Mohawk College, there are plenty of other Hamilton schools that offer amazing experiences and even innovative advanced placement programs for academically prepared students. The Hamilton Wentworth district school board has 13 secondary schools and 86 elementary schools, and Hamilton's catholic board offers seven secondary schools and 49 elementary schools. French Immersion is also available if you'd like, and there are a few private schools available, as well. Families shouldn't have much trouble at all finding a school that fits their needs.
Culture
In the years following the steel boom, Hamilton's art scene drove the city's renaissance and growth into what it is today: independent galleries, live music venues, shops, and a city of great pride.
Interested in music and art? If so, you'll never get bored in Hamilton. Music is one of the city's most exciting attractions. Music venues range from large-scale options like FirstOntario Centre to intimate clubs like the Corktown Pub.
You'll also find a ton of places to check out great art in the city, from the quirky Redchurch Cafe + Gallery to the impressive Art Gallery of Hamilton — with more than 7,000 metres of exhibition space and over 10,000 pieces of art in its permanent collection! Hamilton also offers the Theatre Aquarius and local festivals like Art Crawl and SuperCrawl.
Sports
When it comes to sports, Hamilton's residents can currently enjoy a variety of amenities, such as the Tiger-Cats Forge Football Club and Hamilton Bulldogs.
A must-visit for sports fans in Hamilton, the Canadian Football Hall of Fame honours the "other" most popular sport in the country (hockey being the most popular). The Canadian Football League's museum commemorates the sport and its players at Tim Hortons Field, home of the eight-time Grey Cup Champion Hamilton Tiger-Cats. The Cats are hoping to make it back to the Grey Cup in the 2022 season after falling short to Winnipeg in the title game in 2021.
Among the exhibits are displays that present the history of Canadian football, as well as displays of school and university football. It includes more than 250 metallic busts of many of the game's biggest stars, as well as displays of players' uniforms and stats. The stadium's most iconic sculpture, however, stands outside gate 3. Two football players, one receiving the ball and the other tackling it, are shown in this life-size sculpture called "Touchdown."
Hockey fans will be glad to know that it's pretty easy to catch a Leafs game in Toronto on the GO train. Just hop on in Hamilton and get off at Union Station in Toronto. You'll be right across the street from Scotiabank Arena.
Food
Hamilton's culinary street cred is at an all-time high. Local eateries are drawing national attention for many delicious reasons. The number of talented chefs, brewers, and baristas opening up shops in Hamilton makes it difficult to decide what to order first. In fact, some of Toronto's best chefs have actually made Hamilton their food destination.
Want a taste of the action? Restaurants like Quatrefoil (which serves up incredible French fare) and Born and Raised (which serves up delicious Italian dishes) have helped put the city on the culinary map.
Shopping
If it's a day of shopping you're after, you'll find it in Hamilton. For a full-service shopping experience, we recommend Lime Ridge Mall. Visit Locke Street and James Street North if you're looking for unique local shops.
Fun Fact: Hamilton is primarily rural. Experience the country life at one of Hamilton's many farms during the Hamilton Farmcrawl or shop for fresh produce from one of the farms. Downtown Hamilton's Farmers' Market is a must-visit for its vibrant array of local produce stalls, cheese counters, and lunch counters.
Housing
The Hamilton housing market includes home prices that are generally more affordable than those in Toronto. But be aware — the market is exploding across the country. Nearly everywhere you go, you get less house for your money than you did in years prior.
That said, property prices in the city will vary depending on the type of home you're looking for and the neighbourhood you're in. In general, single-family homes tend to cost between $500K and $600K, on average. Condos are closer to $300K.
Moving to Hamilton from Toronto? Even though Toronto offers a wide range of price points, many home buyers can find comparable homes for less in Hamilton, though they will still be expensive nowadays. The housing options in both cities range from pre-war homes to sleek modern condos, and everything in between.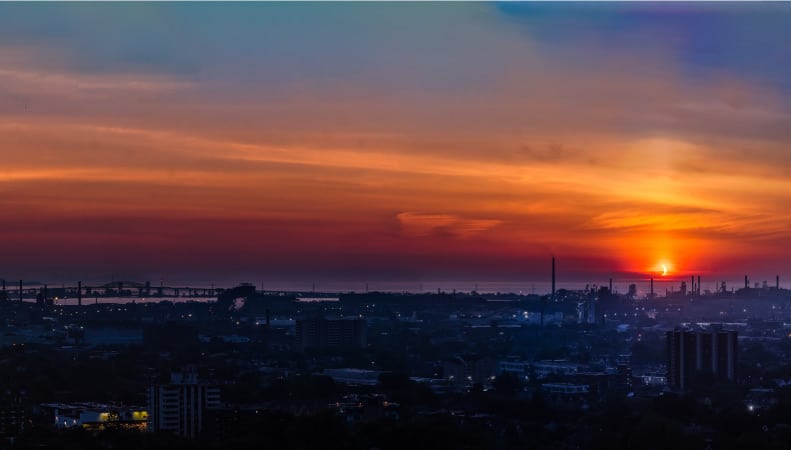 Hamilton Neighbourhoods of Note
The best way to get to know a city is by exploring its distinct neighbourhoods, and Hamilton has some excellent ones. Want a safe neighbourhood that always has something fun going on? Try Kirkendall. Looking for a walkable urban core that's perfect for families and young professionals. You'll love Corktown or Durand. All about the historic luxury homes? Ancaster's the place for you. A few other favourite areas include:
Ottawa Street North: The historic fabric district is a popular interior design and foodie destination.
James Street: Long been referred to as the heart of the city, James Street runs from the Niagara Escarpment to the West Harbour. A hub for culture, retail, and food, this lively street still has plenty of beautiful grit and small produce shops.
Dundas: Escape the hustle and bustle of the city in Dundas, a quiet historic town full of independent shops and restaurants, minutes from waterfalls and the trails of the Dundas Valley.
Basically, whether it's a high-rise condo or new build, close proximity to the water or the forest, regardless of your lifestyle preferences, Hamilton likely has a neighbourhood with your name on it.
Moving to Hamilton
When you've decided where to live in Hamilton, and you're ready to make your move, you have options when it comes to figuring out the specifics of how to get there.
Full-Service Movers
Want to focus on the fun details of the move and leave the heavy lifting to someone else? You're going to want to look into full-service movers. From packing to loading to unloading to unpacking, they'll do it all. And you know what? They'll likely charge a pretty penny to do it, too.
DIY Truck Rental
Want to save as much money as possible? That's where a DIY move will come into play. You can rent a truck and do all the heavy lifting yourself (unless you can persuade your friends and family to help — pizza, anyone?). But, in the end, will you really end up saving that much? Factor in all the fees associated with that rental, including insurance and gas costs, and see if it truly makes sense for your specific situation.
Storage Container
Consider making your move a flexible one with PODS portable moving and storage containers. You can have a container delivered right to your driveway, where you can take your time packing and loading at your own pace — no rushing around on moving day to try to get it done and get out of there as quickly as possible. Once you're ready, PODS will pick it up and take it directly to your Hamilton home or keep it in a local PODS Storage Centre until you're ready for it. Then, you can take your time unloading! It doesn't get much easier than that!
---
Karen Bodkin is a Canadian freelance writer who is a frequent contributor to the PODS Blog. When she's not writing, you can find her exploring the great outdoors.
Get a Quote
Choose the service you need
Comments
Leave a Comment
Your email address will not be published. Required fields are marked *