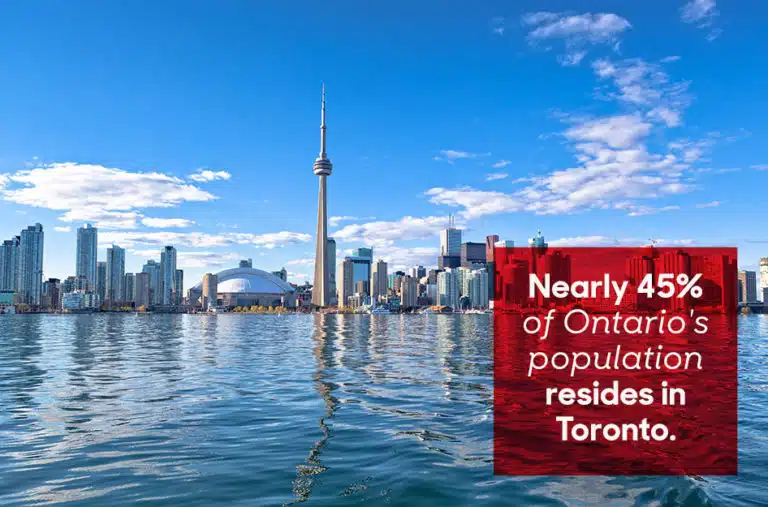 Moving to Toronto: Diversity, Drive, and Drake
Yearning to live in a vibrant and lovable city with a melting pot of cuisines and diverse architectural styles, as well as rich and interesting history? Then it may be time to try Toronto on for size!
Take a look as we explore the ins and outs of the city in this guide to moving to Toronto.
Toronto at a glance
Set on Lake Ontario, Toronto is Canada's most populous city and a global leader in finance, technology, entertainment, culture, and business. Its sports scene, iconic landmarks — such as the CN Tower — and tourism are all important parts of Toronto's economy, as well, consistently attracting both visitors and new residents alike. Due to its high immigration rate, Toronto is also one of the world's most multicultural cities. "Diversity Our Strength" is the motto of Toronto!
Is it a good idea to move to Toronto? We think it's a no-brainer. One of the great appeals of Toronto is the fact that it's a world-class city. But living in a world-class city comes with a price — Toronto's expensive! Be prepared for higher living expenses and long commutes, depending on where you live. If you're strategic in your choices, however, building a life in the City of Toronto can be extremely rewarding and fun!
Toronto's enthusiastic personality
You may know Toronto by some of its nicknames: T-Dot, T.O., or (Drake's favourite moniker) the 6ix — although most Torontonians refuse to use any of these when they talk about their home.
Among the world's most cosmopolitan cities, the Toronto population of 3 million people is made up of more than half visible minorities, and over 200 languages are spoken here.
Torontonians fall outside the stereotype of friendly, overly sorry Canadians that the rest of the world is accustomed to. In fact, Torontonians tend to be very welcoming, laid-back, and open-minded, albeit aloof, sarcastic, and guarded. It's complicated.
How to get around Toronto
Compared to most other Canadian cities, Toronto is huge! Toronto proper stretches 21 kilometres north to south and 43 kilometres east to west. From Etobicoke to Rexdale, from the Junction to the Danforth, and all the way east past Scarborough, it includes quite a few neighbourhoods with very distinct personalities and very different price ranges.
In addition to Toronto, the GTA (Greater Toronto Area) encompasses four more regional municipalities, including Burlington, Brampton, Markham, and Mississauga. Hamilton is also close by and often added in to the mix when talking about the GTA.
You can walk and bike around your neighbourhood and maybe even the surrounding neighbourhoods, but if you want to travel any distance north, south, east, or west, look into a public transit Pass or a car.
There's a robust public transit network in Toronto operated by the Toronto Transit Commission (TTC). You can ride the subway and bus as well as streetcars. And, as of July 2022, a regular adult fare on the TTC is $3.25, while a regular monthly pass costs $156.
To connect all regions in the Greater Toronto and Hamilton Area, Toronto also uses the GO Transit system. GO Transit might fill in any gaps that the TTC doesn't, so if you decide moving to Toronto is the right choice for you, take the time to locate the public transportation options that are close to your address. You don't have to take public transit if you want to get around, of course. Just know that traffic and parking are no joke in Toronto.
Toronto's four seasons
Toronto weather is pretty typical of a Canadian climate, complete with all four seasons. It has cold winters with lots of snow, and average temperatures are well below freezing. Winters will have a few deep-freeze periods that will make you question your move, but hey, at least you won't be living in Winnipeg (where the deep freezes are no joke!). The coldest month of the year is January, with an average low of -7°C.
During the summers, the weather is warm and wonderful, and the beaches are very popular. July is the warmest month of the year, with an average daily high of 25°C. This area is known for its humidity and heat waves, causing summer temperatures to soar.
The Toronto job market
Toronto's financial district is at the heart of Canadian business and culture. In fact, a few of the largest corporations in Canada, the most prestigious law firms, and the Toronto Stock Exchange are all located in famous skyscrapers around Bay Street. The GTA has also become one of the fastest-growing tech markets in North America, attracting tech workers from around the world.
Things to do in Toronto
Would you consider yourself a film buff? Don't miss the Toronto International Film Festival (TIFF). Is music your thing? At Roy Thomson Hall, you can hear Beethoven with the Toronto Symphony Orchestra or see music superstars at Rogers Centre.
How big a fan of sportsball are you? In any field (or on any ice or pitch), Toronto will go harder than any other city. Toronto is home to a few big teams in the major leagues: the Toronto Maple Leafs, Toronto Raptors, TFC, and Canada's favourite baseball team — the Toronto Blue Jays.
Nature and green spaces are also plentiful in Toronto. Aside from Trinity Bellwoods and High Park — which has a zoo — there are the gorgeous Scarborough Bluffs and Toronto Islands, which offer stunning views of downtown and a number of beaches. Plus, you're not far from Niagara Falls — one of the wonders of the world!
Education opportunities in Toronto
From the prestigious and expensive to the pragmatic and affordable, Toronto has a wide range of post-secondary education options, as well. The University of Toronto, for instance, is not just one of the most prestigious educational institutions in Canada; U of T is also among the most prestigious schools worldwide. International students starting a bachelor's degree in arts and sciences in 2022 will pay nearly $60,000 a year in tuition fees alone.
Other post-secondary education options include the Toronto Metropolitan University (formerly Ryerson University), the Ontario College of Art and Design (OCAD), and Humber College. From practical and technical programs to creative and behavioural studies, needless to say, you have many options when it comes to pursuing higher education in Toronto.
Cost of living in Toronto
Brunch. Mimosas. Eggs Benny. Torontonians LOVES brunch — especially the millennials. And guess what? Going out to eat in Toronto is one thing that isn't necessarily more expensive than anywhere else. That may come as a surprise, considering Toronto is a heavy hitter when it comes to amazing cuisines from all around the world — including some high-end restaurants that are run by world-renowned chefs.
There are thousands of restaurants in Toronto to satisfy any taste! Across the GTA, you'll quickly find your favourite Jamaican patties, curried goat, vindaloo, or dahl — and plenty of plant-based options, too!
Being a resident in Toronto is costly, though. Extremely costly. Living downtown in Toronto, for example, can be tough, unless you make a lot of money. But specific neighbourhoods and types of homes play a significant role, just like in any other major city.
Regardless, Toronto is a place where you should be prepared to spend more than half a million dollars to buy a one-bedroom condominium and around 1.5 million to buy a house. Because of this, Toronto employers are likely to pay you more than in smaller cities in Canada. However, be sure to research the vacancies and salaries in your field before you make a decision.
Q: How much do you need to move to Toronto?
A: Toronto isn't cheap, by any means. Rather, the city is home to many Canadian head offices and well-paying office jobs, making it one of the most expensive places to live in the country. Despite its high cost of living, though, Toronto is home to nearly 45% of Ontarians.

You'll spend most of your living expenses on housing in Toronto. Here are the average Toronto rental rates based on property size as of July 2022:

— $1,949 for a 1-bedroom apartment
— $2,499 for a 2-bedroom apartment
— $3,000 for a 3-bedroom apartment

Add in utilities, telecommunications, and other regular monthly costs, and you're looking at a monthly housing cost for one person in a 1-bedroom apartment of nearly $3,000.

When moving to Toronto, it's also important to budget for first and last months' rent, moving expenses, and incidentals you may not consider at first, such as a deposit to Toronto Hydro if this is your first account with them. Check out our article on What You Need To Know About the Toronto Housing Market to help you get started.
Toronto neighbourhoods
Finding the best place to live in Toronto depends on who you are and what stage of life you're in. Here's a general overview:
Toronto's Best Student Areas
Just west of downtown Toronto is New Toronto, which is located along the shores of Lake Ontario. It's near Humber College, so there are a lot of students around. Public transportation is good, and there are plenty of parks. There are also tons of independent shops, restaurants, and cafes on Lake Shore Boulevard.
Students will benefit from Kensington Market's proximity to downtown Toronto, as well. It's full of vintage clothes and exotic foods sold in converted Victorian houses. The Kensington Market neighbourhood is also reasonably priced and has a vibrant, eclectic vibe. There are plenty of restaurants in this area, and getting around without a car is easy.
If your school is east of the city or you want to get away from the hustle and bustle, Scarborough is the place to be. There are lots of young families and students in this area, so it's fun and exciting. It has decent nightlife, shops, bars, and restaurants, but it's a bit quieter than Toronto.
And if you like parks and outdoor space, Morningside, also known as Seven Oaks, is great. It's a bit difficult to get around here, but it's very quiet and feels like a rural town. The best part? It's also really cheap!
Toronto's Best Neighbourhoods for Professionals
In King West, you'll find a young, hip atmosphere. You can rent or buy condos in this district known for its craft beer, artisanal coffee, nightclubs, bars, pop-ups, and the best roof-top parties in the city.
The Liberty Village neighbourhood is a bit more upscale. The community consists of loft spaces and townhomes occupied by young professionals. The apartment prices are reasonable, and you'll be able to commute to work downtown easily. Beautiful and full of possibilities, Liberty Village feels really urban and modern and offers an ideal lifestyle for people who want to live in the city without breaking the bank.
And people who enjoy being close to bars, comedy clubs, theatres, and restaurants will love the Yonge and Eglinton area, since there are plenty of things to do. A safe area, great nightlife, and lots of young people make this a great place. This neighbourhood also provides a fun and fresh vibe for anyone who wants to enjoy it without living like a student. New developments are constantly taking place in the area, both residential and commercial. For those on a budget, you'll need to consider apartment living, as houses are expensive here. Fortunately, you won't need a car due to the excellent public transit, but you might find it useful to have a bike.
Toronto's Best Neighbourhoods for Families
If money isn't an issue, Lawrence Park South or Leaside are great places to raise your children. Schools, sports fields, outdoor clubs, restaurants, shops, parks, and swimming pools are all available in these communities. A decently average detached home cost in the millions here. Heck, even a cup of joe is pricier in this neck of the woods. It's hard to find a better place to raise a family in the city, though. These gated communities offer all the luxuries of city living while feeling like living in the country.
Rockcliffe-Smythe is also a great place to raise children if you aren't looking to spend several million on a home. In fact, in 2016, Airbnb recognized this neighbourhood as one of the hottest districts worldwide due to its incredible outdoor recreational opportunities. Think peaceful streets, safe neighbourhoods at night, and a good mix of coffee shops, shopping boulevards, and quiet residential streets where children can play safely. And with a mix of local citizens and immigrants, it has a super diverse community.
The Beaches is a great neighbourhood if you want to be slightly farther away from the city centre. It has beautiful houses, wide streets, and large parks, and it's situated on the shores of Lake Ontario. With its diverse architecture, The Beaches has properties of all shapes, sizes, and styles, giving it a very exciting vibe. Those who enjoy being out on the water, walking, biking, swimming, and playing tennis will love living here. And if you're a music lover, you'll be excited to learn that History opened last year (Thanks, Drake!) and has had several big acts play there, such as The Glorious Sons and Jack Harlow. Despite the fact that living here isn't cheap, and you'll certainly need a car, the price of living here isn't outrageous. Living in The Beaches is awesome, and many people retire here, as well.
Toronto's Best Neighbourhood for Retirees
Guildwood, also known as Guildwood Village, is a neighbourhood in Scarborough filled with one-storey bungalows, good healthcare facilities, outdoor parks, and a friendly village vibe.
The Scarborough Bluffs, with a wide sandy beach and beautiful white cliffs, are the backdrop for Guildwood. When driving becomes too difficult, the public transit system is a good way to get into downtown Toronto from Scarborough. And there's a large community of elderly residents in this area, so you'll be in good company.
Insider Tip: Considering moving within Canada but unsure of which city to choose? Check out the PODS Blog for other cities we have featured!
Is it hard to move to Toronto?
Choosing your new home in Toronto and figuring out how to get there is easier than you might think when you're ready to make the move.
Full-Service Movers
Want to focus on the exciting aspects of your move and save yourself time and a backache? Consider hiring a full-service moving company. They'll do it all: pack, load, unload, and unpack. The downside? This option may be a real budget buster.
DIY Truck Rental
Are you looking for the best way to save money? DIY moves are ideal for people with friends… who have muscles. Persuade your friends with pizza and load a rental truck yourselves. How much will you actually save, though? Make sure you factor in all the fees associated with that rental, like insurance and gas.
Portable Storage Container
When you're ready to make your move to Toronto, consider making it a flexible one with PODS portable moving and storage containers. You can have a PODS container delivered right to your driveway, where you can take your time packing and loading at your own pace. And once you're ready, PODS will pick it up and take it directly to your Toronto home or keep it in a local PODS Storage Centre until you're ready for it. After that, you can unload at your own pace! There's nothing easier than that!
---
Karen Bodkin is a Canadian freelance writer who is a frequent contributor to the PODS blog. When she's not writing, you can find her exploring the great outdoors.
Get a Quote
Choose the service you need
Comments
Leave a Comment
Your email address will not be published. Required fields are marked *