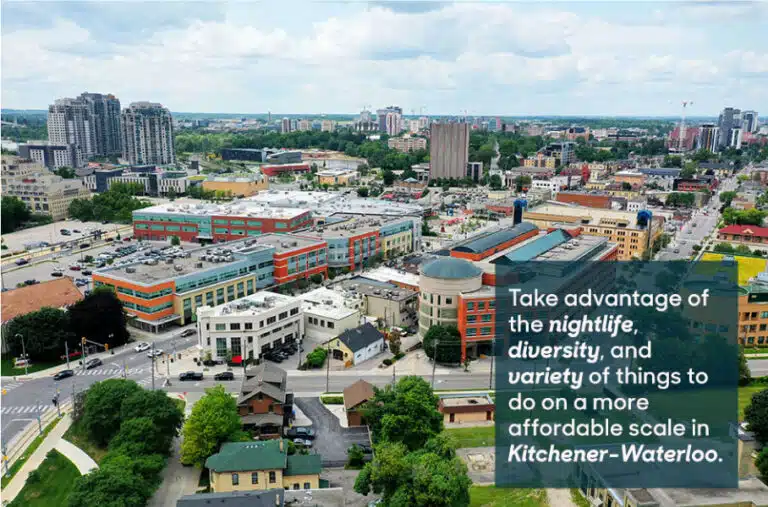 Moving to Kitchener-Waterloo: Small-Town Vibe Meets Big-City Fun
Imagine living in a city where you can attend one of two cutting-edge universities, marvel as local Mennonites ride horse-drawn buggies, explore 365 hectares of parkland, or canoe on a river spanning the city. Add a bunch of music events — including a nine-day festival centered around dancing and beer — and you've got a party!
Kitchener-Waterloo is the perfect place to live your best life. Check out more about what makes this riverside city so special.
About Kitchener-Waterloo
Kitchener-Waterloo is an ideal place to live and work, with a harmonious balance of green space and vibrant downtown activity. And with modern architecture and excellent amenities, it's the perfect community to raise a family, retire in comfort, pursue your education, or find your dream job as a young professional. After all, where else can you learn to ski, shop at a 70-year-old farmers market, explore downtown, and attend a concert — all in one day?
As one of Ontario's largest cities, Kitchener-Waterloo has a population of over 378,000, with the whole region sitting at just over 575,000. And with four distinct seasons, outdoor enthusiasts love the year-round fun available in the area.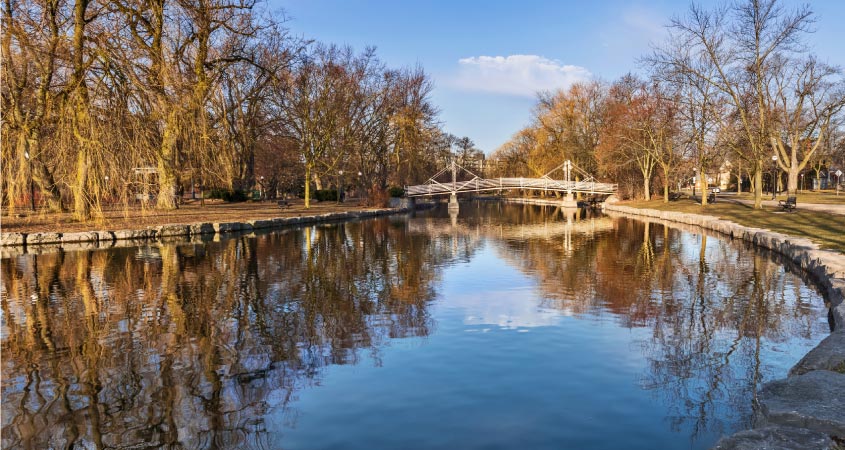 Is Kitchener-Waterloo a good place to live?
Living in Kitchener-Waterloo is an amazing experience with so much to offer people at any stage of their lives:
Young Adults
University of Waterloo, Wilfrid Laurier University, and Conestoga College students benefit from affordable housing, nearby amenities, and entertainment at events like Museum After Dark, an event specifically for young professionals and creatives. This lively area is a great place for young people to make friends and let off steam, and the public transportation system (see below) makes it easy to get around. And because the district is geared toward young adults, Downtown Waterloo and the University district offer attractive employment opportunities for young workers just starting out.
Families and Kids
If you're looking to relocate your family, you'll find a great community full of friendly people in Kitchener. Several neighbourhoods are linked by trails along the Grand River. And kids enjoy local attractions that include snow, water, and getting dirty.
Older Adults
For those approaching retirement, Kitchener-Waterloo boasts several neighbourhoods with active senior centres and walkable trails in quieter areas such as Pioneer Tower. The Mayor's Advisory Council for Kitchener Seniors (MACKS) has set out to make age-friendly neighbourhoods a priority in terms of helping older people live their best lives. Their plan includes more senior centres and targeted sidewalk maintenance, ensuring seniors have access to programs, parks, trails, and outdoor spaces.
Attractions and Culture in Kitchener-Waterloo
Kitchener is home to the largest Oktoberfest outside of Germany! Every October, Kitchener celebrates its German heritage, attracting hundreds of thousands of people to the multi-day festival featuring beer and all kinds of music, including traditional Bavarian and oompah.
But German culture is only one of many diverse cultures that Kitchener-Waterloo builds measurable support for. You'll find incredible authentic restaurants and cultural events, including Culture Days every September. In fact, many different countries are represented at the Kitchener Saturday Farmers' Market alone.
Kitchener-Waterloo boasts a thriving entertainment scene, as well, with museums, live theatre, concerts, and performing arts that can also be found at Centre in the Square. The city is home to annual festivals, growing cultural institutions, and lots of shopping. Furthermore, the region is home to a number of music festivals, and with Toronto only 100 km away, it's no wonder this is an exciting destination.
The Townships around Kitchener-Waterloo provide a quaint change of pace from the city. Many Old Order Mennonites in Canada live in and around Elmira and St. Jacobs. In fact, it's not unusual to see Mennonite people in traditional garb driving a horse and buggy. There is much to see and do in the surrounding townships, as well, such as Castle Kilbride, the Prime Minister's Path in Baden, and the extremely popular St. Jacobs Farmers' Market.
Should I move to Kitchener, Ontario?
The move from Toronto to Kitchener is a popular one. People relocate here to take advantage of the nightlife, diversity, and variety of things to do on a more affordable scale. Torontonians, in particular, move here to escape traffic and connect with nature.
Cost of Living
Generally speaking, the average home prices are around $335K lower than in Toronto, and the commute to the west side of the GTA is manageable by car or GO train. And with more than $1 billion in condominium and high-rise developments planned for Kitchener's central business district over the next year or so, the downtown core is truly on the rise.
And while it is possible to commute from Kitchener to the GTA, you may not need to, given the strong job market that makes downtown Kitchener an attractive option. Over 80% of Kitchener residents work within 30 minutes of their homes.
Employment in Kitchener-Waterloo
Kitchener has a bustling tech and entrepreneurial scene with one of Google's headquarters and numerous start-ups, including a start-up hub called Communitech. If tech isn't your jam, several other strong industries exist in Kitchener, such as healthcare, education, and manufacturing.
Kitchener-Waterloo Transit
Kitchener, Waterloo, and Cambridge (aka the Tri-Cities) are all served by Grand River Transit, with a few routes serving parts of the surrounding Townships, as well. The GRT operates the iON light rail transit service for express routes.
Conestoga Parkway provides easy access to the GTA from Kitchener-Waterloo, and Highway 8 provides access to Highway 401. And the GO and VIA trains service Toronto to Kitchener, if you'd rather not drive.
Activities for Active Lifestyles
Many Kitchener-Waterloo neighbourhoods offer scenic trails along the Grand River that winds through the city. There are also a variety of green spaces, including parks, trails, and conservation areas. Active Kitchener offers all kinds of activities for people of all ages.
For those who prefer sports and family fun, there are numerous sports-themed attractions, as well, such as the Activa Sportsplex, RIM Park, Chicopee Ski and Summer Resort, and Bingemans water and recreation park. It's safe to say that no matter the Kitchener-Waterloo weather, there are plenty of things to do.
Which is better, Waterloo or Kitchener?
Whether you choose Kitchener or Waterloo may depend on a few factors, including travel time, public transit access, walkability, and what kind of neighbourhood you prefer.
As far as innovation and sustainability are concerned, Kitchener is beginning to surpass the City of Waterloo. Although Waterloo and Kitchener are both tech-driven, Kitchener is newer and has converted old industrial buildings into high-tech and social enterprises.
Kitchener's working downtown core has more people on the streets and a high-energy vibe, as well. And if you're not looking to live downtown, there are many Kitchener neighbourhoods ideal for families (Doon, Country Hills) or seniors (Pioneer Tower).
When it comes to playtime, the city of Kitchener offers concerts, art, sports, cultural events, public transit, great access to nature and parks, restaurants and cafés, a booming economy, and a vibrant downtown core that is constantly growing. You can even catch a Kitchener Rangers hockey game and see a concert at Centre in the Square on the same weekend!
Living in Waterloo, though, you can take advantage of community associations and some large recreational facilities such as RIM Park and Swimplex. And there, you're close to the universities and all the fun student life has to offer. Waterloo is the perfect place if you want to explore a fun, dynamic, and welcoming city that has been designed especially for students.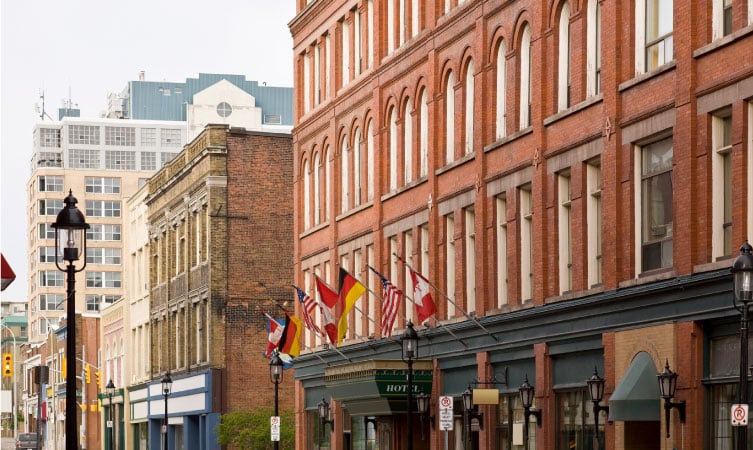 Is it worth living in Kitchener?
We think it's a no-brainer. However, we've described the top neighbourhoods below, so you can choose what's most important to you. Each city has a lot to offer in terms of lifestyle, employment, and proximity to nature, and K-W is known for its innovation.
What are the best areas to live in Kitchener?
When you're considering relocating to Kitchener, make sure you check out these popular neighbourhoods:
Downtown Kitchener
City lights and tall buildings delight the young professional looking for a home within walking distance from Kitchener's commercial core, making the iON light rail service, Kitchener Public Library, THEMUSEUM, and Victoria Park easily accessible.
It's easy to explore new tastes and experiences in downtown Kitchener with the farmers' market on Saturdays, shops, and interesting restaurants. Nearby Victoria Park is one of the most popular attractions in Kitchener, as well, where you can visit its flower gardens, outdoor artworks, and the famous bridge that spans Victoria Park Lake.
Idlewood
The neighbourhood of Idlewood has secluded residential streets that wind their way around Springmount Park at its heart. Idlewood is convenient to Cambridge and the Region of Waterloo International Airport as well as to the Cambridge Butterfly Conservatory. Several trails run through Springmount, including those in Springmount Park, Idlewood Creek, and the nearby Grand River.
Doon
Doon attracts Highway 401 commuters that need quick access to reach Toronto, Hamilton, Burlington, and Brampton transit, as well as the Toronto Pearson International Airport. Even with all that hustle, though, residents appreciate this neighbourhood known for its relaxed pace, nature trails, and family-friendly atmosphere.
What are the best areas to live in Waterloo?
Make sure you check out these popular neighbourhoods before moving to Waterloo:
Uptown Waterloo
With lively bars and charming restaurants, Uptown Waterloo has an exciting blend of shopping and active living options. Uptown has a skating rink, skateparks, recreation centres, basketball courts, baseball diamonds, tennis courts, and plenty of open space. And you can have a blast with the kids at nearby Waterloo Park, which has a boardwalk, splash pad, skating rink, and petting zoo.
Bridgeport
Bridgeport has managed to carve out a unique spot for itself near the Grand River and is relatively distinct from the rest of the Twin Cities. One of the region's most recognizable landmarks is Bridge Street, which spans the Grand River. As one of the oldest neighbourhoods in the region, there are a variety of housing options to suit your needs.
Beechwood
Beechwood is one of Waterloo's most popular neighbourhoods. There is a perfect blend of activity and peace in this area of the city, yet it is near all of the city's most desirable jobs.
Beechwood is a family-oriented, active community with plenty of shopping, dining, and hiking trails. And the proximity of the two universities in Waterloo means that many residents rent out their basements to students.
University District
Wilfrid Laurier University and Waterloo University are both located in Waterloo. The two schools are flourishing and play a key role in shaping the cultural landscape of the region.
Waterloo University is one of Canada's largest universities and a technology hotspot. The university district generates more than 1.5 billion dollars for the local economy each year. An indication of its importance? Google's establishment of offices in neighbouring Kitchener.
As a result, local real estate is booming, and there are multiple condo towers currently under construction. A mix of older brick houses and high-rise condominiums fills this established area. And the student population of the city is well served by the many restaurants and coffeehouses.
Tips for moving to Kitchener-Waterloo
The city of Kitchener, Ontario, is a beautiful place that serves a wide range of amenities. But making the move shouldn't be stressful. If you've found the perfect neighbourhood for you and you're ready to take the plunge, start planning your move today. Here are a few ways you can take on this adventure:
Full-Service Movers
Even though full-service moving eliminates most of the stress associated with moving, it is typically not the most affordable option. However, with a full-service mover, everything is packed, loaded, moved, and unpacked for you. Before choosing a company to work with, be sure to read reviews on Kitchener-Waterloo movers, ask them a lot of questions, make sure they're insured, and make sure everything's in writing. Also, consider if you need storage in Kitchener-Waterloo to facilitate your move.
Rental Trucks
DIY moving with a rental truck and a bunch of friends is certainly a less expensive option. But renting a truck for a long haul can get more expensive when you consider fuel costs, insurance, food, and lodging along the way. Check out the PODS Blog and our website to see how a rental truck compares to PODS services.
Portable Moving Containers
When you're ready to make your move to Kitchener-Waterloo, consider making it a flexible one with PODS portable moving and storage containers. From any of our PODS Ontario locations, you can have a container delivered right to your driveway, where you can take your time packing and loading at your own pace. And once you're ready, PODS will pick it up and take it directly to your Kitchener-Waterloo home or keep it in a local PODS Storage Centre until you're ready for it.
---
Karen Bodkin is a Canadian freelance writer who is a frequent contributor to the PODS blog. When she's not writing, you can find her exploring the great outdoors.
Sources:
Get a Quote
Choose the service you need
Comments
Leave a Comment
Your email address will not be published. Required fields are marked *