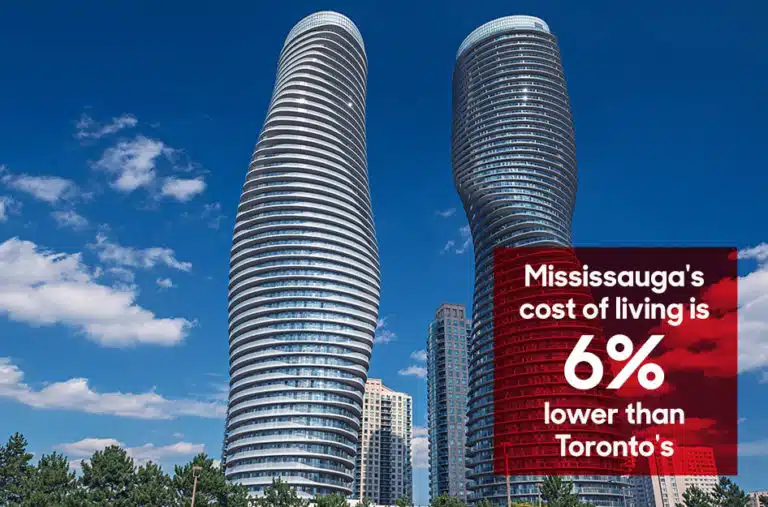 Here's Why You Don't Want to Miss Out on Moving to Mississauga
Considering a move to the province of Ontario? If you're looking for a city with boundless opportunities, great neighbourhoods, and a small-town vibe with big-city amenities, read on because Mississauga might just be the can't-miss opportunity you've been looking for.
Mississauga at a Glance
Once merely thought of as Toronto's suburb to the west, Mississauga has evolved into a unique metropolis that's now Canada's sixth-largest city — with the population of Mississauga reaching more than 720,000. Canadian newcomers can feel particularly at home here with a whopping 185 nationalities represented and more than 50% of residents with a mother tongue other than English or French — almost double the provincial average! The city also has a growing youthful demographic with over 26% of the city's population made up of 20-39 year-olds.
One of Mississauga's stand-out perks is the neverending opportunity for outdoor leisure and recreation — with Lake Ontario and countless parks and hiking trails nearby, including the expansive waterfront trail.
But the most prominent natural feature of the city? It's undoubtedly the 1,000+ kilometre Credit River — a great place to kayak, canoe, and fish. Each fall, salmon leave Lake Ontario and head up the Credit River to spawn, to the delight of nature lovers from all around. Top locations along the Credit River to view the salmon "run" (er, swim) include Erindale Park, Barbertown Road, The Culham Trail, and Meadowvale Conservation Area.
Ready to learn more of what makes Mississauga so special? Let's dive in!
Is Mississauga a nice place to live?
To answer the question directly: Yes. With an array of eclectic neighbourhoods, a beautiful waterfront, a thriving business community, and a cost of living 6% lower than Toronto, it's not surprising that Mississauga consistently attracts people from all over Canada and the world.
Mississauga Jobs
Whether you're looking for a first job, to keep your career on track, or even to start a new business, Mississauga has become a magnet for both large employers (the tech industry is particularly well-represented) and start-ups alike. Companies and entrepreneurs are attracted not only to Mississauga's proximity to Toronto and the airport but also to its large, educated, and diverse workforce. In fact, Mississauga has almost double the number of people with STEM (Science, Technology, Engineering, Mathematics) degrees than the next highest-ranked Canadian city.
The Commute
If your work takes you to Toronto, multiple GO Stations scattered throughout Mississauga can get you comfortably to and from Toronto. And if your job has you hopping on a plane, Mississauga is home to the largest airport in Canada: Toronto Pearson International Airport.
Home and Rental Prices
While average detached-home prices may have caught up to the price of comparable dwellings in Toronto, you get a lot more for your money in the city of Mississauga, with its bigger lot sizes and more wide-open spaces. If you are looking for more efficient accommodations, condominium prices and apartment rents average about 10% less than in Toronto.
Healthcare
The best news about healthcare in Mississauga is the recent multi-billion-dollar renewal plan from the Ontario government, the largest in the province's history. The best part? There will be no disruption of services, as the city's three highly ranked major hospitals will be fully operational during the upgrades.
Schools
You can rest assured about the quality of education in Mississauga. The city has some of the top-rated elementary and secondary schools in the province. Close to a third of all Mississauga's elementary and secondary schools achieved A-level results in recent EQAO testing. The city is also home to the world-renowned University of Toronto Mississauga campus. Sheridan College and Humber College are the other well-regarded post-secondary schools within the city of Mississauga. Students and bookworms have ready access to the city's 20 libraries, including the impressive Hazel McCallion Central Library in the downtown centre.
Weather
Mississauga weather is best described as moderate and fairly typical of the southwestern Ontario area, with the warmest weather (21°C to 26°C) from June through September. Autumn is gorgeous, with the trees ablaze in colour and many opportunities for evening bonfires. It's time to break out the skates in January, with an average high temperature of -1°C, the coldest month of the year. And the average yearly precipitation is about 800mm. For a frame of reference, this compares favourably with Abbotsford, B.C., which is the wettest city in Canada with over 1,500mm of yearly precipitation.
Why you should move to Mississauga
You truly get the best of both worlds when living in Mississauga. When you do want to get to the "Big Smoke" for work or recreation, it can be as few as 20 minutes away. But right out your back door? You'll easily find vast green space, a slower pace, and about half the population density of Toronto. Here's a taste of what you can expect to find when it comes to entertainment options while living in Mississauga:
Shopping and Nightlife
For those craving more of a cosmopolitan buzz, the growing downtown core is the place to venture. It offers a wide assortment of sites, shops, and restaurants that reflect the city's multicultural bent. The downtown is physically defined by the massive Square One shopping centre, Celebration Square — which hosts hundreds of free concerts, festivals, and movies — and the 50 Absolute World condominiums, aptly nicknamed the "Marilyn Monroe Towers" for obvious reasons (scroll to the top to see what we mean).

Outdoor Entertainment
If golfing is your idea of a day well spent, there are plenty of public options like Braeben and Lakeview Golf Course, which has hosted two Canadian Open tournaments and is considered one of the best municipal courses in the country. Mississauga is also home to Toronto Golf Club and The Mississauga Golf and Country Club, two of the more exclusive private golf courses in the province. If tennis is more your game, Mississauga has 45 public tennis courts and an equal number of private clubs, including the prestigious Ontario Racquet Club.

Indoor Entertainment
Moving indoors, there are plenty of activities to keep the young and young-at-heart busy, including the free-admission Mississauga Art Gallery and Fantasy Fair, an indoor amusement park with 12 full-size rides. For the more athletically inclined? There are a handful of indoor climbing walls (Hub Climbing, Cave Rock Climbing) and the Alpine Indoor Ski and Snowboard training centre for those who just can't wait for the snow to fall.
What do I need to know before moving to Mississauga?
Having a car in Mississauga is not an absolute must, but with so much to see and do in this expansive city, it's a good idea to invest in four wheels. You can still get around easily using MiWay, the Mississauga transit system, which was recently ranked 4th out of 15 Canadian cities.
Need a bit of retail therapy from time to time? Mississauga has you covered with Square One and Erin Mills Shopping Centres. Square One is in the downtown core and is the second-largest shopping centre in Canada, with over 330 stores and restaurants. Both have free parking and are conveniently accessible by car or by the MiWay transit system.
And with over 500 parks, city planners made sure Mississauga would be considered one of the greenest cities in the province. Dust off your hiking shoes and get ready to enjoy notable parks and conservation areas like Kariya Park, Lake Aquitaine Park, the Rattray Marsh Conservation Area, and the 150-acre Riverwood Conservancy, located in the heart of the city.
What are the best areas to live in Mississauga?
When it comes to Mississauga neighbourhoods, the city has something for everyone. Whether you're a student, a single professional, or looking for a family home, here are some of our favourite areas to check out.
City Centre: With affordable living options, loads of shops, restaurants, and bars, the downtown district of City Centre is the ideal choice for young professionals, singles, and students. And with so many forms of transportation at the ready, it's a breeze to get around town.
Port Credit: Always wanted to live on the water? Port Credit might be the answer. It's on the shores of Lake Ontario and has an awesome mix of homes ranging from cottagey-detached to modern condos. It's not inexpensive, but with harbour views, beaches, lots of shops and restaurants, and easy access to downtown Toronto, it might be worth the price.
Erindale: If you're yearning for more peaceful environs, Erindale has moderately priced homes and plenty of green space, including the 200-acre Erindale Park. And if you have children edging up to post-secondary age, the highly-ranked University of Toronto Mississauga campus is conveniently located in the neighbourhood.
Erin Mills: With affordable home options, family-friendly amenities, and quick highway access, Erin Mills delivers three big checkmarks. If proximity to shopping and healthcare are also on the list, Erin Mills Shopping Centre and Credit Valley Hospital make it 5 for 5.
Streetsville: Aptly nicknamed "The Village in the City," Streetsville features older bungalows, century homes, and a quaint but lively Main St. You will find a variety of moderately priced homes in this area with handy access to the nearby GO Station.
Lorne Park: If money is not an issue and you want a ranch-style bungalow or a large, new build with a wide lot, tree-lined streets, and waterfront access, look no further than Lorne Park. It's likely the most expensive neighbourhood in the city but, as they say, you get what you pay for.
Mineola: If you go a little east of Lorne Park across the Credit River, you'll find the neighbourhood of Mineola. Like its neighbour to the west, its home prices are not for the faint of heart. Mineola does have more of a cottagey feel and it's one of the leafiest areas of the city. And who doesn't love leafy?
How do I move to Mississauga?
If you're now clamouring to make the move to Mississauga, let's discuss how to get there. Yes, moving can be a complicated process and always includes an element of stress. But there are ways to avoid the hassles. If you just give yourself enough time, get organized, and plan well, chances are you can safely transfer your life and belongings to your home safely and efficiently.
Full-Service Movers
When money is no object and you want to limit your time and effort, a full-service mover is your best bet. They can provide as little or as much service as you want to pay for. A mover can even pack and unpack your house for you. It will definitely be your priciest option, but if you have the financial means, it will also be your path of least resistance. The key is to do plenty of research first and make sure all important details are documented between you and the mover so there are no loose ends or surprises along the way.
Rental Trucks
If you want to do the move as inexpensively as possible, you can always rent a truck and do all the heavy lifting on your own. It can work if you have a strong back and a few helping hands. But when you consider all the additional expenses you will incur, like fuel costs, insurance, food, and lodging along the way, this approach could end up being more than you bargained for. Here is a side-by-side comparison of how a rental truck stacks up against PODS services.
Portable Moving Containers
If you're looking for a more flexible and less stressful way to make your move to Mississauga, consider moving with PODS portable moving and storage containers. There are three different container sizes to choose from, and they are delivered straight to your driveway. The beauty of this is that you can take your time packing and loading at your own pace. When you are all loaded up, give them a call, and PODS will pick up the container and take it directly to your new home in Mississauga. If things change and you need the container to be stored for any length of time, there's a secure and convenient PODS Storage Centre nearby.
City of Mississauga stole your heart? It's obvious to see why! When you're officially ready to make the move, check out the PODS Blog for more on moving to Canada, as well as other great tips on planning for any move.
---
Tony Caradonna is a freelance writer who lives with his wife in Toronto, ON.  A more recent PODS Blog contributor, Tony loves exploring the world and immersing himself in exciting locales with his travel guitar and Michelin guide in hand. When not travelling, he is either golfing or writing about this most addictive pastime on his blog, TheGolfingLife.ca.
Sources:
Mississauga population – Statscan.ca
Mississauga demographics – Statscan.ca
Mississauga weather – weatherspark.com
Mississauga Neighbourhood data – Zoocasa.com
Average home prices – TRREB.com
Companies in Mississauga – torontoglobal.ca
Pearson Airport information – torontopearson.com
Mississauga home rental prices – rentseeker.ca
MiWay ranking – redfin.ca
Mississauga school ranking – compareschoolranking.org
Mississauga hospital ranking – Statista Inc.
Population density – canadianpopulation.org
Mississauga cost of living – livingcost.org
Mississauga Fortune 500 companies – torontoglobal.ca
Get a Quote
Choose the service you need
Comments
Leave a Comment
Your email address will not be published. Required fields are marked *