Essential Moving and Packing Supplies You Should Never Move Without
Moving in the near future? It's never too early to start stocking up on all the essential moving and packing supplies you're going to need. In the thick of the move, you're likely to be focused on getting the job done, so why not give yourself the gift of having everything you need to pack up and get moving on hand and ready to grab?
I've moved over 20 times, and I will never move without the following must-have packing and moving supplies lists. So, take note, use this as a shopping list, and most importantly, have fun by listening to your favorite playlist along the way. Moving is a lot easier when you're prepared, and getting the right supplies is the first step.
This is by no means an exhaustive list — I've left out a few items like cleaning supplies. And while there are a few optional items, most are absolutely essential to get it done right. If you're hiring traditional movers or hourly help, you should find out exactly what they include and what you need to get yourself. For example, if you're just getting help with the loading, then you'll need all your own packing supplies, plus you should ask about other items like shrink wrap and tie-down straps to protect furniture. Don't leave anything about moving day to chance.
I've divided the items into two categories:
Packing supplies you'll need to pack up all your belongings.
Moving supplies you'll need on the big day.
Now let's get rolling.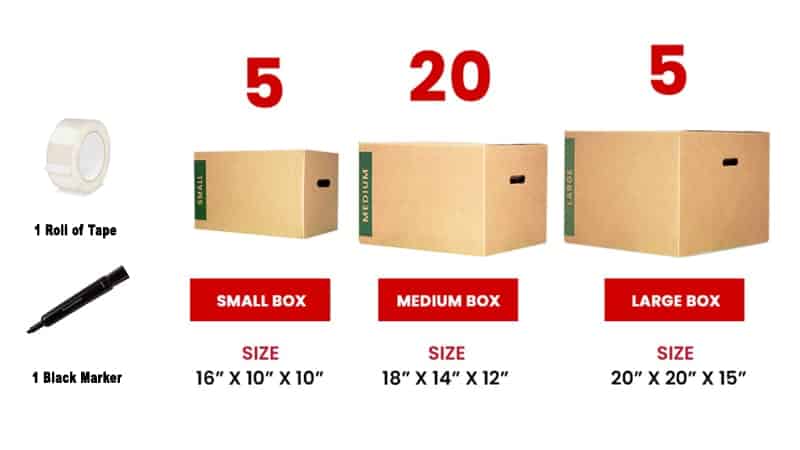 Packing Supplies List Before Moving Day
Boxes
While it may be okay to score free boxes for lighter-weight items, just know that all boxes are not created equal — size, strength, and sturdiness make a difference. You want a variety of box sizes, so the heavier items like books go in the smaller boxes and lighter stuff like clothes go in medium and large boxes. And you definitely don't want boxes that are going to fall apart. Also think about if you need any specialty boxes, like flat-screen TV boxes and dish set boxes.
How many boxes will you need for your move?
Here's a quick look at the approximate number of boxes you'll need for different-sized moves. While our table offers some general guidelines based on household size, keep in mind that the number of boxes you'd need for a 3-bedroom, 1,200-square-foot house would be vastly different from a 3-bedroom, 2,200-square-foot house. When it comes to how many of each size you'll need, it really comes down to the specific items you own. Someone who owns a lot of trinkets or books will need a greater number of smaller boxes than someone who has a sprawling T-shirt collection. You can also consider getting a moving supply kit, which simplifies things by giving you an assortment of boxes and other essential supplies.
Insider Tip: What not to pack in boxes when moving? That includes the usual suspects — things like ammunition, explosives, flammables, and your household pets. What you may not think of, though, is all those valuables and irreplaceable items that you want to ensure don't get lost in the shuffle. Also, it's a good idea to stay away from packing anything perishable — no matter how short the travel time is. Even if you think those food items can make it to your new home without going bad, they're a welcome invitation for other uninvited guests, too: pests!
Estimated # of Boxes Needed By Household Size
Household Size
Small
16 x 10 x 10
Medium
18 x 14 x 12
Large
20 x 20 x 15
Total #
of boxes
Studio Apartment
6
12
2
20
1-Bedroom Apartment
8
20
4
32
2-Bedroom Apartment
14
30
6
50
3-Bedroom House
(with garage)
26
54
12
92
4-Bedroom House
(with garage)
40
70
16
126
Packing Paper and Bubble Cushioning Roll
This is one area where you can save a bit if you're on a super-tight budget. I never pay for packing paper or bubble cushioning roll unless it comes as part of a moving supplies kit that I've bought. Instead, I use newspaper, mailer sheets (finally, a useful purpose for junk mail!), clothes, linens, and any bubble cushioning roll I've saved from shipping packages.
Extra Rolls of Packing Tape
Here's the thing: You almost always need more packing tape than you think, so stock up! And make sure it's the good stuff. The cheaper tape may seem like a good deal, but you'll have to use way more of it and it still won't be as reliable.
Scissors
Make sure to always have a sturdy and sharp pair of scissors at the ready when you're packing and moving. You'll not only need these to cut tape, but they'll be the first thing you reach for when you need to reopen a box (packing mistakes happen, trust me), resize a blanket, or make your own box for a custom item.
Box Cutter or Utility Knife
Okay, so lots of folks skip the box cutter because it can seem redundant when you've got a trusty pair of scissors. But that would be a mistake. Box cutters are a time-saver because they can easily slice through boxes like they're butter. This is key when you're tired and breaking down your boxes at the end of your move. They're also great for cutting through thick plastic zip ties, which can break scissors.
Painter's Tape
If you know me, you know that I practically worship painter's tape when it comes to moving and packing. Having painter's tape is as versatile as a Swiss Army knife. Painter's tape is designed to be sticky but not as abrasive or tacky as other tapes, so it comes off without damaging whatever it was stuck to.
Use it to label boxes, to safely hold together loose items like silverware or pens, and to map out space restrictions on your floor, which is a hack I use when I'm trying to make sure stuff will fit into a restricted moving or storage space. Painter's tape is also great for keeping furniture drawers closed, labeling items wrapped in bubble cushioning roll, and taping nuts, bolts, and screws to their original pieces so you don't have to fish for them later.
Pen and Paper
We're going old-school here, but if it ain't broke, don't fix it, right? Grab some paper and a pen to help with your move and use it to make an inventory list. Write down everything you're packing into a certain box, number that box, and write it down on the paper. When you're unpacking, whip out your inventory list and check it off to make sure you're not missing any boxes — and to help you remember what you packed in which box.
Pro Tip: Where do I start packing when moving? Always with the stuff I use/touch/see the least. The attic, for example, is the perfect place to start. As an added bonus, it's usually a little easier to get those least-used items out of the way, since they don't affect your everyday life. After that, I like to move on to anything that's out of season, like sports equipment/garage stuff and any clothing that I won't be needing in the near future. From there, I just keep working my way through everything until I get to the point where I need to pack up that separate box or bag of things that I need to have on hand for the first night in my new place.
Heavy-Duty or Flexible Trash Bags
Always buy more trash bags than you think you need because — spoiler alert! — you're going to want to use these for much more than just trash. Run out of boxes? No problem! Just sub in a trash bag. Don't want to waste money on boxes for your clothes? Trash bag. Got linens? Trash bag. Random cushions or pillows? You guessed it: trash bag. And, yes, you're also going to have a ton of trash.
Pro Tip: Go for the heavy-duty or reinforced flexible trash bags so you can skip the double-bagging and worries over the bag ripping.
Thick Marker
You won't know what's in your boxes unless you're able to write everything down. Skip the pens and pencils and opt for a thick marker. How thick? Do the glance test. Make sure you can see what you've scrawled on the side of a box just by glancing at it. You don't really want to go any thinner than a regular-tipped 4-mm permanent marker or any thicker than a 5-mm chiseled-edge marker.
Pro Tip: To stay organized and avoid misplacing your scissors, marker, and other essential packing tools, pack one room at a time. Even in one room, it's so, so easy to lose this stuff! When you put your scissors and tools down, always put them in the same place, or in a conspicuous spot, like a window ledge. You can also keep all these tools together in a small, clear box, bowl, or other handy carrier.
Labels and Colored Stickers
While not essential, some super-organized folks prefer to use labels and colored stickers or dots. Color-coding can be a huge help when you're moving a large household, as you can place them on every box and non-boxed item to keep track of what belongs in which room. If you're using multiple moving containers, color-coding can help guide which items go in each container. And the best part? If you're using help with the heavy lifting, your color-coding could help shave down some serious time, since they won't have to keep asking you where to put everything.
For more about organizing a containerized move, check out these first-hand tips.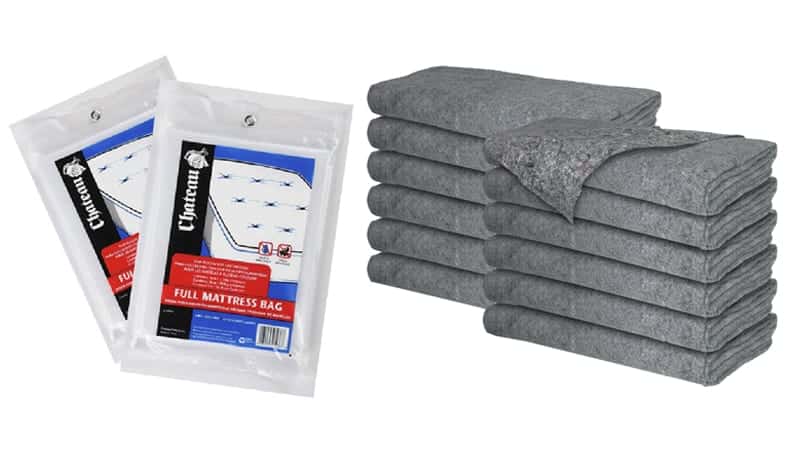 Moving Supplies List for Moving Day
Moving Blankets
Moving blankets can serve two purposes during your move. One, you can use them as furniture covers or to wrap around delicate items like bicycles to make sure they don't get scuffed or damaged. Two, you can use them to help you actually move heavy items. This is a bit of a hack, but you can place a heavy item, like a dresser, heavy box, or mattress onto a moving blanket and then pull it across the floor. This will protect the floor, your furniture, and your back.
Shrink Wrap
If you're doing your own loading, you'll want a roll of large shrink wrap to protect upholstered, wood, and metal furniture. This not only protects the furniture from getting scratched or dirty, but it helps avoid damage to the walls of your old and new place. If you're hiring hourly moving help for the loading, ask if they'll be bringing a supply and how much they charge.
Mattress Bag
Another sometimes-overlooked essential, mattress bags are inexpensive and effective ways to keep your expensive mattress clean during a move. Do not be fooled into thinking you can transport your mattress without one and keep it clean! Want more guidance? We've got extra tips on the best way to move your mattress.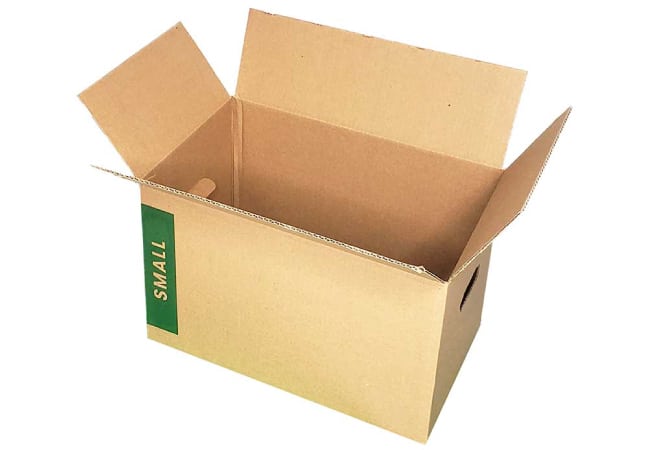 Ratchet Straps or Rope
If you're loading your own rental truck or moving container, you need to use strong straps or rope to tie down and secure your belongings at regular intervals. This will help keep your stuff in place to prevent damage from shifting inside during the transport process.
Disc Lock
To keep your belongings safe, you'll need your own lock to secure your rental truck or moving container. A durable disc lock is what the pros recommend. Just make sure you keep the key with you in a safe place where it won't get lost!
Ready to take the first step and start collecting your supplies? For more tips on how to save time, money, and unnecessary hassles, check out my best hacks for packing and moving on the PODS Blog.
---
Alex Keight is a frequent contributor to the PODS Blog who has moved 20+ times because she loves to experience new places.
Get a Quote
Choose the service you need
Comments
Leave a Comment
Your email address will not be published. Required fields are marked *