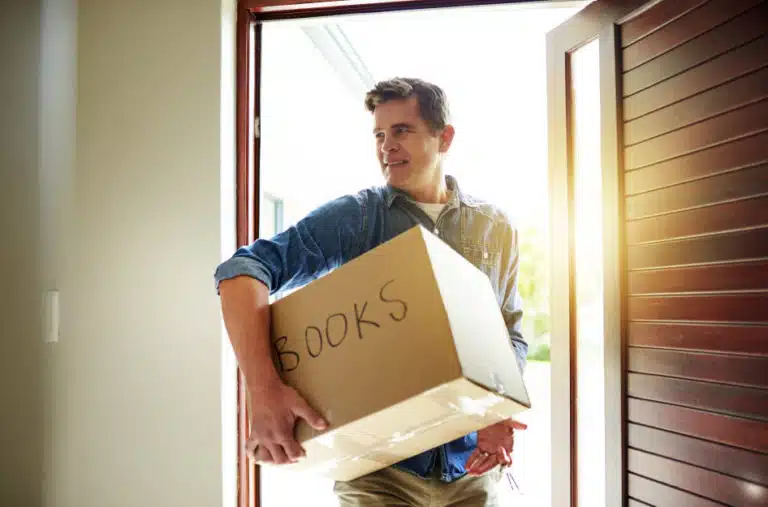 How to Pack Books for Moving Without Damaging Your Collection (or Breaking Your Back)
There are a few dilemmas book lovers and collectors can relate to. First, there's the overwhelming desire to buy or borrow books knowing you have collections of unread volumes already waiting for you at home. Second, time just disappears when you get into a good read. And finally, when moving, there's the biggest predicament of them all – figuring out how to pack books for moving without damaging your collection (or breaking your back). Everyone knows packing for a move is a big task, but packing books must be easy, right? It's best not to judge a book by its cover.
There are some key factors that make packing up your favorite tomes less simple than you may have hoped. They're heavy, sometimes delicate. They come in a variety of sizes and can be difficult to organize. And, as they're made of paper, books are especially susceptible to water damage. But don't worry! We have several tips for how to pack books when moving so you can transport your bundles of reading joy efficiently and safely. Follow these tried and true tips for an organized, streamlined process to happily get your books from point A to point B.
Sort and Minimize Your Collection
This is an essential step for packing anything — not just books — and "minimize" is the name of the game here. Start by going through and sorting your books. Determine which ones you really want to keep (books you read again and again, books you want to read, and memorable gifts from loved ones), but be honest with yourself. That old textbook from college that you haven't cracked open in 15 years can probably go, along with literary duplicates, any "just okay" reads, and novels that you plain disliked. Don't be sad about letting them go. Give them to fellow tome lovers or donate to charities and used bookstores.
Once you've finished, look through your "keep" pile once more to see if there's anything else you can part with. If not, that's okay. Just remember that books are heavy, and the fewer books you end up moving, the more time, energy, and money you're going to save. Besides, you'll add more books into your library soon enough.
Assemble Your Packing Supplies
Before you can start packing books for a move, you've got to get your moving boxes together. Sure, you could use second-hand boxes, but beware of their condition. A flimsy box could get crushed during your move or the bottom could open (remember, books are heavy!). Either way, your books would suffer. Keep these things in mind when choosing your packing supplies:
Only use small boxes for packing books when moving. Anything bigger is going to end up too heavy to move — dangerous for you and your volumes.

Get acid-free tissue for wrapping your most special books.

You can use bubble cushioning roll, regular packing paper, or even crumpled up newspaper as space fillers to keep your books from moving around in their boxes.

Have plenty of packing tape and a black marker handy (for labeling).
PODSboxes.com is a great resource for packing supplies and boxes. Best of all, you can order online and they'll deliver everything right to your door – EASY.
Think Outside the Box (Literally): Another solution to packing books for moving is to use suitcases and rolling luggage instead of boxes. Carry-on and overnight luggage is the perfect size for packing books without being too heavy — plus the wheels make transporting your books a breeze! If you normally pack clothing in your luggage, just use boxes instead. Clothes are much lighter than books!
Should books be packed flat or upright?
Let's look at how to pack books in a box. Most of the time, books should be packed upright (just as you would place them on a shelf). They shouldn't be packed too loosely or tightly. Oversized books should be packed flat, with the largest on the bottom and no more than three or four per box. Packing a book with its spine or fore-edge down will negatively affect the book's structure and eventually deform it, so stick to upright or flat placements.
What is the best way to pack books when you move?
The best way to pack books for moving is one that doesn't create overly-heavy boxes, protects your books from damage, and keeps them organized for when it's time to unpack. Here's a list of DOs and DON'Ts when packing books for a move:
DO pack upright: This method applies to all small- or medium-sized books, paperback or hardback.

DO pack flat: You can use this method for oversized books such as photo albums, scrapbooks, coffee table books, yearbooks, etc. (limit four books to a box).

DO wrap books with acid-free tissue: This isn't a must-do, but if you have books that are older, bound in leather, or just extra special to you, then it's a good idea. The tissue should be wrapped in a way that prevents the book covers from touching each other. Secure the tissue with tape.

DO avoid moving book boxes in foul weather: The last thing you want is for your box of precious books to get wet right before you store it in your moving container.

DO add a protective layer of paper or cloth: If you decide to pack your books in a plastic bin, you're going to want something between the books and the sides of the container. Sudden temperature changes can cause condensation in these containers and that could damage your books.
DON'T pack spines-down: Packing books with their spines down can damage the books, especially those with a rounded spine.

DON'T pack your books spines-up: This is the worst way to pack books as it can cause your volumes to warp under their own weight, plus the bindings will eventually become damaged.

DON'T pack too tight: Books that are pressing too tightly against each other can become warped or damaged.

DON'T pack too loose: Use bubble cushioning roll, tissue paper, or even stuffed animals to prevent the books from shifting inside the boxes and hitting against one another.

DON'T pack too heavy: Someone's going to have to lift that box, so be sure it's not packed too heavy by keeping the weight below 40 lbs.

DON'T stack heavy boxes on light boxes: This is self-explanatory, but heavier boxes can crush lighter boxes and damage their contents.
How do you pack books without being too heavy?
A book or a magazine on its own may seem light, but when you start filling boxes with dozens of volumes, it gets surprisingly heavy. To pack boxes without making them too heavy, use smaller boxes and limit your packing weight to about 35 to 40 pounds (or less). Believe it or not, carrying ten lighter boxes is actually easier (and safer) than carrying five heavy ones, especially if you're going up and down stairs.
You can also consider spacing out your book collection amongst your other lighter-weight items (namely clothing and linens), instead of piling them all together into one or two book boxes. Using books as "fillers" in the small gaps of other boxes will utilize your packing space more efficiently and will also distribute weight more evenly.
How do I move a large amount of books?
Packing books for moving when you have an insanely large book collection isn't too different, but there are a few things you can do to make the process easier. If your collection is well organized or spans several bookshelves throughout your home, pack the books with their shelf-buddies to make unpacking simpler. Include the location where you plan to unload it (study, office, bedroom, etc.) on the label so you know where to take the box when you arrive at your new home. Finally, consider renting a dolly so you can transport multiple small book boxes at once.
Pro Tip: Packing books for a move can take a while, especially when you have a large collection. Give yourself ample time with a PODS portable moving container, delivered right to your driveway. Pack and load on your own schedule, then PODS will pick it up and deliver it to your new home, where you can unload and unpack bit by bit (and avoid filling your hallways with boxes). Moving with PODS is flexible, so you can keep your container as long as you need to properly organize and display your coveted collection.
Moving from one home to another can be an exciting and adventurous time. It can also lead to some added anxiety and stress for the book lover who wants to shift everything responsibly. Keeping ahead of the game, preparing and packing your books correctly is the best route to take. Knowing your books are being moved well and safely will give you a sense of relief. These guidelines will get you to your next destination with ease so you can focus on more important things — like the excitement of figuring out your next favorite reading nook in your new home.
---
Kiran Bahl is a freelance writer who loves discovering how to make something better yet simpler at the same time. She lives happily and peacefully amongst her family and enjoys dessert every day — especially after meeting a writing deadline early.
Get a Quote
Choose the service you need
Comments
Leave a Comment
Your email address will not be published. Required fields are marked *