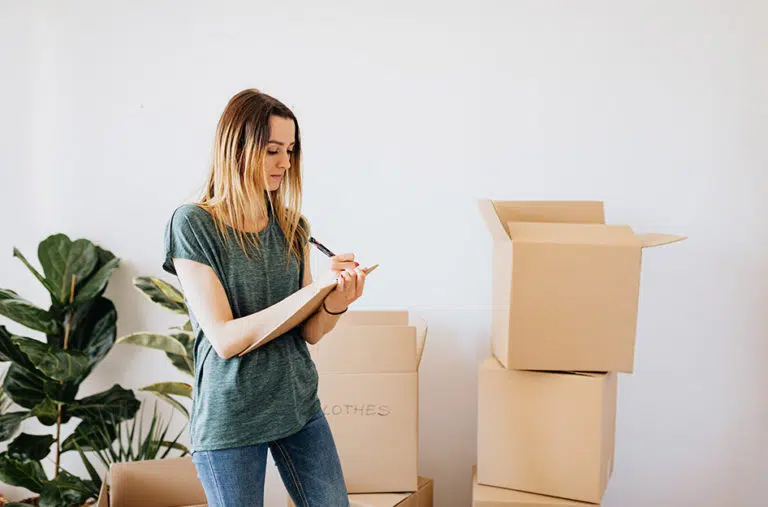 16 Foolproof Packing and Moving Tips and Tricks From Someone Who's Moved 25+ Times
According to the latest U.S. Census data, the average person moves over 11 times in their lifetime. Me? I'm over double that, with more than 25 moves under my belt. Between 2020 and 2023, I moved five times, including two out-of-state moves. While some people may dread the idea of moving, I love it. It's a great way to take stock of what you own and eliminate what no longer serves a purpose. And it turns out, I've developed a fine-tuned system using earned and learned packing and moving tips after all my moves.
My roommate took note when I packed up my things for a cross-country move from NYC to L.A. and said, "I feel like you've been giving the rest of us a masterclass in packing over the last week." Until then, I hadn't even thought about the fact that I've curated a long list of useful moving and packing tips over the years.
I've got the packing and moving tips and tricks to make it seem like a breeze. Some moving hacks are borrowed from the pros, and some I figured out on my own after my many, many moves — not to mention lots of trial and error. Whether you're moving out of state for the first time or just looking to pick up some pointers, I'm here to help you master how to pack for a move efficiently.
Here are some of my best go-to packing and moving tips and hacks to try out for your next move.
Dealing with a tight deadline? You'll probably want to check out my moving and packing tips for moving in a hurry, too.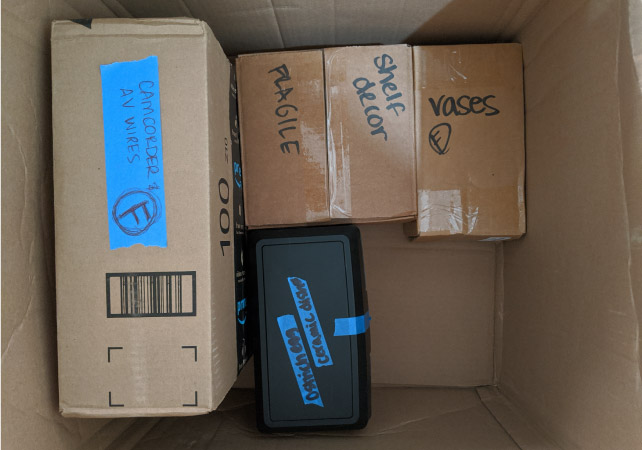 The Russian doll technique
(Source: Alex Keight)
1. Master the Russian Doll Technique.
If you're wondering, "How do I make moving and packing easier?," use the Russian doll packing and moving technique. I've been using the Russian doll technique for years and have found it's hands-down one of the best ways to pack for moving.
Similar to the setup of a Russian doll, this packing and moving move involves nesting. In this case, we're nesting small packed boxes inside larger moving boxes. I like to use this method when packing items like pens and random things I've accumulated on my desk, all the different cooking utensils and gadgets in the kitchen, and any miscellaneous items like shelf decor or knick-knacks. This technique is one of the easiest ways to pack for a move and will help all your smaller items stay organized while also saving space — and every inch counts when you're moving.
Pro Tip: Once you know you're moving, save all your delivery boxes and product boxes. These smaller boxes are great to use with the Russian doll technique.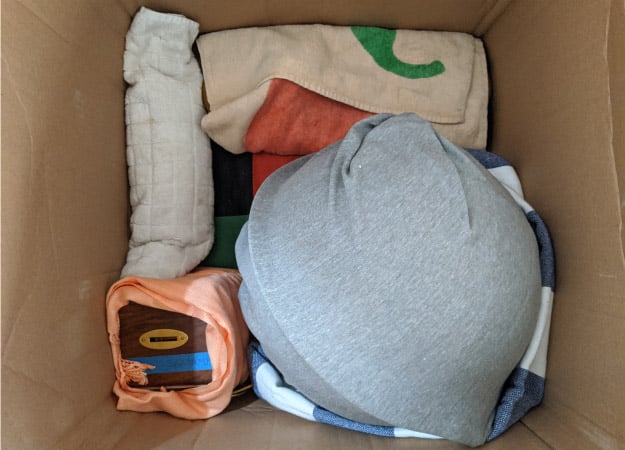 Clothing and towels used to wrap fragile items
(Source: Alex Keight)
2. Forget the Bubble Cushioning Roll and Use Your Clothes and Linens Instead.
Bubble cushioning roll… who needs it? I've been wrapping my fragile items in my clothes, linens, and towels for years. This is one of my favorite packing and moving tips because it knocks out three birds with one stone — it's a convenient way to protect your stuff and pack your clothes, and it's one of many ways to make your move more sustainable. Consider wrapping framed artwork in layers of sheets and towels and stuffing delicate trinkets inside socks. Then, press those socks inside your sneakers for extra protection. Roll lamps with dresses, wrap mugs and drinking glasses in T-shirts, use blankets and duvets to protect small furniture, and commission random clothes to fill and secure space in boxes.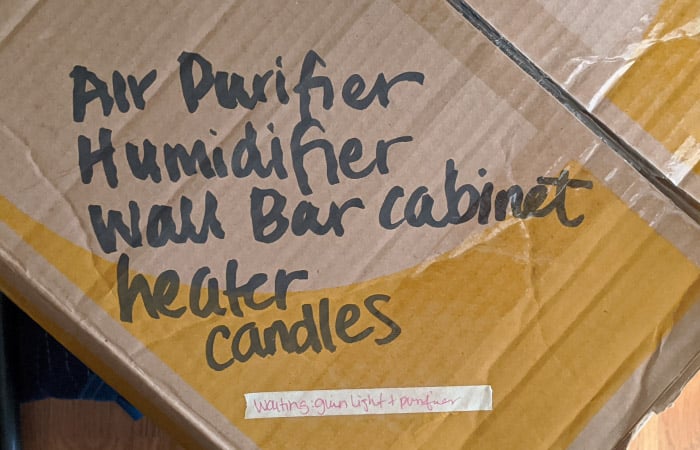 Detailed label on a moving box
(Source: Alex Keight)
3. Pay Attention to How to Pack Clothes for Moving.
Clothes often don't get the attention they deserve when packing boxes for a move. We get it. There's so much to handle that it's tempting to throw those shirts and shoes into a box and not think about it until it's time to unload. But being sloppy with clothes packing can mean a big headache during unpacking time.

Use compression bags to save space for bulkier clothing like winter jackets, ski gear, and heavy sweaters. For casual clothing items, we suggest rolling the things before placing them inside a box rather than flat-folding them. This takes up less space and creates fewer wrinkles and creases. Want more space-saving clothing packing tips? Check out this article on the PODS Blog.
4. Label Your Moving Boxes in Detail on Several Sides.
Details make all the difference, especially if you're keeping things in storage for a while. No matter how annoying or unnecessary it seems at the time, I always make sure to be highly detailed when labeling my moving boxes.
List everything inside, particularly items you know you'll want to unpack ASAP. This makes it easier when it comes time to unpack — you'll know exactly where to find things just by looking at the box. On that note, be sure to write down the contents on the top and at least two different sides of the box, so you can easily see what's in the box — even if it's stacked or lost in a pile of moving boxes.
Security Tip: If you're using full-service movers, it's best not to label valuables inside boxes explicitly. Instead, I like to use codes, like "J.B." for my jewelry box or "snaps" for my camera equipment, which still help me — and only me — identify what's in the box.
5. Document Furniture Disassembly and Keep Hardware Together.
If you're moving furniture, chances are, you'll probably have something that needs to be disassembled — and then reassembled. Your future self will thank you immensely if you follow this hack, trust me. During the disassembly process, you will want to take photos (or better yet, video) of the critical parts of the process, making sure to focus on things like which hardware goes where and any essential notes on the order in which reassembly must be done. As you remove the hardware, immediately put it in a bag marked with the name of the furniture item.
For extra points, jot down how many pieces of hardware you put in and tag it with where it is used. It may seem like a hassle, but I know from too much experience that even if you think you'll remember what goes where or how to put something back together, it may not seem so obvious later when trying to do it.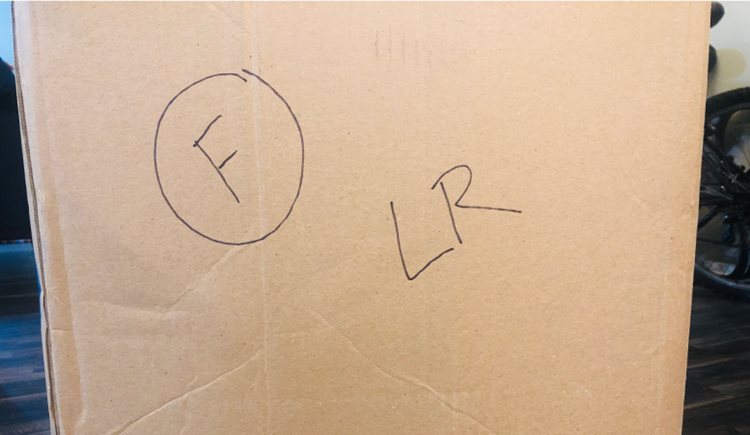 Shorthand labels on a moving box
(Source: Heather Magness)
6. Mark Moving Boxes With Shorthand or Symbols.
This hack saves time on both ends of your move — packing and unpacking. If you haven't figured it out, I love to mark up my boxes. However, writing the same things over and over can get monotonous, so I streamline the process by using symbols and shorthand. For example, instead of writing "fragile" on every box with breakables, I'll mark several sides with a big "F" with a circle around it. I also use shorthand for locations. For example, if I pack a box of living room stuff, I'll just write "LR." Other easy-to-identify options include using color-coded stickers or different colored markers.
Short on time? Get moving supplies delivered right to your door with fast, free shipping.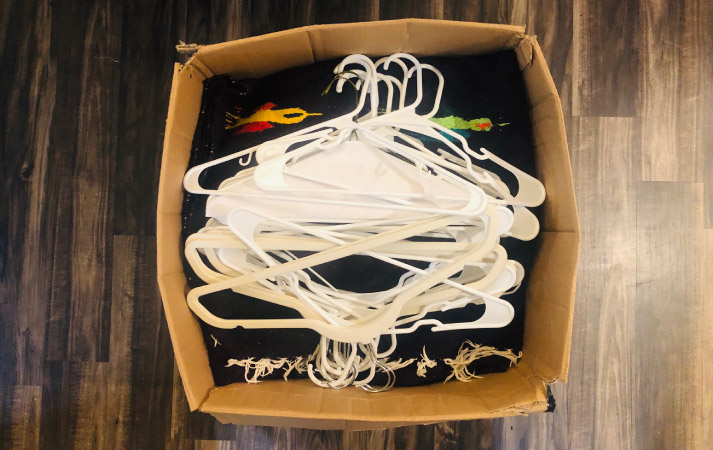 Hangers packed in a box for added stability
(Source: Heather Magness)
7. Use Hangers to Fill Space and Make Sturdier Boxes.
Hangers are not usually covered in traditional packing and moving tips because they're just one of those things that you don't think much about until it's time to pack them. They just seem to take up so much space, but at the same time, you don't want to leave them behind because you'll need them as soon as you unpack your clothes. My solution? After you're done packing clothes for a move, grab the leftover hangers and use them to help give extra support to your boxes.
No matter how well I think I'm packing, inevitably, there are always a few boxes (or a lot of boxes) with a bit of space to spare at the top. Leaving extra space in your box will leave the box less structurally sound and more likely to collapse if other moving boxes are placed on top. This is where the hangers come in: Toss a few on top, and you'll help add some solid support. Trust me, this is the best way to pack hangers.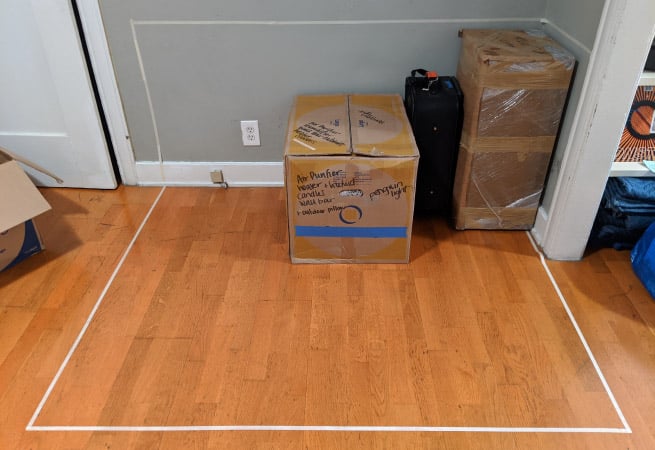 The taped-off corner of a room represents available space in a moving container
(Source: Alex Keight)
8. Tight Squeeze? Mock Up Your Moving Space.
If you're working with a small space, creating a mock version of the moving or storage space you're working with is a great way to determine if everything will fit. This hack works best for car cargo and smaller storage spaces. There are three ways to go about it:
Mark the dimensions of the space on your floor and wall with painter's or masking tape (best for smaller spaces and if you mainly have boxes).
Create a scale version of the space and your more oversized items on graph paper.
Use an online moving and storage calculator to double-check what will fit your truck, moving container, or storage unit.

I used the mark-up method most recently to work out how best to pack the cargo area of my SUV for my move across the country. I needed to fit everything perfectly, since we'd be leaving after the rest of our things were being picked up by movers. If something didn't work, it would have to be left behind.
9. Repurpose Household Items to Help Pack Jewelry.
Need to pack jewelry? There are excellent packing and moving tips for that. You'll want to avoid just dumping your jewelry into a shoebox or bag, unless you're looking forward to the high concentration and patience required to fish out all the matching earrings and untangle necklaces. Instead, you can repurpose regular household items to pack and organize your jewelry easily. For example, those weekly pill organizers are perfect for packing rings, post-earrings, cufflinks, and necklace pendants. Thin necklace chains can be threaded through straws and clasped together, so they don't get tangled, while chunkier necklaces or thicker chains can be threaded through toilet paper or paper towel cores. Carabiner clips are great for looping bracelets.
Once you've packed everything, you can place it inside a food container, cloth bag, or smaller box to keep it together. You can put anything you're worried about scratching inside a sock or wrap it in tea towels.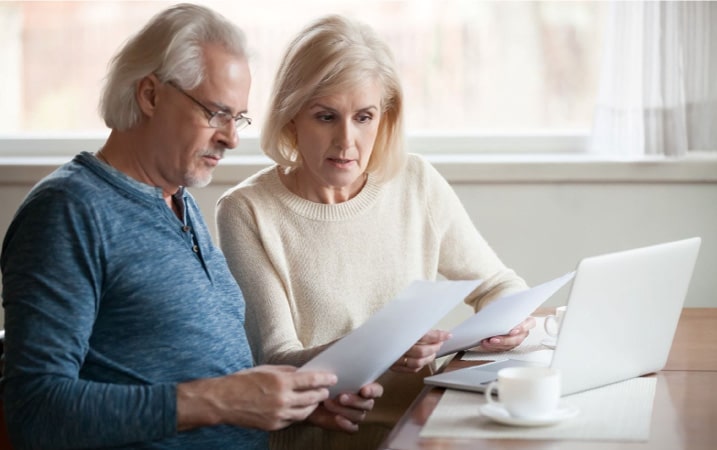 10. Check If Your Homeowners or Renters Insurance Policy Covers Your Stuff When Moving.
Just before my move out of NYC, I found out that my new
renters insurance policy
covered my items during my move. That's right, before I even got my stuff to my new place, it was covered against damage and theft. This was an unexpected gift, especially considering the moving company had a very minimal — but also
very standard
— level of coverage for my items. Basic renters insurance plans can cost as little as $10 a month, so it's worth looking into a plan — and double-checking to see if coverage also extends to your move — even if you cancel it afterward. If you want to save bucks on
moving insurance
, it's a great, simple hack to protect your stuff.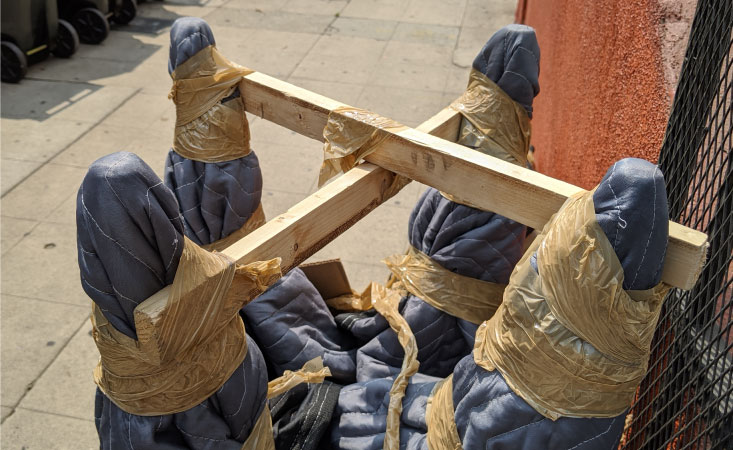 The legs of a wooden chair have been wrapped in moving blankets and secured with wooden beams and packing tape.
(Source: Alex Keight)
11. Use Wooden Beam Stabilizers for Furniture Legs.
I picked up this simple packing hack after watching the pros. When packing and moving furniture with legs (like chairs or tables), use wood beams to help keep them stable. After wrapping your table or chair, crisscross a pair of beams in the center of the legs, securing them with several rounds of packing tape — at both the crux and again at every point where the end of the beam meets the leg. This will significantly help prevent the legs from becoming loose during the move, as things may shift around in the moving vehicle or storage container.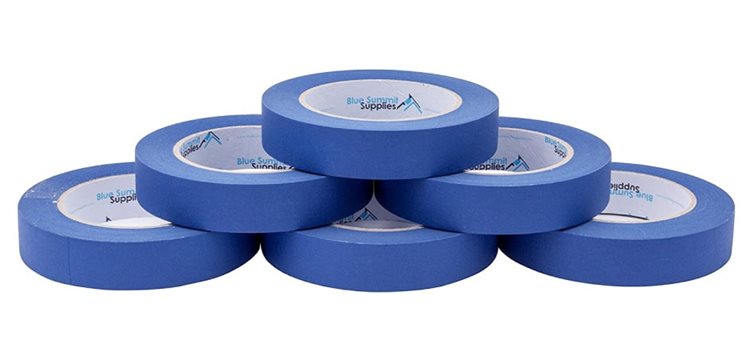 Blue painters tape is invaluable during a move.
(Source: Blue Summit Supplies Store via Amazon.com)
12. Stock Up on Painter's Tape.
When it comes to packing supplies for moving, a hefty roll of painter's tape is a must for any move. Besides marking up the floor when I'm working with tight spaces, I also use it throughout the packing process. In fact, it's never out of my reach. Use it to easily mark and identify moving boxes, tape loose items like cutlery or pens together, or secure loose fixtures on furniture or decor, like a loose mirror inside its frame. I'm also a big fan of using a strip or two of painter's tape to make sure pesky drawers stay shut or to tape a few loose screws and washers together (and on their main pieces) after disassembling furniture or electronics. The best part? It's sticky but not crazy adhesive, so it doesn't damage most materials and surfaces.
(Source: Ethan Hethcote)
13. Give a Moving Container a Go — Especially If You Need Storage Time.
Using a
portable container service like PODS
for moving reduces time, labor, and stress. Instead of all the back and forth (and backbreaking) that comes with moving in and out of a storage unit, portable containers allow you to load directly on your property and according to your schedule.
For instance, PODS simply drops off and then picks up your personal container at your convenience, so you can take your time loading without worrying about driving. Plus, keeping your things in your secure container significantly reduces the risk of damage that can occur during multiple moves in and out of trucks and storage units. Even if your move doesn't require storage, portable containers are a convenient moving solution if you need some scheduling flexibility or want to skip the driving but don't want to pay an arm and a leg for a full-service move.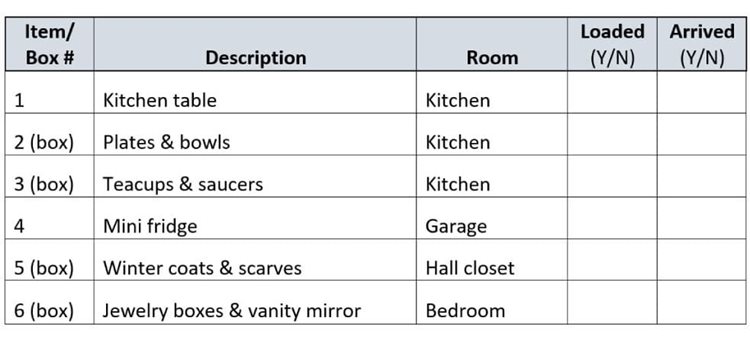 Example of a detailed inventory list
14. Create an Inventory List.
We're all familiar with a moving checklist, but have you ever created a packing inventory list? This extra step can seem like a hassle as you begin your move, but trust me; you'll be singing its praises as soon as you start unloading boxes in your new place. This hack is perfect for long-distance moves when there will be a longer gap between when you pack and when you unpack.
While packing, assign each packed box and prep each item with a number. I like using a thick piece of painter's tape, so the number is easy to locate later and won't damage non-boxed items. On your list, write down the corresponding number and a brief but solid description of the item or what's inside the box. When it comes time to unload, you can check against your list to ensure nothing went missing during the move, and if it did, you'll know what it was right away.
15. Handle Plants With Care.
Plants are often an afterthought, but this is one of the more important packing and moving tips. If you're doing an in-town move, moving your plants yourself in your car is best. Load larger plants directly into your car and strap them in when possible. Small and medium potted plants are usually good to go if you place them in an open box (feel free to stuff some towels in the space between the planters to give the plants a little cushion in case of any bumps). As an extra tip, don't water your plants right before you move them; that way, the soil is lighter, and there isn't a chance of dampness getting on the bottom of the boxes or in your car. Any tall and large potted plants can be moved in a wardrobe box.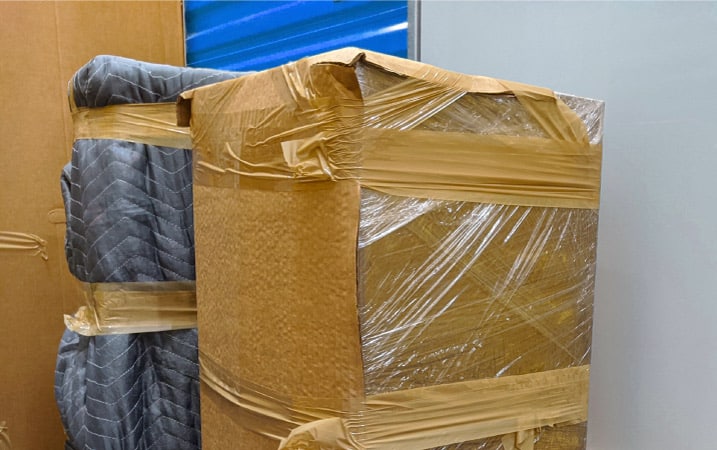 Repurposed moving boxes are used to protect furniture during a move.
(Source: Alex Keight)
16. Get Creative With Your Moving Boxes.
This one has gotten me out of plenty of last-minute packing supply runs. No rule says a box must be used as a box. If you have any type of box hanging around, you can transform it into almost anything, from a furniture protector to a box reinforcer, space filler, or even a new box.

For example, I like to help reinforce the tops and bottoms of "soft boxes" (i.e., boxes packed full of soft materials like clothes or pillows) to make them sturdier and even somewhat load-bearing. You can also slice up a large box and wrap it around flat-edged furniture for extra protection or if you run out of moving blankets. Or, if you have an odd-shaped item, you can make a custom box by cutting up boxes and taping them back together.

If you desperately need more boxes or moving supplies, though, PODS has you covered. You can have any items you need delivered to your door by visiting

PODSBoxes.com

. Shipping is fast and free!

Need packing tips for moving a long distance?

Check out my killer list of tips for moving out of state, moving across the country, and general

packing and loading tips to prevent damage

.

These are just a few examples of the creative packing and moving tips I've accumulated over the years. Do with them what you will, but I hope you'll at least give them a shot next time you or someone you know moves.
Moving Tips FAQs
Q: What should be moved first when moving?
A: Any non-essential items like bulky furniture (bookcases, coffee tables), holiday decor, seasonal clothes, and fine dishes should be moved first. Moving these nice-to-haves before your need-to-haves gives you some flexibility if you need more time.
Q: When should you start packing for a move?
A: As soon as you know you're moving, you should start packing and prepping. The last thing you want to do when moving is procrastinate. Research moving companies, get quotes, start decluttering, collect moving supplies (and create a moving supplies checklist), and set target dates to complete each step of your move, so you don't get blindsided with an impossible to-do list on moving day. For more tips, check out our post on moving mistakes you don't want to make.
Q: How can I pack my house up fast?
A: The best way to pack your house up fast is to start with a decluttered and organized home. If you only have what you truly need and want and everything is already in its place, it's simply a matter of moving from room to room with your moving supplies, boxing related items up, labeling the boxes, and loading them on your truck or moving container. It's also useful to have a bunch of willing friends to help with a packing blitz!
Q: How do I start packing to move without getting overwhelmed?
A: Give yourself time! Everything becomes stressful when you're in a rush. Get started on the moving process as soon as you decide to move. If you won't be moving for a couple of months (or more), start decluttering right away! One great way to do this is to place a box in the corner of every room in the house. As you go about your day-to-day routine and you come across things you don't really need or want (that sweater you never wear, the unmatched coffee cups that just take up space, etc.), pop them in the box. Once it's full, just take it to your local Goodwill or Salvation Army. See our PODS Blog post on how to avoid moving stress for more helpful tips.
Q: What is the most challenging room to pack?
A: The bedroom and kitchen can be the most complex rooms to pack, since they contain items you'll need to use during packing. Some people find a solution in waiting to pack these rooms last, while others may decide to pack the non-essential items, saving the essentials for the last minute.

Q: How long does it take movers to pack a 1-bedroom?
A: A one-bedroom apartment of around 1,000 square feet should take movers about two hours to pack and move. However, there's no one-size-fits-all answer for this — apartment sizes vary, as does the amount of stuff people can accumulate. If you want professional movers, it's always best to call them and get an estimate first. Time will also depend on how many movers are working on the job.
And Don't Forget: There's No Shame in Asking for Help.
If you still have too much on your plate to handle alone, there's zero judgment when hiring professional packers and movers to do the job for you. Sometimes, it can be the ultimate hack! We get it — that's why we exist!
Containing the moving chaos doesn't happen alone — we've got to work together and spread the love. And by love, I mean moving hacks and other packing and moving tips and tricks. Go ahead and share this blog via your favorite social site or email. Got go-to packing and moving hacks that you don't see on this list? We'd love to see it! Just use the comments section below to share your wisdom.

Alex Keight is a writer who has lived — and moved — all over the country and the world. She is an expert at packing, whether it's for a long-distance move or a short weekend trip. When she's not writing or on the move, Alex spends her time giving her cat booty pats, cooking up dishes in the kitchen, and buying way more books than she knows she'll ever actually get to reading.
(Source for image featured at top: Karolina Grabowsk via Pexels)
Get a Quote
Choose the service you need
Comments
Leave a Comment
Your email address will not be published. Required fields are marked *