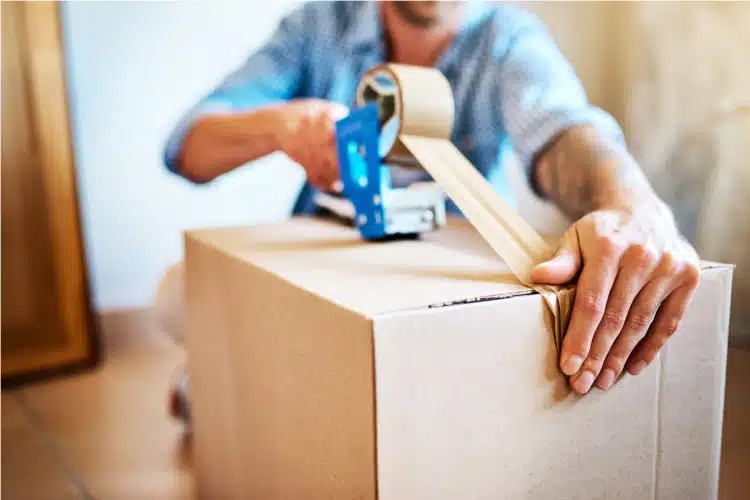 These Pros Share Perfect Packing Tips When Moving
You've sold your home, are moving into a new one, and time isn't exactly on your side. You need expert packing hacks for moving. And you've come to the right place.

Figuring out how to pack for a move can be challenging to do alone. From furniture to flatware, it's all got to go, and you're not sure the right way to do it. But don't stress. We have easy packing tips for moving in a hurry that will help you fill those boxes like a world-class Tetris champion. And, while we can't transform packing from a chore into an exciting, fun-filled experience, we can help make it a little less daunting.
Here are some of our favorite packing tips for moving, courtesy of some top influencers.
Declutter, declutter, declutter
Say it three times, click your heels together, and it will magically happen! Just kidding. But wouldn't that be nice? Decluttering the right way takes some effort, but it has major payoffs, especially when it comes to preparing for a move.
You don't want to pack things you no longer want or need, then unpack them and put them into your new home, where they won't be used. Sounds obvious, right? It actually happens all the time.
It's tough to let go of things, but this is the best time to sort through every item in your house and decide whether it's worth taking to your new home. And when it comes to sorting, there's no greater source of inspiration than the joy-sparking guru herself, Marie Kondo.
Kondo has an entire tidying method named after her — the KonMari Method™ — which focuses on cleaning out your things based on category rather than location. Instead of decluttering room by room, she recommends grouping belongings into five categories:
Clothing
Books
Paper
Miscellaneous
Mementos
Go through each thing in each category, and ask yourself if it sparks joy (Translation: Does it make you happy?). If you feel nothing, it goes to the donation pile. It may sound tedious, but once you get the ball rolling, you won't believe how much progress you can make — and how good it feels to be free of excess stuff.
Deciding whether an item is "sparking joy" isn't always easy. If you find yourself lingering on certain possessions, try using the 20/20 rule for decluttering. Developed by Joshua Fields Millburn and Ryan Nicodemus of The Minimalists, this rule states that if something costs less than $20 and would take under 20 minutes to replace, let it go. This should help you work through that "maybe" pile.
Overestimate when it comes to packing materials
Moving boxes fill up quickly, and too often people underestimate how much stuff they have in their homes. That results in last-minute trips rushing around town buying packing and moving supplies at a premium. Since packing is often considered the most vital part of the moving process, to do it the right way requires more than one or two box sizes and a box-loading strategy.
Estimated # of Moving Boxes* Needed By Household Size
Studio — 6 small boxes, 12 medium boxes, 2 large boxes (20 boxes total)
1-Bed — 8 small boxes, 20 medium boxes, 4 large boxes (32 boxes total)
2-Bed — 14 small boxes, 30 medium boxes, 6 large boxes (50 boxes total)
3-Bed + Garage — 26 small boxes, 54 medium boxes, 12 large boxes (92 boxes total)
4-Bed + Garage — 40 small boxes, 70 medium boxes, 16 large boxes (126 boxes total)

*Small box = 16"x10"x10" | Medium box = 18"x14"x12" | Large box = 20"x20"x15"
Sharrah Stevens of The Kinwoven Home recommends buying more moving supplies than you feel is necessary. In this video, she says the number one comment she hears from subscribers time and time again is they didn't buy enough boxes. This rule also applies to bubble cushioning roll and moving blankets. Paying for these things upfront is much cheaper than dealing with damaged furniture and home goods. Say it with me: "Stock up before you box up."
Looking for the best tips to keep your move environmentally friendly, from decluttering to packing materials? Check out Porch's article on greening your move and home for expert advice from industry pros!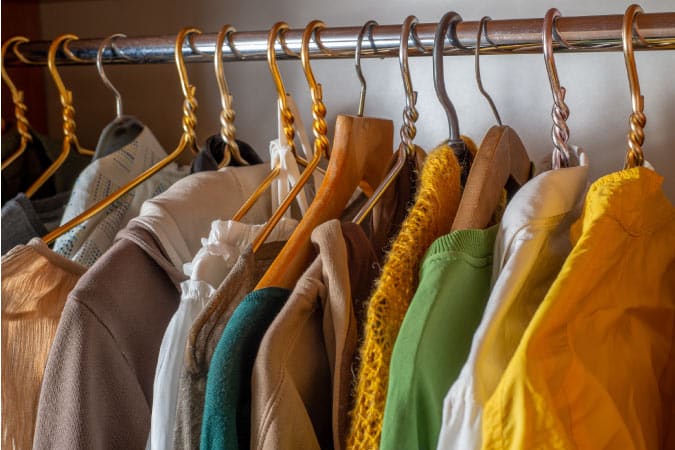 Leave clothing on hangers
It may seem counterintuitive to leave clothes on their hangers when they could be folded up and neatly packed somewhere, but sometimes you need to sacrifice a little packing space to make life easier on yourself, amiright? Heather from Poppy + Grace has these clothing moving tips: Group your hanging clothes into batches, cover them with trash bags, and then hang them up in your new closets. Time officially saved. Now go enjoy a cold glass of lemonade.
Shrink the sweaters
If you have bulky sweaters and winter gear taking up a lot of space, consider using vacuum-sealed bags. These bags look like extremely large sandwich bags, but they have a port in them for a vacuum nozzle. Fill the bag, use the nozzle to suck the air out of the bag, and — voila! — a bag of clothing as flat as a pancake (don't worry; no clothes will be harmed in the making of this clothes pancake). Emily Norris swears by this packing method and, if you don't want to purchase these specific types of bags, she has a DIY recommendation for making your own using a regular garbage bag. One man's trash bag, indeed.
Start with your lesser-used things first
Chances are, it's going to take you about a week or two to pack your home, and that's if you're dedicating most of that time to packing. Kimmy from She's In Her Apron recommends starting the packing process by going through each room and packing away the nonessential things you won't need for the last week in your home.
Put first-aid kits in plastic bins (just in case you do need to find them quickly). Do the same with other toiletries that aren't needed daily.
Strip down guest beds and pack extra sets of sheets.
Only keep the toys your kids demand to play with every day.
Say goodbye to most of your wardrobe (for now). You'll probably be in workout clothes most of the time this week anyway!
Pack most of your kitchen dishes and flatware and invest in some paper goods. You don't want to do loads of dishes during your last few days in your old home.
Since you're packing these temporarily unnecessary things first, you'll probably need a place to store your boxes. If garage space isn't an option, consider renting a portable moving and storage container. Choose the size that's right for you, and have it delivered straight to your driveway. The best part? You can load it at your convenience and either keep it easily accessible in your driveway or have it professionally delivered to a secure storage location.
Q: When should you start packing to move?
A: If possible, start planning your packing strategy six weeks before your move. At first, you'll need to do the prep work, like decluttering, cleaning, and purchasing moving and packing supplies. Then, the last two to three weeks can be used for packing. For a more detailed breakdown of what you can do week by week to best prepare for your move, here's a helpful moving checklist.
Don't Forget About the Knick Knacks: They May be Small, but They Can Take a Lot of Time to Pack
Sometimes the items that can take the longest to pack are the random ones you forget about. From that box of gift wrap to the junk drawer full of pens, tape, and cords that connect to who knows what, you may think this will take no time to box up, but it can be not only time consuming but difficult to pack tidily.

For miscellaneous items, the PODS Blog recommends using the Russian doll packing and moving technique. Like the name implies, this is when you put a few small, packed boxes inside larger moving boxes to stay organized and save space. If you have some gaps inside the larger box, don't worry. You can fill the space with towels, linens, or T-shirts for padding. This is a great way to let your softer linens and clothing do double duty. See other PODS Blog space-saving packing hacks here.
Pack a suitcase with valuable belongings
Kristi from Inspired Living with Kristi knows a thing or two about how to pack for moving. As a teacher, she moved in and out of several classrooms, and, in her personal life, she's moved with her family seven times — four of those across the country. So, yeah, she knows what she's talking about.
She recommends separating your valuables and personally packing them in a suitcase, especially if you're making a long-distance move. This includes jewelry, passports, Social Security cards, birth certificates, and other important things that are either difficult to replace or contain sensitive information. Your suitcase should always be somewhere you can access it and never given to anyone else helping with your move. And as a note, if you are flying to your new location, make sure your suitcase is carry-on sized so you don't have to check the bag.
Make a parts box
Karin Carr with Georgia Coast Homes has lived in nine states and eventually stopped counting how many times she's moved (but she estimates it around 40 times). To make your life easier, she recommends having a parts box. This is the last thing to go in your moving truck or portable moving container and the first thing to come out.
The parts box includes screwdrivers, wrenches, and other tools you need to reassemble your furniture once it gets to your new home. The box should also include plastic bags with small furniture parts, like screws and connecting pieces. Use one bag per piece of furniture and add a label. You'll thank Karin when you've got an assembled bed to sleep in on your first night in your new house! No mattresses on floors for you.
Consider the fact you'll have to unpack, too
We shared a tip from The Kinwoven Home's Sharrah Stevens earlier, but we're bringing her back into the conversation because she has some great tips for not just packing your home but unpacking it, too — which is an entirely different process but also an unavoidable one.
She recommends unpacking your bedroom, bathroom, and kitchen (in that order) on the first day you move into your new home. The reason for this is you'll likely be tired from the move and greatly in need of a shower, meal, and good night's sleep. Since it's a good idea to get these rooms in order the day you move in, make sure boxes with stuff for these rooms are more easily accessible in your moving truck or container.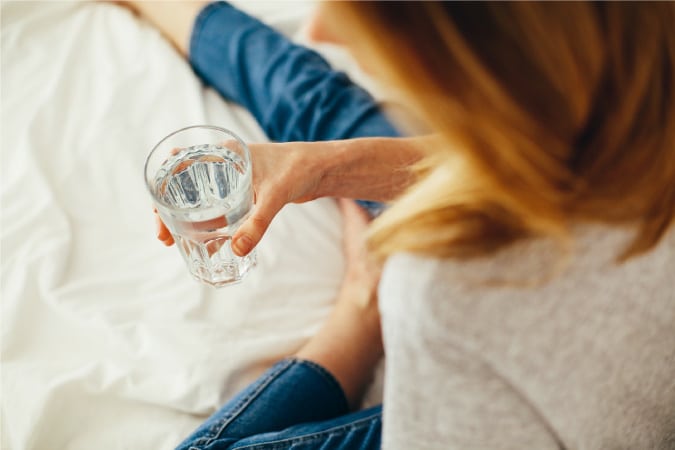 Remember to put the oxygen mask on yourself first
If you've listened to a flight attendant give a pre-takeoff safety talk, you've heard the instruction to put the oxygen mask on yourself before you assist others if an incident occurs. This is because our natural inclination is to put our needs second to any pressing matter at hand. But if you're not taking care of yourself first, then you can't take care of anything or anyone else. This same rule — in theory — applies to moving an entire home.
Packing is big work. Don't overexert yourself. It's easy to get caught up in the momentum and fill boxes from sunrise to sunset, but one day of overdoing it can cause a second day (or more!) of sore muscles and fatigue. Remember to get plenty of rest, drink lots of fluids, eat healthy meals, and take regular breaks.
At the end of the day, though, know there's no shame in asking for a helping hand. That's why we're here. We don't just provide portable containers on a flexible timeline; PODS can connect you with packing and loading help if you need some extra muscle, as well. Want to know the best way to load your portable moving and storage container? Want someone to expertly pack your dishes or help load the heavy boxes? We know qualified professionals who can make your move as successful as possible.
For more expert insights, check out the PODS blog. From organizing your home, top to bottom, to downsizing for small spaces, we have the inside scoop from influencers across the nation.
---
LB Gabriel is a freelance writer who lives with her husband, daughter, and Golden Retriever in Memphis, TN. A frequent PODS blog contributor, she's a sucker for any tip she can find on downsizing, cutting clutter, or minimalist living. When she's not on a deadline, you can find her on a tennis court or golf course.
Get a Quote
Choose the service you need
Comments
Leave a Comment
Your email address will not be published. Required fields are marked *