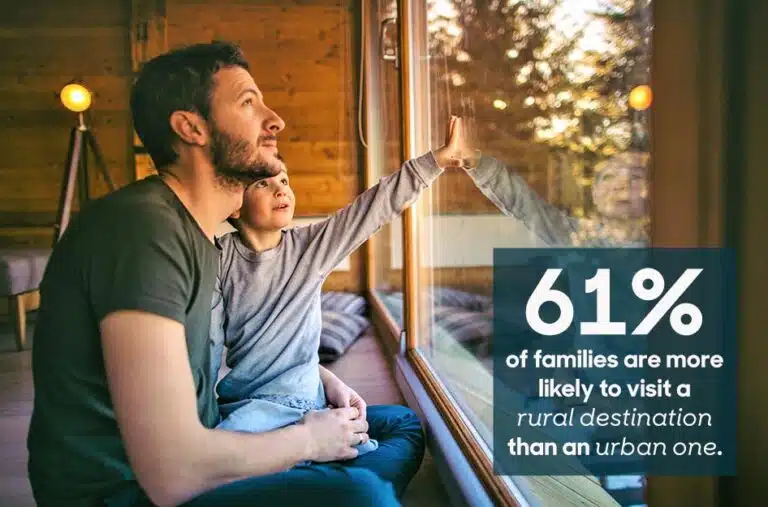 To Invest or Not to Invest: Short-Term Rental Market Trends for 2022
Travel over the last two years has been filled with extra precautions, canceled flights, and plenty of people wanting to get away from the hustle and bustle of… remote work. Okay, so that last part is a bit of a stretch. But, seriously. It doesn't sound like it'd be exhausting, but working from home in the middle of a pandemic can get pretty tiring. A lot of workers and families weren't able to leave their houses often, so they actually have begun hitting the road in search of fresh air and some space to stretch their legs while going about daily life.
And as the market continues to bounce back, a lot of people are finding that they want to continue traveling. The short-term rental market? It's stretching itself to meet that demand.
Have you found yourself daydreaming about remodeling or renovating your home to be a short-term rental? Or investing in one to see how lucrative it can be? Check out these nine short-term rental market trends, and see if making the leap makes sense for you.
1. Stricter regulations
Each state already has its specific business laws and regulations (you can view yours here), but COVID-19 brought about new pandemic rental laws that you need to be aware of before you invest. These laws were put in place to protect local governments, residents, and also private property owners.
Cities like Las Vegas had requirements set in place pre-pandemic, like ensuring property owners were licensed and insured before renting out. Some states, like Florida, had been fighting to set new laws in place beforehand but are now moving to require online platforms like Airbnb to collect and pay property taxes on its vacation rentals and only advertise properly licensed rentals.
Q: Should you invest in short-term rentals?
A: While the short-term rental and housing market might feel volatile right now, it's still a good time to invest in certain areas of the country. It's just important to ensure you conduct thorough research before you commit fully. Know everything that's involved, and then take the necessary steps to prepare yourself and your home.
Knowing how to get around short-term rental restrictions can be a bit of a challenge, but the other outcomes we're here to talk about make it all well worth it in the end.
2. Taking to nature
As more and more travelers are finally able to leave their homes for travel, they seem to be taking to nature. According to this survey, 61% of families are more likely to visit a rural destination than an urban one. Cabins have increased by 80% in popularity, and villas and bungalows have increased by 61% and 60%, respectively.
Long-term stays on properties that provide access to the same amenities that people can find at home (like a kitchen and full-sized bathroom) plus the luxury of spending time in nature are what tourists are most likely to continue seeking out through the rest of this year.
3. Longer stays
With the number of people that transitioned to remote work during the pandemic, a trend has started that isn't likely to die down soon. This survey by McKinsey & Company found that about 20 to 25% of workforces in advanced economies could work from home between three and five days a week, but workers have also found that out on their own. Some have even considered career changes or company switches if their employers stopped allowing remote work.
With so many more people switching to this lifestyle, markets everywhere can expect an uptick in long-term rental stays. Both individuals and couples are taking advantage of the ability to live a digital nomad lifestyle, and that means good things for property investors (existing and new).
4. Family fun takes precedence
Couples and individuals aren't the only ones taking advantage, though. Demand for family-friendly short-term rentals was prominent before the pandemic, but now there's an entirely new wave of families joining in on the digital nomad movement.
With the ability to home school, or even turn to part-time virtual class options, families aren't as limited with staying put throughout the school year, making it a lot easier to get away, no matter what season it is.
5. Pets are welcome
This survey by Vrbo found a 40% increase in the rental site's overall demand for pet-friendly vacation homes. More than 70% of the survey's participants were pet owners, and 68% of them have, would like to, or plan to travel with their pets.
Pets are part of the family, too, and with so many travelers taking to the woods or other remote areas of the country, it's easy to see why they'd like to bring their pets along. Wide-open spaces mean more space for Fido to run around alongside the rest of the family.
6. Cities aren't as bustling
If you're on the hunt for the best short-term rental markets, cities might not be your best choice. They've experienced a deep decline in stays since the beginning of the pandemic, and with a preference for rural destinations, they're currently experiencing a slow rebirth for visitors.
With the uptick in longer stays, though, investing in the city isn't necessarily a bad idea. In fact, according to Airbnb, 62% of summer stays for 2021 in New York were long-term bookings. In Seattle, that number was 40%, and in Los Angeles, it was 43%.
If you're looking to invest and can find a fixer-upper that you think is worth the investment, finding a spot in the city for those digital nomads looks like a great option — especially as things begin to return to normal.
7. Domestic travel is here to stay
Almost 60% of families are more likely to drive instead of fly on their next trip. Between backed-up airport lines, canceled flights, and mismatched restrictions all over the world, travelers have found that gathering their things and simply driving to their travel destination is a lot easier than the alternative. That's something that's likely to carry into the rest of 2022, as airports continue to get back on their feet.
8. Rise in institutional investing
With the ability to scale big-time, large investors are finding opportunities to capitalize on the market right now, making it a lot harder for smaller businesses and investors to make any kind of advancements. This might not necessarily ruin your chances of hitting it big when investing in the short-term rental market, but it is something to keep in mind when you're searching for properties to invest in.
In some cities, entire blocks of single-family homes have been bought up by investors, who are then going in and increasing rent prices and driving inflation up throughout the entire area.
On the flip side, this could also mean more workers turning to a nomadic lifestyle while looking to escape rising rental rates. That could mean an uptick in travel, but it's also going to mean rising rates for those looking to travel.
9. Easy check-ins
Gone are the days of meeting tenants before their stay or placing the key under the mat. The pandemic brought about the accelerated adoption of contactless check-in technology, meaning plenty of smart locks. Usually, you'd see real estate agents dig these out before your home showing, but they're a lot more common for vacation rentals now.
Here are some must-knows about short-term rentals
Q: What makes an excellent short-term rental?
A: There are a few things you need to consider when you're choosing a location for your short-term rental and designing it. Local laws, home prices, occupancy rates, and your income potential are going to be important to consider here. So are things like seasonality, location, your rental's layout and design, and what your guests are walking into when they enter your home.
Q: What is a good ROI for a short-term rental property?
A: Typically, a 10 to 20% ROI (return on investment) is great for a short-term rental. However, every rental property is different, and there are several factors that should be considered, such as how much rent you charge, how much you owe on the property, and how much you have to pay in additional costs like property taxes (to name a few).
Q: Are short-term vacation rentals profitable?
A: Yes, short-term vacation rentals can be very profitable. It started as a side gig for some landlords and families with vacation homes, but it's turned into a legitimate way to make income with the recent rise in travel demand.
Q: Which short-term rental site is best?
A: Airbnb is by far the most trusted vacation rental site. They have rules set in place to protect homeowners and renters alike, and it's one of the fast-growing home rental websites in the world. Hosts don't have fees to list their property, but there is a service fee associated with it (renters take on the bulk of that expense, though).
Are you ready to invest in the short-term rental market?
If you're considering capitalizing on today's rental market by purchasing a new home or listing your current home for those vacationers, think about what that's going to take. Some redecorating, a deep clean, maybe fixing that broken tile? Luckily, a PODS moving and storage container can make accomplishing all of this simple.
Have one delivered to your front door and keep your things in it while prepping for those sunburnt (or freezing, depending on the season) tourists. Once you're done, PODS will take it away, and you can simply sit back and watch while your rental rakes in the cash.
Want more tips and tricks to help you prep? Check out the rest of the PODS Blog.
---
Katlynn Mullins is a St. Petersburg-based freelance writer whose only roommate is their cat. A frequent PODS blog contributor, Katlynn loves finding ways to make moving into new spaces simple and stress-free. Between yearly apartment hopping, you can find them on the waterfront or experimenting with new ways to make coffee.
Get a Quote
Choose the service you need
Comments
Leave a Comment
Your email address will not be published. Required fields are marked *