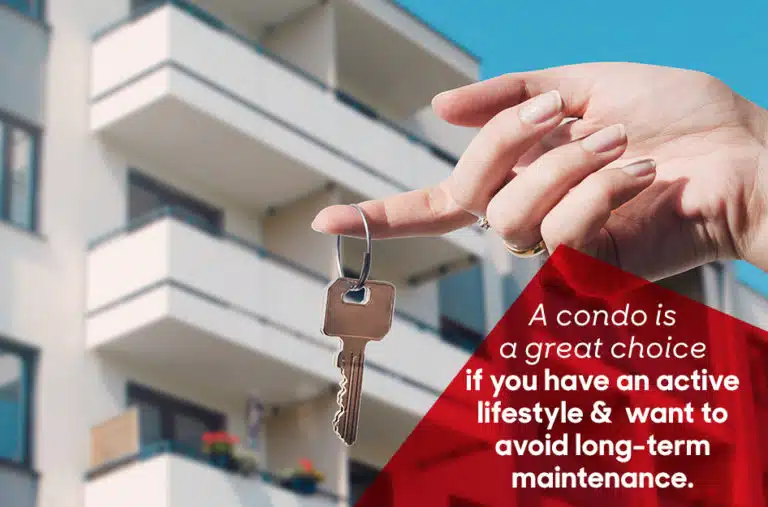 Should I Buy a Condo or a House? Pros and Cons to Think About
So you've decided it's time to put down roots, and you're ready to buy some real estate. Now the question looms: What kind of home should you buy?
Naturally, there are three possibilities that likely come to mind: a single-family house, townhouse, or condominium. And all three are excellent choices! But if you find that you keep coming back to the question "Should I buy a condo?," it's time to dig a little deeper and consider the pros and cons of living in a condo specifically.
Deciding that you want to purchase a condo isn't just a matter of assessing how large you want your home to be. In fact, there's a lot to consider, including how you feel about your financial situation, how much privacy you crave, what kind of amenities you seek, and whether you want to be at the mercy of someone else when it comes to maintenance issues.
Should I buy a condo or a house? A condo or a townhouse? Let the following considerations be your guide.
Q: House vs townhouse vs condo: What's best for me?
A: First things first: The answer is different for everyone, and it's based on your individual needs and wants. Typically, though, a single-family home is ideal for someone who wants more space, greater privacy from neighbors, and doesn't mind doing some household chores on the weekends. A townhouse works for someone like a retiree who doesn't want a bunch of maintenance and enjoys having more people around in a smaller, neighborhood-type setting. Like the townhouse, a condo works if you want to avoid costly upkeep, you want a lot of amenities like a pool or exercise facilities, and you don't mind sharing walls or a courtyard, depending on the type of condo development.
Is a condo ever worth it?
Absolutely! A condo is a great choice for a place to live, especially if you want to have an active lifestyle or avoid worrying about long-term maintenance. Want to know more about why condo living is great? Here are some top perks that typically come with owning a condo:
Management-provided maintenance
Management-provided landscaping
Outdoor spaces, such as pools and grilling stations
Entertainment spaces, such as gathering rooms and rooftop decks
Fitness facilities
Pro Tip: Condos are a great choice for young professionals busy building careers or retirees who want a home base that requires little work while they visit grandchildren or travel the world.
Is it smart to buy a condo as a first home?
For a lot of people, this answer depends on their financial situation. A condo may be less expensive to purchase than a single-family home because condos are generally smaller. However, you may have to cover an HOA (Homeowner's Association) fee on a regular basis, and if you've ever watched home-buying shows, you know those HOA fees can be anything from a few hundred dollars a year to several hundred dollars a month. So take a look at your financial situation, sit down with a mortgage lender, and think through your monthly budget to see what you can afford. 
What is the downside of buying a condo?
Have big dogs, big stereos, and big decorating plans? Unfortunately, you may not be happy living in a condo community. There are some aspects of condo living that some would consider deal-breakers, so it's important to consider these cons before making your final decision. For example:
You can't choose your neighbors: You will share at least one wall with a neighbor. That may seem like no big deal … until you discover your neighbor likes to slam doors and hold tap dance recitals day and night.
Your creativity may be limited: You may have to get approval to do any kind of improvement to your condo, like changing the exterior colors, doing major interior renovations, or adding outdoor amenities.
Your space may not accommodate growth: Space may become a concern as your family grows or if you want to add a pet or two. Many condos are restrictive in terms of who can live there and how many pets you can have.
You may not get to have the pet you want: Some condos restrict the size of the pets, hoping to keep the condo development quieter.
How much money should you have before buying a condo?
What you can spend on a condo depends on where you live, how fancy you want this condo to be, what kind of amenities you want in the condo development, and what kind of loan you're able to get (if necessary). If you live in a place like New York, Los Angeles, or Washington D.C., you may need a huge down payment and a good monthly income to afford a condo, since those are high-cost cities. On the other end of the spectrum, if you live in the country's interior, a condo will likely fit the budget of any young professional. Are you a retiree? A condo is likely a good financial investment because it's typically less expensive than a single-family home in most cases. You can also downsize your home and declutter your stuff from a larger residence, thereby lowering all of your monthly costs, including utilities and maintenance.
How do I make a move into a condo?
If you're planning to buy a condo, you also need to think through the condo moving process. You will need to determine whether your current furniture will fit into the condo, so get those measurements up front. You also need to determine what kind of move you can make. Here are the three main options when it comes to condo moving:
DIY Move With a Rental Truck
If you're up to the task and have a group of friends who are willing to lift some boxes for a few cold beverages and some take-out pizza, then renting a moving truck and taking care of it all yourself could save you some moolah.
Full-Service Movers
While this method tends to be on the more costly side, it's a good option when you really don't want to (or can't) put in the time or physical work to make your move. Movers can help with everything from packing, loading, and driving the truck, to unloading, unpacking, and even assembling your furniture at your new home.
PODS Portable Moving & Storage Containers
Have a PODS container delivered right to your driveway and load it up with everything on your own time. Once you're ready, PODS will pick it up and deliver it to your new condo. Simply unload everything into your new home, and — poof! — move accomplished. Need help with the heavy lifting? PODS can refer you to local packing and loading services to make things even easier, as well. For the downsizers looking for storage, just keep what needs stowing in the container. PODS will keep it in a secure storage center until you need it again. And don't worry about not having enough room in one container; they come in three sizes, and you can reserve as many as you need.
For some, a condo means a first foray into home ownership and a rush to buy everything you need. For others, making the move to a condo means some serious downsizing. Regardless of your situation, you can make your move easier with the help of a PODS portable moving and storage container. For more advice on moving, storage, and organization for your new home, check out the PODS Blog.
So, in the end, the question of "Should I buy a condo?" comes down to personal choice, some questions about your lifestyle, and a review of your financial situation. All in all, living in a condo may be a great solution for finding a home without worrying about other costs. And you may find the surroundings a great addition to your life as you find friends, new exercise options, and lots of entertaining space — adding more quality to your quality time at home.
Insider Tip: Moving into a condo in a major city? The last thing you want to do is worry about navigating a big truck through the tight city streets. Fortunately, you can leave the logistics to us. PODS offers City Service in select areas — a moving service specifically designed for busy metro areas.
---
Karen Dybis is a freelance journalist and a frequent contributor to the PODS Blog. Her work has appeared in Time magazine, U.S. News & World Report, The Detroit News, and more.
Get a Quote
Choose the service you need
Comments
Leave a Comment
Your email address will not be published. Required fields are marked *