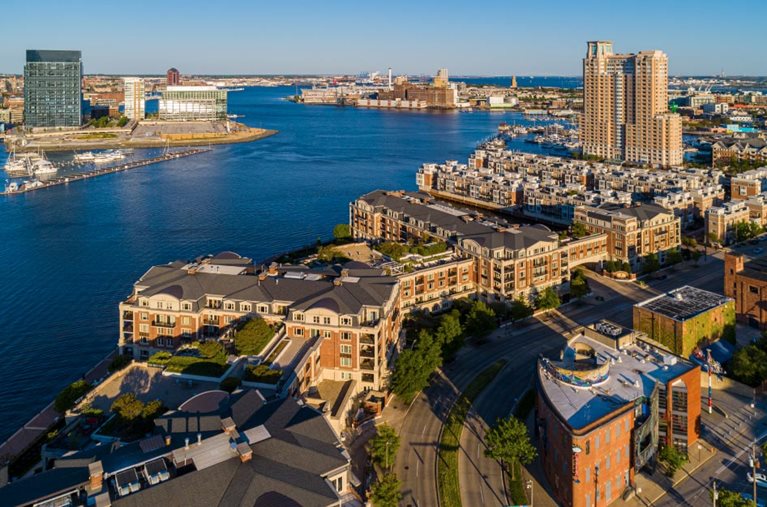 Finding Charm Right Outside Charm City: Check Out Our 10 Favorite Cities Near Baltimore
Situated along Chesapeake Bay, the city of Baltimore — or "Charm City" — is a place filled with cultural diversity. It's also home to great food and close to nearby major cities, and it has a strong sense of community. Along with many great living perks, there are also an abundance of job opportunities. The city ranks fourth on Healthcare Insider's list of America's best metro areas for healthcare. It's even home to Johns Hopkins Hospital — one of the best hospitals nationwide. 
You don't have to live directly in the city to enjoy these benefits, though. In fact, choosing to live in one of the many cities near Baltimore might even be a better fit for your lifestyle. While there are lots of job opportunities and endless fun activities directly in the Charm City, there are a plethora of nearby cities and towns that offer a slower-paced lifestyle along with rich history and family-friendly amenities that tend to get overlooked.
Cities Near Baltimore - FAQ
Q: Which cities are close to Baltimore?
A: Top cities within the Greater Baltimore-Maryland region include Columbia, Annapolis, and Towson. 
Q: What city is between New York and Baltimore?
A: Bel Air is one of the cities in the Baltimore area that is only about a 2 hour and 45 minute drive to the NYC area. 
Q: Where should I live between Baltimore and D.C.?
A: Columbia and Annapolis are among some of the best places to live in near Baltimore, with close enough proximity to the D.C. area for commuters. The commute from Columbia to D.C. is about 50 minutes, while the Annapolis commute is about an hour.
Q: Are there suburbs in Baltimore?
A: Yes! Baltimore is highly regarded for having lots of safe, fun, and family-friendly suburbs. Some top-ranked suburbs of the Baltimore area include Ellicott City, Lutherville, and Crofton. 
Best Places To Live Near Baltimore, Maryland
Moving to one of the cities near Baltimore rather than the city itself can provide you with some cheaper living costs, as well as a more profound sense of safety. From cozy harbor towns to thriving artsy suburbs and industrialized districts, there is a place for everyone to settle down. Check out some of these best places to live in the Baltimore area!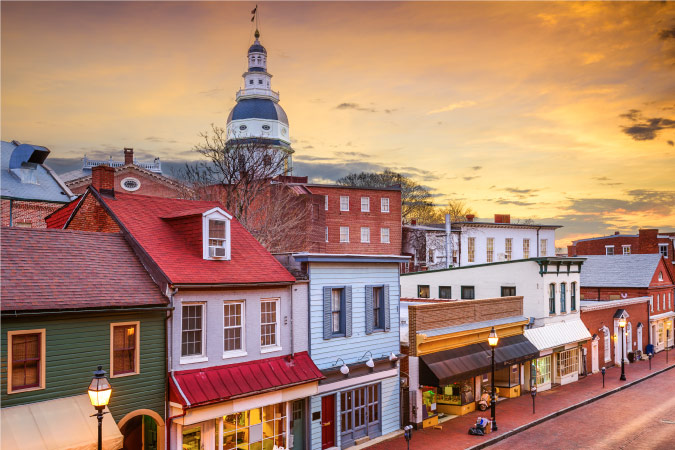 1. Annapolis, MD
The city of Annapolis is Maryland's capital, which is situated near the South River and Severn River, and is about an hour commute to Washington D.C. It is also one of the oldest cities in the nation, boasting a vibrant history, modern conveniences, and numerous attractions.
Residents enjoy the city's historic district, shopping, and dining establishments. A famous restaurant in the area is the Boatyard Bar & Grill. The crab cakes are to die for!
Its cost of living is also a bit lower than the nearby larger cities, like D.C. Annapolis is an ideal place to live for those who are looking to commute either there or to Baltimore.
2. Bel Air, MD
Bel Air offers a mix of urban and rural living. Its downtown area has an entertainment and art district where residents can enjoy fun activities year-round.
Popular local events in the area include the Independence Day Parade and the Kite Festival. History can be found on every corner, with structures in the area dating back to the 18th and 19th centuries. The impressive architecture can be found in the area's brick ranch homes and Colonial-style houses.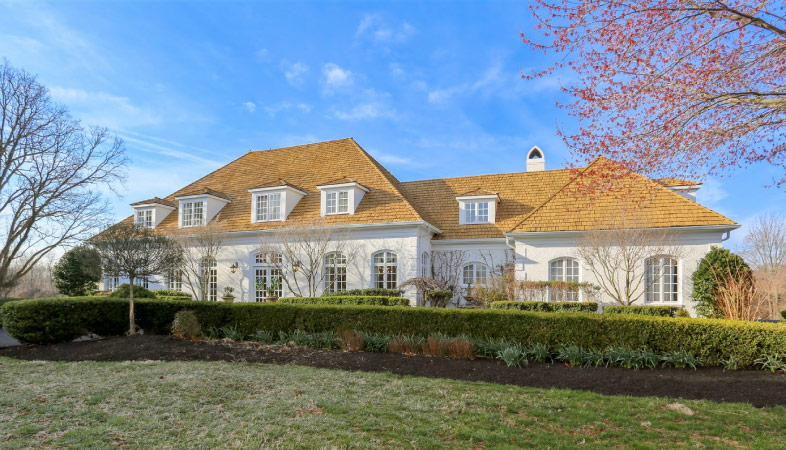 3. North Potomac, MD
North Potomac is a vibrant and small suburb. It was named after the Potomac River, and over the years, it has grown to become one of the wealthiest areas in the country.
The North Potomac suburbs are family-friendly and have plenty of activities and recreation opportunities. Fun things to do in the area include the Billy Goat Trail, Falls Road Golf Course, and Olmsted Island. 
4. Columbia, MD
If you're looking for more of a vibrant and spacious area, then Columbia might just be the place for you. This area has plenty of parks and restaurants, as well as great entertainment options, such as concerts and festivals in the Downtown Columbia or Merriweather District. Upcoming events include the Asian and Pacific Islander Festival in Merriweather Park and the All Things Go Music Festival in October.
The southern border of Columbia is roughly halfway between D.C. and Baltimore, with housing options that include single-family houses, townhouses, and ranch homes. Schools in Columbia include Columbia Academy and Atholton Elementary School. Those looking for higher education can also choose to attend either Johns Hopkins University or Howard Community College.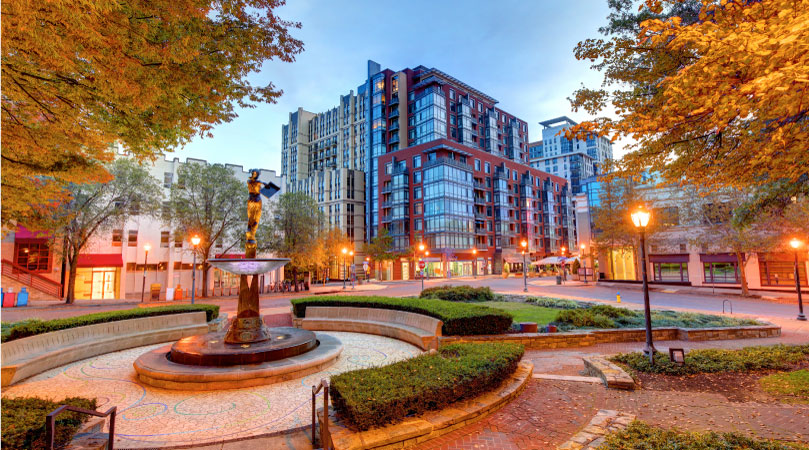 5. Rockville, MD
Although it's been around since 1860, the city of Rockville, Maryland, was only able to truly take off during the 1950s. Today, Rockville is home to various neighborhoods, such as the West End and Rockville Town Square where you can find some of the most beautiful historic homes in the entire state. Rockville Town Square is also a great spot to find places to eat, drink, and shop.
With its convenient location and variety of neighborhoods, Rockville real estate is a great choice for those who want to live in a suburban area while staying close to both Baltimore and Washington, D.C. Rockville's easy access to the Beltway and I-270, along with local Metro stations in Twinbrook and Rockville Town Square, mean locals have no trouble getting from place to place.
6. Lutherville, MD
The historic district of Lutherville and its tree-lined streets make it a great place to live in the Baltimore area. There are a variety of housing options, including modern brick ranch homes and Colonial houses. It's also a great place to raise or start a family due to its highly rated schools.
Residents of the Lutherville area can look forward to attending a variety of fun events, such as the Maryland State Fair. This fair features professional horse races and a wide variety of interesting vendors!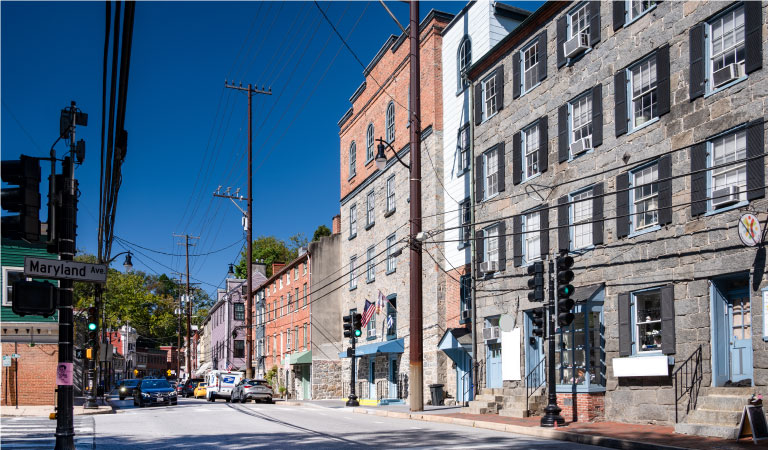 7. Ellicott City, MD
Calling all art enthusiasts! The suburb of Ellicott City is located about 15 miles west of Baltimore. It is widely known for its thriving art scene, and every spring, the area hosts "Paint It!" — an event where artists come together to paint outdoors while spectators gather and watch. Restaurants are also highly regarded here, with the most popular spots including the Sea King Seafood Market and Stella Notte.
8. Towson, MD
The town of Towson is regarded as one of the best areas to live in Baltimore County. The town offers some top-notch schools, and college students can also benefit from nearby access to the University of Towson. Residents enjoy dining and shopping at the town center, as well as various events in the area, like the Towsontown Spring Festival.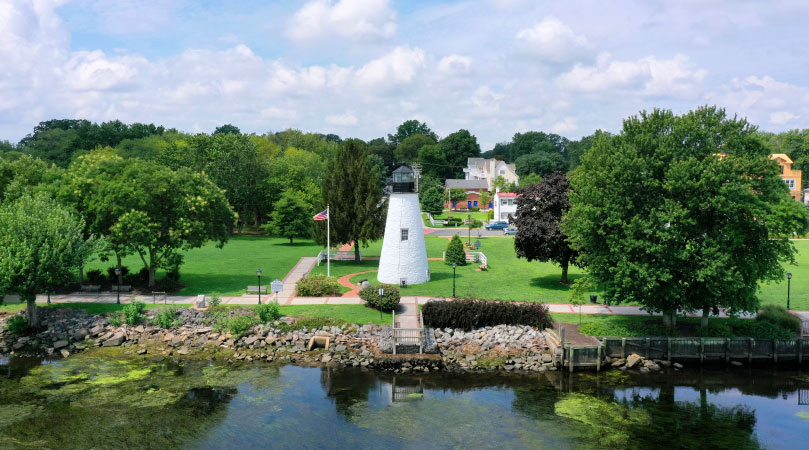 9. Havre de Grace, MD
The town of Havre de Grace is located on the Western Shore of Chesapeake Bay. It's easy to reach, since it's off Interstate 95 in Maryland. Historic homes line the town's main street.
During the Revolutionary War, General Marquis de Lafayette visited the area and noted that it reminded him of Le Havre, a French seaport. In 1785, the residents changed the name from Harmer's Town to Havre de Grace.
During the summer season, the area was a shipping terminal for Chesapeake Bay seafood. The residents also used to hunt for geese and ducks in the fall. This attracted sportsmen from New York, Philadelphia, and Baltimore.
Residents today have access to the thriving downtown historic district that is ideal for anyone to get out and about and do some shopping. You will find antique stores here, vintage shops, and more. Residents also get to enjoy the beautiful Promenade, a walking pier along the Susquehanna River. 
10. Crofton, MD
Formerly a gated community, the town of Crofton was created around the town loop of Crofton Parkway. All gates have now been opened, and it has since become the newest hotspot for cyclists and joggers alike. Residents in the area can enjoy various events and celebrations at the Village Green and Town Hall, both located nearby. There are also some beautiful golf courses in the area, like the Crofton Country Club and Night Hawk Golf Center.
Around three miles away is the Village at Waugh Chapel, which has over 60 stores and a variety of other big-box retailers. The Bowie Town Center — about seven miles away — also has some great places to shop and eat. 
PODS Can Help You Move to a City Near Baltimore
From small, historical towns to harbor towns to bigger, bustling city areas, these cities near Baltimore welcome those from all walks of life. Having the ability to commute to a nearby major city is another benefit of many of these areas, as well!
When you're ready to move to a place in the Baltimore area, you can rely on the services of PODS to help you get to your new dream home. They'll deliver a portable moving container to your doorstep, where you can load everything up on your own time. Once you're all set, they'll pick it up and transport it to your new home. Additionally, they offer one month's storage with every move. PODS ensures moving is always done the right way!
---
Editor's note: For ease of reading, monthly rental prices were rounded to the nearest $25 and home values were rounded to the nearest $100.
Get a Quote
Choose the service you need
Related Articles
14 Things To Know About Living In Baltimore -- beyond harbor views and Old-Bay-steamed crabs
Read more
Comments
Leave a Comment
Your email address will not be published. Required fields are marked *