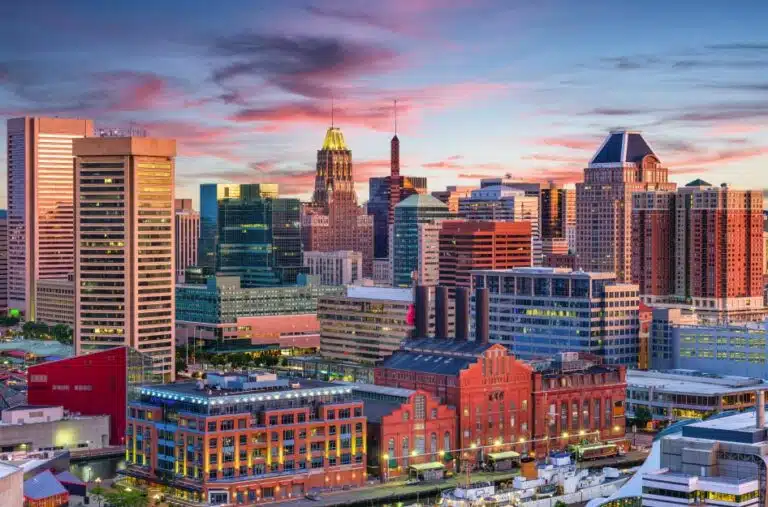 The Safest Neighborhoods in Baltimore for 2023
Home to more than 575,000 residents, Baltimore is the largest city in Maryland and the 29th largest city in the entire country. As a whole, the Greater Baltimore region has a population of about 2.4 million and accounts for almost 40% of Maryland's entire population. A city of rich history, beautiful neighborhoods, and unique museums, Baltimore is a great place to live — full of opportunities to thrive! It's no wonder you're considering a move to Charm City. But what are the safest neighborhoods in Baltimore?
Unfortunately, as with many large cities, Baltimore has had some issues with crime. the good news? The majority of crime is focused downtown in some high-poverty regions, such as Cherry Hill and Greenmount East. And although violent crime is still an issue in the lower income neighborhoods, other issues like property crime have declined in recent years. In fact, in 2017, property crime in the area was at a high of 527.4. Just two years later, however, that number had dropped to 417.5.
So where are the safest neighborhoods in Baltimore? And is it possible to thrive there?
We're here to show you that Baltimore lives up to its nickname "The Greatest City in America."
Insider Tip: Moving to a new neighborhood can feel quite intimidating, and there are a couple of different factors that go into finding the right place. If you are not sure where exactly you want to settle in Baltimore, you can always rent first and buy later. And with PODS, that's no problem at all. You can store the bulk of your belongings at a secure PODS Storage Center while you're on the search to find your dream home. All of your things will be ready when you're ready.
Common Q&As about Baltimore safety
To get a better perspective of the safety of Baltimore neighborhoods, check out these answers to some frequently asked questions:
Q: What part of Baltimore is the safest?
A: Tourist-friendly spots that are well patrolled are among the safest parts in Baltimore, with neighborhoods including Inner Harbor, Little Italy, and Federal Hill. Don't be discouraged by some of the crime rates in Baltimore that are quite high; these areas are certainly safe parts worth checking out.
Q: Is it safe to walk in Downtown Baltimore?
A: Despite the vibrant atmosphere of downtown Baltimore, crimes such as theft, drug dealing, and muggings frequently occur in the area. Although spots like the Lexington Market are a must-visit during the day, it's best to avoid this area after dark. If you're staying in a hotel in Downtown Baltimore, you should ask the staff members about the best locations to eat, drink, and shop. They should be able to tell you about areas that are safe to visit and can even recommend some great establishments.
Q: Is it safe to walk in Baltimore at night?
A: Although not every area of Baltimore is safe to walk at night, it is still possible to walk around at night in the city's most popular tourist areas. This is because many of the attractions are located in heavily populated areas. However, you should always remain alert, pay attention to your surroundings, and try to travel with a group, when possible. If you're ever unsure about where you are in the city, grab a ride-sharing car or a taxi, so you can safely get back to a familiar area. Like anywhere else in America, use common street sense.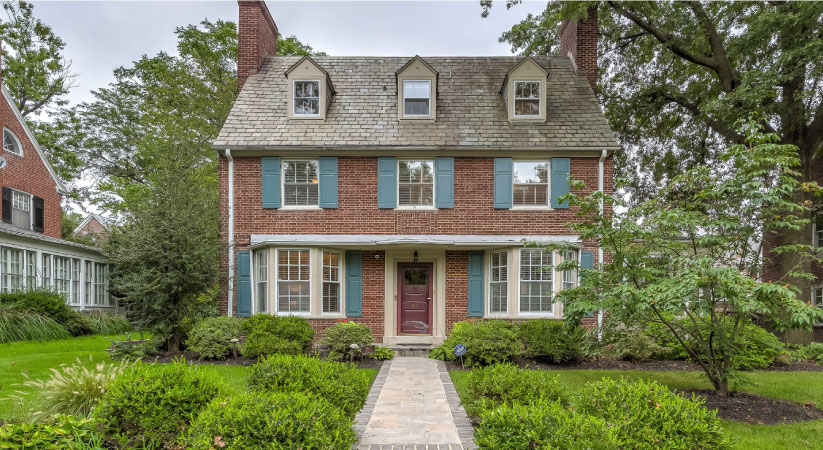 Safest neighborhoods in Baltimore
Baltimore is a great place to live, due to its location, employment opportunities, and vibrant neighborhoods. And as a bonus? The cost of living in Baltimore is only slightly higher than the national average. The average home value in Baltimore is $173,751, and the average rent is $1,542 per month.
Baltimore is also home to over 250 neighborhoods, which gives you plenty of options to find where you fit in best. When it comes to the best neighborhoods in Baltimore to consider, here are a few of the safest.
Guilford
Average home value: $679,442
Average rent: $1,688
Great for: Families, nightlife, commute, schools, restaurants, culture
The Roland Park Company developed the Guilford neighborhood in the 1900s. This area features large, single-family houses and stately mansions set among mature trees. Residents enjoy its suburban feel and are minutes away from various schools, including Johns Hopkins University's campus, as well as various restaurants and cultural centers.
When checking out Guilford, you'll have to stop by Sherwood Gardens at some point, which are known for beautiful tulip bulbs planted each year that produce six acres of flowers in the spring.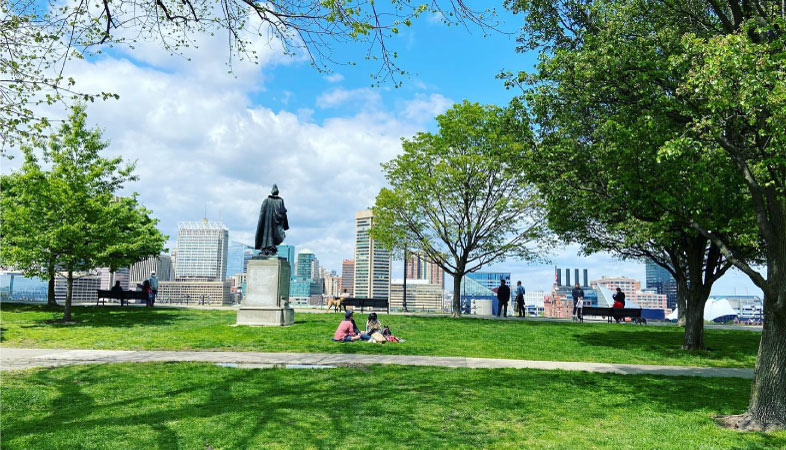 Federal Hill
Average home value: $332,302
Average rent: $2,088
Great for: Nightlife, outdoor activities, commute
The Federal Hill neighborhood is located in South Baltimore and is known for its beautiful homes and diverse communities. Many of these include luxury condominiums, historic row homes, and new-construction apartments. Although it is a federal historic district, most of the houses have been rehabbed over the years. Residents enjoy easy access to both public transportation and the Inner Harbor. Fun events are always happening in the area!
Roland Park
Average home value: $602,776
Average rent: $1,753
Great for: Families, nightlife, diversity, commute, restaurants, shopping, professionals
Roland Park is a historic neighborhood in North Baltimore that was established as the first planned community in the U.S. Today, it is a great place to call home due to its close-knit community and fantastic restaurants and retail shops. There are a variety of houses for sale in this area, ranging from late Victorians to modern craftsman-style homes.
The proximity of several private schools and an elementary school, as well as the availability of public transportation, make Roland Park an ideal location for families with young children and professionals.
Canton
Average home value: $330,480
Average rent: $2,031
Great for: Families, nightlife, outdoor activities, young professionals, restaurants, shopping
Located in Southeast Baltimore, Canton offers a variety of homes for young professionals and first-time home buyers. This community is surrounded by parks, a community square, and restaurants. It also has easy access to shopping. There are a variety of waterfront homes for sale, as well as large apartments and townhouses.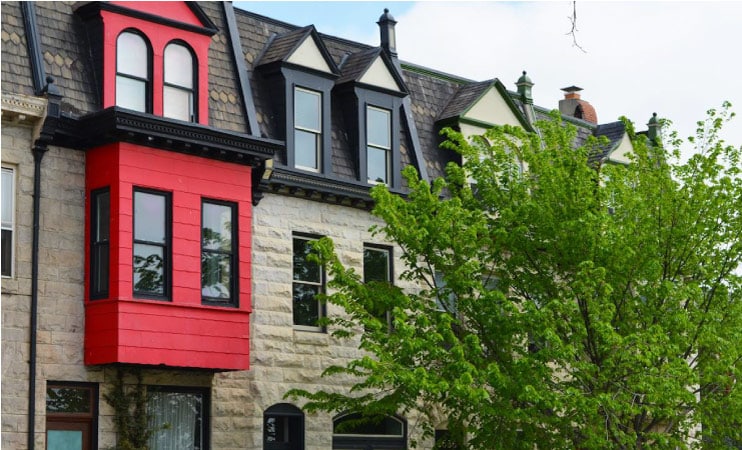 Patterson Park
Median sale price: $265,000
Average rent: $2,031
Great for: Nightlife, diversity, commute, outdoor activities, restaurants, culture
The Southeast Baltimore neighborhood of Patterson Park is a historic district close to some of the city's most popular restaurants and cultural activities. It has a large city park that's full of activities and recreation, with row houses surrounding the park that give it its name.
A community like Patterson Park is full of people from different backgrounds and ages, and residents enjoy interacting with each other and participating in various events throughout the year.
Inner Harbor
Average home value: $414,871
Average rent: $1,969
Great for: Nightlife, outdoor activities, commute, restaurants, young professionals, singles
Situated five minutes away from downtown Baltimore, the city's Inner Harbor district is known for its many restaurants and attractions. This area also has plenty of outdoor recreation opportunities, where residents can easily access public transportation, such as the Baltimore Circulator and the light rail stations.
The area is ideal for young professionals and singles looking for something to do on the weekends. There are a variety of housing options in Inner Harbor, including apartments and homes for sale.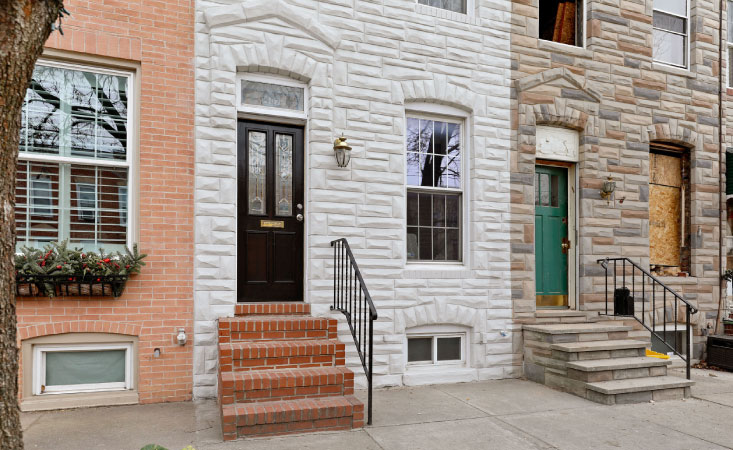 Locust Point
Average home value: $366,225
Average rent: $2,088
Great for: Nightlife, outdoor activities, commute, culture, restaurants
The historic district of Locust Point is located in the city of Baltimore, and it is known for its vibrant multicultural atmosphere. It is historically known as the home of Fort McHenry, where Francis Scott Key wrote The Star-Spangled Banner!
In addition to being close to the city, this East Coast neighborhood has plenty of things to do, including bars, restaurants, and coffee houses. Getting around Locust Point is easy, as it can be accessed via water taxi or public transportation. There are a variety of homes for sale in this area, ranging from row houses to condominiums.
Evergreen
Average home value: $420,000
Average rent: $1,753
Great for: Families, outdoor activities, commute, schools
The neighborhood of Evergreen in North Baltimore offers a variety of housing styles, including Victorians and Queen Anne homes, row homes, and single-family detached houses. Residents can also choose from apartments and condominiums with small front porches. The area is convenient to both the University of Maryland and Loyola University, with plenty of green space and trees in the neighborhood.
Riverside
Average home value: $331,541
Average rent: $2,088
Great for: Nightlife, outdoor activities, commute, young professionals, retirees, restaurants, shopping
South Baltimore's Riverside neighborhood features a mix of apartment buildings and row house styles. It's a popular area for young professionals moving into the area, as well as older homeowners. Although many of the row homes were built during the 1900s to 1920s, most have been renovated and updated. Residents enjoy easy access to various retail and restaurants, as well as a neighborhood park and playground.
Mount Washington
Average home value: $412,844
Average rent: $1,373
Great for: Diversity, outdoor activities, health and fitness, families
As one of the safest neighborhoods in Baltimore City, Mount Washington is located at the northwestern part of the city. It has plenty of green space and is full of activities for families, where parents can also enjoy the presence of a nearby elementary school and a pediatric hospital.
The quiet, country feel of Mount Washington is complemented by the variety of home styles that can be found in this area. Some of these include Tudor and Colonial homes, as well as Craftsman ranch houses.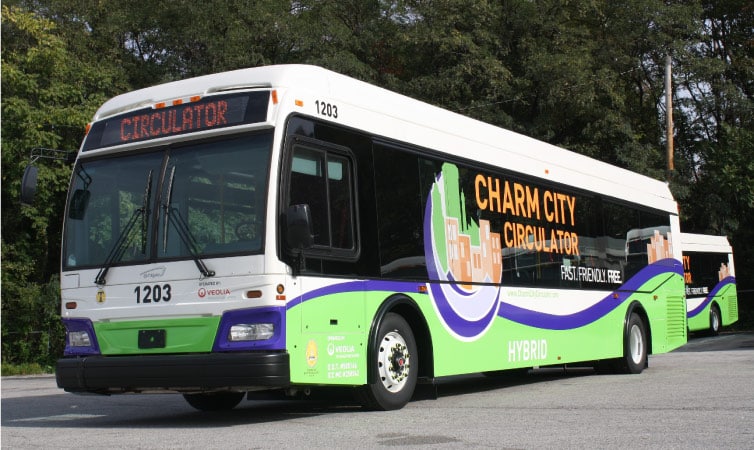 Getting around Baltimore safely
Baltimore is a convenient stop for travelers from New York City, Philadelphia, and Washington D.C. It is also a center for the Mid-Atlantic region and Northeast Corridor. So, naturally, its transportation options are safely used by many people every day.
The city of Baltimore is easily accessible by rail, air, and highway. Public transportation, such as trains and light rail, can also reach it. Residents can travel to Washington, D.C., and other areas by using the MARC and Amtrak rail lines. The MetroLink Subway connects the northwest suburbs of Baltimore to Johns Hopkins University.
Some of Baltimore's best neighborhoods can be explored through the free public transportation options, such as the Baltimore Water Taxi and the Charm City Circulator.
Which Baltimore neighborhood stood out to you most?
As you can see, there are a host of safe neighborhoods in Baltimore. If you need any assistance with the moving process, make sure to take advantage of the flexibility that PODS can offer. When you're ready to make the move, PODS has you covered. For more tips on moving (and what to do when it's all said and done), visit the PODS Blog.
Get a Quote
Choose the service you need
Related Articles
14 Things To Know About Living In Baltimore -- beyond harbor views and Old-Bay-steamed crabs
Read more
Comments
Leave a Comment
Your email address will not be published. Required fields are marked *