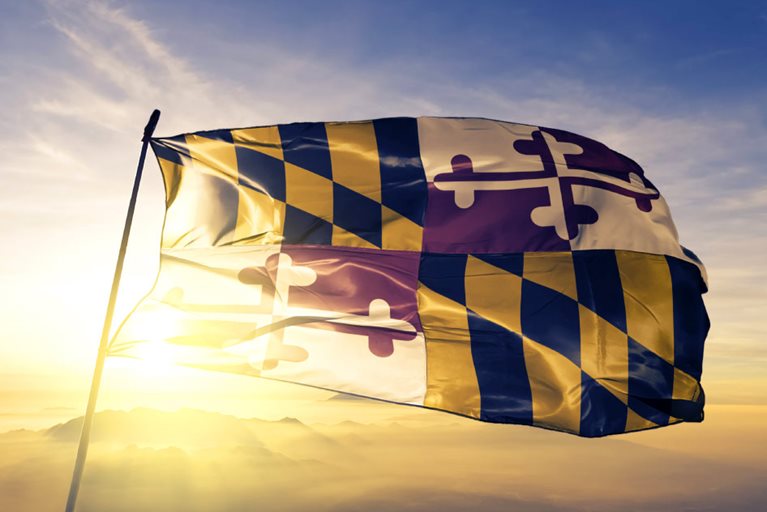 Here Are Some of the Best Small Towns in Maryland You'll Wish You Had Heard of Sooner!
There's no doubt about it: Maryland is rich with history. Its larger cities, and even some of the best small towns in Maryland, were the site of some of the earliest skirmishes that helped shape the country. One of the most notable events? A border conflict with Pennsylvania in the 1700s that led to the development of the Mason-Dixon Line. It's also home to the Baltimore and Ohio Railroad — the first railway.

The state of Maryland as a whole is a great place to live. It offers residents a wide range of delicious food, scenic views, and so much more. With harbors, beaches, and even state parks like Assateague Island National Seashore and Seneca Creek State Park nearby, there's never a shortage of fun to be had.

Maryland is also in close proximity to a number of larger metro areas, including Washington, D.C., and New York City. In fact, the D.C. Metrorail is a great way to get from the metro to different parts of Maryland.
Big Cities vs. Small Towns in Maryland
While Baltimore is the only major city in the state of Maryland, and a very popular place to live, you'll have to deal with some downsides if you decide to plant your roots there. That means more traffic, higher crime rates, and higher taxes, among other things.

That's where moving to a small town can help. You'll have access to a unique living experience, along with plenty of advantages, like:
Small-town charm
A strong community spirit
Lots of outdoor activities
More affordable housing
A lower cost of living
Maryland Small Towns - FAQ
Q: What is the artsy city in Maryland?
A: With residents committed to preserving the town's heritage, along with organizations like the Hancock Arts Council, Hancock is considered one of the most artsy small towns in Maryland.

Q: What towns are outside of Baltimore?
A: Thurmont, St. Michaels, and Berlin are among some of the towns on this list closest to Baltimore, Maryland.

Q: What is the happiest town in Maryland?
A: Emmitsburg and Oakland are small Maryland towns known for their happy and friendly residents.

Q: What is the prettiest city in Maryland?
A: With beautiful homes and a great view of the river, Snow Hill is considered one of the most beautiful small towns in Maryland.
Best Small Towns in Maryland
Whether you're interested in a home nestled in the mountains or a waterfront gem, it's not hard to find a place to live in Maryland with some picturesque views! Here are 12 small towns that can give you that and more.

Note: While the U.S. Census designates a small town as one with a population under 5,000, we've decided to expand that to include towns with a population of up to 15,000.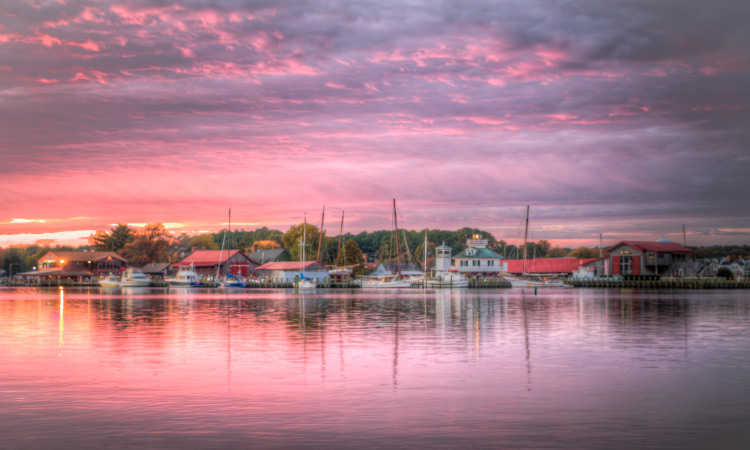 St. Michaels, Maryland
1. St. Michaels, MD
Average rent (one-bedroom): N/A
Average home value:
$660,100
St. Michaels — a quaint seaport town — is known for its beautiful waterfront sunsets. Residents and tourists alike flock to the restaurants, galleries, and shops along Talbot Street. They also enjoy crabbing on Tilghman Island.

Public transportation is sometimes restricted in the area; however, The Maryland Upper Shore Transit offers five daily buses that cater to D.C. commuters.
2. Hancock, MD
Average rent (one-bedroom): N/A
Average home value:
$219,100
Great for:
Mountain & recreational activities, cultural organizations, young professionals, families
Located in the Appalachian Mountains, Hancock is known for its unique and vibrant charm, along with easy access to Interstates 68 and 70. Residents are passionate about preserving the area's connection to the arts, and they love exploring the town's galleries and getting involved. Organizations like the Hancock Arts Council are always putting on events to do exactly that!
If you'd rather spend some time outdoors, you're in luck. Whether you want to join a recreational team or find a new spot to hike, you'll find something you enjoy. Residents love exploring C&O Canal National Historical Park and the Western Maryland Rail Trail.
3. Poolesville, MD
Average rent (one-bedroom): N/A
Average home value:
$673,200
Located in western Montgomery County, the small town of Poolesville is known as one of the safest towns in Maryland. Its motto is "Small town, down-home charm" — a fitting description of this historic area. There are plenty of outdoor activities to keep residents and visitors entertained, including the McKee-Beshers Wildlife Management Area and Dickerson Conservation Park. A host of agritourism establishments are also available to cater to both locals and tourists.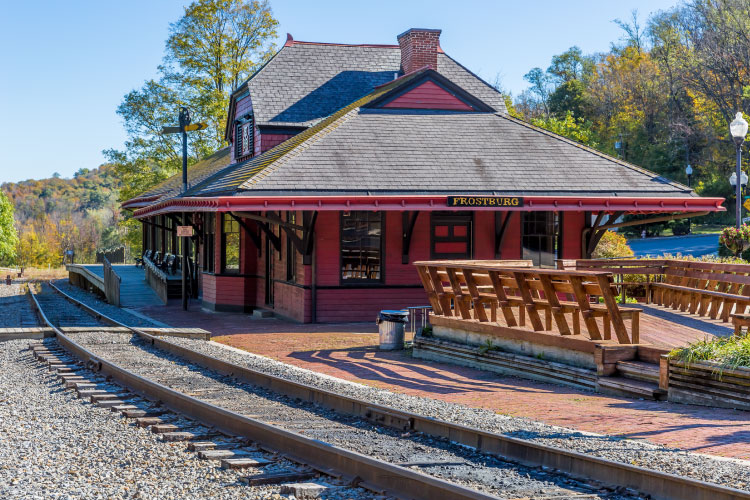 Frostburg, Maryland
4. Frostburg, MD
Average rent (one-bedroom): N/A
Average home price:
$163,400
Frostburg is known mostly for being home to Frostburg State University, but it's also home to the Western Maryland Scenic Railroad's western terminus. You can't miss Frostburg's beautiful mountain setting and numerous railway rides, like the Polar Express Train Ride.
The university is also a major source of jobs for the town, but there are a few other major players. Some include the Coca-Cola Bottling Company, FCI Cumberland, and CSX Transportation.
Fun fact: Frostburg is actually considered one of many ghost towns in Maryland. There was even a documentary released in 2005 depicting the stories of ghosts rumored to hang out around the local university!
5. Thurmont, MD
Median rent (one-bedroom): $1,100
Average home value: $362,700
Thurmont is a small town in the Catoctin Mountains, so it's surrounded by rolling hills and beautiful views are never in short supply. Despite its size, this area has plenty of shopping centers, schools, churches, and restaurants.

It also hosts a variety of events throughout the year, like the Catoctin Colorfest and Catoctin Furnace Fallfest. Check out some unique crafts from vendors all across the state when you visit the Colorfest, and enjoy some special homemade apple butter when you attend the Fallfest.
6. Emmitsburg, MD
Average rent (one-bedroom): N/A
Median home sale price:
$312,500
Emmitsburg is one of the best towns to live in Maryland and is surrounded by rolling hills and beautiful countryside. It has a quaint downtown district full of eateries, shops, and attractions, as well as several parks and recreation areas. Some of these include the Emmit Gardens Area, Silo Hill, and Northgate. Residents enjoy its peaceful atmosphere.
The friendly residents of Emmitsburg are another major reason people choose to live here — especially retirees!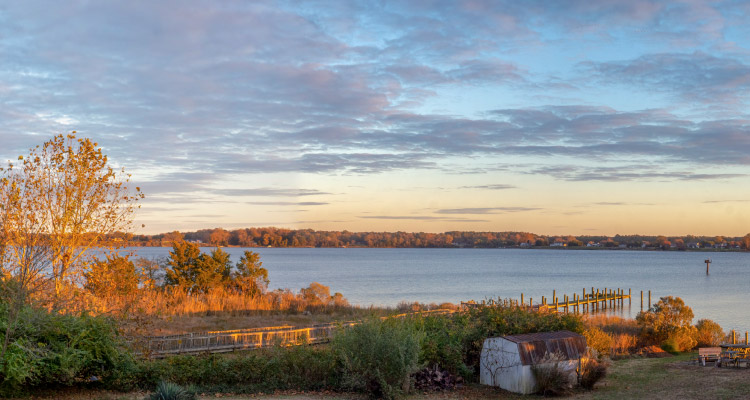 7. Leonardtown, MD
Average rent (one-bedroom):
$1,050
Average home value:
$486,500
Leonardtown, Maryland, is known for its close-knit community and small-town charm. It is also great for families with its many outdoor activities, including swimming in the Patuxent River and fishing. There are a variety of great restaurants and galleries in the area, as well, that make it easy to explore.
History buffs can visit the area's many historical structures, including St. George Church, which has been around since the 1850s. Nature buffs can spend time at Leonardtown Wharf and St. Mary's River State Park for a variety of activities, like disc golf and tennis.
8. Snow Hill, MD
Average rent (one-bedroom): N/A
Average home value:
$266,600
Snow Hill is known for its welcoming, safe atmosphere and for having a tight-knit community. It's great for providing easy access to fun outdoor activities like fishing and camping.
It's a quaint community that features charming homes and stores, with many that feature Eastern Shore architecture and great views of the river. You can find anything from historic and farmhouse homes to modern and newly built homes, though.
9. Myersville, MD
Average rent (one-bedroom):
$1,800
Average home value:
$501,000
The town of Myersville has a
population of approximately 1,900
. It's known for its peaceful environment and its many outdoor activities, like fishing and hiking at popular spots like
Doub's Meadow Park.
Despite all the wide open spaces, residents still have easy access to medical services, grocery stores, and pharmacies.
Assateague Island near Berlin, Maryland
10. Berlin, MD
Average rent (one-bedroom): N/A
Average home value:
$430,400
The small town of Berlin is located on Maryland's Eastern Shore. It has plenty of attractions to choose from, including several antique shops, a variety of restaurants, and entertainment, like The Mermaid Museum and the Globe Gastro Theatre, where you can eat some delicious food and enjoy live music. Those who reside in the area also take advantage of the nearby beaches and parks. There are many historic sites to explore, as well, like the Assateague Island National Seashore.
Even though it's located only a few hours from major cities like Washington D.C., Baltimore, and Annapolis, Berlin still maintains a tranquil and quaint atmosphere overall. In fact, it was voted the best place to raise a family in Worcester County by Niche.
11. Crisfield, MD
Average rent (one-bedroom): N/A
Average home value:
$141,800
The residents of Crisfield are fascinated by the area's history, which dates all the way back to 1872 when the town was incorporated. By the early 1900s, Crisfield was considered one of the finest seaports in the country and dubbed the "Seafood Capital of the World."
The area of Crisfield is home to nearly a dozen churches, which shows the strong faith of the community. Some of the civic groups that are active in the area include the American Legion, the Elks, and the Lions.
12. Oakland, MD
Average rent (one-bedroom): N/A
Average home value:
$284,300
Oakland, Maryland, is situated in Garrett County, surrounded by beautiful lakes and forests and tucked away in the Appalachian Mountains. This area offers a slower pace of life and a very friendly community spirit.
Those who love nature will find plenty of ways to enjoy themselves while living here — a local favorite is camping or fishing at Deep Creek Lake. There are also plenty of adorable specialty shops to visit, including Carriage House Antiques, Loar Auxiliary Gift Shop, and Book Mark'et and Antique Mezzanine.
Small Maryland Town Moves Are Done Best With PODS
Once you've found your slice of small-town heaven in Maryland, let PODS help you get there. Have a portable moving and storage container delivered right to your driveway, where you can pack and load at your own pace. When you're ready, PODS will pick it up and take it to your new home. One month's storage is also included in every move, so you can unload on your own schedule without feeling rushed.

Editor's note: For ease of reading, monthly rental prices were rounded to the nearest $25 and home values were rounded to the nearest $100.
Get a Quote
Choose the service you need
Related Articles
14 Things To Know About Living In Baltimore -- beyond harbor views and Old-Bay-steamed crabs
Read more
Comments
Leave a Comment
Your email address will not be published. Required fields are marked *