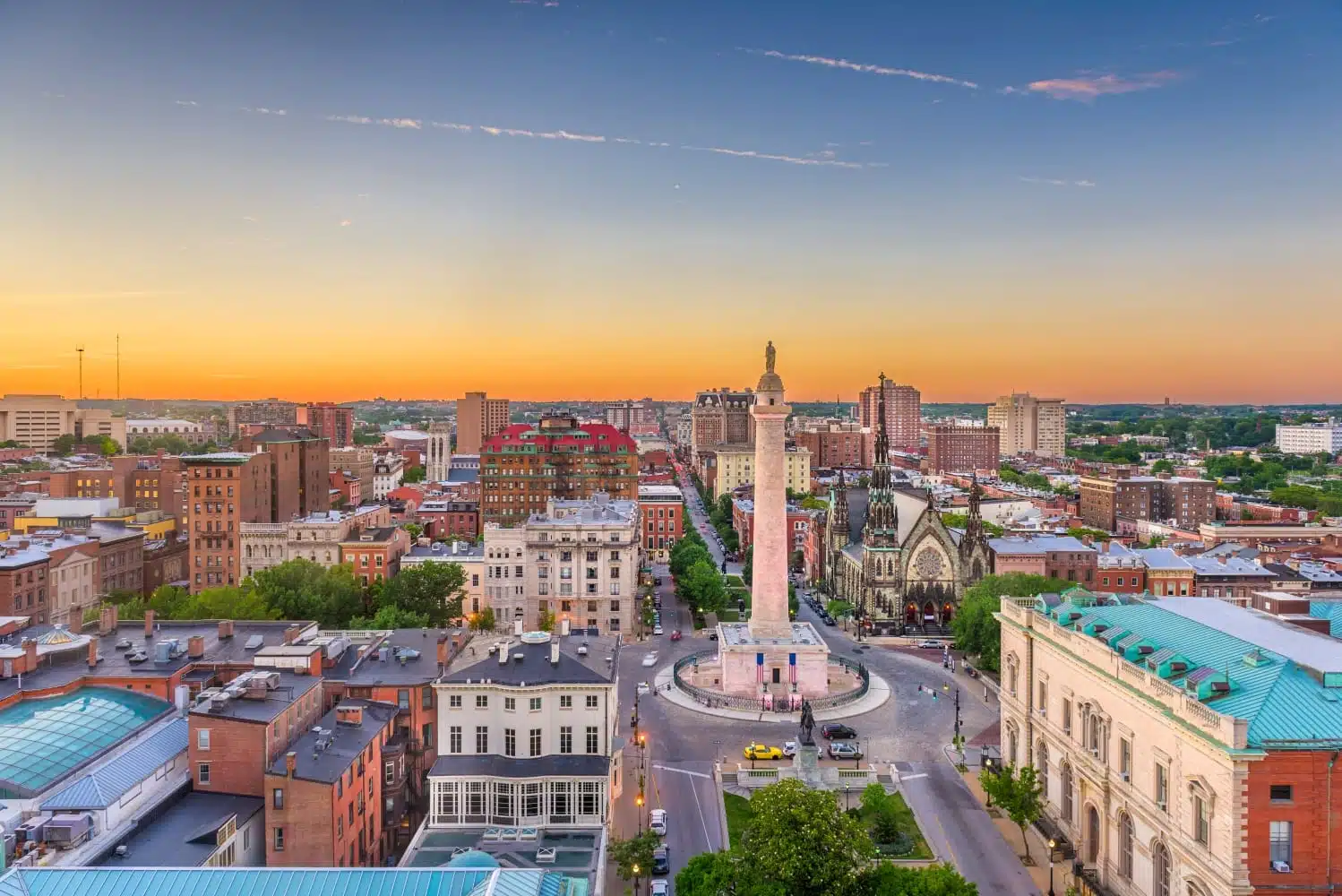 14 Things To Know About Living In Baltimore -- beyond harbor views and Old-Bay-steamed crabs
Got living in Baltimore on the brain? We get it. Also known as "Charm City," this big city with a small-town vibe is packed with exciting restaurants, craft breweries, museums, and — if you're here long enough — familiar faces. It's a popular home base for D.C. commuters, young professionals, and folks looking for big-city amenities that don't cost them the feeling of community.
So what makes this coastal Maryland city stand out? No, it's not just Inner Harbor views and Old-Bay-steamed blue crabs (although both are fantastic). Start with a glimpse of the overall vibe of life in Baltimore, Maryland, below, and then read on to find out what we think you should know when it comes to living in Baltimore.
Baltimore at a Glance
Baltimore is just off of the Chesapeake Bay, located about an hour's drive north of Washington, D.C., and two hours south of Philadelphia.
With a population of around 570,000 people, Baltimore is Maryland's most populous city, while its metro-area population of 2.4 million makes it the 22nd largest metro area in the U.S.
Founded in 1729, Baltimore may be one of America's oldest cities, but its residents tend to be on the younger side, with a median age of around 35 years old, three years younger than the national median.
Baltimore covers 92 square miles — roughly the same size as Toledo, Ohio, and just under half the size of Albuquerque, New Mexico.
Pros and Cons of Living in Baltimore
What are the pros and cons of living in Baltimore, Maryland? Before we deep dive into the top 14 things you should know about life in Baltimore, here's a high-level look at some of the ups and downs of Baltimore life.
Pros of Living in Baltimore:
The cost of living in Baltimore, MD, is lower than average — both in the U.S. at large, and in the state of Maryland.

If you're looking to buy, home prices in Baltimore are way cheaper than in nearby Washington, D.C. — and there are tons of gorgeous Federal and Greek Revival homes to choose from.

And if you're renting in Baltimore, you're in good company: More than half of residents rent their homes.
Baltimore has several public transport options, from buses to the subway to the light rail.
Locals nickname it "Smalltimore" because though it's a city, it can have a small-town feel.
Cons of Living in Baltimore:
This may be a pro or con, depending on your internal thermostat, but it's worth knowing that summer temperatures trend pretty hot (think: 75° F average and plenty of humidity), and winters tend to be cold and wet.
It was ranked the third most dangerous city in the U.S. by MoneyGeek in 2023 — though there are lower-crime enclaves to be found.
Niche gives Baltimore public schools an overall rating of C-, which means parents may want to do some extra research on where they send their kids to school.
Is Baltimore a good place to live?
If you're looking for an affordable city with a convenient location on the East Coast, Baltimore, Maryland, is a great place to live. The drive from Washington, D.C., back to Baltimore is about an hour commute, making for a wide range of job opportunities in driving distance. Baltimore also offers a reasonable cost of living and relatively low home prices, in comparison to the U.S. average and many other East Coast cities. Plus, the city is chock full of history and hidden gems of neighborhoods — they don't call it "Charm City" for nothing.
1. The Cost of Living in Baltimore is Cheaper than You Might Think
Baltimore has a lower cost of living than the U.S. national average and Maryland overall. So whether you're relocating within the state or making a long-distance move, you'll likely get more bang for each buck. Just keep in mind, however, that while you might be spending less, you'll also likely be making less.
According to the U.S. Census, the median household income in Baltimore is $54,124, versus the national average of $69,021.
According to RentCafe, renters can expect average apartment sizes to clock in at about 820 square feet, and rent averages about $1,250 per month — more than $425 less per month than the national average.
Payscale reports other daily and monthly expenses, like utilities (+5%) and groceries (+14%) are slightly higher than the national average.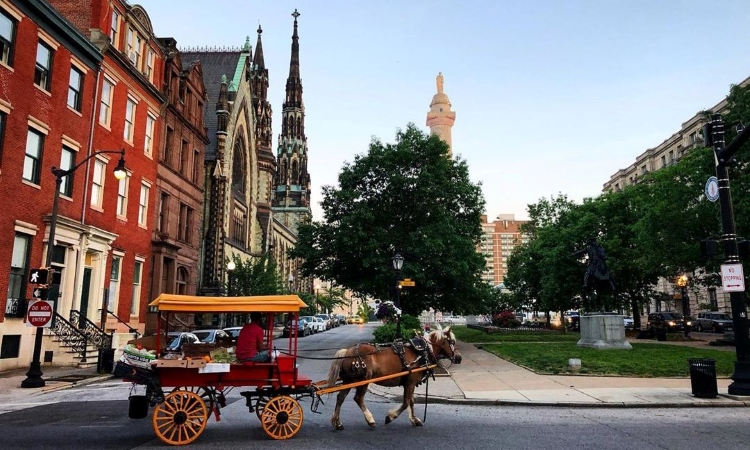 2. You Can Get a Steal of a Deal on a Historic Home in Baltimore
While 66% of folks in the U.S. tend to own their homes, only around 49% of households in Baltimore are owner-occupied. This is likely tied to the city's higher-than-average poverty level, since, according to Zillow, the average value for a home in Baltimore is around $179,000 — significantly lower than the average home values in Maryland ($399,900), nearby Washington, D.C. ($632,000), and the U.S. overall ($346,300).
Love historic homes? You've got your pick here! Much of Baltimore is designated as historic districts, and you'll find several types of the city's trademark row houses throughout. Federal, Greek Revival, and Italianate styles, for example, are abundant and full of color and character.
3. Over Half of Baltimore Residents Are Renters
Just over 50% of residents living in Baltimore rent their homes, paying anywhere from around $990 to over $2,400 per month in rent. Another plus? Since Baltimore is a historic city with some new developments, you can pick from a variety of different units, like one of the city's unique row houses or a luxury apartment rental.
4. The Top 3 Best Neighborhoods to Live in Baltimore Range From Quirky to Classy
Hampden
This quirky neighborhood is merely a handful of miles away from Downtown Baltimore — but lightyears away when it comes to style. You'll know you're in Hampden right away with its can't-miss personality shining through in the colorful row houses and undeniably trendy vibe in the air. Want great eats, excellent vintage shops, and a relaxed but bustling energy? You'll find that here.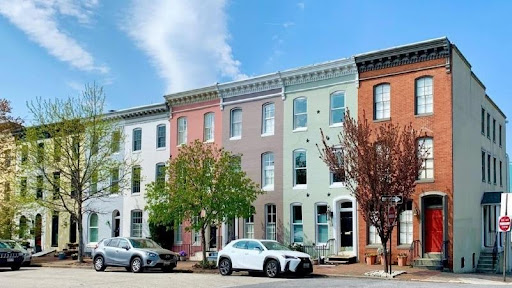 Federal Hill
This charming harborside neighborhood is popular with recent grads and tourists alike, mostly because it's accessible to much of the city's best offerings: great Inner Harbor views, a lovely collection of beautiful brick row houses, and easy accessibility to a slew of restaurants, locally owned shops, and entertainment and culture options. Plus, it's just a straight 10-minute shot on the Purple line (or in the car) up to Downtown Baltimore. It even has a stop on the Baltimore Water Taxi.
Mount Vernon
This affluent neighborhood shows off a slice of Baltimore's history — not through the city's typical row houses but via beautiful mansions. Designated a National Landmark Historic District, this area is where beauty meets brains in Baltimore. Fancy restaurants and high-brow cultural institutions, like the Joseph Symphony Orchestra, Enoch Pratt Free Library, and Maryland Center for History and Culture, live in this neighborhood located less than a mile north of Downtown Baltimore.
Other Baltimore Neighborhoods Worth Considering:
Canton
Fells Point
Harbor East
Remmington
Little Italy
Still looking around? Check out this guide to the best Baltimore neighborhoods and suburbs.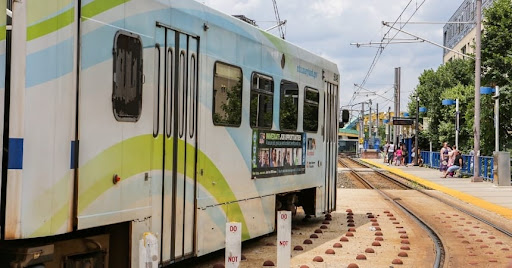 5. You Don't Have to Reply Solely on a Car to Get Around Baltimore
Thinking of moving, but don't have a car — or don't want to need a car? You'll be happy to know that it's possible to live car-free in the city. Not only that, but it can actually be cheaper and more convenient. Baltimore has a variety of public transit options — local buses, Metro SubwayLink, Light Rail, MARC train, or BWI Airport Shuttle — and for anywhere that you may go beyond their reach, there's always Uber, Lyft, or a taxi.
6. You Can Look Forward to Steamy Summers and Wet Winters
When it comes to Baltimore weather, you can count on hot, sun-soaked summer days that can graze the edge of 100 degrees Fahrenheit and finish with warm nights. However, you'll also get your fair share of cold and wet winters, where temps are known to drop below freezing — sometimes dipping under 20 degrees Fahrenheit.
April to May and September to early October are the best times of year, where you can take full advantage of all the city's outdoor activities without melting like a candle in the 59% humidity of summer or needing to bundle up in the throes of winter.
Year-round average temperatures range from 30 to 80 degrees Fahrenheit, but here's a look at the average temps by season, according to U.S. News & World Report:
Winter: 35°F
Spring: 53°F
Summer: 75°F
Fall: 57°F
7. It's One of the United States' 41 Independent Cities
Don't confuse Baltimore the city with Baltimore the county. Baltimore City is what's known as an independent city — and there are only 41 of them in the whole country (and almost all of the rest of them are in Virginia). That means Baltimore doesn't belong to a county, and the city doesn't have to follow a local county government structure. However, since Baltimore is such a big city, you probably won't even notice the difference.
8. Locals Often Refer to It As "Smalltimore"
If you want to live in a city without having to sacrifice the small-town benefit of knowing your neighbors (or your waitress or sales clerk or car dealer — you get the idea), this just might be your place. Baltimore is a big city that can feel small, a draw for some and a disadvantage for others. In fact, locals jokingly call it "Smalltimore" because it can seem like everyone knows everyone.
The nickname also refers to the tight-knit social scene where everyone seems to have their place, their turf, and their crowd. This is great for a sense of community, but it may be a little daunting for individuals new to the area until they find their crew.
9. Baltimore Can Be a Dangerous Place (But Mainly in Certain Areas)
Is Baltimore safe? MoneyGeek ranked Baltimore as the thirrd most dangerous city in the U.S., out of 263 cities with populations over 100,000 people. However, much of Baltimore's crime happens in specific, poverty-stricken, drug- and gang-ridden neighborhoods — not throughout the whole city. It's particularly high in the West Baltimore neighborhood. Wealthier, gentrified, and/or tourist areas like Inner Harbor, Mount Vernon, Federal Hill, and Fells Point are of much less concern — check out this guide to Baltimore's safest neighborhoods in 2023.
10. Everyone's Obsessed with Crabs
Okay, okay, it's probably more accurate to say that Baltimore is full of crabs — delicious, succulent, famously feastable crabs. Baltimore is known for its blue crabs caught locally in the Chesapeake Bay and steamed, dusted in Old Bay seasoning, and then dumped on the table to be devoured. In fact, the crabs are so highly regarded, they draw tourists and locals by the thousands during the mid-April to November crab season. For a more civilized (but possibly less exciting and messy) meal, the city is also known for other crab concoctions, like crab dip, crab cakes, or just plain ol' steamed crabs in a basket.
11. They Have a Pro Sports Team Named After a Poem — And They're Really Good
Besides eating delicious crabs from the Bay, another favorite Baltimore pastime is rooting for the local home teams, one of which is named after an Edgar Allen Poe poem. Yep, the city's NFL team is proudly called the Baltimore Ravens. Even better? Their mascots used to be three ravens: one called Edgar, one called Allen, and one called — you know where we're going with this — Poe. Baseball is also huge here with one of baseball's most historic teams, the Orioles, lovingly referred to as the O's.
Here's the lowdown on each team:
Orioles
You've gotta be in it for better or for worse. The Orioles yo-yo in their performance and have celebrated streaks of being undefeated as well as lamented, being called the worst baseball team in the majors. But it looks like better days are here — the O's are currently competing for the AL East and may be looking to make another run at the playoffs in 2023.
Ravens
This team relocated from Cleveland, giving Baltimore a football team once again after their original team, the Colts, relocated to Indianapolis. And since entering the league, they've been one of the most consistently competitive clubs. Since 2000, these guys have won two Super Bowl championships, made it to the playoffs more times than you can count on two hands, and have claimed two AFC titles over four appearances. Colts who? Living in Baltimore is all Ravens now. And they're set for years to come after signing superstar quarterback Lamar Jackson to a big extension.
12. You'll Have to Choose Your Schools Wisely
One of the city's lowest marks with the highest potential to dissuade new residents may be Baltimore's slightly-below-average schools. Niche gives public schools in the city an overall C- grade, which admittedly isn't ideal. However, there are some diamonds in the rough. Here are a few of the city's best schools that Niche rates an A or higher:
The Bryn Mawr School* (ranked #97 in the U.S.; Pre-K, K–12)
Gilman School* (Pre-K, K–12)
Baltimore Polytechnic Institute (9–12)
Baltimore School For the Arts (9–12)
Friends School of Baltimore* (Pre-K, K–12)
Roland Park Country School* (Pre-K, K–12)
The Boys' Latin School of Maryland* (K–12)
*Denotes private school
Already set on moving to and living in Baltimore? Compare moving costs for rental trucks, full-service movers, and portable containers. To get a personalized moving quote on local moves, visit PODS.com, or call 855-706-4758 for long-distance moving.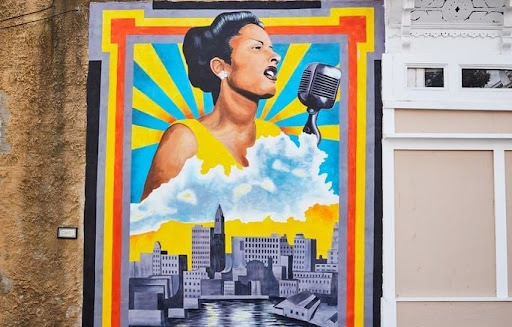 13. The City is a Favorite of Famous Folks
Baltimore has had its fair share of famous residents over the years — spanning from politicians to poets. Makes sense, given that it's one of the oldest cities in the U.S. As mentioned, Edgar Allen Poe was one local celebrity, even though he only lived here a short time. Here are a handful of other noteworthy names who have called Baltimore home:
Philip Glass, composer
DMX, rapper
John Waters, eclectic filmmaker
Billie Holiday, singer
David Hasslehoff, actor
Francis Scott Key, poet and national anthem writer of "The Star Spangled Banner" (based off of a poem he wrote about Baltimore's Fort McHenry battle in 1814)
Thurgood Marshall, first African-American Supreme Court Justice
Parker Posey, actress
Jada Pinkett-Smith, actress
Frank Zappa, off-kilter musician
Frederick Douglass, anti-slavery activist and writer
14. Fun Things to Do in Baltimore Abound
Ready to dive into the city's must-dos? We've compiled a list of the best things to do in Baltimore — full of local favorites and tourist tips alike, so you can get a well-rounded feel for your potential new home.
Things To Do in Baltimore at Night
Things To Do in Baltimore During the Day (and With Kids)
And Don't Forget These Annual Events in Baltimore
Artscape: A large, free, local art festival
Opening Day at Camden Yards: Go, Orioles!
Hampdenfest: Classic festival with pie-eating contests, toilet bowl races (yes, you read that right), and local eats
Maryland Film Festival
Flower Mart: Running yearly since 1911, it's the longest-running festival in the city
Charm City Bluegrass Festival
Preakness Stakes: The second of the prestigious Triple-Crown horse races
AFRAM: African American heritage festival
Baltimore Pride: One of the country's oldest pride festivals
National Pig Day Celebration: Experience laughs and a running of the pigs
Light City Baltimore: Downtown Baltimore gets transformed via interactive light installations (to be resumed in 2024)
Still have the idea of moving to Baltimore on your brain? Now that you know it's much more than just crabs, we hope you're feeling pumped to start a new adventure in this potentially new-to-you city.
Not quite feeling prepared for the move? That's just fine, too! We can get you ready with everything from flexible moving and storage options to info on how to pack to avoid damage on a long-distance move to tips for vetting moving companies. Basically, if Baltimore's meant to be, we have the tools to make the transition as smooth as it can be.
Editor's note: For ease of reading, monthly rental prices were rounded to the nearest $25 and home values were rounded to the nearest $100.

Alex Keight is a frequent contributor to the PODS Blog who has moved 20+ times because she loves to experience new places.
Get a Quote
Choose the service you need
Comments
Leave a Comment
Your email address will not be published. Required fields are marked *