Whether you're expecting a baby or just inspired to make a healthy switch, there are a lot of natural options for cleaning products that are ideal for households with a little one. We'll help you find the best non-toxic cleaning products and DIY options to keep your house clean and healthy, so you don't have to worry about your baby or anyone else (pets included!) coming into contact with harmful chemicals.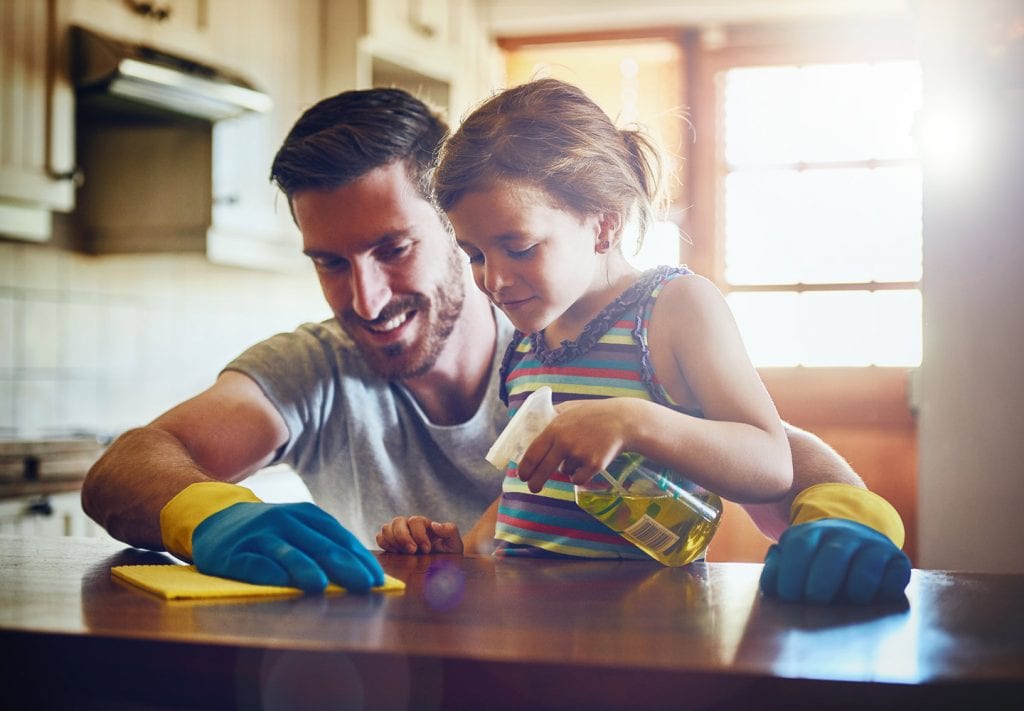 Non-Toxic Cleaning Product Essentials
If you're concerned that natural cleaning alternatives won't do the job as well as traditional products, science tells us otherwise. While many popular cleaning products promote how they kill most germs and bacteria, research shows that simply water mixed with soap or vinegar can be just as effective — and better for both our environment and your family. To help get you started on making the switch, here are some basic guidelines:
Check your family's allergies and health issues: When choosing new products to use in your home, it's important to keep your family's unique needs in mind. Is your baby allergic to soap fragrances or common additives like sulfates and parabens? Does anyone in your household have a compromised immune system and require strong disinfectants? These are all factors to take into account when looking into the type of cleaning products you need and what ingredients you should avoid.
Use trusted resources: The Environmental Working Group Skin Deep Database is an easy way to check if a product is safe. An independent non-profit, Environment Working Group (EWG) assesses products based on the ingredients and uses a consumer-friendly grading scale from A to F, with an "A" representing products with very low toxicity to health and our environment.
Follow safety guidelines: Whether you're using a traditional or "non-toxic" product, make sure to keep all household cleaners products up and away, out of children's reach and sight. Don't mix products or ingredients without first checking if there may be dangerous reactions. For example, chlorine bleach mixed with ammonia or even vinegar can produce a toxic gas or corrosive acid.
Learn what to avoid: As consumers become more concerned about product safety, health, and environmental issues, we're finding that some cleaning products that our mothers and grandmothers relied on are no longer considered safe, especially around babies and children. For example, while chlorine bleach was often the go-to choice for maximum cleaning and stain removal in years past, we now know that it can be harmful for both babies and adults. Fortunately, there are non-chlorine bleach alternatives and DIY solutions. (You'll find ideas in our guide below.)

EWG also advises choosing "fragrance-free" options when possible, as ingredients used can cause respiratory irritation, headaches, sneezing, and water eyes in those with chemical sensitivity, allergies, or asthma. According to the EWG, other ingredients to avoid include ammonia, 2-butoxyethanol, ethanolamines, "active ingredients" such as ADBAC, bensalkonium chloride, phosphates, phthalates, sulfates, and ingredients with names including "-monium chloride" or triclosan.
Whew. That's quite a list. For some simple alternatives, read on.
DIY Non-Toxic Cleaners
For an option that's both budget- and baby-friendly, try making your own non-toxic cleaners. Here are the household basics that can be used for a variety of spaces and cleaning purposes:
Vinegar and water
The acidity in vinegar can cut through grease and help disinfect any surface. Use a 50/50 mixture to wipe down your stove, countertops, tabletops, and almost any other surface. (As mentioned earlier, vinegar should not be mixed with chlorine bleach or hydrogen peroxide because this can create toxic gas or corrosive acid – both extremely hazardous.)
Baking soda
A time-honored, non-toxic cleaning product, baking soda is ideal for getting out tough stains on surfaces. It's especially useful for cleaning your oven, shower, or toilet. Spray a 50/50 mixture of vinegar and water on the surface, then use a sponge dampened with vinegar and baking soda to scrub off any buildup, grime, or soap scum.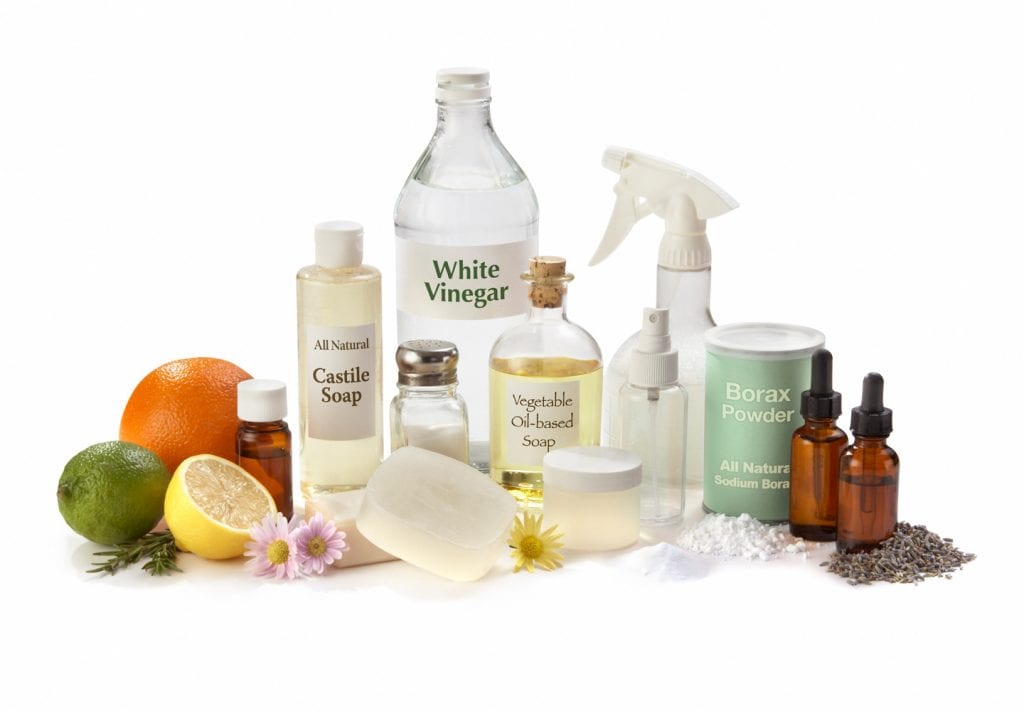 Hydrogen peroxide
Unlike chlorine bleach, hydrogen peroxide is a type of bleach that's natural and better for the environment. It's a nice option if you need a deeper clean to remove stains, disinfect surfaces, or get rid of mold and mildew.
Castile soap
This is a soap made exclusively from vegetable oils, making it biodegradable and non-toxic. It's a great cleaning staple to have on hand for households with children and pets. Make sure you don't combine it with any vinegar cleaning solutions, because using both at the same time can leave a white filmy residue that's hard to get out.
Baby-Safe Cleaning Products by Category
Here's a quick reference guide to non-toxic cleaning products for all types of household uses. All the products on this list have been rated "A" by the Environmental Working Group and are widely available in stores or online.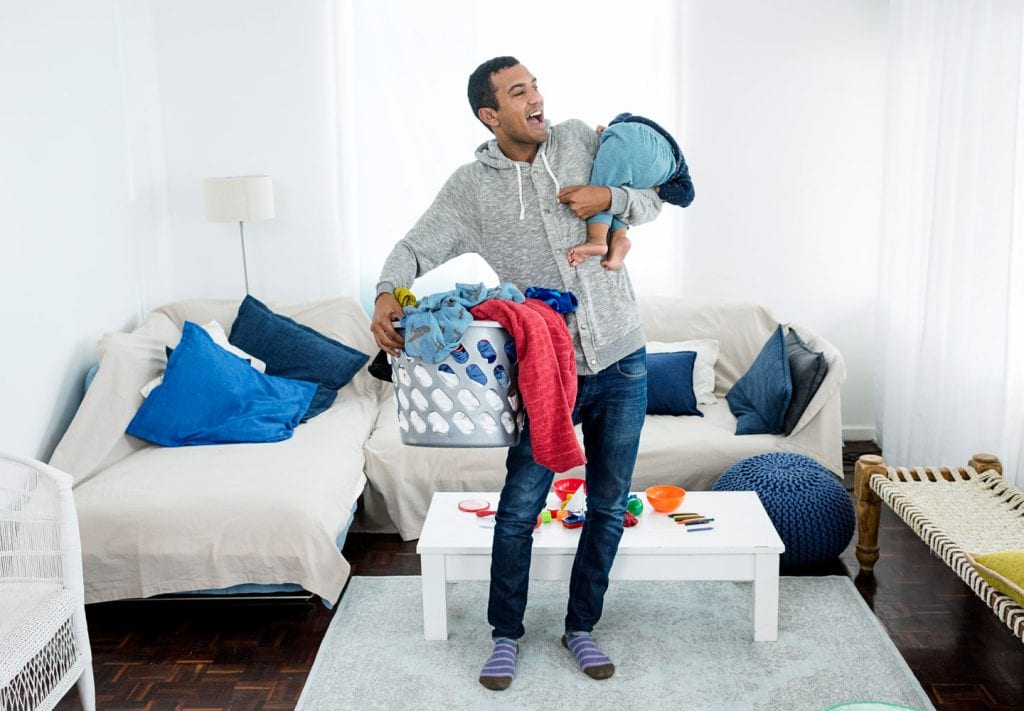 All-Purpose Cleaners
As babies start crawling they're going to come in contact with just about every surface in your home. As they explore, those chubby little fingers inevitably end up in their mouth, so you not only do your best to keep those surfaces clean – you want to make sure you're using a non-toxic cleaner.
We love: ECOS All Purpose Cleaner Spray, Parsley Plus is plant-powered to clean almost anywhere you can think of -- including floors, kitchen and bathroom surfaces, painted surfaces, and stainless steel. Another reliable choice is Dr. Bronner's 18-in-1 Pure-Castile Liquid Soap. Though known best for hand-washing, you can put Dr. Bronner to work on just about any cleaning task – mopping, dishes, bathtubs, toilets. Since it's highly concentrated, you can save money with this dilutions cheat sheet.
Cleaning Wipes
When it comes to cleaning wipes, the most economical and environmentally-friendly option is to simply use a clean rag or microfiber cloth with non-toxic soap or all-purpose cleaner. That said, parents often need a disposabletravel option when you're on the go with your baby to quickly clean spills and other boo-boos.
We love: Fragrance-free Dapple Baby All Purpose Cleaning Wipes made with plant-based cleaning power are non-abrasive and convenient for wiping away gunk, grime and messy fingerprints. Best of all, they're available in a travel size. By the way, if you're looking for wipes to clean your baby's face and sticky fingers, Dapple Baby makes an aloe-based wipe for that, too.
Dishwashing Liquid and Dishwasher Detergent
How much do we think about what we use to clean our dishes and glassware? Considering we actually ingest the residue as we eat and drink, we want to make sure we're using something that's safe and non-toxic.
We love: ECOS Dishmate Hypoallergenic Dish Soap is powerful enough to clean a sinkful of dishes with just a few drops. Since it also doubles as a hand soap, that also saves money and space at the sink. ECOS Wave Auto Dishwasher Gel is also our choice for dishwasher detergent. It's got a built-in rinse aid to protect against hard water stains and is available in lavender or fragrance-free.
Insider tip: You'll want to make sure your whole home is safe for your baby, especially the places where they'll spend most of their time — like their nursery. Check out this guide on eco-friendly, non-toxic nursery design from Porch.com.
Hand & Body Soap
Finding hand and body soap that won't irritate or dry out your baby's skin is essential. Look for fragrance-free formulas that are as gentle, pure, and natural as possible. While it's hard to find a tears-free option that's also rated highly for both cleaning power and safety, baby-safe brands have some practical suggestions for keeping soap out of your baby's eyes: Apply just a few drops to a super-soft washcloth before washing your baby's face or hair, and use a cup and tilt their head back to rinse their hair.
We love: ATTITUDE's Baby Leaves 2-in-1 Hair and Body Foaming Wash is designed and dermatologically-tested for your little one's sensitive skin and scalp. Dr. Bronner's Pure-Castile Soap is another safe choice for your baby and the entire family.
Laundry Detergent
Babies have soft, delicate skin that easily absorbs any substances it touches, so it's important to ensure the chemicals used to clean your baby's clothes don't create any irritation. Rashes, skin allergies, and eczema are common for infants, but you can mitigate the symptoms with non-toxic laundry detergent.
We love: For an all-purpose option that's great for both babies and everyone else in the household, 365 Unscented Laundry Detergent from Whole Foods is fragrance-free and made from plant-derived ingredients. Dapple Baby Laundry Detergent, made with ultra-mild ingredients, is hypoallergenic and fragrance-free – making it a good choice for newborns, toddlers, and kids with eczema.
Non-Chlorine Bleach Alternatives
You just need to smell bleach to know instinctively that this is not a healthy choice for cleaning laundry or surfaces. Even small amounts of chlorine bleach pose risks to children, so it's best to keep it out of the house and find safer alternatives.
We love: Made from just two ingredients -- water and hydrogen peroxide -- Seventh Generation Chlorine-Free Bleach, Free & Clear is color-safe and will still fight tough stains.
Thanks to growing consumer awareness, non-toxic cleaning products, detergents, and soaps have gone mainstream and offer safe alternatives for your baby and the entire family. From DIY solutions that are easy on the wallet to popular all-natural brands, choose what's best for your family for a healthy, clean home.
Thinking about making a move to make room for your growing family? Here are some helpful tips on how to move with a baby.
Get a Quote
Choose the service you need
Comments
Leave a Comment
Your email address will not be published. Required fields are marked *