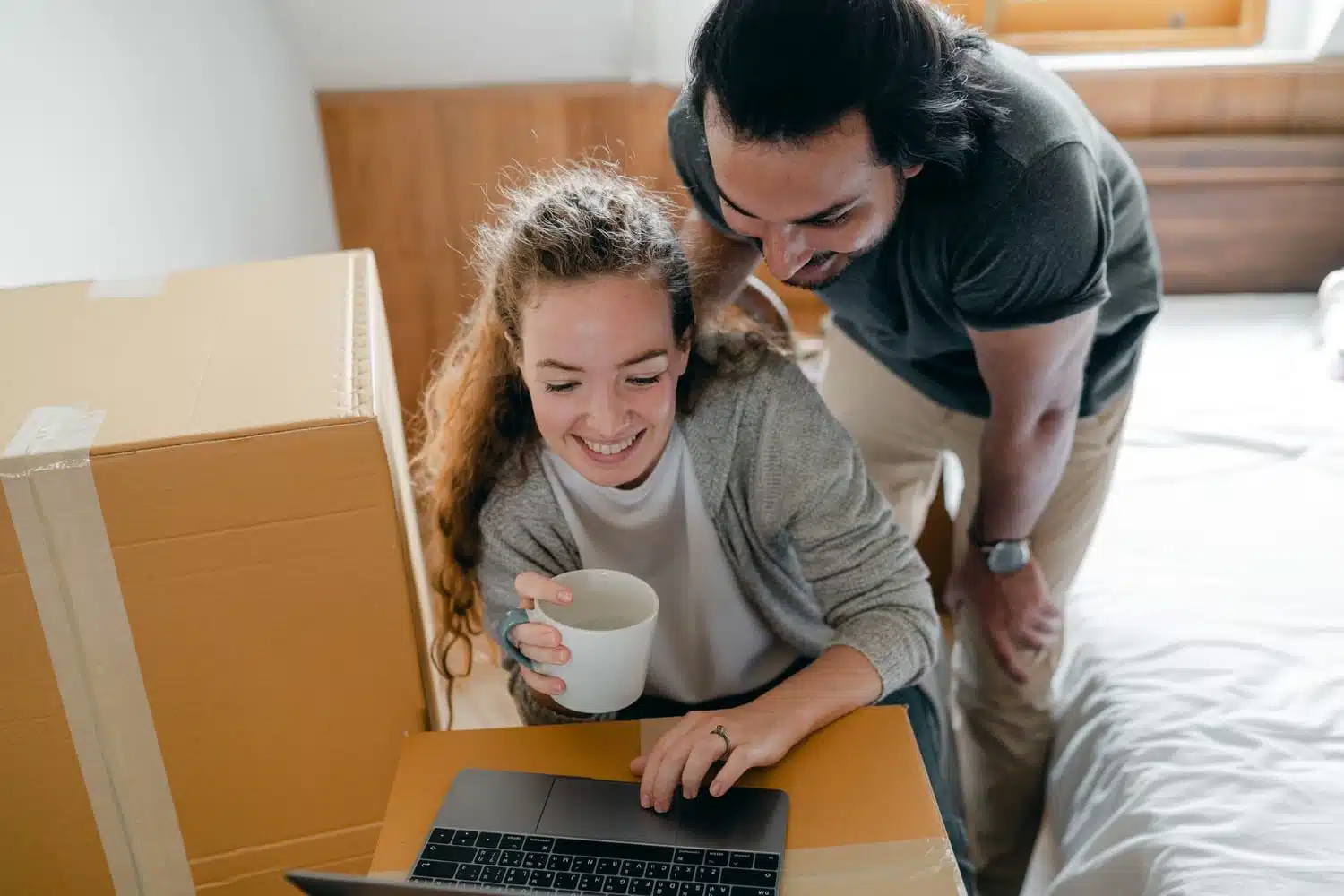 Hiring a moving company? 7 things to ask when vetting moving services for your relocation
Got a move in your future? It never hurts to get ahead of the game by checking out movers and different types of moving services to help with your relocation, especially if you'll be moving during the busy summer moving season.
Not sure where to start? No worries, we're happy to help get your ducks in a row using our best tips for hiring a moving company. Heck, we can even help you figure out which type of moving service might work best for your move — and then we'll arm you with smart questions to ask. First, we'll go over some general tips for hiring a moving company, then we'll move into choosing the best type of moving service for your needs. Finally, we'll give you some solid, must-know questions for each specific type. Ready? Off we go!
SEVEN TIPS FOR HIRING A MOVING COMPANY
While not every moving service is the same, there are a few essential questions that you should ask no matter what. These will help you navigate through the process of vetting and getting moving quotes and estimates, so you can ultimately decide whether or not a certain company offers exactly what you need. Here are seven questions you should always ask when hiring a moving company:
1. Check the Company Credentials
Licensed moving companies have to register for a USDOT number. Looking up this number on the FMCSA site can give you a wealth of info, such as company status, safety records, crash reports, and more. Reputable companies will usually list their USDOT number on their website.
2. Ask About Insurance Coverage
By law, professional moving companies have to supply a basic level of free coverage, but frankly, it's so basic that it's worthless. However, there are often better moving insurance options available for an extra fee.

Pro Tip: If you have homeowners or renters insurance, check on your coverage -- it may cover your belongings during a move!
3. Get the Damage Rate
Ask what their typical damage rate is for similar moves like yours — then compare that to the online reviews to see if you spot a pattern of complaints. You can save time by searching for keywords like "damaged," "broken," and "fragile."
4. Learn How to Claim and Complain
Ask how they handle claims and complaints and then follow up with a search through public customer reviews. Check out their social media platforms. Do they seem responsive to complaints? Do they handle claims in a timely manner?
5. Avoid the Surprise of Additional Fees
Find out upfront exactly when and where any and all possible additional fees might come into play — and walk away from any quote that can't be guaranteed.
6. Get the Skinny on Cancellation Policies
Oof, having to cancel or reschedule a move last minute is no picnic, but sometimes it can't be helped. Unfortunately, most traditional full-service moving companies don't have a generous three-day cancellation policy like PODS. Know the rules around deposits, refunds, and cancellations so you'll know where you stand before you book your move. 
7. Find Out How to Pay
Sometimes moving companies only accept cash or will require you to pay for part of the move at pick-up and the balance on delivery. If you're required to pay anything upfront, always get a receipt because the people who pick up your stuff may not be the same movers who deliver it.
HOW TO CHOOSE THE RIGHT TYPE OF MOVING SERVICE FOR YOUR NEEDS
Here's a look at how full-service professional movers and a container moving service like PODS stack up in the areas that matter most.
Full-Service Movers
PODS

Type of Move
Local and Long-Distance Moves
Local and Long-Distance Moves
Flexibility
Low
High
Move Size
Small to Large
Small to Large
Damage Rate
Medium to High
Low*
Storage Options
Limited to None
Yes
Packing & Loading
Loading Included,
Packing Optional
Referrals Available
Cost
High
Medium
*PODS' damage claims are less than 2% compared to 20% in the full-service industry, according to the American Moving and Storage Association.
Local movers are a great option for folks with limited budgets, small moves within the same city, and if you don't have a lot of valuable or breakable items.
Hiring a professional full-service moving company is usually the most expensive option and tends to be best for people who don't want much involvement in their move and don't require schedule flexibility or storage options.
Moving container services like PODS work for all types and sizes of moves, and land somewhere in the middle in terms of price. They are also the best option when flexibility, storage needs, and limiting damage are a priority. It's also easy to arrange for local packing or loading help with their professional referrals, so you just pay for the services you need most.
Pro Tip: Using a moving container or rental truck? You can still get a helping hand with the packing and heavy lifting. Check out our tips on hiring hourly moving help when you need a helping hand.
Once you've decided on what types of moving services you want to explore, you'll need to dive deeper to get the details of each specific moving company and pricing so you can comparison-shop. Here's a list of must-ask questions to have at the ready.
Questions to ask full-service movers for local moves
Full-service movers usually charge by the hour for local moves, but there may be extra fees if you have stairs, extra-heavy items, or other challenges. While many local movers are established companies that are licensed and insured, there are also "man-with-a-van services" that may be adequate for very small or partial moves. These would not be considered "full-service movers," and you need to be aware that they often aren't licensed and insured, and may be moonlighting as movers for extra cash.
Here's what to ask:
• What is your minimum number of hours? Many local movers that charge by the hour have enticing by-the-hour rates but have a minimum number of hours, usually two or three. You also want to ask when the clock begins, as some charge for the travel time from their last job to yours.
• When does overtime kick in? Hourly rates can kick into overtime as soon as the allotted time for your quote ends or after a maximum number of hours is reached.
• How many movers are included in my rate? Find out how many movers will be working on your move — it can make a big difference when it comes to calculating the overall time of your move.
• Do you accept or expect tips? Some moving companies may not accept tips or have them built into the rate, while others may keep rates attractive but expect a tip at the end of service.
• Is my move date guaranteed? Make sure to get your date in writing, and check on the terms if you need to make changes.
Questions to ask full-service movers for long-distance moves
Professional full-service movers use large trucks and often consolidate multiple clients' belongings inside the same truck to make long-distance moves more efficient. They typically charge by weight and/or square feet plus distance. Professional movers are full-time movers and should be licensed and insured.
Here's what to ask:
• Are you a broker or a carrier? Full-service moving companies sometimes sub-out all or part of a move to third-party contractors. This can result in lower rates for you, but can also make things complicated when it comes to resolving issues.
• What services are included in my quoted rate? Get down to the nitty gritty with specifics on what exact services your quote includes and what services cost extra, such as moving up and down stairs and handling extra-heavy items like a piano or large appliance.
• How do you price your moves? I like to see a line-item breakdown of just how they came up with my rate, even down to the inventory list. At the minimum, know if they calculate the rate based on mileage, square footage, weight, or a combination of these.
Questions to ask a moving container service for local and long-distance moves
When you use a moving container service, your things are packed and transported in their very own container. While you're responsible for the packing and loading, you have the option of hiring hourly help for the stuff you don't want to do -- or everything. A service like PODS offers convenient container delivery and pick-up, as well as storage on either side of the move -- either on your property or at a secure storage center. Rates are usually calculated based on the size of the container, distance of the move, and storage time.
Here's what to ask:
• How do you price your moves? Again, it's great to have this information, especially with container services so you know how to compare if you shop around.
• Is delivery and pick-up included in my rate? Deliver and pick-up fees should always be clearly listed in your quote. Sometimes delivery and pick-up are provided for free, but usually only if you're using storage for a minimum period of time. For example, PODS often offers free delivery and pick-up with three or more months of storage.
• How much does container storage cost? With PODS, storage is based on a monthly fee.
• How flexible is your scheduling?  PODS offers easy rescheduling and cancellations. Customers can reschedule and cancel their initial container delivery with just a three-day notice at no cost.
For more information on PODS' Reschedule and Cancel policy, visit pods.com/cancel.
• How long can you take to load or unload your stuff? With PODS, you get a full 30 days to complete your move, with the option to pay for more time on a monthly basis, while other container companies may only allow a few days.
• How do you transport your containers? For example, PODS uses a proprietary level-lift machine designed to lift and load containers while keeping them straight and steady.
• How sturdy are your containers? Not all portable storage containers are created equal. The quality can vary significantly from company to company. While PODS containers are steel-frame and built for impact- and weather-resistance, others may be entirely made of wood covered by a tarp.
Finding the right moving company for your needs is just one step in the dance, but by far the most important one. Keep rockin' and rollin' with our ultimate moving checklist and this list of the most essential moving and packing supplies.
---
Katherine Alex Beaven is a frequent contributor to the PODS blog who has moved 20+ times because she loves to experience new places.
(Credit for image featured at top: Ketut Subiyanto via Pexels)
Get a Quote
Choose the service you need
Comments
Leave a Comment
Your email address will not be published. Required fields are marked *