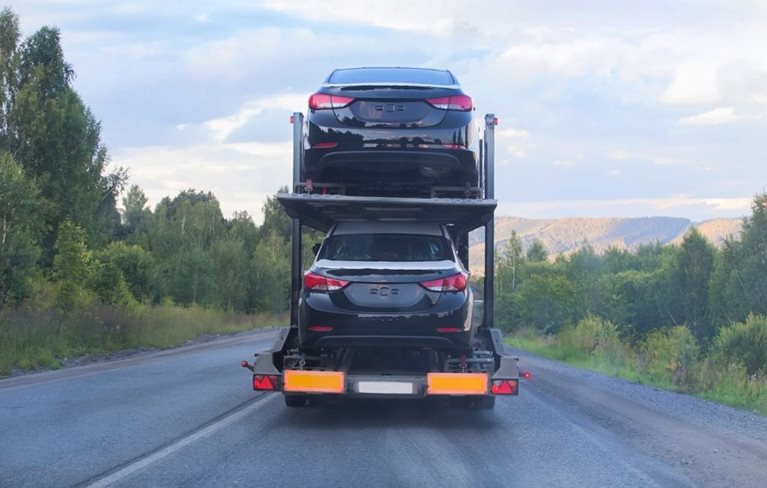 How to Ship a Car: The Ultimate 9-Step Guide
Cars are made to get us from place to place. But sometimes, like when you're moving across the country, your vehicle is the one that needs a lift.
If you're trying to figure out how to ship a car, you're not alone. The industry can be a bit confusing and if you're not careful, you might get stuck with a damaged vehicle or an inflated bill.
That's why we made this list of tips for shipping your car. Follow this guide and you should have a smooth ride from start to finish.
9 tips for shipping your car
1. Schedule early
Sometimes you need your car shipped right now. Maybe you just purchased a car from out of state and you can't wait a week to get it. Or maybe you need to haul your classic car across the country for a last-minute auto show. Or you need to make a last-minute move. Life happens.
But, whenever possible, you should schedule your vehicle shipping as early as possible. Besides distance and locations, the timing of shipping a car is probably the number one factor in determining how much it will cost.
So how early is early? It depends on the company you're using, but generally the best window for booking your auto shipment is 2-4 weeks before your desired ship date. If you try to book within less time than two weeks, auto shippers may not have availability or may charge a much higher fee.
How much does it cost to ship a car?
The cost of shipping a car can vary significantly depending on the distance, origination and destination cities, and timing. If your shipment is going less than 200 miles it can cost just $300 or less. But if you're shipping a car across the country the cost can easily top $1,000. If you want to go with enclosed transport it will add at least a few hundred to the price.
2. Do your research
Let's say you're moving to L.A. in the fall and you need someone to schlep your vehicle across the country. How do you find the best company to do the job?
If you Google, "ship my car to L.A.'' you're going to get a lot of hits. But you don't necessarily want to go with the first company that appears on the list. In fact, many of the top hits may be brokers rather than actual carriers. What's the difference?
Auto transport broker: Using a broker is a convenient but indirect way of shipping a car. Brokers are in touch with many different auto carriers and will give you an estimate based on the quotes they get from the carriers. The broker will add certain fees on top of the actual price of shipment, which is how they make their money.
Auto transport carrier: Carriers are the actual companies that do the shipping. They offer a smaller range of shipment options than a broker (some carriers just operate a few trucks) and can be harder to find online. But when you book with a carrier you're working directly with the individuals who do the shipping.
So which is better? That depends on what you want.
The biggest risk in using a broker is that you end up with a bill that's higher than your quote (brokers often underquote to get your business). The biggest risk in going directly to a carrier is that it requires more research and the company may have fewer scheduling options.
Q: What's the cheapest way to ship your car?
A: Usually the cheapest way to ship your car is to book directly with a local or regional company. But this can require more research and preparation. Be wary of deals that sound too good. Sometimes brokers will quote a very cheap price, and then you'll end up stuck with a big bill once your car is actually delivered.
3. Pick a reliable company
You wouldn't give the keys to your brand new Corvette to your 16-year-old son. So why should you give them to some random auto shipper?
Once you've gotten quotes from various vehicle shipping companies or brokers, you'll want to do some final vetting before signing a contract or putting down a deposit.
Here are a few things to look for when picking out a reliable car shipping company.
Read the reviews: Check reviews on Yelp and other online aggregators to see what other customers have to say about the company.
Get referrals: Check with your moving company or corporate relocation company, who often have relationships with reputable vehicle shipping companies.
Be wary of large deposits or strange payment methods (like wire transfers): Most legitimate companies will require a small deposit or no deposit at all. It is normal for a company to prefer cash payments upon receipt of the vehicle.
Make sure the company is registered: All direct carriers and brokers must be registered with the U.S. Department of Transportation. Federal Motor Carrier Safety Administration (FMCSA). You can look up the company by name or its Motor Carrier (MC) number on the FMCSA website and check their status.
4. CHOOSE THE RIGHT SHIPPING METHOD FOR YOUR VEHICLE
There are two main ways of transporting a vehicle: open and enclosed. These methods are just what they sound like.
Open vehicle shipping is the industry standard and involves putting your car on an open truck. You've definitely seen these open carriers on the road (huge semi-trucks hauling a two-level stack of cars).
Enclosed vehicle shipping means your car will be in a completely closed truck. Fewer cars fit into enclosed trucks and it can cost significantly more than open transport.
If you're moving cross-country and just want to get your family vehicle to your new house, you should probably just save money and choose open transport. Your car will be exposed to a few risks (hail damage, rock chips, bird poop, etc.), but it's much cheaper and damage is rare. Enclosed transport is mostly used by people shipping rare classic cars or expensive sports cars.
5. Get a contract
All legitimate vehicle shipping companies will provide a contract when you book your car for shipment. These contracts can be lengthy and convoluted, but it's important to understand some basic elements of the agreement before signing.
Auto shipment contracts should state the:
Quoted price
Estimated delivery date
Cancellation policies and fees
Claims procedures
Insurance information
If you don't agree to what's stated in the contract, contact the company and get clarification or request a change.
6. Check insurance coverage
Thinking about insurance is probably the last thing you want to do while you're in the middle of a move. But just like with moving insurance, it's worth a few minutes of your time to double-check your auto shipper's insurance coverage.
Most companies will have somewhere between $50,000 and $100,000 in coverage. While that may be enough to cover your 2015 Ford Escape, it might not be enough for newer and fancier vehicles.
Another thing to look for in your auto carrier's insurance policy is exemptions. Many policies explicitly do not cover "acts of god," which is basically anything that happens in a disaster movie (earthquakes, volcanos, floods, hurricanes, giant green superheroes who "smash").
If you do need additional coverage, check with your existing auto insurer or call the carrier to see what options they may have.
7. Clean your car
We're not here to be the tidy-up police. What empty soda bottles and greasy fast-food containers you have stuffed under your seat is your business.
However, having a messy car will make it much harder to do a pre-trip and post-trip inspection. These inspections are when you and the carrier agree on the condition of the vehicle, so that any damage that happens during transport can be tracked.
You don't have to detail your entire vehicle, but if things are too dirty some carriers may refuse transport altogether.
Q: Can you put stuff in your car when you ship it?
A: The short answer is no, your car is not a PODS shipping container. But some companies may allow you to put a very limited amount of stuff in your vehicle during transport (often there's a 100-pound limit), so you don't have to worry about clearing out emergency equipment and other odds and ends that you may keep in your trunk.
8. Disable alarms and remove accessories
Military families, snowbirds, car collectors, or anyone else who regularly ships vehicles across the country will know this one well. You definitely want to disable your car alarm before you ship your car.
Why? Because if your alarm goes off during transport the driver has permission to turn it off by any means necessary. Do you remember that scene in The Big Lebowski where Walter destroys the sports car with a baseball bat? That may be a bit extreme, but you get the picture.
You'll also need to take off any spoiler kits, custom hoods, fender flares, side skirts, or other body modifications you've made on your ride. These extra parts can easily get damaged when shipping a car.
9. Inspect your vehicle upon pick-up and delivery
When the driver arrives to pick up your vehicle you want to make sure that you do an inspection and get a bill of loading. This is a document that verifies that the driver has picked up your vehicle.
You'll need to be present when the vehicle is delivered so that you can do a post-trip inspection. This is when you'll look for any damage that happened during the trip and finish up any payments you haven't yet made. Be sure to document any damage thoroughly for any future insurance claims.
Q: How much should you tip for the delivery of a car?
A: You're not required to tip your car transport driver, but it's a nice thing to do. If your car was delivered on time, the driver was communicative, and everything else looks in order, you may want to consider throwing in an extra $20 (or more!) for the driver.
Now that you've got a clear idea about how to ship your car, you can get back to researching your moving options. See our blog about cross country moving costs, for ballpark estimates and pros and cons for your three main options: traditional full-service movers, rental trucks, and moving and storage containers. Ready to get a no-obligation quote? Call PODS at 877-350-7637.
---
Easton Smith works as a freelance writer and researcher, reviewing technology trends and the moving industry. He moved all around the continent, from New York to California, before landing back in his hometown of Salt Lake City.
Get a Quote
Choose the service you need
Comments
Leave a Comment
Your email address will not be published. Required fields are marked *