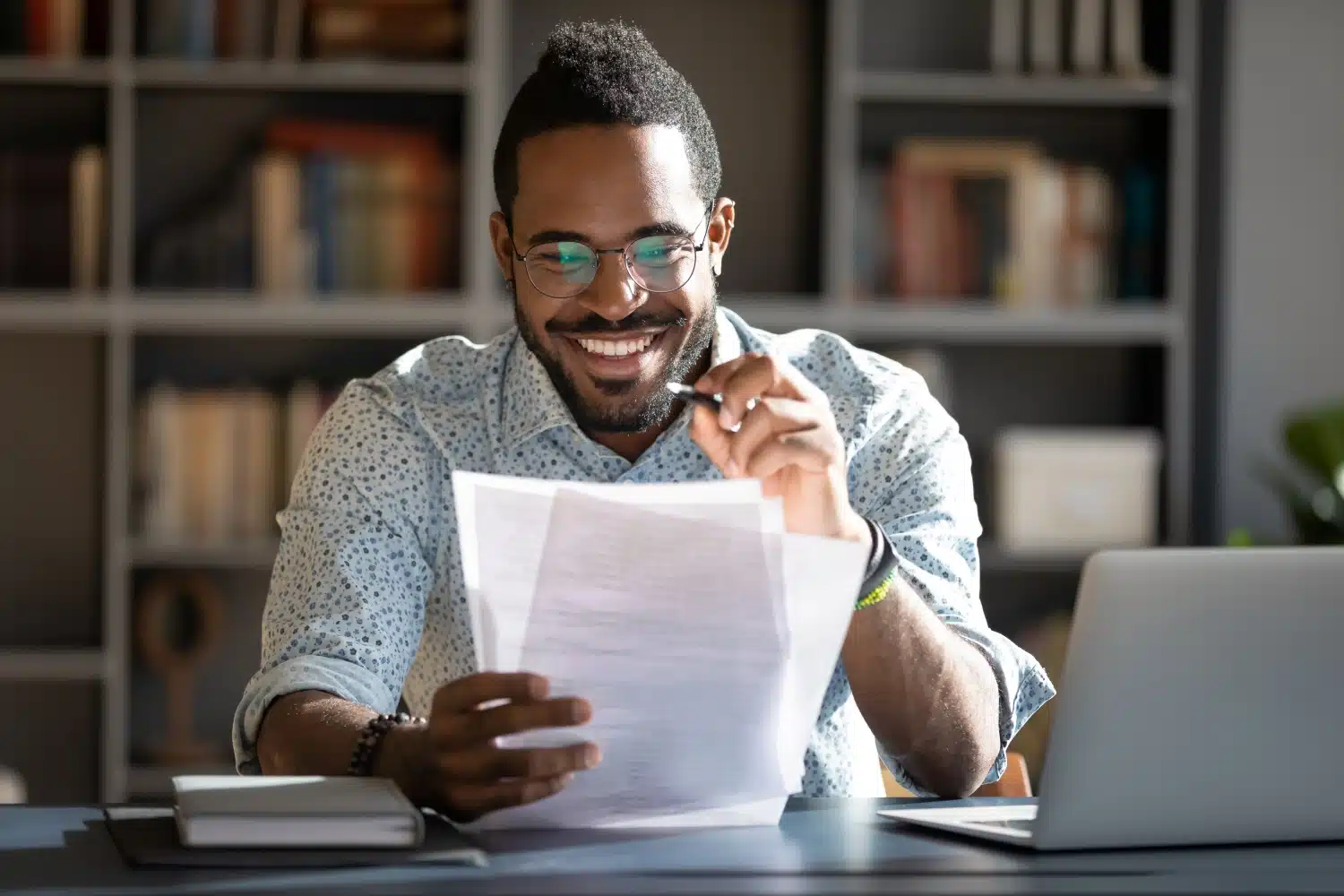 It's your move now: Negotiating a relocation package
Nearly 8.5 million Americans relocate for work each year. And whether it involves moving to a new company or taking a new position with your current employer, a fresh start is exciting. But getting from point A to B can also be pricey. Movers, storage, transportation, the search for real estate — all of the expenses add up. Thankfully, more and more employers are providing relocation support to new or promoted employees as part of their compensation packages.
And in today's competitive job market, those packages are becoming fundamental to attracting and keeping quality talent — which can translate to good news for your bank account. But as an employee, you should be sure to take a thoughtful, thorough approach to the process of negotiating a relocation package. Otherwise, you may be leaving money on the table.
If you've been offered a job or a promotion that involves transferring to a new city, here are some aspects to consider in the negotiation process as you sort out the details of your big move.
Should I ask about a relocation package?
When it comes to a relocation package, your company's hiring manager or human resources rep might not offer up this substantial perk unless you ask for it. So make sure to find out whether a policy exists and precisely what it entails. There may be a maximum dollar figure for moving costs your company won't exceed, or they may apply a flat percentage rate of your base salary. If the policy doesn't appear to be sufficient to meet your needs, you may want to think again about accepting the position in the first place.
Pro Tip: Many companies that offer relocation packages include a repayment clause in the contract, which stipulates you must pay back your relocation package if you leave the job within a set period of time. Good to know at the outset of your tenure, right?
You'll likely work with an HR manager or director to determine your compensation, although the CEO may take on the task in some cases, particularly if you're going to work for a small business. No matter who's on point for your package, though, it's important to do your homework. Read the company's website, and don't skip the fine print. Is there an employee manual? Read it. And ask lots of questions when you're working on the specifics. This is your new home you're talking about; you deserve answers to every question.
What are the types of relocation packages?
There are three main options:
Reimbursement: Keep your receipts, and your company will pay you back after you're settled into your new home. Con: There may be a full billing cycle between when you pay for your move and when you're reimbursed, so make sure your budget can handle a pretty substantial hit and potentially delayed payback.
Direct billing: All the bills are sent to your employer. Super convenient and also a good way to avoid the IRS (that is, since the money doesn't go through your bank account, it's not considered taxable income). In this case, you might consider a third-party provider to manage your move, start to finish — like PODS, which offers customizable relocation options and has more than 20 years of experience managing employee relocations across the U.S. and Canada. In fact, larger companies may actually prefer third-party relocation, since they can be confident you're dealing with reputable providers.
Lump sum: Your company gives you a one-time payment to use as you wish for moving expenses. Do keep in mind added expenses always pop up unexpectedly for things you might not have considered; be sure to budget carefully so you don't come up short.
How much is the average relocation package?
The amount of money a company is willing to invest to help you relocate varies significantly, of course, depending on the business, your position, where you're based, and other factors. Some executives are able to negotiate packages that include buying out their current homes. That's not likely to happen for someone in a mid-level management role or for an associate going to work for a small business. But there are plenty of strategies new or promoted employees can use to help boost the bottom line, no matter where they happen to be on the corporate ladder.
Pro Tip: If the base salary your employer offers is lower than you'd hoped, negotiating a robust relocation package as part of your comp plan can be a good way to offset the difference. And companies are generally more flexible when it comes to a one-time payout (e.g., moving expenses) versus ongoing, repeated expenditures (e.g., your salary).
Before you sit down to negotiate your own relocation package, take a look at some examples that illustrate the typical expenses an employee may encounter and how a typical employer might respond:
Jon is leaving his Atlanta-based company to take a position as the art director for a non-profit in Boston. He currently rents his home, and he has three months remaining on his lease. Jon estimates it will take one week to find a new apartment or rental house.
Among his relocation needs: movers to pack up his things and get them to Boston as well as a company to ship his car. His new boss needs him to start on a big project right away, so Jon will use Uber as needed in Boston until his car arrives. He thinks it will take about a week to 10 days to find a new apartment, so he'll need temporary housing for himself and moving and storage for his things.
After reviewing the list of Jon's requests, his new boss agrees to give him a lump-sum payment of $5,000 to help foot the bill for the move. The support won't cover all of his expenses. But given the cost of living in Boston, his position, and the non-profit status of his new employer, Jon is satisfied with the deal.
Jane is an Austin-based senior manager for an insurance company, and her promotion to VP requires a move to the company's headquarters in Seattle. She and her husband have two kids, own a four-bedroom home, and have three cars, a golf cart, and a sailboat. Jane and her family plan to rent an RV and turn the move into a family road trip, so by the time they get to Seattle, their belongings will already have arrived.
Jane includes the following as part of her relocation package request to her board of directors: movers to pack, load, transport, and unpack furniture; a transportation company to get their boat and two of their cars to Seattle (they'll tow the third behind the RV for use on their road trip); two recon trips to Seattle to house-hunt; temporary housing for her family while they wait for construction to wrap up on their new home; and storage for their belongings.
Jane's board of directors agrees to foot the bill for her family's expenses, in the form of reimbursement. The maximum: $50,000.
Just like Jon's package, Jane's agreement isn't likely to cover everything. But it will definitely help with the potential financial hit she will incur, and it signals to Jane her board values her work; they're willing to invest in Jane as she makes her long-distance move.
Are specific industries more likely to offer relocation packages?
Nearly all industries today include some form of relocation support in their compensation programs, driven by demand from job candidates in an incredibly competitive job market. In fact, in a 2021 survey about mobility, 3 in 5 workers (59% surveyed) said they were actually more willing to relocate for work now than they were prior to the pandemic. And employees understand candidates now have the power: 92% of respondents said they would require a financial incentive to accept the relocation — such as a raise, housing allowance, and/or reimbursement for moving expenses.
Are there any "extras" I should ask for that qualify as relocation assistance?
It's a given, unplanned expenses will arise — whether it's a $10 bottle of water at the airport or a flat-tire repair halfway to your new city. But there are also meaningful adjustments you or your entire family will need to make with this fresh start.
Be sure to consider these items as you calculate your relocation package:
If you're moving with a partner, they will likely need to find a new job in the new city, as well. You may be able to negotiate with your new boss for someone to help familiarize your partner with the landscape — corporate, philanthropic, and cultural.
If you're a homeowner, your new company may be willing to foot the bill to help sell your current home. This is a few steps below buying out the mortgage, but still a gesture that could go a long way toward smoothing your transition. Just imagine the relief of not having to worry about listing your house or scheduling showings!
There are administrative fees to consider adding to your request, as well, such as registering your car in a new state, getting a new driver's license, and securing deposits for utilities in your new house. Membership fees for a gym or country club may be fair game, too. After all, mingling on the golf course is an important networking investment as you get to know the lay of the land.
How do I know my relocation package is final?
Most important of all: Get everything in writing. This is critical. In a perfect world, you'll love your new job, the city, and every part of this next chapter of your life. But it's always a good idea to have business agreements in writing, to help resolve any misunderstanding or miscue quickly and efficiently. So when your relocation package negotiation is complete, include all the details in your letter of agreement — in writing, time-stamped, and signed by the appropriate company representative.

Then? It's time to get moving! For tips and tricks on how to make the most of your relocation — including plenty of packing advice from the pros — check out our PODS blog, Containing the Chaos.
---
Shannon Jacobs is a Tampa-based freelance writer and frequent contributor to the PODS blog. She has lived in Atlanta, the Berkshires, and Nashville, but always returns to the warmth of Florida's Gulf Coast.
Get a Quote
Choose the service you need
Comments
Leave a Comment
Your email address will not be published. Required fields are marked *