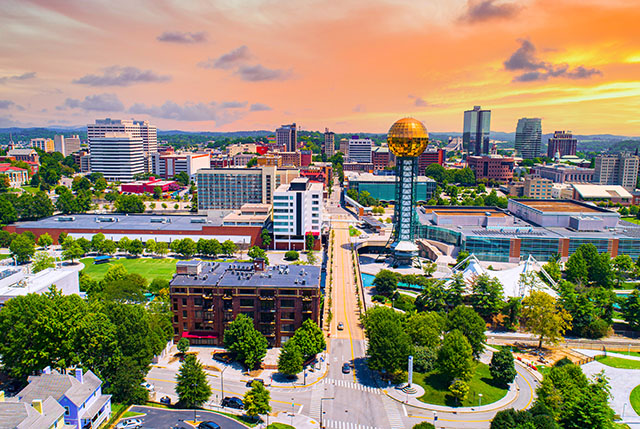 Check Out the 12 Best Knoxville Neighborhoods and Suburbs
If you've been on the "Gateway to The Great Smoky Mountains," Knoxville is one of Tennessee's best cities and full of natural beauty. The city is also home to many parks and greenways, which offer peaceful retreats away from the hustle and bustle of other areas.
Ready to move to Knoxville? See how PODS can help.

Q: Why are so many people moving to Knoxville, Tennessee?
A: The University of Tennessee is a huge draw for students, professors, and faculty to move to Knoxville for work or school. But that's not all Knox has to offer. With a vibrant arts and culture scene that offers a variety of galleries, museums, and festivals, Knoxville doesn't shirk on quality of life beyond campus. It also has quite the affordable cost of living at almost 15% lower than the national average. Fantastic job opportunities are spread all throughout the city, in industries that include healthcare, education, and technology.

The average home value in Knoxville is $334,700 compared to the national average of $348,850. The average rent in Knoxville is $1,600, not too far off from the national average of $1,700.

Q: What is the richest part of Knoxville?
A: With an average home price of close to $650,000, the neighborhood of Sequoyah Hills is considered one of the richest parts of Knoxville.
Best Neighborhoods in Knoxville
Due to Knoxville's overall affordability, high quality of living, and many other living perks, it's so easy for residents to instantly fall in love with the city's suburban feel, which is full of fun things to do. From students, to young professionals, to families, and retirees, there are plenty of great neighborhoods and suburbs to choose from.

No matter if you're looking for apartments, townhomes, single-family homes, or luxury homes, there is a neighborhood in Knoxville that has got you covered. Surrounded by some of the most appealing amenities that Knoxville has to offer, check out some of the best Knoxville neighborhoods and suburbs on the market today!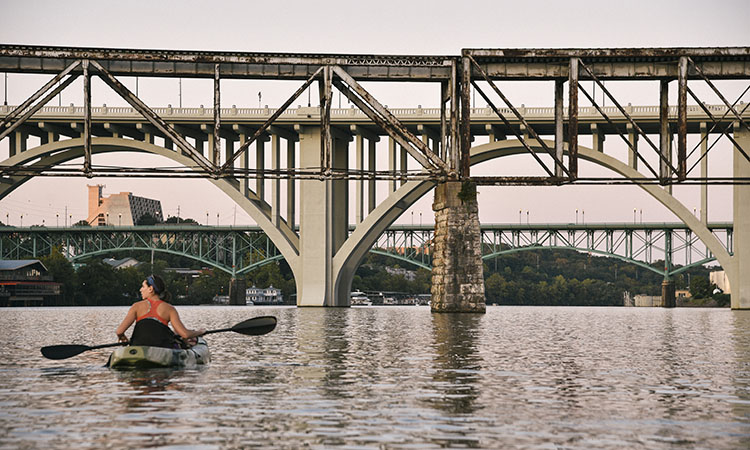 1. Parkridge
Average rent (one-bedroom):
$1,150
Average home value:
$325,000
Great for: Diversity, victorian-style homes, family-friendly community, parks, green spaces, families
Parkridge is a diverse community located off Magnolia Avenue, just east of Downtown Knoxville. It was originally developed as a suburb during the 1890s for working professionals. More specifically, Parkridge acted as a streetcar-served community for professionals who worked in the downtown area.
Parkridge is home to many single-family homes that feature Victorian-style architecture. Many of these were designed by George Barber, who was a prominent architect during the late 19th century.
Parkridge is regarded as a family-friendly community, featuring various parks and open green spaces that are great for children and adults to enjoy.
2. Old City
Average rent (one-bedroom):
$1,900
Average home value:
$447,400
Great for: Historical atmosphere, shopping, art galleries, young professionals
The area around the northeast corner of downtown Knoxville is known as Old City. This neighborhood is full of creative individuals and is regarded as an independent cultural center.
Old City has a lot of historical significance, with restored 19th century buildings that provide both an interesting and lively atmosphere. It also has trendy shops and galleries, as well as regional artists' studios. The Emporium Center and the Knoxville Botanical Garden and Arboretum are some hotspots in the area which feature art galleries, beautiful gardens, and much more pretty sights.
3. Marble City
Average rent (one-bedroom): N/A
Average home value:
$118,000
Great for: Vibrant historic district, restaurants, beautiful homes, young professionals, families
Located in the heart of Knoxville's historic district, Marble City is a great place to live. It has an eclectic dining scene with several global-inspired establishments, including Emma's Southern Kitchen and Gosh Ethiopian Restaurant. Beautiful 19th-century homes are also in the area, with miles of trails that are ideal for cycling, walking, and running.
The Marble City Market is a 15,000 square foot facility that's located in the Regas Square, which is a great place for visitors and residents alike to try new dishes. Popular vendors include Seoul Brothers, Boo Jack Chick-N-Shack, and Algo Deli.
4. Mechanicsville
Average rent (one-bedroom): N/A
Average home value:
$198,000
Great for: Historical buildings, small businesses, single-family homes, retirees, families
Situated near Downtown Knoxville, Mechanicsville is regarded as one of the oldest neighborhoods in the city. It was first established in the 1860s as a place where skilled mechanics and laborers could work, and even provided housing to Welsh iron specialists and other laborers working in local factories.
Although it may seem like a small community, Mechanicsville has become a beloved neighborhood due to its single-family homes and many local small businesses. One of the oldest fire stations in the city can be found in Mechanicsville, and you can also find the Old Mechanicsville Park located just across the street.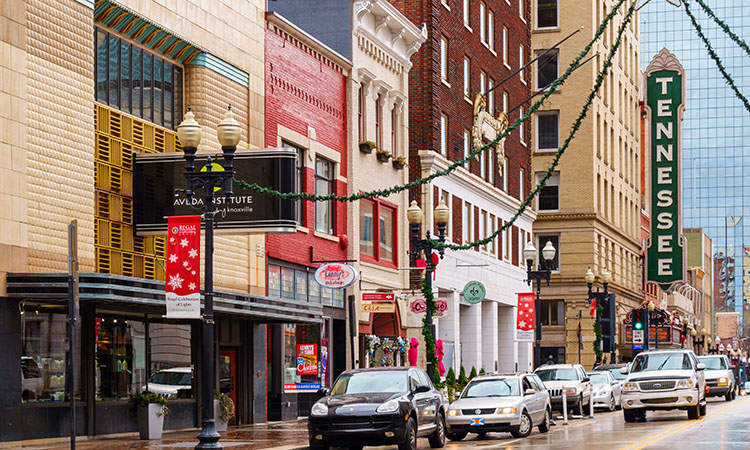 5. Downtown Knoxville
Average rent (one-bedroom): N/A
Average home value:
$546,000
Great for: Bars, art, walkability, students, young professionals
Known as the central business district of the city, Downtown Knoxville is full of life and excitement. It is home to a variety of stores and restaurants, as well as bars and lounges. It's also situated just minutes away from the University of Tennessee, a public land-grant research university.
This area is considered to be one of the most walkable communities in Knoxville due to its proximity to the area's various attractions, which include the Knoxville Museum of Art and the Haunted Knoxville Ghost Tours which are about all things paranormal investigation! Residents can easily get around downtown without using a car, since each of the distinct areas are less than less than one square mile away from each other.
Ideally situated for young professionals, couples, and students looking to live near their workplace, Downtown Knoxville is East Tennessee's heart and soul, full of life and excitement!
Q: Is it safe to walk around downtown Knoxville?
A: Your chance of being a victim to property or violent crime is around 1 in 20, which means that safety is not something Knoxville always prides itself on.
6. North Knoxville
Average rent (one-bedroom): N/A
Average home value:
$257,500
Great for: History, beautiful homes, trails, parks, retirees, families
Located in the heart of the city, North Knoxville is a growing community that features a variety of parks, such as Adair Park, which includes 39 acres of playgrounds and more!
North Knoxville is known for its combination of modern conveniences and historic charm. It is also a designated national historic district, since it was a main center of marble distribution in the 1900s. and most of the area is protected by H1 zoning.
North Knoxville is characterized by its large estates and renovated single-family homes, making it a great Knoxville neighborhood for retirees. It also has a variety of asymmetrical and unique architectural styles, such as Queen Anne and Craftsman.
7. Fountain City
Average rent (one-bedroom):
$1,400
Average home value:
$287,200
Great for: Outdoor activities, music, restaurants, young professionals
Before it was annexed into Knoxville in 1962, the community of Fountain City was an unincorporated area that always had a different feel to the rest of Knoxville. Now, it's a flourishing community that's just past North Knoxville.
Due to its low-key nature and quiet residential area, Fountain City is a great place for people looking for a break from the hustle and bustle of city life. Fun outdoor activities and music venues are prevalent in the area, along with some highly regarded places to eat including Sam and Andy's Fountain City, which is the ultimate burger hub in Knoxville The Vol is a must try and of course, a Knoxville classic!
8. East Knoxville
Average rent (one-bedroom): N/A
Average home value:
$240,000
Great for: Outdoor activities, music, restaurants, young professionals
East Knoxville is a vibrant section of the city of Knoxville that is east of the downtown area. It is bordered by First Creek on the east, James White Parkway on the south, and Neyland Drive on the west. Some of its major popular attractions include the Beck Cultural Exchange Center, a museum of African American culture and history since approximately 1975.
9. Sequoyah Hills
Average rent (one-bedroom): N/A
Average home value:
$650,000
Great for: History, parks, churches, families, retirees
Situated behind tall trees is a massive neighborhood that includes churches like Sequoyah Hills Presbyterian and a plethora of exquisite homes. The historic Sequoyah Hills neighborhood is easy to miss, but it is also a hidden gem in the city of Knoxville.
The area has plenty of inclines and turns, along with full and mature dogwood and cherry blossom trees.Residents can always be found walking and running along the trails and pathways at Cherokee Park.
10. Oakwood
Average rent (one-bedroom):
$1,250
Average home value:
$240,000
Great for: Restaurants, bars, parks, schools, beautiful variety of homes
Located in north Knoxville, the historic district of Oakwood is around 2.5 miles from downtown. This area is great for people looking for an urban setting without having to live in a central district.
Many of the area's parks are located in this neighborhood, such as Oakwood Heritage Park and Caswell Park which are great places to walk and explore some of Knoxville's outdoor beauty. Although it's mainly residential, some of the community's best restaurants and bars can be found here. There are also several good schools within the area, making this a great place for families to settle down.
This area has plenty of homes with distinctive architectural styles. Many of these were constructed during the 1920s to the 1950s, which feature various types of housing such as condominiums and townhomes.
11. Fourth and Gill
Average rent (one-bedroom):
$700
Average home value:
$622,000
Great for: Shopping, restaurants, parks, local zoo, beautiful historical homes with a style variety, families, young professionals, retirees
The Fourth and Gill neighborhood is a historic district that's about five minutes away from downtown. Its residents enjoy easy access to various shops and restaurants within the city center. This area is a great place to call home if you're looking for a place full of activities and culture.
Various parks are located in this neighborhood, such as the Chilhowee Park which features over 80 acres of outdoor sites indoor venue spaces, along with fairs, festivals, and concerts. Broadway Avenue is also nearby, making it convenient for residents to run errands or pick up groceries at places like Three River's Market.
The area's center, Fourth and Gill Park, is a one-acre park that features a playground, picnic tables, and a gazebo. The streets are also lined with gardens, and this neighborhood has a strong sense of community due to the many events like farmers markets that its residents hold each year.
Many of the area's historic homes were built in the 1800s, and most were built with Craftsman or Queen-Anne styles. There are also American Foursquare and Gothic Revival homes.
12. Maryville
Average rent (one-bedroom):
$1,300
Average home value:
$377,450
Great for: Outdoor enthusiasts, fun local attractions, parks, playgrounds, highly regarded school district, families
Situated in Blount County, Maryville is a suburb about 30 minutes south of downtown Knoxville.
Maryville was established in 1785 and is known for its Maryville college, along with its highly regarded public schools. Maryville is located near the Great Smoky Mountains and the Knoxville (TYS) airport, and residents can enjoy living in this beautiful area with great views of the surrounding countryside and farmlands. Several parks and playgrounds are nearby, and even a drive-in movie theater called the Parkway Drive-In Theatre.
Due to its proximity to some of the area's most popular tourist attractions such as the Great Smoky Mountains, Maryville residents have easy access to fun outdoor activities.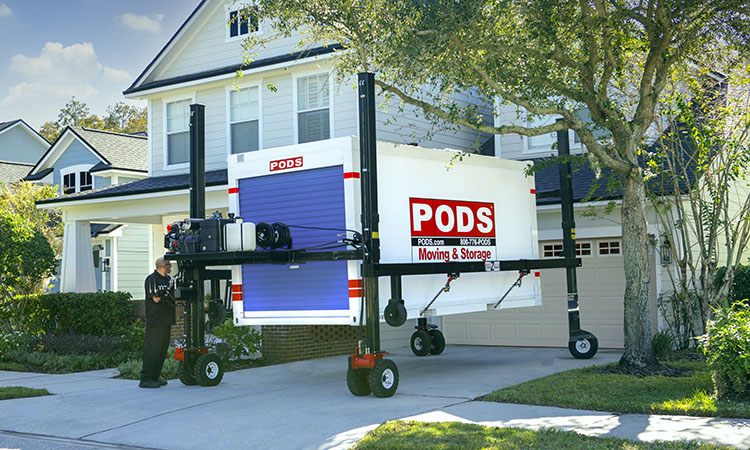 Knoxville Moves are Easier with PODS
When you've found the perfect neighborhood in Knoxville, let PODS deliver a portable storage container to your doorstep to help get you moving. They'll take it to your new residence once you're ready to move, and they'll also provide you with a month's worth of storage to make unloading easy without any kind of rush.
Get a Quote
Choose the service you need
Comments
Leave a Comment
Your email address will not be published. Required fields are marked *