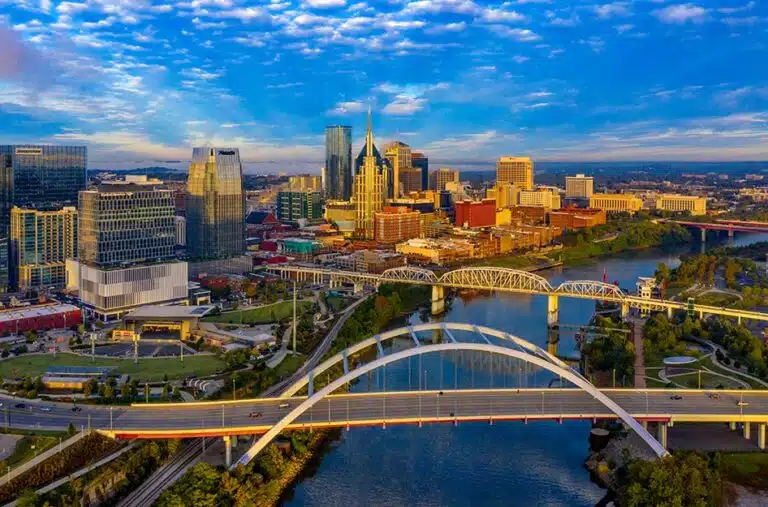 Music, Movers, and Job Markets: The Essentials of Moving to Nashville, Tennessee
If seeing country music at the historic Grand Ole Opry, bopping around town to different honky-tonks, and brushing up on your music trivia at the Johnny Cash Museum sounds like your perfect weekend, it may be time to move to Nashville, Tennessee. Dubbed Music City and Nashvegas, there's no shortage of rollicking venues and celebrated country music sites to keep you entertained.
Plus, it's home to the cayenne pepper-coated delicacy hot chicken, the Parthenon replica that helped the city earn yet another nickname (the Athens of the south), and nearly two dozen colleges and universities that keep the city evolving and vibrant. As for how you'll spend the rest of your time and what it's logistically like to live there? Take a peek into what moving to Nashville, TN means through this handy moving guide.
Is It Worth Moving to Nashville?
For someone looking for a modestly sized city with a healthy job market and buzzing downtown, moving to Nashville, Tennessee, is certainly worth it. With a population of more than 715,000, the state capital is manageable for those moving from smaller towns while still offering enough to do for those coming from larger cities — it's dwarfed by New York City's population of 8.8 million, for instance, but it's pretty comparable to Boston's size. Nicknamed the Music City, Nashville is, of course, brimming with musical talent and live shows, making for a unique and melodic social scene. Plus, owing to the city being a center of talent and the 20 or so colleges, there is a large population of young people that call the city home.
Is Nashville Expensive to Live In?
With inflation kicking into high gear and prices on the rise nationally, it's tough to point to any city and call it affordable. That said, Nashville certainly clocks in below other states. The cost of living is 4.8% lower than the national average. However, as the population has slowly been on the rise, so has the cost of living — it's up just over 1% from a year ago. It's also worth noting that the city's minimum wage is currently $7.25 (nearly half the minimum rate in Boston, a comparably sized center).
When it comes to housing, the average rent for a 1-bedroom apartment in Nashville is $1,694, according to RENTCafe. For those looking to buy, you'll be entering a hot real estate market: Recent Re/Max housing reports have noted Nashville's "average days on market" number as one of the lowest nationally, and the median home sale price has hit $450,000.
What Salary Do You Need to Live in Nashville?
There's no hard and fast answer to this question, but the 2020 average median household income in Nashville, according to the Census, was $62,515. GoBankingRates suggests that you need a salary of nearly $90,000 to live comfortably as a homeowner and around $75,000 to live comfortably as a renter. Of course, factors such as where you live in the city and what you pay for rent or mortgage play a huge factor. If you're looking for an answer more specific to your situation, you can plug your job criteria into this nifty cost of living calculator to see if the City of Music is in tune with your budget.
Jobs in Nashville, TN
If you've seen the hit ABC television show "Nashville" (watching this show was a core part of my 2010s), you already know: Nashville is the place to be for country stars and aspiring indie musicians alike. But even those with no musical prowess (i.e., me) have a good shot at making it there. Based on factors such as job growth, unemployment rate, and housing affordability, Money Geek dubbed Nashville the sixth best city for job seekers in the U.S. It scored particularly well in terms of comparatively low job competition and high job and wage growth. If moving to Nashville is on your radar — particularly moving to Nashville alone — knowing you're entering a job market in good health is seriously appealing.
Nashville Neighborhoods
Chances are, there's a Nashville neighborhood with your name on it. Here are a few of our faves.
For the nightlife enthusiast… The Gulch
You'll find no shortage of coffee spots, restaurants, and bars in the Gulch. Just south of the downtown district, this neighborhood is filled with recently built high-rises and luxury apartments. Living here means extremely walkable access to plenty of shopping, nightlife (Niche gives it an A+ nightlife grade), and things to do. Plus, thanks to a free bus circuit and B-cycle bike share station, getting to other parts of the city is fairly seamless. While young professionals and night owls looking to be in the thick of it all will likely love it here, the area may be a less natural fit for parents with young children or those looking to land a single-family home with a yard of their own.
For the music-loving couple… Edgehill Village
Situated just next to Music Row, Edgehill Village offers premiere access to landmarks of music history, such as the studio where Elvis recorded hundreds of songs. Edgehill itself is a small community of a few thousand, which Niche has ranked among the top 20 best Nashville neighborhoods to raise a family. Despite its historic backdrop, cool new businesses are continually added to the community, making it a modern home for the many young professionals that reside there. The vibe in Edgehill Village? Think a tapas bar with Spanish and Mediterranean small plates across the street from a high-end shop that sells custom-made hats.
For the college student or family looking for a solid school… Elliston Place
Steps from Vanderbilt University's campus and sprawling Centennial Park, Elliston Place is well located for students and adults alike — especially those keen to take advantage of the area's "rock block," a length of street home to well-established bars, shops, and clubs. One of the city's oldest streets, Elliston Place boasts no shortage of spots worth visiting, such as the popular Exit/In, a music venue established back in 1971. You'll find mostly condos and apartments in this walkable midtown neighborhood, but families with children will also be pleased to hear the public schools have a solid rating on Niche. As for the neighborhood overall, it earns an A+ grade — tough to beat that!
For a deeper peek into Nashville's neighborhoods, check out this local guide.
Nashville Local Movers
True Friends Moving Company
If you're looking to give your move over to experienced hands, check out True Friends Moving Company — one of the top local movers in Nashville. Owner Chris Knowles has always had a passion for helping others, working at a moving company through high school and college to gain the experience he would need to open his own company one day. The family-owned and operated business handles moves all around the Greater Nashville area, and reviews hail the movers' efficiency and positive attitudes during the most meticulous of moves.
6th Man Movers
This locally-owned company can help you move across the city or across the country. Licensed to move anywhere in the U.S., 6th Man Movers can take your things from one doorstop to the next, no matter the mileage. They also have an à la carte moving menu of sorts, where you can hire their brawn for individual tasks such as unloading your storage unit, emptying out your office, or moving your furniture from a room on the day the new floors are being installed.
Moving Truck Rental
Of course you could always skip the personalized service and rent a moving truck to make it a DIY move. This is definitely the more "effort-heavy" option, since you'll be packing, loading, and then doing all the driving yourself. If you go this route, definitely consider getting some friends to help with the heavy lifting (pizza anyone?). Yes, renting a moving truck has typically been the cheapest way to move. However, with rising gas prices, that may no longer be the case. Before committing to a truck rental, make sure you understand all the possible fees that may be included and do your best to estimate the gas you'll be using in advance.
PODS Moving and Storage Containers
Nailing down the scheduling and logistics of a move, whatever distance, is stressful. If flexibility is what you're after, PODS offers an array of options so you can choose which suits your situation best. For instance, you can have a PODS container dropped off in your driveway for you to load up at your own pace. From there, you can either have it picked up and brought to your new home or relocated to a secure storage facility where you can access it as needed. Either way, the scheduling and time you have to pack and load is completely in your control. And as for picking up the unit and driving the moving truck? PODS takes care of that. 
Ready to get rockin' and rollin'? Check out the PODS Blog for everything you'll need along the way!
---
Sofia Rivera is a Boston-based lifestyle editor and frequent contributor to the PODS Blog. Her work has appeared in Boston magazine, Apartment Therapy, and more. You can most often find her redecorating her apartment, trying out a new recipe, or trekking all over the city.
Get a Quote
Choose the service you need
Comments
Leave a Comment
Your email address will not be published. Required fields are marked *