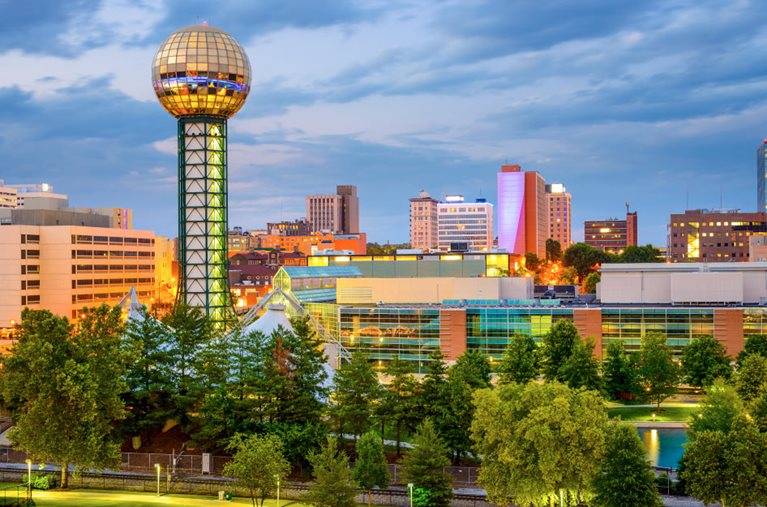 Considering Moving to Knoxville, TN? Read This Guide First!
If you're looking for an affordable, welcoming city to call your own, moving to Knoxville, TN, could be the right decision for you. This eastern Tennessee city has a lot going for it, including a bustling economy, affordable housing and living costs, and plenty of things to do in your free time. Want to check out the expansive dining scene or spend the day in the Great Smoky Mountains? Enjoy fun festivals and cultural happenings? You can do it all in Knoxville. And while you're at it, you'll get a large dose of welcoming, Southern charm. In fact, Knoxville is a great place for people of all walks of life. Whether you want to find a good paying job and put down roots, you want a great house for your family, or you're looking for a quiet place to retire, you can easily find that here.
Moving to Knoxville — Q & A
Q: Is moving to Knoxville, TN, a good idea?
A: Yes! Knoxville is considered one of the best places to live in Tennessee. It has a lot going for it, including a bustling economy, affordable housing and living costs, and plenty of things to do.
Q: What do I need to know before moving to Knoxville, Tennessee?
A: Knoxville, TN, has an affordable cost of living, lots to do, and easy access to plenty of outdoor activities — not to mention a die-hard fan base for the local university's sports teams, the UT Vols!
Q: Is Knoxville, TN, a good place to live?
A: Yes, because you're close to big city amenities but never too far away from finding peace and quiet in nature.
About Knoxville
Knoxville, TN, has a metro population of around 874,000, and the median age is 40.4 years old. Known for its robust job market, the unemployment rate is at a low 6.5%, while the average annual salary is around $50,000. In just under an hour you can be in the Great Smoky Mountains National Park, which is home to countless trails, beautiful waterfalls, and plenty of white water rafting opportunities. The Marble City offers more than easy access to the Appalachian Mountains, though. Eastern Tennessee and the Knoxville area are known as the "Great Lakes of the South" due to the many lakes, rivers, and streams perfect for boating, kayaking, or swimming.

The historic downtown district is lively — especially the famous Gay Street, which is home to theaters, restaurants, art galleries, and plenty of local small businesses. The Sunsphere Tower is the city's stand-out architectural structure, and it's home to festivals and community events throughout the year. Not to mention it offers a great view of the city and the nearby mountains from the observation deck!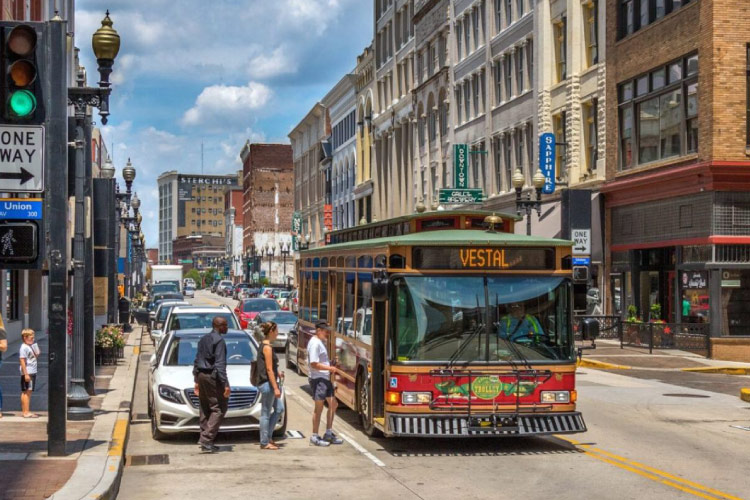 (Source: visitknoxville.com)
Pros and Cons of Moving to Knoxville
People are moving to Knoxville because of its location, the affordable cost of living, and the opportunities to be a part of a fun, vibrant community. It is also a great destination for those who want to have easy access to nature, whether to relax and unwind or to explore and learn something new.

If you plan on moving to Knoxville, you should be aware of some of the standout features of the city, as well as some drawbacks.
Affordable Living
Knoxville is one of the most affordable cities in the U.S., which is why people have been flocking to it. Young professionals like that they can find a job that pays enough for them to get their own place and put down roots. Families and retirees appreciate that the cost of entertainment, food, and utilities (along with housing costs) is relatively low. And there are plenty of ways to have fun for little to no cost!
Local Sports
If you're not a sports fan yet, you will be after living in Knoxville. The city is home to the popular University of Tennessee athletics. So whether you like football, basketball, or another sport, there are ample opportunities to see some amazing athletes. In addition, Knoxville has an ice hockey team, the Ice Bears, as well as a pro soccer team, One Knoxville.
Note: Football Saturdays in the fall are especially popular with tailgaters, which can cause some congestion if you're not participating in the fun.
Public Transportation
The downtown Knoxville area and around the university campus offer free bus rides on the Knoxville Trolley. You can also check out the Knoxville Area Transit buses, but these are best for staying close to the inner city. The further you move away, the fewer areas they serve, so keep that in mind.
Crime Rate
Knoxville's crime rate is above the Tennessee and national rate. Your chances of becoming a victim of a violent crime are 1 in 121, and your chances of becoming a victim of a property crime are 1 in 25. Make sure you research the area you want to live in, but rest easier knowing that most of the crime is centered in a few areas of the city.
Cost of Living in Knoxville
The cost of living in Knoxville is one of its biggest draws. It ranks well below the national average, coming in 89.6 out of 100. The same is true for the housing market, which is why many people have chosen this Tennessee city over more expensive cities like Nashville. The average home value is $338,300, and the average monthly rent for a one-bedroom apartment is $1,650.
Tennessee is considered one of the most tax-friendly states, as well, with low property taxes and a state sales tax of 7%. There is also no income or state tax in Tennessee.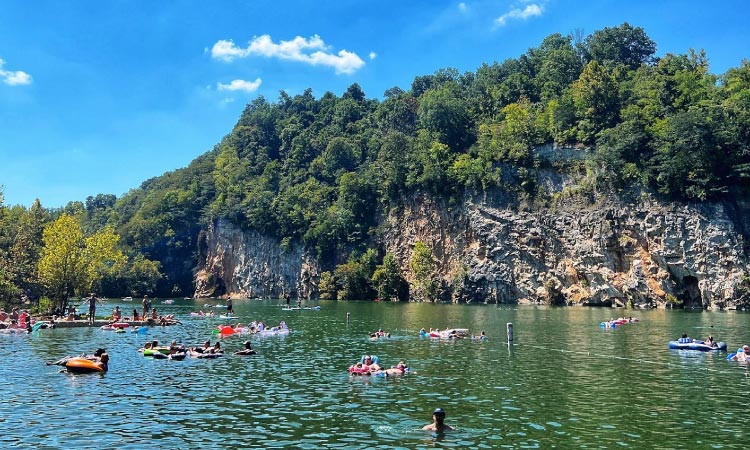 (Source: Visit Knoxville via Facebook)
Knoxville Climate and Weather
Knoxville is located in the southeastern part of the U.S., so you can expect to experience hot, muggy weather for most of the summer months. The winters are shorter, cold, and wet. And although you may see ice or (rarely) snow, the average temperature does not typically go below 31 degrees or above 88 degrees. The most pleasant months for outdoor activities are from May to June and from August to October.
Getting Around Knoxville
If you plan on living near the downtown area of Knoxville within the city limits, the buses of the Knoxville Area Transit are reliable and offer lots of stops. You could even go car-free, if this is where you choose to live! However, if you prefer to live further from the city center or in one of the many great suburbs, you'll probably want to have your own car.

Knoxville has its own airport, as well, making it easy to travel anywhere you can't get to by car! Traffic is considered tolerable but can get congested for morning and evening commutes, as well as on days the UT Volunteers football team is playing at home
Best Places to Live in Knoxville
Farragut
If you're interested in moving your family (or putting down roots in an area with great schools), then Farragut should be one of your top choices. Voted as the #1 best place to live in Knoxville, according to Niche, this suburb boasts an A+ grade and is one of the best places to purchase a house. With plenty of green space, parks, and walking paths, there's always something to do outside with the kiddos. Most people own their homes in this friendly suburb, and you'll find that you're close to shopping, can be downtown in around 30 minutes, and you have easy access to the foothills of the Great Smoky Mountains!
Oak Ridge
If you're looking for a quiet suburb to spend retirement in, consider looking for a space in Oak Ridge. With an overall A grade, according to Niche, Oak Ridge consists of plenty of residents that are over age 65, so you'll certainly have neighbors to enjoy your retirement with. This suburb has plenty of areas to go walking, and lots of residents choose to get involved in the community in their spare time.
Alcoa
With just a short 20-minute commute to the city, Alcoa is a great area for young professionals to find a place to call their own. Nestled between the airport and the town of Maryville, Alcoa offers a variety of ways for young professionals to enjoy themselves. Whether it's hanging out at Springbrook Park, heading to the Smoky Mountains, or enjoying local restaurants like Hatcher's On Target BBQ, there are tons of ways to find like-minded folks who are looking for fun.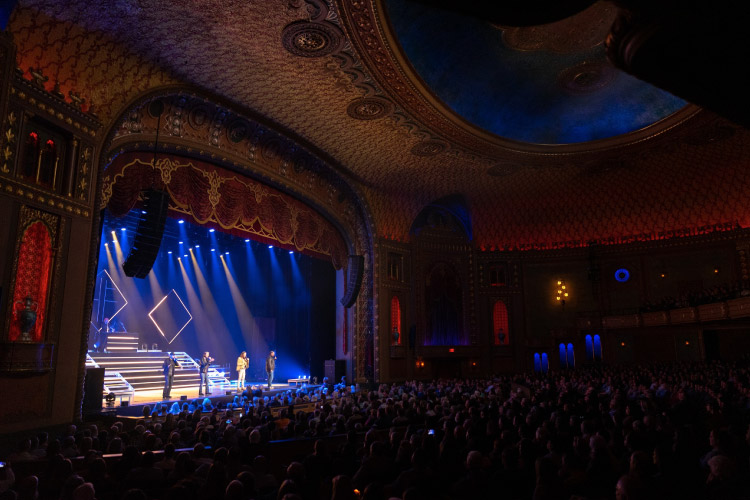 (Source: Tennessee Theatre via Facebook)
Things to Do in Knoxville
If you're looking for things to do in Knoxville, you're in luck. No matter what your interests are — outdoor recreation, art, food, dancing, sports, theater, you name it! — you can find it in this town. Knoxville boasts of fun activities throughout the year, but these are some of the top ones you're going to love once you're a resident.
Numerous festivals, like the Greek Fest, Big Ears, Mardi Growl, Dollyfest, Rossini Festival, and more!
Attending UT athletic events and tailgating
Zoo Knoxville
World's Fair Park (and the Sunsphere!)
Tennessee Theatre
James White's Fort
Knoxville Botanical Garden and Arboretum
Exploring Great Smoky Mountains National Park regularly
Moving to Knoxville
If you're thinking about moving to Knoxville, TN, it's important to know that you have options. There is no one "right way" to move your household. Just the way that works best for your situation! We've outlined a variety of ways you can make the move to Knoxville.
DIY with a Rental Truck
If you're on a tight budget, you may want to consider moving to Knoxville, TN, with a rental truck and some help from friends and family. This is often the least expensive option, but you're responsible for all the heavy lifting — not to mention you have to figure out how to get your car to your new Knoxville home.
Full-Service Movers
Another option is to hire a moving company in Knoxville, TN, for your move. This is often the most expensive option; however, your move will be handled by professionals. From packing and wrapping to loading and unloading, these movers in Knoxville, TN, will get your items safely to your new home. We should mention that you may need to micromanage the movers, though, and your belongings will most likely end up on a truck with other households. Make sure you get quotes from a few reliable full-service moving companies in Knoxville, Tennessee before you sign on the dotted line.
PODS Portable Moving Containers
You can save time and money by getting PODS to help with moving to Knoxville. With PODS, you get your own portable storage container that you can load on your schedule. Your things stay together, and when you're ready, the PODS team will come and drive your belongings to your new Knoxville home. You can always choose to add on packing, loading, and unloading services to truly make this a hybrid move!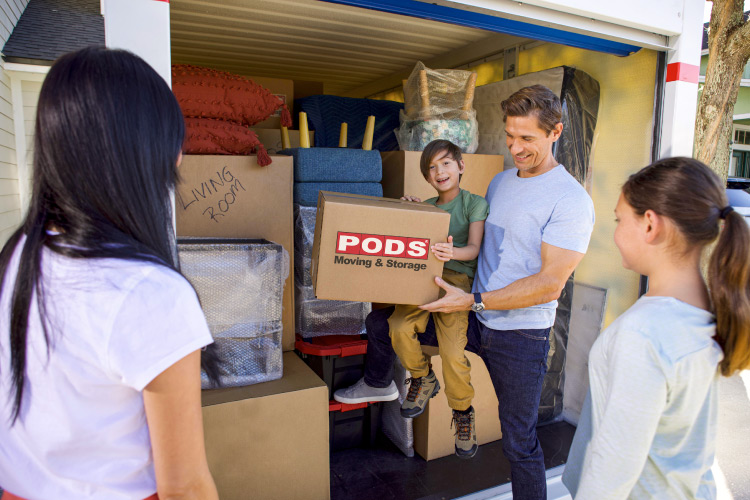 The Cost of Moving to Knoxville
Determining the cost of moving to Knoxville is not an exact science, and it depends largely on how much stuff you're moving, the distance of the move, and what type of moving service you decide to go with. You can always get a free local moving quote at PODS.com or call 877-350-7637 for a long-distance quote.
Moving Routes
Oak Ridge to Knoxville (25 Miles)
PODS: $336 – $857
Full-Service Movers: $799 – $2,321
Rental Truck: $49 – $122
Chicago to Knoxville (545 Miles)
PODS: $3,404 – $4,893
Full-Service Movers: $2,083 – $5,375
Rental Truck: $630 – $972
NYC to Knoxville (700 Miles)
PODS: $3,225 – $4,658
Full-Service Movers: $2,083 – $5,375
Rental Truck: $914 – $1,411
Los Angeles to Knoxville (2,180 Miles)
PODS: $4,285 – $6,159
Full-Service Movers: $3,596 – $7,643
Rental Truck: $1,904 – $2,752
*Based on estimates from PODS and MoveBuddha for a 2-3 bedroom household (800-1,200 sf). Costs don't include insurance or taxes. Prices will vary based on specific locations, dates, size of household to be moved, and available discounts. For a detailed quote, call PODS at 877-350-7637.
Use PODS as Your Moving Company in Knoxville, TN
When you've decided to finalize your move to Knoxville, TN, why not let PODS help you get there without the stress? They'll drop off a portable storage container in your driveway so you can fill it up on your own schedule. And when you're ready, PODS pros will pick it up and drive it to your new home. You can always make it a hybrid move by getting recommendations from PODS for loading and unloading assistance. And the best part? There's always one month of storage included with every move, should you need additional time to unpack!
Get a Quote
Choose the service you need
Comments
Leave a Comment
Your email address will not be published. Required fields are marked *