What Happens in Vegas — Makes Us Want to Move There! 14 Things to Know About Living in Las Vegas
From the resorts to the casinos, to the bright lights and fine dining, Las Vegas is the best vacation spot to let loose and have a good time. But what is it like living in Las Vegas? You might be surprised to learn that it's also a great place for young professionals, families, and retirees alike to move to and settle down.
Aside from the plenty of entertainment options, the city is also home to a variety of vibrant suburban communities and beautiful nature. There also isn't any state income tax, and the cost of living is lower than other major U.S. cities. Sounds pretty nice, huh?
Las Vegas at a Glance
Without further ado, let's dig into the top 15 things you should know about living in Las Vegas.
1. The Cost of Living in Las Vegas May Surprise You
Thanks to the perks of having no state income tax and low property taxes, the cost of living in Las Vegas is a lot more affordable than in other major cities. To put it in perspective, the cost of living in Las Vegas is 111 (the average cost of living in the U.S. is 100), but the cost of living in New York is 168.6 — a whopping 34 percent more expensive. And Los Angeles? That's 37 percent more expensive! 
Q: Why is it so cheap to live in Vegas?
A: Low property taxes along with no state income tax are the main reasons why it's so much cheaper to live in Vegas than other major cities in the U.S.
2. You Should Know the Pros and Cons of Living in Las Vegas
Pros of Living in Las Vegas:
There's a Solid Food Scene
Since the city attracts such a high number of tourists each year, you can find world-class restaurants on just about every block. A lot of the popular restaurants in Las Vegas originated in bigger cities like New York.
There Are Plenty of Outdoor Activities
If you love outdoor adventures, Vegas has plenty of opportunities for you. With stunning spots, like Red Rock, Lake Mead, and the Colorado River nearby, you'll never find yourself struggling to find a hiking spot.
The Winters Are Mild
Since the city is situated in the desert, Vegas winters are very mild. Say goodbye to worrying about icy roads and scraping your windshield every morning.
It's the Entertainment Capital of the Country
There's a reason why Las Vegas is considered the entertainment capital of the country. Day or night, you'll find something fun to do. 
Cons of Living in Las Vegas:
There's an Influx of Tourists 
Las Vegas saw almost 39 million tourists in 2022 alone. The strip area can get overcrowded, and many parts of town give off a strong tourist feel. (On the plus side, your friends will want to visit!)
Utilities Are More Expensive
While the cost of living in Las Vegas is lower than other big cities, live-in utilities are a little more expensive due to the year-round high temperatures.
Summers Are Hot — Like Really Hot
While the cooler months are manageable in Las Vegas, the warmer months in summer can reach temperatures of 100 degrees or more. The dry heat of the desert makes it essential to remain hydrated.
It Could Be Tough Dealing With Vices
With 24/7 access to activities like gambling and drinking, it's easy for residents to overindulge.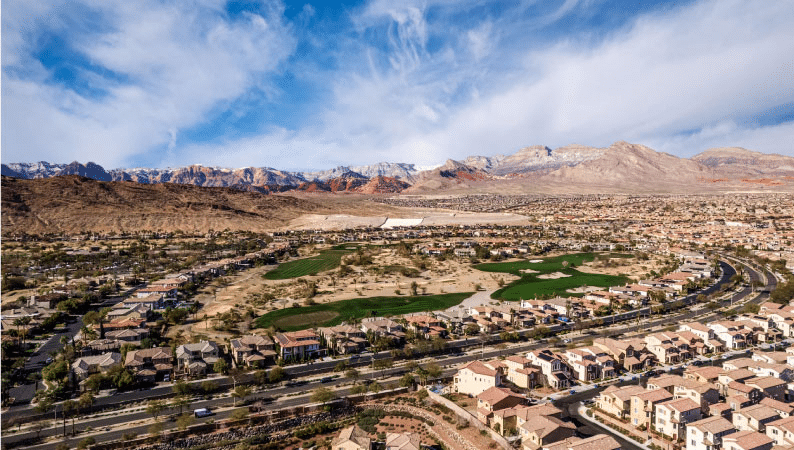 3. The Las Vegas Housing Market Has Plenty of Options
Homes in Las Vegas are being produced by some of the top builders in the country, and there are a wide variety to choose from. Whether you're wanting to live in a single-family home, multi-family complex, or even a townhome, you'll be able to find it. The average home value in Las Vegas is $392,200, which is lower than in a lot of other major U.S. cities. And the average rent for a one-bedroom apartment in Las Vegas is $1,450.
Q: What salary do you need to live in Las Vegas?
A: A good salary in Las Vegas is considered anything over $38,000; however, it depends on what you're comparing it to. When compared to the national average salary of $56,310, a good salary in Las Vegas is anything over $57,436. It's important to consider your lifestyle and cost of living to answer this question clearly for your situation.
4. There Are a Number of Great Communities in Las Vegas
Many top Las Vegas areas are perfect for young professionals, families, and retirees alike. Check out some of our favorite neighborhoods.
Summerlin
One of the largest communities in Las Vegas is called Summerlin, which spans more than 22,500 acres. Some of its most notable residents have included Floyd Mayweather, Carlos Santana, and David Copperfield.
Despite being farther from the Strip than other neighborhoods, this master-planned community still offers a variety of living perks. Its scenic location and mature, tree-lined streets make it an ideal place for many to live.
Anthem
This community is situated in Henderson and is regarded as one of the safest areas in the city. Its convenient location and plethora of green spaces make it an ideal choice for raising kids. The public schools are highly rated, and most residents own their homes. It's a great master-planned community for families, but retirees flock to the area, as well.
Spring Valley
The Spring Valley community is situated west of the Las Vegas Strip. It features a wide variety of housing types and boasts a diverse population full of young professionals. 
Due to its distinct character and the fact that it isn't a master-planned community, many people flock to Spring Valley. It also comes with a great dining scene and plenty of entertainment options.
5. Public Schools in Las Vegas Are Above Average
According to Niche, some of the top-ranked (and A+-rated) public schools in the Las Vegas area include:
6. Las Vegas Sports Teams Abound
The Las Vegas area is home to various professional and collegiate sports teams. Some of these include: 
(Bonus Tip: There's even been talk about an NBA team developing in Las Vegas!)
7. The Las Vegas Climate Doesn't Include Cooler Temps
If you're not fond of cold weather, Las Vegas is a great place to live. The city's subtropical desert climate is mostly clear and dry throughout the year, with only mild winters and sweltering summers. It has an average of almost 300 sunny days per year and only gets around five inches of rain annually.
July is the hottest month in Las Vegas, with an average temperature of over 104 degrees Fahrenheit. The month with the lowest temperature is January, which can range from 38 to 61 degrees Fahrenheit.
8. The Crime Rate in Las Vegas Shouldn't Be Ignored
Although Las Vegas is considered relatively safe, as with any city, some areas are still prone to crime. The city has implemented strict laws and deployed more police officers at night to ensure the safety of its residents. But despite this, the city is still safer than just 10 percent of other cities.
9. The Job Market in Las Vegas Is Booming
Las Vegas boasts a diversified economy, with the leisure and hospitality industries being the main drivers of the city's service sector (surprised?). The tourism, gaming, and entertainment industries in Las Vegas contribute over 315,000 jobs to Nevada. Other businesses, such as healthcare and information technology, support the local economy. Some of the leading companies in Las Vegas include Johnson Electric, MGM Resorts International, and Caesars Entertainment.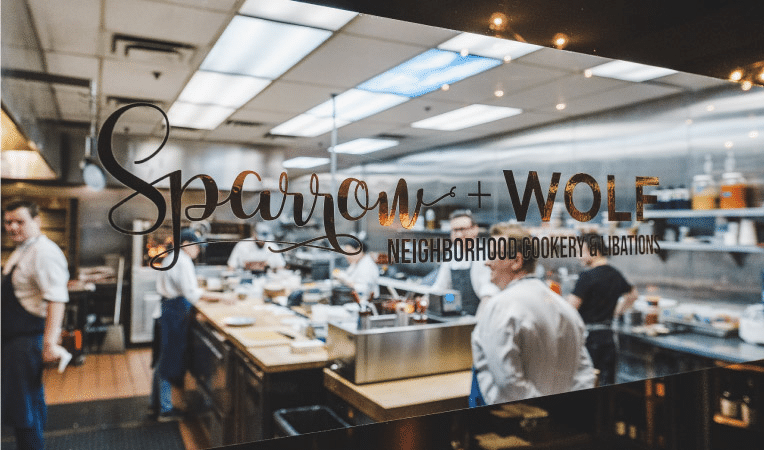 10. There's Top-Tier Dining in Las Vegas
With world-class restaurants available wherever you look, Las Vegas is a foodie's paradise. Some of the city's top-rated restaurants include Esther's Kitchen, Andiamo Steakhouse, and Sparrow + Wolf. 
And if you're looking for true luxury, you can always book a table at Nobu. This Japanese restaurant is famous for its sushi, but it also caters to vegans and vegetarians with dishes like quinoa truffle risotto and shimeji truffle tacos.
11. The Vegas Parties Really Start When the Sun Goes Down
From cocktails at high-end lounges to dance clubs and casinos, the fun really gets going when the sun goes down for many while living in Las Vegas. Here are some standouts.
Best Vegas Bars & Lounges
In Vegas, there are so many bars that it can be hard to find just one that's right for you. From high-end establishments in town to casual diners and dives, there's something fun for everybody. Some of our favorites include:
Best Vegas Nightclubs
Vegas is the place to go for all your party needs. It has plenty of options for everyone, including celebrity DJs and the extravagant spectacles on the Strip. Check out some of the top nightclubs in the city:
12. Las Vegas Transportation Is Available Day and Night
Getting around Las Vegas is best either by bus, car, taxi, or ride-sharing services like Uber and Lyft. And while it might not be the most reliable transportation in the city, the RTC provides bus routes that run along the Strip and Downtown. These services operate 24 hours a day and are very affordable to get where you need to go.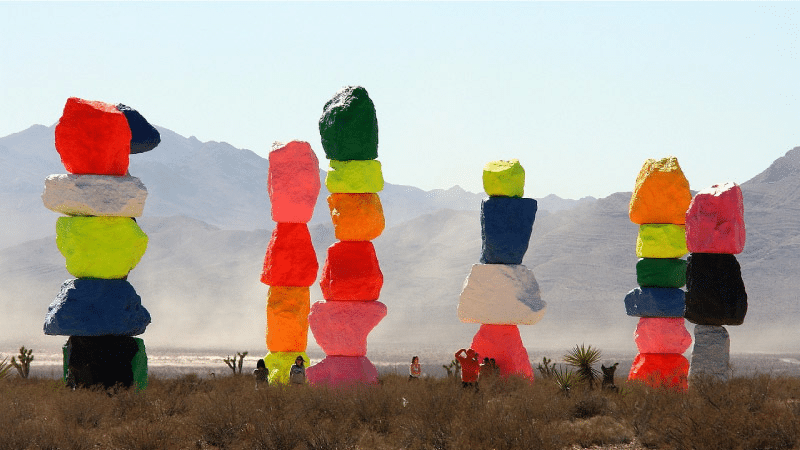 13. There Are Definitely Fun Activities Outside of the Strip
Sure, most tourists stay near the area's various casinos and shopping districts, but you can certainly enjoy plenty of non-Strip fun things to do in Las Vegas, as well. For starters, be sure to visit:
Q: Is Las Vegas a good place to live in?
A: Because of affordable housing and living costs, no state income tax, warm weather year-round, and fun things to do, Las Vegas is a great place to live.
14. You Can't Help But Love the Natural Scenery Around Vegas
Las Vegas is surrounded by a host of gorgeous natural attractions, which include lakes, conservation areas, and national parks. Whether you're in the mood for biking, hiking, driving, or even rock climbing, you'll be able to easily explore the area.
Red Rock Canyon
Red Rock Canyon is worth a visit due to its beautiful views, various hiking trails, and campsites. And if you're not in the mood to walk, you can take a drive through the canyon itself.
Cottonwood Canyon
This park features picnic shelters, paved paths, and grassy areas. It's an ideal place for running, walking, and more.
Floyd Lamb Park
Located in Tule Springs, Floyd Lamb Park offers everything from mountain views to water activities. It features picnic areas, plenty of wildlife, and a way for you to escape the hustle and bustle of the city.
Live It Up in Las Vegas With PODS
With the many perks living in Las Vegas has to offer, it's no surprise that so many new residents are flocking there each year. The hardest part? Actually getting there. Simplify the process by renting a portable moving container from PODS. A moving and storage container will be delivered to your doorstep, where it can be loaded on your own schedule. PODS can also connect you with local packing and loading services, to help with some of that heavy lifting. And once you're ready to hit the road, your container will be picked up and transported to your dream Las Vegas home for you! Viva Las Vegas!
---
Editor's note: For ease of reading, the monthly rental price in Las Vegas was rounded to the nearest $25 and the average home value in Las Vegas was rounded to the nearest $100.
Get a Quote
Choose the service you need
Comments
Leave a Comment
Your email address will not be published. Required fields are marked *