Take advantage of our limited time offer. Enter promo code HOLIDAY25 to save up to 25%.
See offer details
.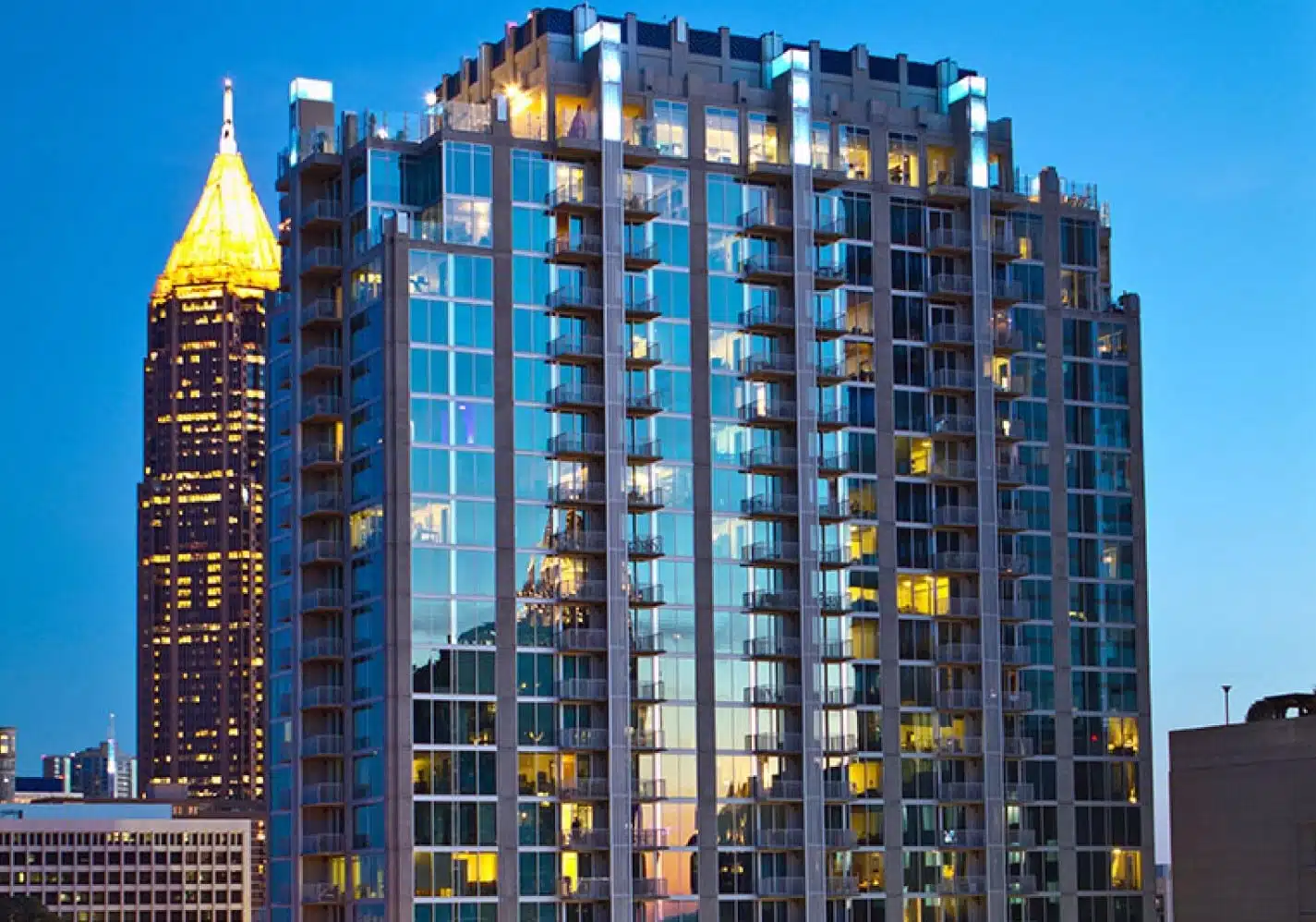 Luxury Atlanta Apartments: 6 Midtown and Downtown ATL Communities That Will Knock Your Socks Off
The word "apartment" may not always conjure up the most glamourous image ... I tend to think of Jerry's drab Manhattan apartment in Seinfeld. But there are apartments and then there are luxury apartments — places with that ideal mixture of comfort, class, and convenience.
We're going to talk about the very best luxury apartments in Midtown and Downtown Atlanta here -- communities that redefine what it means to rent. Our goal is to help you find a home that's perfect for your style, location, and budget, whether you're moving to Atlanta from across the country, or if you're an Atlantan just looking for an upgrade.
One interesting feature we found is that if you're looking for a short-term rental, a handful of these communities offer lease terms of just three or six months. If you're relocating to Atlanta and looking for the perfect home to buy or undertaking a major renovation, these places make a great option. They give you a chance to experience living in a resort-like setting while keeping the bulk of your household in temporary storage.
But before we start our tour, let's do a quick overview of the rental scene in Atlanta.
Renting in Atlanta
There's no shortage of apartments, lofts, and condos in Atlanta. Still, the housing market in the city can feel a bit tight, meaning prices get inflated.
Here's a look at the average cost of rentals in the city.
Cost of renting in Atlanta
Those rents might seem pretty high for normal apartments. The good news is you can actually get a sleek luxury apartment for just a few dollars more than the average, if you know where to look. So, let's get to it.
The best luxury apartments and lofts in Atlanta 
Most of Atlanta's luxury apartment stock is located in three areas -- Midtown, Downtown, and Buckhead. We're going to focus on Midtown and Downtown for now, and will take on Buckhead in a future blog. Each part of the city has its own unique vibe and pace. You can read our Atlanta neighborhood guide to learn more.
Best apartments in Midtown Atlanta
Midtown has a bit of everything: art, food, nightlife, business, and convenient access to both the urban center and the beautiful green spaces at its edges. These three luxury apartment communities will show you the best of Midtown.
See it all from this stunning and affordable high-rise apartment building
Location: Right in the heart of Midtown Atlanta, SkyHouse South is within walking distance of dozens of restaurants, high-end shopping, and the gorgeous Piedmont Park.
Building amenities:
Rooftop pool and poolside lounge
24/7 fitness center with pilates, yoga, free weights and more
Complimentary coffee bar
Outdoor lounge seating and fireplaces
Wireless internet
What we love: All the apartments on this list have beautiful interiors, but none of them quite match the funky charm of SkyHouse South. These units are designed with bright colors, tons of natural light, and, of course, luxury countertops, cabinetry, and appliances.
But it's not just the interior design that's lively. There's always a community party or event going on in this vibrant Atlanta high rise. Plus, you can become a part of this fun-loving community for a relatively low price.
What residents say: "SkyHouse South is excellent! The management team is very responsive and they always get the job done. The facility is always clean and the front desk is very welcoming. I loved living here and wish I could live here for longer! I would recommend this apartment to anyone. :)"
What makes it special: SkyHouse South's floor-to-ceiling windows give you a truly awesome view of ATL. Take in the whole city from your luxury perch.
Floorplans: Studio, 1-bedroom, 2-bedroom, and 3-bedroom
Price: ~$1,300-$3,300/month
Lease term: 8-14 months
Pet-friendly: Yes, a dog walking area is included
Perfect for: Recent college grads who want a vibrant community in the heart of Atlanta
Luxury living that puts you right next to Atlanta's largest and most beautiful green space
Location: Right at the southwest corner of Piedmont Park, the Piedmont House's Midtown location cannot be beat. You'll be within walking distance of dozens of restaurants, and just over a mile from Trader Joe's. Did we mention the park? Seriously, it's one of Atlanta's most popular parks, full of walking and jogging trails, playgrounds, tennis courts, a lake, and both a community and botanical garden.
Building amenities:
Pool
Clubhouse
Controlled Access/Gated
Covered Parking
Elevator
Fitness Center
High Speed Internet
Sundeck and rooftop BBQ
Poolside cabanas
Co-working spaces
What we love: One of the biggest draws to the Piedmont House is, obviously, its location right next to the park. But you shouldn't overlook the sheer beauty of the building's apartments. These units are equipped with pristine stainless steel appliances, perfect wood cabinets, huge windows, and a certain je ne sais quoi that will make you feel like you're in a James Bond movie.
What residents say: "We've lived at Piedmont House for almost two years now and it has been great. The amenities are top quality and it feels like living at a luxury resort. We love the rooftop, pool and gym. The whole staff is great. The complex is always clean and the maintenance team is the best we've ever dealt with. They are very helpful and always solve any issue quickly. We go to Piedmont Park almost every morning for a walk since it's just next door. There is a nice cafe to grab coffee downstairs as well. The whole neighborhood is great and we've really enjoyed living here."
What makes it special: You can entertain your friends (and your dates) at the piano room and wine lounge. Yeah, this place is freakin' classy.
Floorplans: 1-bedroom, 2-bedroom, and 3-bedroom
Price: ~$2,000-$5,000/month
Lease terms: 3 to 13 months
Pet-friendly: Up to two dogs allowed per unit, Max weight 100 lb each. One-time fee of $400.00, plus $15/month.
Perfect for: Urban professionals who love being close to everything, including pristine green space
Sophisticated living for active people in the historic heart of Atlanta
Location: Ascent Midtown sits on Atlanta's most iconic stretch of road: Peachtree Street. These apartments will put you next to some of the city's most historic architecture. You can walk, bike, or drive to pretty much any part of the city in minutes.
Building amenities:
Terrace and pool
Bar area for cooking and socializing
State-of-the-art fitness center
Sun deck
Resident lounge
Covered parking
What we love: Ascent is a good name for these apartments, because everything about them is high-class, high-style, and, quite literally, high-up in the air. You can entertain your friends in the building's absolutely luxurious 28th floor lounge, or you can take them to the beautiful pool out on the 7th floor terrace.
These apartments may put you above the hustle and bustle, but they are ideal for true city-lovers. You'll be right next to Atlanta's tastiest restaurants, best shopping, coolest hotels, and hippest nightlife.
What residents say: "Ascent Midtown has an excellent location in Midtown where I can walk to work, to Whole Foods, and so much entertainment. Piedmont Park is only a few minutes walk. The interior finishes and high end appliances make my home impressive and yet very functional. . . The concierge is amazing, they make the entire experience enjoyable and convenient with all services, alongside the management and maintenance team members! All needs are handled with a smile and patience. I truly just love it here!"
What makes it special: Ascent's fitness center is simply next-level. This 4,000 square-foot facility features Peloton bikes and tons of other great equipment. You'll also get access to the building's "fitness-on-demand" personal training programming.
Floorplans: Studio, 1-bedroom, and 2-bedroom
Price: ~$1,800-$4,000+/month
Lease term: 3-15 months
Pet-friendly: Maximum of two pets per unit, some breed restrictions apply
Perfect for: Driven single professionals with refined taste and young couples who want to experience the very best of Atlanta.
Best apartments in Downtown Atlanta
Downtown Atlanta is full of important cultural, educational, political, and technological institutions. Whether you're there to learn, work, or just have a good time, these apartments will keep you safe and comfortable.
Affordable luxury living in the heart of downtown Atlanta
Location: This cozy apartment building is hidden right in the center of downtown Atlanta. You'll be right next to everything, from major highways to public transit. You're just a few short blocks away from the Mercedes-Benz Stadium and dozens of other entertainment venues. Walk to hip restaurants, bustling nightlife, or the State Capitol.
Building amenities:
Landscaped courtyard
Resident clubhouse and Wi-Fi lounge
Fully stocked fitness center
Private balconies
What we love: The City Plaza Apartments may not be the fanciest dwelling on this list, but we think they're the perfect mix of convenience, quality, and price. You can rent a one-bedroom apartment at City Plaza for less than half the price of similarly sized lofts nearby.
But these apartments don't feel cheap. You'll still get beautiful stainless steel appliances, wood floors, plush carpeting, and a private balcony. The in-building clubhouse and other amenities may not be like the Ritz-Carlton, but why stay home when you're right in the middle of The Big Peach?
What residents say: "I am so happy to live in City Plaza. It's a great location convenient to downtown, several college campuses, the major highways, and the MARTA. The security in place is topnotch, and I always feel safe in the parking areas, courtyard, and building itself."
What makes it special: City Plaza's unassuming vibes make it a rare gem in a raucous downtown urban environment. You can be out at a club all night and return home to your chill, private oasis just a few blocks away.
Floorplans: 1-bedroom and 2-bedroom
Price: ~$1,095-$2,000/month
Lease term: 12 months
Pet-friendly: No pets allowed
Perfect for: Students and other younger folks who want to be in the center of everything without paying an arm and a leg.
A hip apartment building in a hot part of Atlanta
Location: While not strictly in downtown Atlanta, the Glenwood at Grant Park is an incredible community that's close to all kinds of amenities, entertainment, and transportation. These apartments are in the neighborhood of Glenwood Park, which is sandwiched between the trendy neighborhoods of Summerhill and East Atlanta Village.
Building amenities:
Modern clubroom with HDTVs, bar, ping pong and more
Complimentary high speed Wi-Fi in all communal areas
Resort style, salt water pool, and sun deck
24-hr gym
Bocce courtyard with fire pit and grilling areas
Business and conference center with communal working table
Coffee bar
Multi-level covered parking deck
Controlled-access entry gates
Dog spa
Bike repair stations and storage
What we love: The Glenwood at Grant Park is like your fun, eccentric friend who is always ahead of the trends. This spot is nestled in an exciting part of ATL that's rapidly transforming and attracting tons of artists, musicians, small restaurants, and boutique shopping.
Like the neighborhood it's in, The Glenwood has tons of character. What other apartment complex has a dog spa and a ping pong table? Where else can you enjoy a salt water pool and a bocce ball court? All this, and the apartments themselves are absolutely stunning.
What residents say: "Glenwood at Grant Park has been a wonderful place to call home. It is in a great location with literally everything I need within easy walking distance - grocery store, UPS, gas station, dry cleaners, restaurants, the Beltline, etc. The front office and maintenance staff are both friendly and responsive. The apartment itself is nice and if you're into cooking, the kitchen is beautiful! I searched in many areas and I'm so glad that I chose Glenwood at Grant Park!"
What makes it special: Glenwood at Grant Park doesn't mess around when it comes to building a vibrant community. This place treats its residents with astounding care. One thing that nearly every review of this building mentions is the friendly staff, quick maintenance, and all-around good vibes.
Floorplans: Studio, 1-bedroom, and 2-bedroom
Price: ~$1,500-$2,500/month
Lease term: 3-14 months
Pet-friendly: Up to two pets allowed per unit. There is a $400 pet fee for the first pet plus $200 for the second pet. Monthly pet rent is $25. Breed restrictions apply.
Perfect for: Creative types who want to live in an exciting neighborhood full of beauty and potential
The perfect mixture of comfort, style, and convenience in downtown Atlanta
Location: This modern industrial apartment building is situated in East Downtown Atlanta, close to several major transportation corridors and huge institutions, like Grady Memorial Hospital and Georgia State University. You can get to almost any part of the city in just minutes.
Building amenities:
Community pool
Study room
Renovated fitness center
Rooftop lounge
Pet park
Tennis courts
What we love:
These aren't your typical downtown lofts. Dwell ATL is a little sanctuary in the middle of the chaos. All around the building is the fast and loud noise of the city that's too busy to hate. But inside you'll find a community of caring staff, fun residents, and plenty of amenities to make your life — whether you're a student or a working professional — much easier.
What residents say: "Everything is very close to campus so I am never late for my class. The maintenance team is very helpful and nice. Always asking how my day is, very positive. Definitely recommend if you are a student trying to stay close to campus at a good price!"
What makes it special: Dwell's apartments are nice. The staff is kind. The tennis courts are a nifty feature. But the main reason that you should choose to live here, instead of somewhere else, is the location.
If you're a student or professor at Georgia State you will not find a more convenient place to live. Likewise, if you're a nurse at Grady Memorial, you can easily walk to work in just a couple of minutes.
Floorplans: 1-bedroom, 1-bedroom + den, and 2-bedroom
Price: ~$1,250-$2,600/month
Lease term: 6-18 months
Pet-friendly: Maximum two pets per unit. Pet fee: $300 per pet. Monthly rent: $25 per pet. Breed restrictions apply.
Perfect for: Students who want a refuge in the center of everything, where they can study, socialize, and slack off by the pool.
Finding the best luxury apartment in Atlanta for you
We hope that this guide has helped you find your next home in Atlanta. If you're looking for an apartment or rental home that will get you close to Atlanta, but away from the hustle and bustle, then you might want to check out the Sandy Springs and Marietta neighborhoods.
No matter where you end up moving, be sure that you know your rights as a renter and make a moving plan to save time, stress, and money.
---
Easton Smith works as a freelance writer and researcher, reviewing technology trends and the moving industry.
Get a Quote
Choose the service you need
Related Articles
Insider's Guide to Marietta, GA: Top Realtor Talks Neighborhoods, Schools & Finding Your Next Home
Read more
Comments
Leave a Comment
Your email address will not be published. Required fields are marked *