Moving from California to Oregon can be a lot. From packing up your belongings and loading them into a moving container or truck, to forwarding your mail and setting up utilities — not to mention selling your Cali home and buying one in Oregon — plus the million other little things that add up when you're making a long-distance move. It's easy to become overwhelmed, but knowing what you have to look forward to and having a few tips and tricks for your move can make all the difference. And when all is said and done, and you're settled into your new PNW home, we wager you'll find it was all worth it.
Ready to get a quote for your long-distance move from California to Oregon?
Storage is built-in when you move with PODS, and built-in storage means built-in flexibility. See how PODS can help.
If you're reading this, chances are you're living in California and pondering what it would be like to pack up and move to good ol' Oregon. You may have friends who've already made the move (nearly 38,000 Californian's did just that in 2019). Some move for a job opportunity, others move to be closer to friends and family. Many simply can't reconcile their love for California with the high cost of living that comes with it. Whatever your reason for considering the move, we've put together this guide to help you as you make your decision. We'll address why Californians are making the move to Oregon, the best Oregon cities to live in, the top moving options (and their pros and cons), and finally, our tips and tricks for making your move from California to Oregon a smooth one. Let's dive in!
Why Are People Moving From California to Oregon?
Ask any native Oregonian and they'll confirm the noticeable influx of Cali license plates on the roads over the past few years. Makes sense when you realize that California is the top contributor of out-of-state transplants in Oregon, and Oregon is the 5th most popular destination for exiting Californians overall. There's not any one reason why this may be, but there's no denying that people are moving from California to Oregon — in droves. Here are a few of the likely reasons.
Lower Cost of Living
You'll be happy to know that the cost of living is lower in Oregon than it is in California, but lower isn't low. With a cost of living index of 114.3, about 14 points above the national average, Oregon isn't a cheap place to live. Still, that pales in comparison to its southern neighbor where the cost of living is a whopping 149.9.
The biggest cost savings between Oregon and California are in housing and utilities. Statewide, the median sale price for an Oregon home is around $510,000, compared to about $760,000 in California. In general, everything will cost less in Oregon, from housing and groceries, to transportation, taxes, and more. For example, according to Best Places, if you're making $50,000 a year in L.A. and you move to Portland, you can expect a similar lifestyle for only $37,570. Pretty sweet!
In addition to saving you money in day-to-day expenses, moving to Oregon can also help you to keep more of your paycheck. California is the state with the highest income tax rate, maxing out at 13.3%, while the top income tax rate in Oregon is 9.9%. Cha-ching!
Q: What Cities Are People Leaving?
A: The top two U.S. cities that people most want to leave are San Francisco and Los Angeles, in that order. Inflation, high mortgage rates and rents, and the advent of remote work have created the perfect storm to drive an exodus from these (and other California cities) to states with lower costs of living, such as Oregon.
Lifestyle in Oregon
Take that Cali hipster vibe and amp it up to twelve when you move to Oregon. Two of the state's three biggest cities, Portland and Eugene, are famous nationwide for their grungy, down-to-earth culture and general laid-back feel. It might be a welcome change if you're moving from the fast pace of Los Angeles!
When you think of Oregon, Portland probably comes to mind first, but the Beaver state is much more diverse than that. Truth be told, there's more to Oregon than what you get from reading a quick blog post or two. With spacious rural areas and happenin' high-population cities alike, there're plenty of places to choose from no matter what you're looking for. Just ask yourself what you're looking for and Oregon will deliver.
And when it comes to things to do, there's plenty across the state to keep you entertained — especially if you love natural spaces and greenery. A personal favorite of the PODS Blog team is a day trip from Newport to Florence down US 101. The route is full of breathtaking views of rocky bluffs over the Pacific Ocean and lovely forests where you can smell the freshness. Just make sure you stop for gas in Newport before taking off.
The Best Cities to Move to in Oregon
Are you 100% positive that you're moving to Oregon from California, but just aren't sure exactly where to move? No problem. While there are definitely some standout suburbs in Oregon (check out Turner, Bethany, and Cedar Mill first), chances are you're looking for a city, so that's where we're gonna focus our attention. Here's our list of the best cities to move to in Oregon.
Portland
A fun town that's patently weird, this is where you find big-city living in Oregon.
Portland has a relatively affordable cost of living, lots of job opportunities, and is one of the greenest and healthiest cities in the United States. Plus, the foodie and craft beer scenes here are definitely something to write home about. With a lively social scene, beautiful urban parks, and a thriving job market, Portland is a great place for anyone — from singles and families, to artists and business professionals.
Salem
The next city you should consider moving to is Salem, the state capital and its center for political activity. If you're looking to work in politics (or just find yourself interested in the subject) here's where you need to be. That's not all, though. Salem blends big-city and small-town Oregon beautifully with exciting nightlife, beautiful wildlife, and invigorating outdoor activities. This Oregon city is perfect for families, travelers, and professionals alike.
Bend
Have you ever heard of an adorable city in Oregon called Bend? Bend is located in a high desert region of the state by the Deschutes Forest. This city has tons of incredible outdoor activities for every season, from whitewater rafting and rock climbing in the summer, to skiing and snowboarding in the winter. And because of Oregon's diverse climate, hiking and biking are year-round activities. Add to that the above-average public schools and Bend may just be your perfect place in Oregon.
Eugene
Home of the University of Oregon, Eugene is a great city in its own right. Downtown is compact and just a stone's throw away from the university, and if you move here, be ready to run. Nike has a huge presence, since its founder Phil Knight is a Duck grad, and UO is a big-time track school. The city spreads out a bit with several different areas for industry, travel (with its own airport and train station), business, and leisure. And don't worry about being bored! As a college town, there's always something going on, especially during sports seasons.
With amazing education opportunities, outdoors activities, and a thriving local arts and cultural scene, Eugene is perfect for students, families, and people starting out their careers.
Hillsboro
If you're someone who enjoys the suburban lifestyle, then we know for a fact that you won't want to miss out on Hillsboro, Oregon! This historical farming community is the fifth largest city in the state. Hillsboro's suburban oasis blends agriculture, business, and small-town communities. You'll find several large companies here — such as Nike, Intel, Adobe, and Oracle — creating plenty of job opportunities for new arrivals.
In Hillsboro, you can enjoy a more peaceful lifestyle, catching up with friends at a local coffee shop (coffee's a big deal in Oregon), visiting a minor-league baseball game, or even watching the Oregon International Airshow.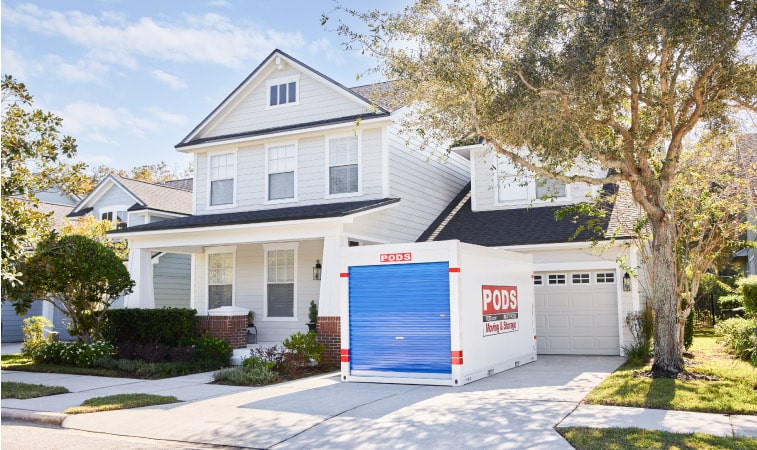 Moving from California to Oregon: Top Moving Companies
Are you looking for the perfect moving company to help you get all of your things from California to Oregon? From renting a moving truck and doing it all yourself to hiring a full-service moving company and relaxing with lemonade while they do the work, you've definitely got some options. Let's break them down and see what's best for your move.
PODS Moving Containers
Moving long distances from one state to another can be a tedious process with tons of moving parts and tight deadlines, especially if you're moving from California to Oregon (transfer disclosure statements, am I right?). Want to make the process a little more flexible? Consider moving with PODS.
Start by talking with one of our moving specialists to determine what size container you need. Have it delivered to your home in California, where you can pack and load on your own schedule. When you're ready, a driver will pick up your container and take it to your new digs in Oregon. Storage is built in, so if you need a little more time, you can keep your moving container at a PODS Storage Center for as long as you want. Now, that's flexible!
Moving out of Los Angeles or San Francisco? PODS has a special moving service specifically designed for big-city moves. Your PODS driver will handle parking and work with you to secure proper permits and follow any HOA requirements. They'll stay with your container as you load it up and defend against tickets, thieves, or any other threats to your belongings. If you're moving out of L.A. or San Francisco, be sure to check out PODS City Service.
Full-Service Movers
If you've got the cash on hand and want your move handled from pack-up to unpack, a full-service moving company may be just the ticket.
A good full-service moving company has seen and done it all. They help pack up all of your belongings, load up the moving truck, drive it to your new Oregon home, and even help with the unpacking process. You may be wondering, what's the con here? Well, this is typically the most expensive option and you're tied to the movers' schedule once your move is booked. Should something change, like your closing date, you'll have to reschedule and may incur additional fees.
Moving Truck Rental
Tried and true, but also the most work out of all your options. Depending on how much stuff you have to move and how far you need to move it, a rental truck might be the best option if you're okay with driving it yourself. Just remember, with most rental trucks, you're paying for gas, insurance, and any damage that may happen along the way (which is more common than you might think). And if you've never driven through Oregon before, you may want to let the pros at PODS handle it.
Tips and Tricks for Moving From California to Oregon
Hopefully, now you have an idea of where in Oregon you want to move and how you're going to get there. All that's left is to check out our best tips and tricks for moving from California to Oregon!
Get a Bicycle
Did you know that Oregon has been named the second most bike-friendly state in the country? Green is a way of life here and it's not uncommon to see men and women in business attire cruising into work on their Trek or Cannondale. And what more practical way to get grooved into your new community than to join the locals in the bike lane? In addition to being a fun way to get around, it's practical, too. You can get some exercise, find easy parking, and save on gas. You might find that you don't even need a car (depending on where you live).
Pro Tip: A mountain bike will serve you well if you want to get out into the woods. If you're only planning light off-road excursions, then try out a hybrid bike.
Prepare For High Housing Prices (But Not as High as in California)
If you're moving from California to Oregon and you're worried about the housing market, you can breathe a sigh of relief. While typical home values in Oregon are high compared to many other states, at about $515,500, they're significantly lower than California's $769,400.
Oregon Is No Stranger to Natural Disasters
Earthquakes are an unfortunate fact of West-Coast living. Oregon tends to experience as many as 300 a year, though they're so small you usually won't notice. About 15 larger quakes occur annually that can be felt, but these don't cause much damage. Still, it's important to brush up on your earthquake safety skills, just in case.
Wildfires are also something to be aware of when you live in Oregon. While it's not as bad here as it is in California, they're still a threat in this densely wooded state.
Get to Know the Small Coastal Towns
Oregon is known for its many coastal towns (and iconic bridges, as well). There are so many beautiful communities to fall in love with and, because there are so many, it can be hard to choose the best one. Still, each offers something a little different and you might find it's worth it to set aside a weekend to cruise the coast and check them out. A few faves of ours: Astoria, Seaside, and Cannon Beach.
Warm and Wet Summers, Cold and Windy Winters
You may be wondering what the weather is like in Oregon and, in short, it's pretty moderate. For the most part, Oregon has warm and wet summers due to all of the rain the state gets, and the winters are cold and can be super windy. Oregon also tends to be partly cloudy (some might even say dreary) most of the year, so it's definitely something to get used to compared to some parts of California. But ask any Oregonian about the beautiful summers and they'll say it's worth the cloudy drizzle the rest of the year.

Moving from California to Oregon is no small feat, but knowing what you have to look forward to and how to go about making the move definitely makes it easier. Check out more of the PODS Blog for a look at some of the Best Neighborhoods in Portland and to get some Packing and Loading Tips to Prevent Damage on Your Long-Distance Move.
Get a Quote
Choose the service you need
Comments
Leave a Comment
Your email address will not be published. Required fields are marked *