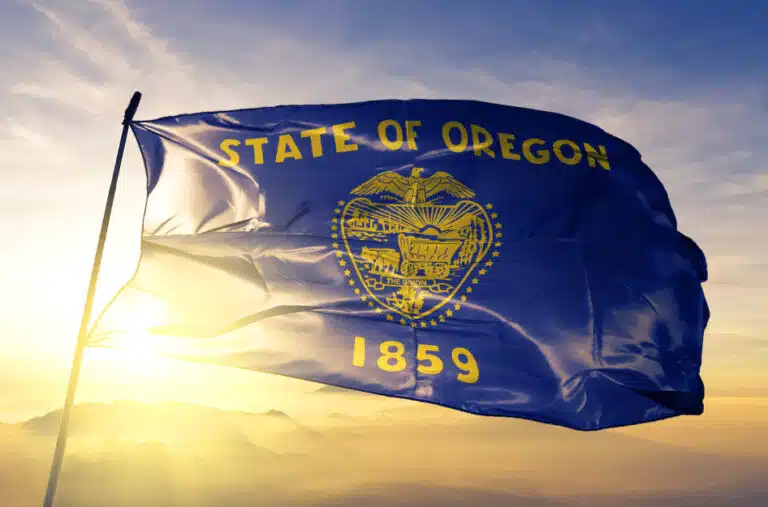 The Beaver State Beckons: 12 Best Small Towns in Oregon
With a population of over 4.2 million, the "Beaver State" Oregon is not only one of the most gorgeous states in the Pacific Northwest, but in the entire country. Picturesque scenery, an expansive coastline, top tier breweries, along with an abundance of recreational activities and a vibrant culture make Oregon the perfect place to fit anyone's needs.
No matter which part of nature you enjoy most, Oregon has it. From beautiful coasts and beaches, to forests and tall mountains, there's always something fun to do. Not to mention Crater Lake National Park, several other state parks, and some of the best small towns in Oregon.
Big Cities vs. Small Towns in Oregon
While larger Oregon cities like Portland and Eugene provide great job opportunities and a larger variety of restaurants and social settings, you will also find that these cities have a much more expensive housing market. The average home value in Portland is $539,200, while in Eugene it's $464,500. This might not seem like much compared to the home prices in some areas on this list, but when you pair that with the fact that Portland is one of the most expensive cities to live in, you're a lot more likely to find bang for your buck in rural areas of the state.
The pricey home values and cost of living in those cities, along with a desire for a higher quality of life, has people from all over heading to the countryside. Aside from the more realistic housing market, small towns in Oregon will provide you with a stronger sense of community, less noise, and some of the most underrated views of the entire state.
Here are some pros when you opt to live in a small Oregon town:
Each small town in Oregon presents a different experience, whether that be on the coast or near the mountains
You can lead a more laid back lifestyle
Stay closer to the outdoors, including hiking on trails that are not as crowded compared to ones in the big cities
Many of the towns come from unique origins of nicknames like the "Little Switzerland of Oregon" - giving you a cutesy way to introduce yourself
Small Towns in Oregon - FAQ
Q: What is the prettiest place in Oregon?
A: Located on the Pacific Coast, Yachats is a small town with no shortage of seaside views and mountainous spots. Home to a seemingly bottomless sinkhole known as Thor's Well, Yachats is the perfect place to explore.
Q: What is the coolest city in Oregon?
A: Areas of Southeast Portland are considered to be some of the coolest parts of Oregon, with a bohemian vibe, abundance of gift shops, and a hip art scene.
Q: What is the best small town in Oregon to live?
A: Florence, Oregon is considered to be one of the best small towns to live in the state because of its affordability and scenic views along the Siuslaw River and Pacific Ocean.
Q: What is the prettiest part of Oregon to live?
A: With favorable weather all year round, the mountain town of Sisters is one of the prettiest parts of Oregon.
Best Small Towns in Oregon
No matter what lifestyle and scenery you prefer, this list has you covered. From the craggy coasts to the mountains, check out some of the best small towns in Oregon to put your roots down.
According to the U.S. Census, a small town is considered to have a population of 5,000 or less, but for this list, we considered towns up to 50,000. If any town is above 25,000 people, we'll let you know!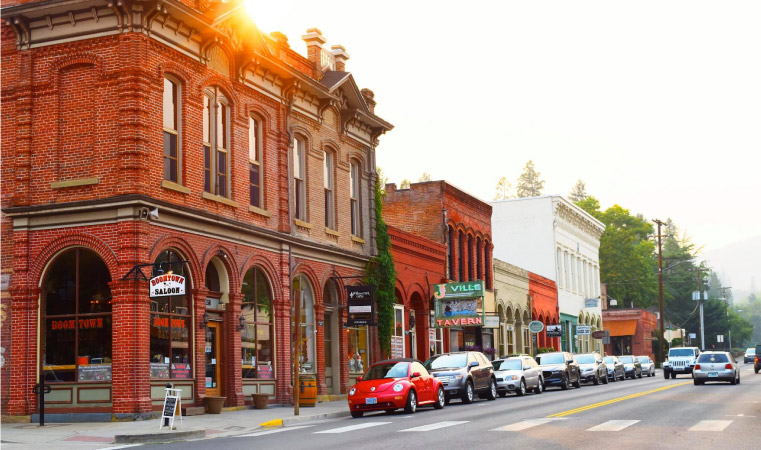 1. Jacksonville, OR
The small town of Jacksonville is located in Southern Oregon's Jackson County. It's a national historic landmark and was once a flourishing gold mining community. Today, it has a variety of restaurants and shopping establishments that draw in tourists.
One of the most popular cultural events is the Britt Music & Arts Festival, the city's most popular summertime festival. It features various musical acts from different countries. The festival's outdoor amphitheater is surrounded by tall trees and is a beautiful setting for the performances.
One of the most popular activities in the town of Jacksonville is visiting the many antique shops. It's also a great place to enjoy the agricultural beauty of the nearby Rogue Valley.
2. Sisters, OR
The town of Sisters is situated on the eastern slopes of Oregon's Cascade Mountains. The weather here is sunny all year round and even comes with easy access to the nearby Deschutes National Forest. It's an ideal spot for those who are looking to stay active and experience the variety of mountain activities. In town, you'll find 19th-century storefronts and facades that are now home to art galleries, restaurants, and boutique shops.
3. Oak Hills, OR
The town of Oak Hills is filled with historic sites and is located about 15 minutes west of Portland. There are plenty of modern amenities within walking distance of the town, such as a recreation center that has two swimming pools and several parks. Oak Hills is great for families with children.
4. Baker City, OR
Before it was known as a city, Baker City was considered to be the Queen City of the Eastern Inland Empire. It used to be very prominent and had a large population when compared to places such as Salem and Portland. Nowadays, it is a peaceful place that is perched along the Oregon Trail.
There are a variety of historic sites in Baker City that are designed to educate visitors about its past. One of these is the Baker Heritage Museum. For a taste of local beer, you can visit the local brewery known as Baker City Brewing Company.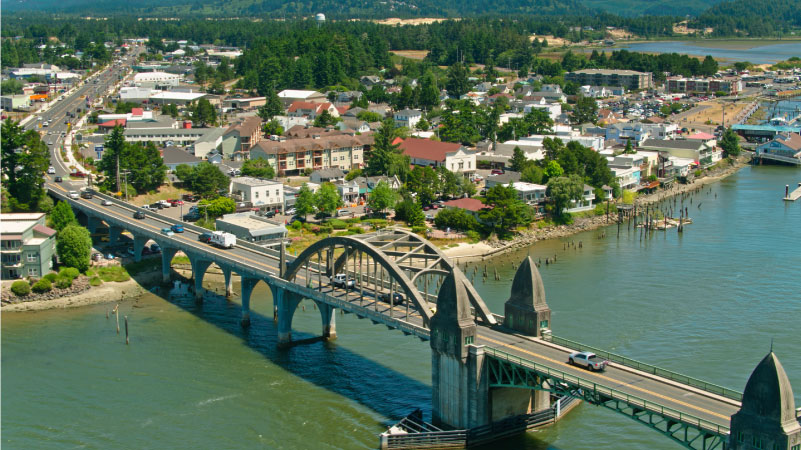 5. Florence, OR
Siuslaw River meets the Pacific Ocean in Florence, a seaside community conveniently located along Highway 101 near Coos Bay and Newport. The town has a population of approximately 9,500 people.
There are many outdoor activities in Florence, like hiking trails, beaches, and lakes. There are also a variety of parks and beaches, as well as a seaside golf course.
Florence, Oregon, is a great place to retire if you're looking for a more active lifestyle and want to experience panoramic views. Its lower cost of living makes it an ideal choice for people who are looking to retire.
6. Hood River, OR
The small town of Hood River is located in the Columbia River Gorge. The Columbia River Gorge is a beautiful national scenic corridor that features numerous waterfalls, hiking trails, and campsites. In addition, the area produces high winds, which makes it an ideal location for windsurfing. You can also pay a visit to The Vista House.
Situated south of the town is Mount Hood and the nearby national forest. This area features a variety of natural attractions and agricultural opportunities.
7. Astoria, OR
Besides being a quaint community with great views and a great beach, the town of Astoria is also known for being the location of many notable movies. Some of these include Free Willy, Kindergarten Cop, and The Goonies.
If you're planning on visiting or residing in the town of Astoria, you'll want to make sure to check out all the amazing things to do and see there. Besides being a cute town, it's also close to other places such as Cannon Beach, Gearhart, and Seaside.
8. Cannon Beach, OR
Cannon Beach is known as one of the state's best beach towns. It's also one of the most art-friendly towns in the northwest, and it has a great walkable downtown. One of its popular attractions is Haystack Rock, which is accessible by foot. This natural wonder is a must-visit for anyone living or visiting the town of Cannon Beach.
Another popular option for people who are looking to retire is the Oregon Coast. If you're planning on relocating to Cannon Beach, Oregon, you'll be able to enjoy a wide range of outdoor activities. Some of these include fishing, hiking, and biking. There are also plenty of great restaurants and arts and culture in the town.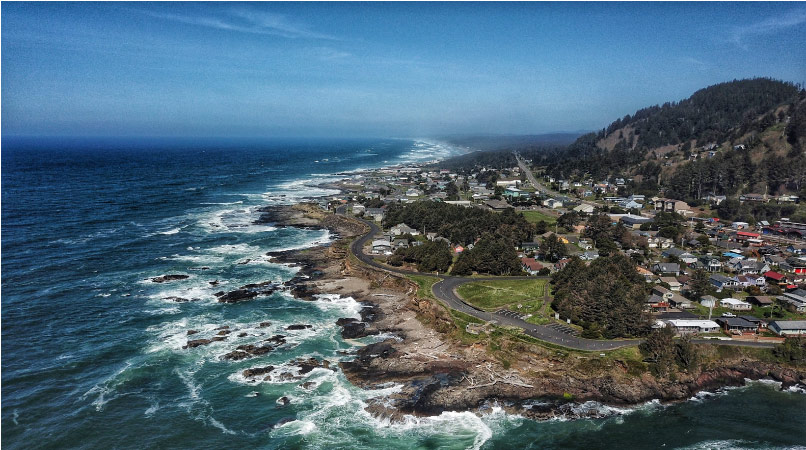 9. Yachats, OR
Yachats is a small town in Lincoln County. For many years, the town was known for seaside tourism and being the home of Thor's Well, a seemingly bottomless sinkhole. The town has since developed and become a place for people who are looking for a romantic getaway or a great ocean exploration adventure.
10. Joseph, OR
The small town of Joseph is located at the base of the beautiful Wallowa Mountains, surrounded by Hells Canyon to the north and east. It's a great place to live for families and artists, full of charm and beautiful scenes for anyone seeking out "en plein air" experiences!
The region known as the Wallowas is often referred to as the Swiss Alps of Oregon. There, you can take a ride up Mount Howard, hike to the nearby lakes, and experience panoramic views of the state's mountains. During the summer season, it's a popular recreation area, with many activities going on.
11. Dundee, OR
There are over 20 wineries in Dundee, and some of the best restaurants in the area are in the town's central business district. The Red Hills Market is also a great place to find cheese, wine, and other food products.
Dundee is a moderately bicycle-friendly town, served by the Chehalem Recreation District. The Willamette River passes through the town's eastern border, and Rogers Landing is a popular stop for kayaking along the water.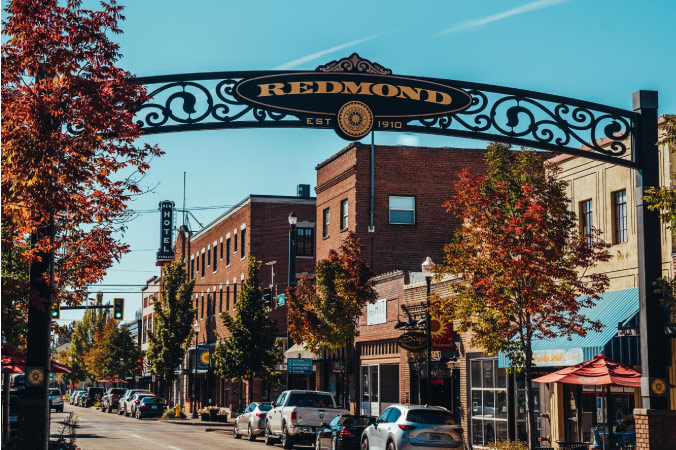 12. Redmond, OR
Redmond is an interesting and growing community with about 35,500 residents.
If you're looking for a place where you can grow and enjoy the wide open skies, horses, and ranch life, then Redmond might be just what you're looking for. It's only about 25 minutes away from Sisters and the city of Bend, and it is also home to the Redmond airport, the primary airport in Central Oregon. Living in Redmond would make traveling quite easy!
There are a variety of housing options for families, singles, and retirees in Redmond, with lots of townhouse, condos, and rentals available.
Use PODS for your Moving Journey in the Beaver State
Already found the perfect small town home in Oregon? Let PODS help you move there. They can provide you with a portable storage container that's conveniently placed on your doorstep. Once you're ready to move, a crew will take it to your new location. One month's storage is included in every move, so you can unload on your own schedule without feeling rushed.
---
Get a Quote
Choose the service you need
Comments
Leave a Comment
Your email address will not be published. Required fields are marked *