Take advantage of our limited time offer. Enter promo code HOLIDAY25 to save up to 25%.
See offer details
.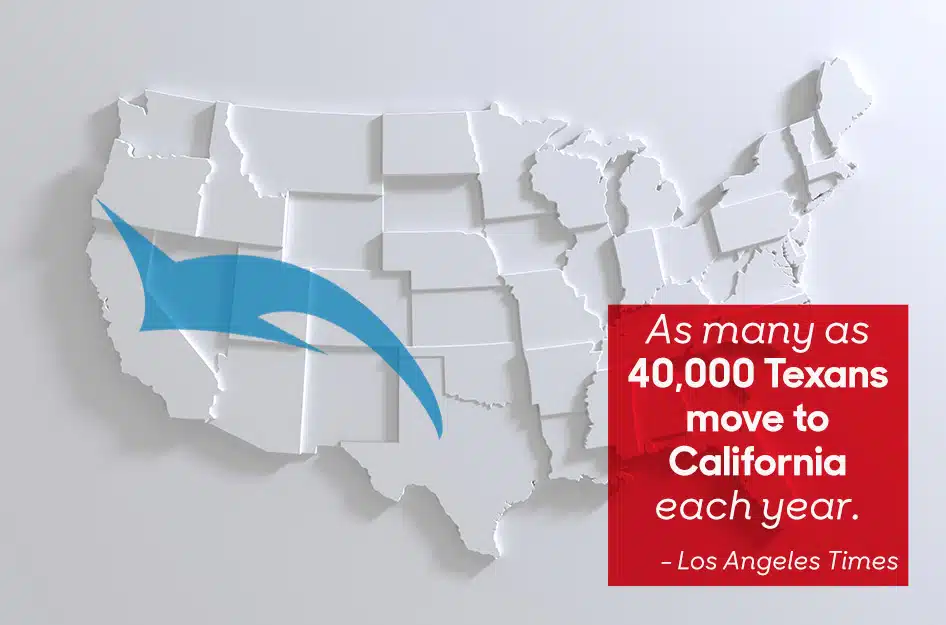 Thinking About Moving From Texas to California in 2023? Read This First!
Yep. You read that right. We're talking about moving to California from Texas, not the other way around. And don't think for a second that people like you — that is, considering making the move from Texas to California — are few and far between. That couldn't be further from the truth.
Sure, we've all seen the headlines about top executives buying houses and moving their headquarters from Cali to Texas recently. But the truth is, the influx of people trading Texas Hill Country for the Hollywood Hills has actually been a steady trend for years; it's not just a fad that comes and goes. In fact, for more than 15 years, as many as 40,000 Texans have moved to California each year. That's not insignificant.
But why are so many people leaving the Lone Star State for the Golden State? How are they getting there, and what should you know before you make the move?
Let's explore all of this and more.
Why are people moving from Texas to California?
There are plenty of reasons for the Texodus — as they say — to California. Of course, you have the usual reasons why people relocate, such as for school, work, or to be closer to family.
Moving to California, in particular, has several of its own perks, though. Let's take a look at some of the reasons Texans are heading for the Pacific and some of the best parts of California life.
Education and Job Opportunities
It's no secret that California is home to some major brainiacs. All that technology you use everyday? It more than likely got its start in California's Silicon Valley — the world's leading technology and information hub. Pair that with the state's various top-notch institutions, such as Stanford University in Palo Alto; University of California, Berkeley; Santa Clara University, and more, and the possibilities are endless. In fact, it's said that Texas has been losing many of its youngest and best educated (think recent high-school and college graduates) to California for a while now due to better opportunities and higher-paying jobs.
Take computer engineering, for example. A fresh college graduate from the University of Texas at Austin can start at a salary of $500,000 in Los Gatos, California. If they stayed in Austin, their job choices start at $200,000.
Entertainment
You probably can't think of California without thinking about that huge Hollywood sign and all the entertainment the area is known for — ranging from movies to music and so much more. Wanna try your luck at becoming famous? Head to California. Wanna see famous people? Head to California.
Texas is no slouch when it comes to nightlife and entertainment options, but it's hard to top California. In the Los Angeles area, specifically, not only can you check out the Hollywood sign, but you can stroll along the Hollywood Walk of Fame and visit Paramount Pictures (home of the Oscars), the Hollywood Bowl music center, the Dolby Theatre, improv comedy clubs, and more. Not to mention the legendary bar and club scenes. Let's just say, there's never a dull moment.
Q: Is it worth it to move from Texas to California?
A: Many ex-Texans find moving to California worth it because of the booming job market, beautiful weather, and high-quality education, to name a few reasons.
Theme Parks
Speaking of having fun, are you a huge Disney fan? How about Harry Potter? Thrill rides? If any of these make your heart pump a little faster, we know you're going to love moving to California, America's theme park capital. Disneyland in Anaheim is the original Disney park. It includes two different theme parks with days' worth of rides, entertainment, and attractions to explore. Likewise, California is home to plenty of other major theme parks, such as Universal Studios Hollywood, Knott's Berry Farm, and California's Great America.
Wine Country
Did you know California is America's No. 1 wine producer? It goes hand in hand with the fact that California's landscape is as diverse as it gets. Whereas most of Texas is flat or rolling plains, California geography ranges from beaches to cliffs to fertile river valleys to mountains to desert, with more in between. The combination of California's fertile river valleys and its Mediterranean climate make it possible for approximately 640,000 acres to be devoted to wine grapes.
And not only can you come to Wine Country to get a taste of exquisite wine, but you can also enjoy first-class amenities, like Michelin Star restaurants and luxury hotels, all the while taking in the beautiful architecture and culture throughout the area.
Top tips for your move from Texas to California
They don't call it "The Land of Milk and Honey" for nothing! Here are some important things to keep in mind before you head west.
1. Prepare for a Higher Cost of Living
You've heard about the housing market in California, right? If not, this will give you a pretty good idea: The typical home value in California is $716,909, compared to Texas' typical home value of $290,863, Furthermore, Cali's cost of living is around 150% of the national average, whereas Texas is below the national average at around 90%. You'll likely see higher prices on everything — from food and groceries to transportation and healthcare.
2. Say Hello to Taxes
In California, there's no such thing as no state income tax. Instead, it's actually the state with the highest income tax rate of up to 13.3%, depending on how much money you earn. Similarly, the sales tax in California ranges from 7.25% to 10.75%. In Texas, there truly is no state income tax, and the sales tax rates range from 6.25% to 8.25%.
3. Consider How Your Travel Costs May Be Affected
You've been pretty fortunate when it comes to cross-country travel convenience. Texas is pretty centrally located, so to speak. Moving to California, though? It doesn't get more West Coast than that. If you're an avid traveler (or you plan to visit any friends or family back in Texas on the reg), keep that in mind when you're budgeting your time and money for upcoming trips. Unless you're sticking pretty close to home, those expenses may really start to stack up.
Q: What do I need to know about moving To California from Texas?
A: Before moving to California from Texas, you should consider the fact that you'll likely be paying more for everything — from food and gas to taxes and healthcare. Similarly, the housing market is significantly more expensive than in Texas.
4. Get Ready for Some Fun
Moving by itself is stressful, but moving long-distance is in a league of its own. That's why it's important to keep all the positive aspects of this move from Texas to California in mind. Contrary to what many people may think, just like Texas isn't all cowboys and tumbleweeds, California isn't all surfers and beaches (although those are certainly pluses!). Rather, California is so diverse that you will likely never run out of things to do and new places to explore. Have you seen the giant sequoias and redwoods? Posed in front of the Golden Gate Bridge? Heard the crazy stories about Alcatraz? Needless to say, you have plenty of great things to look forward to!
How to make the move to Cali
So you know you want to make the move, but do you know how you want to make it happen? The moving option that's right for you depends on several factors, such as what you want from your moving team, your budget, and how much time you have on your hands. Let's check 'em out.
Full-Service Movers
When you use a full-service moving company, you can practically be hands-off and let them handle everything. They'll pack, load, transport, unload, and unpack everything for you. And in some cases, they may even disassemble and reassemble your furniture, as well. Sounds perfect, right? Well, there are a few downsides. First is the cost: Full-service moving is a big job that comes with an equally big price tag. Second: They may not tell you that your belongings could be transported with other households', which can increase the chances of some of your things getting mixed up with another family's. And third: You will be on their schedule, from start to finish. Can you imagine? Your closing date got pushed back … and your stuff is already on the way! Eep!
Q: Is it cheaper to live in Texas or California?
A: While moving from Texas to California may be what you want to do to get new experiences under your belt, be aware that you will be paying more to live on the West Coast. In Texas, the cost of living is much lower, and you pay 10% below the national average, compared to 50% above the national average in California.
Moving Truck Rental
If you're feeling thrifty and have the time (and energy!) to do the work yourself, then renting a moving truck may be the way to go. This is definitely the most labor-intensive route, as the packing, loading, driving, unpacking, and unloading is all up to you, but it can save you a lot of moolah. Something else to consider? In addition to the cost of the rental, you'll have to pay for the gas (and possibly some additional fees), and a fully loaded truck moving from Texas to California uses A LOT of gas.
PODS Portable Moving Containers
A great hybrid moving option is PODS Moving and Storage containers. PODS containers come in different sizes, so you can choose just the right size (or sizes) for your household. PODS will deliver it to your driveway, where you can pack and load on your own schedule. And if you don't want to do that all by yourself, PODS can refer you to local packing and loading help to get it done for you. And the best part? When you're ready, PODS will pick up your container and transport it to your new home in California, where you can (once again) take your time unloading and unpacking at your own pace. Easy peasy!
Get to know California's cities
Whether you've decided to move to one of these or simply visit, at some point on your adventure, here are a few of our favorite cities in California to be sure to check out.
Los Angeles
Los Angeles is one of the best places to live in California. Although it can be pretty expensive, it is a place full of opportunities, beautiful weather, an incredible landscape, eclectic food scene, and never ending amount of things to do. It's also the perfect place to live if you're an artist looking to be recognized for your talent or simply someone who appreciates a great work-life balance.
Sacramento
Considered to be one of the most underrated cities to live in in California, Sacramento may be just the perfect place for you. Sacramento is known for its ever-growing population, along with its incredible job market, laid-back atmosphere, amazing food, numerous wineries and breweries, beautiful outdoor scenery, and so much more.
San Diego
Known as "America's Finest City," San Diego has great employment opportunities, tons of beaches to visit (70 miles of coastline, to be exact!), tasty food options, and so much more. Not to mention, San Diego has an award-winning zoo that can't be missed!
San Francisco
When you're thinking about moving to California from Texas, moving to San Francisco should definitely be a consideration. But why is that? San Francisco offers a little bit of everything — from fantastic weather and a booming economy to tons of outdoor recreational attractions and top-notch public schools.
Moving from Dallas to Los Angeles or San Francisco? PODS City Service specializes in moves in and out of these big cities. No need to worry about getting parking permits, navigating with a large truck, or keeping an eye on your container as you unload from a busy city street. A PODS driver will stay with your stuff to make sure everything is golden.
Moving from Texas to California is a huge change, but it is one that many people thoroughly enjoy because of the different atmosphere, career opportunities, and endless amount of things to do. For more tips on moving to and living in California, visit the PODS Blog.
Get a Quote
Choose the service you need
Comments
Leave a Comment
Your email address will not be published. Required fields are marked *