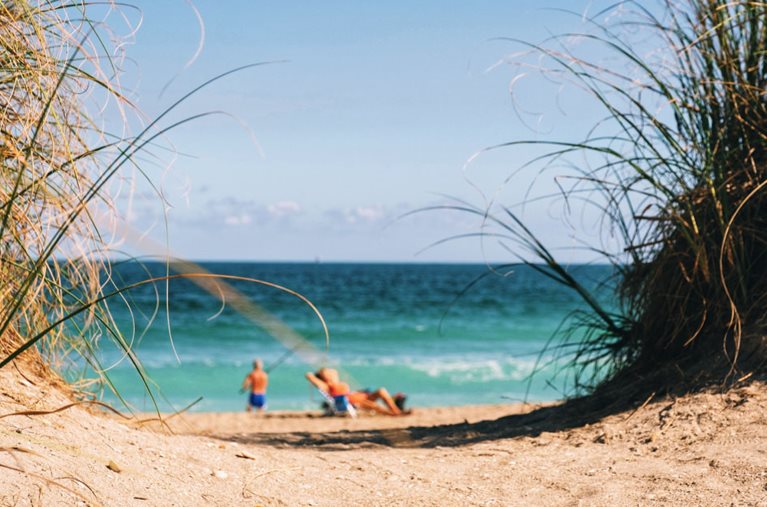 Calling the Sunshine State Home in your Golden Years: Everything You Need to Know About Retiring in Florida
For many years, the Sunshine State has offered a welcoming, warm, and diverse climate, which is particularly
beneficial for retirees
ready to ditch their snow boots and reap those golden years of retirement! And factors such as warm and sunny weather year-round and a diverse variety of retirement communities are why nearly 12 percent of all retirees in the U.S.
made Florida the top choice for relocation in 2022
.
What are the benefits of retiring in Florida?
Florida is home to a variety of world-famous beaches, including an abundance of outdoor activities and exciting attractions. The warm weather all year round allows you to get plenty of exercise outdoors and absorb all of that vital Vitamin D!

Senior living communities in Florida can be found in the most beautiful locations, with resort-style amenities meant to keep you active and entertained. On top of the affordable living costs in Florida overall, Florida's tax policies are geared towards retirees as there is no income tax on various sources of retirement income.

Planning a move to Florida? Start by getting a quote from PODS.
Retiring in Florida — FAQs
Q: Which part of Florida is best to retire?
A: Sarasota County is one of the best places to retire in Florida because of its medical facilities, recreational facilities, and retirement communities. The city of Sarasota, in particular, has been at the top of the list for cities with the highest number of move-ins, according to PODS Moving Trends data for 2022 and 2023.

Q: Why are retirees leaving Florida?
A: Because of rising inflation, higher insurance rates, and increased living costs in certain areas, retirees on fixed incomes in Florida are not always able to live comfortably.

Q: Can I retire in Florida on $3,000 a month?
A: According to a GOBakingRates study, there are several cities in Florida where you can live on $3,000 — or even less — each month, including Pensacola and Panama City.

Q: Where do people from Florida retire?
A: Naples, Fort Myers, and Orlando are all on U.S. News' list for the "Best Places to Retire in Florida" and are among the most common cities you'll come across when looking for places to settle down and retire in the state.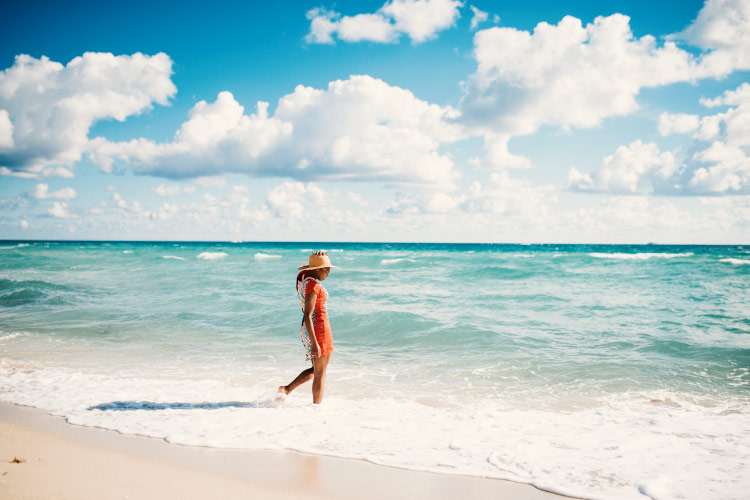 Miami Beach
Retiring in Florida — Pros and Cons
While the Sunshine State seems like the perfect place for retirees to call their new home, there are still going to be some drawbacks that are always important to consider. Along with some more of the benefits of retiring in Florida, here are a few of the more unpleasant qualities the Sunshine State has to offer.
Pro: Lower Taxes
If you're planning on relocating to Florida, you could save a lot of money in taxes. There's no state income tax, which means you won't have to pay any state taxes on various retirement accounts, such as IRAs and pension plans, as well as Social Security and estate taxes.
Con: Natural Disasters
Florida is prone to natural disasters and storms, as it is situated in the hurricane belt. Hurricane season is between June and November, so it's important to ensure that you live in a storm-proof home. If you're a homeowner, hurricane insurance is a requirement, but it's bundled into many Florida homeowners, condo, and landlord insurance policies, so you likely won't have to worry about purchasing it separately.
Pro: Warm and Beautiful Weather Year Round
While Florida may have some issues with its extreme weather, you will at least experience warm and gorgeous weather year-round, with an average of 237 days of sunshine.
Con: Lots of Tourists
Because the state of Florida is known for its beautiful weather and numerous attractions, residents will have to deal with living around an increased number of tourists. During both the summer and winter seasons, many of the roads, beaches, and attractions are packed with people. Parts of Florida that are influxed with tourists the most are also a lot more difficult to find affordable housing in.
Pro: World-Class Beaches
The state has over 8,400 miles of coastline, known for its beautiful beaches from the Gulf Coast to the Atlantic Ocean, where residents can enjoy a variety of activities like walking, beach yoga, and snorkeling. And no matter which beach you're at, there's always a place to eat or shop nearby. It also doesn't matter which coast you're on; you'll always be able to experience beautiful sunrises or sunsets.
Con: Limited Public Transportation in Certain Areas
The state of Florida is very big and has limited public transportation options, which is definitely a drawback for retirees who don't want to deal with the hassle of owning a car. In major cities such as Miami, it's easier to get around without owning a car, but you'll still need to rely on taxis or ride-sharing services — especially if you don't want to get stuck waiting at the bus stop on a rainy summer afternoon.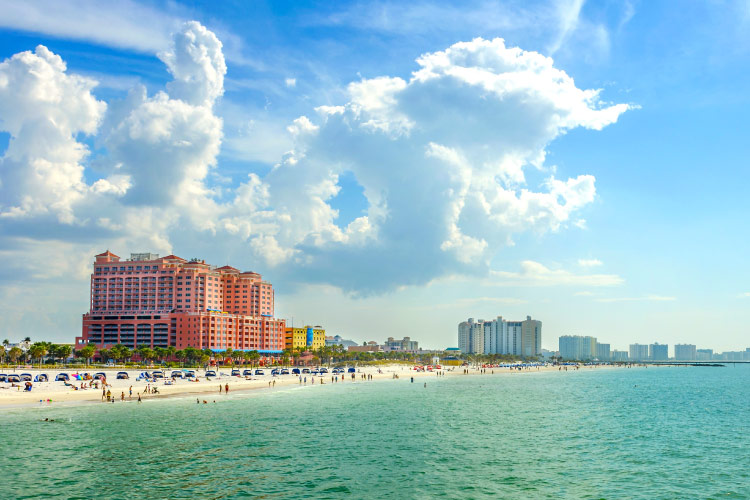 Clearwater Beach, Florida
The Best Places To Retire in Florida
The good news about finding a place to live in Florida is that there is such a great variety when it comes to lifestyle overall. Whether you're looking to live right near the water, be immersed in some fascinating history, or be in close reach to many of the state's incredible golf courses, here are just a few of the best places to retire in Florida today!
1. Retiring in Clearwater, Florida
The city of Clearwater, ranked #2 on Niche's "Best Cities to Retire in America" list, is located on Florida's Pinellas Peninsula, which is bordered by the Gulf of Mexico and Tampa Bay. It's a vacation spot that draws in millions of tourists each year — mainly from snowbirds and out-of-state visitors. Its main draw is the beautiful Clearwater Beach, which has been named the "Best Beach in the South" by USA Today. But in addition to its beautiful beaches, there are a variety of fun activities that can be done there, ranging from visiting the Clearwater Marine Aquarium to exploring the Dolphins Trail.
You can find a variety of housing in Clearwater, from modest ranch homes to luxury high-rise condominiums. The northern part of the city is less expensive than the southern and western portions. And one of the most popular areas is Island Estate, located between Clearwater Beach and the city.
2. Retiring in Sarasota, Florida
Sarasota is about 60 miles south of Tampa along the Gulf Coast. It offers an upscale environment with a walkable downtown and several gated communities. The area's St. Armands Circle — featuring luxury residences and upscale shops — best exemplifies the city's high-end lifestyle.
Art lovers rejoice in Sarasota with easy access to local galleries and the Village of the Arts, with its open studio visits every second Saturday of the month. Other major attractions include The Ringling's Museum of Art and Circus Museum, featuring displays of circus life. You can even try your hand at walking the wire during your visit!
One of the city's most popular attractions is the Marie Selby Botanical Gardens in Downtown. It's a beautiful spot that features a variety of animals and plants.
3. Retiring in Naples, Florida
The city of Naples is located off I-75, south of Fort Myers.
Naples' Historic Downtown is filled with boutiques and high-end establishments. And the area around it has several championship-quality golf courses, in addition to some of Florida's most beautiful beaches.
Besides the beaches and golf destinations, you can also explore the Naples Botanical Garden. This 170-acre facility features various plant species, along with many opportunities to learn about conservation and wellness. There are also plenty of volunteering opportunities for the days you feel like getting out of the house and giving back.
Another area that's popular with residents and tourists is Audubon's Corkscrew Swamp Sanctuary. This natural area, which is about 30 minutes away from Naples, features hundreds of alligators, red-bellied turtles, and white-tailed deer. It's located in Southwest Florida's Corkscrew Watershed.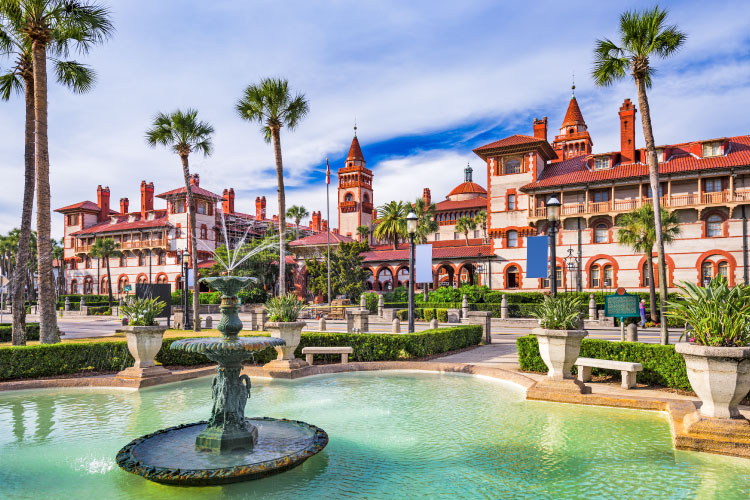 St. Augustine, Florida
4. Retiring in St. Augustine, Florida
St. Augustine, which is about an hour away from Jacksonville, is a laid-back city filled with interesting museums and art galleries. It also comes with its fair share of unique history, as the city's historic district was first occupied by Spanish colonists in 1565. The Colonial Quarter, which is a living history museum that's operated by costumed interpreters, offers a good look at what life was like during that time.
St. Augustine is known for its abundance of retirement communities and close proximity to Interstate 95, which provides residents with a convenient location to explore many of Florida's attractions in the central and northeast regions.
5. Retiring in St. Petersburg, Florida
St. Petersburg, which is about 25 miles away from Tampa, is considered to be one of the cheaper metros in Florida, with a cost of living 1.4 percent below Tampa. It's known for its beautiful beaches and sunny weather, and its location along the Gulf of Mexico, Tampa Bay, and Boca Ciega Bay make it a great place for activities like fishing, swimming, and boating.
There are a variety of museums in St. Petersburg that residents love to frequent, including The Dalí and Museum of Fine Arts. Other popular museums include the Florida Holocaust Museum and the Great Explorations Children's Museum. If you want to get a taste of local arts, you can also head over to Gulfport for the monthly First Friday Art Walk.

First Fridays aren't only for art, though. There's a monthly event in Downtown St. Pete that takes place on Central Ave. between Second and Third Streets. The avenue is barricaded off, and you can enjoy live music, food trucks, vendors, and (of course) drinks. Things can get rowdy, though, so if you'd rather enjoy vendors and food trucks in the daylight, we'd recommend the Saturday Morning Market that runs from October to May or any of downtown's summer markets.
Baseball fans can check out the Rays at Tropicana Field, and soccer fans can head over to Al Lang Stadium to catch the Rowdies in action.
St. Pete is also a major healthcare hub. Some of the area's best hospitals include Bayfront Health and St. Anthony's Hospital.
6. Retiring in Orlando, Florida
Known for being the home of Universal Studios and Walt Disney World, Orlando is certainly the place to live if you have grandkids and would like them to come and visit you often!
There are plenty of other places in Orlando that provide various outdoor activities and entertainment, as well, which include Blue Spring State Park, Kelly Park, and Wekiwa Springs State Park (all of which are known for their manatees). There are also many cultural events that go on at places like the Dr. Phillips Center for the Arts, as well as local art museums.
You can also check out the Orlando Magic in action at Amway Center, along with all the concerts and fun events that take place throughout the year.
And living in Orlando, you'll have easy access to AdventHealth Orlando — the #1 hospital in the Greater Orlando area. You can also find a wide variety of affordable housing types in Orlando, including single-family homes, retirement communities, and apartments, which makes the city one of the best places to retire in Florida on a budget.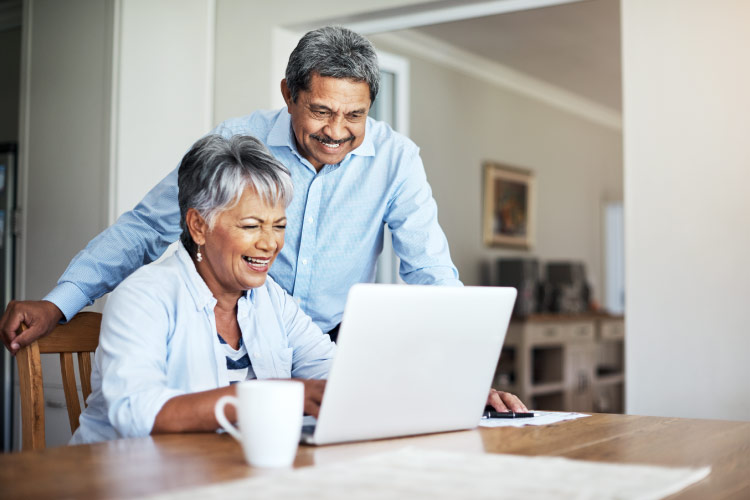 How Much Money You Need To Retire in Florida
Compared to other southern states, Florida is going to cost you more. The cost of living index here is 103.1, while in Tennessee, it's 89.9, and in South Carolina, it's 89.3. But while Florida may be a little bit more expensive than some other southern states, Florida is much cheaper than other coastal areas like California, Oregon, and Washington. Big Florida cities like Miami are still much cheaper than other big cities in the U.S. like New York and Washington, D.C.
If you're looking for a hard number, you should start with your pre-retirement salary. According to NerdWallet, you want to aim to save about 10-15 percent of your pre-tax income annually before you retire. How much you end up with when you're ready to take the leap depends on when you started and how much you saved, of course. And how much you need to live comfortably in Florida, specifically, depends on your personal lifestyle preferences.
But as mentioned previously, there is no state income tax in Florida. This applies to various types of income, such as pension income, Social Security benefits, and 401(K) withdrawals. There is also no inheritance or estate tax.
You could also potentially enjoy a property tax exemption of up to $50,000, if you purchase a home in Florida. Getting the most out of Florida's property tax benefits requires planning, though. Before you can start taking advantage of these perks, you must first become a permanent resident of the state. This can be done by filing a Declaration Of Domicile. You can support your declaration with beginning steps, such as getting a Florida driver's license, registering to vote, and ultimately buying a home.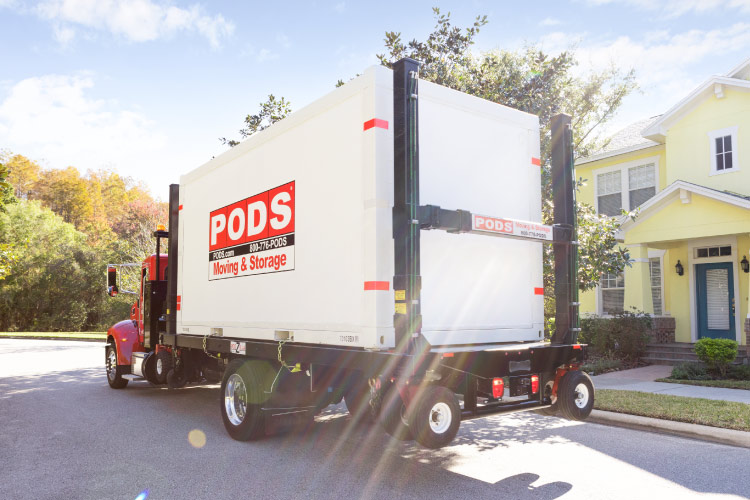 Retire in Florida With the Help of PODS
Moving to Florida can be simple and flexible with the help of portable moving containers from PODS. They'll deliver the containers to your doorstep, where you can pack and load them on your own schedule. Once you're ready to move, PODS will pick them up and take them to your new home in the sunny Sunshine State. Need extra time? No problem! All PODS moving and storage container rentals automatically come with a month of storage included.

Editor's note: For ease of reading, monthly rental prices were rounded to the nearest $25 and home values were rounded to the nearest $100.
Get a Quote
Choose the service you need
Comments
Leave a Comment
Your email address will not be published. Required fields are marked *