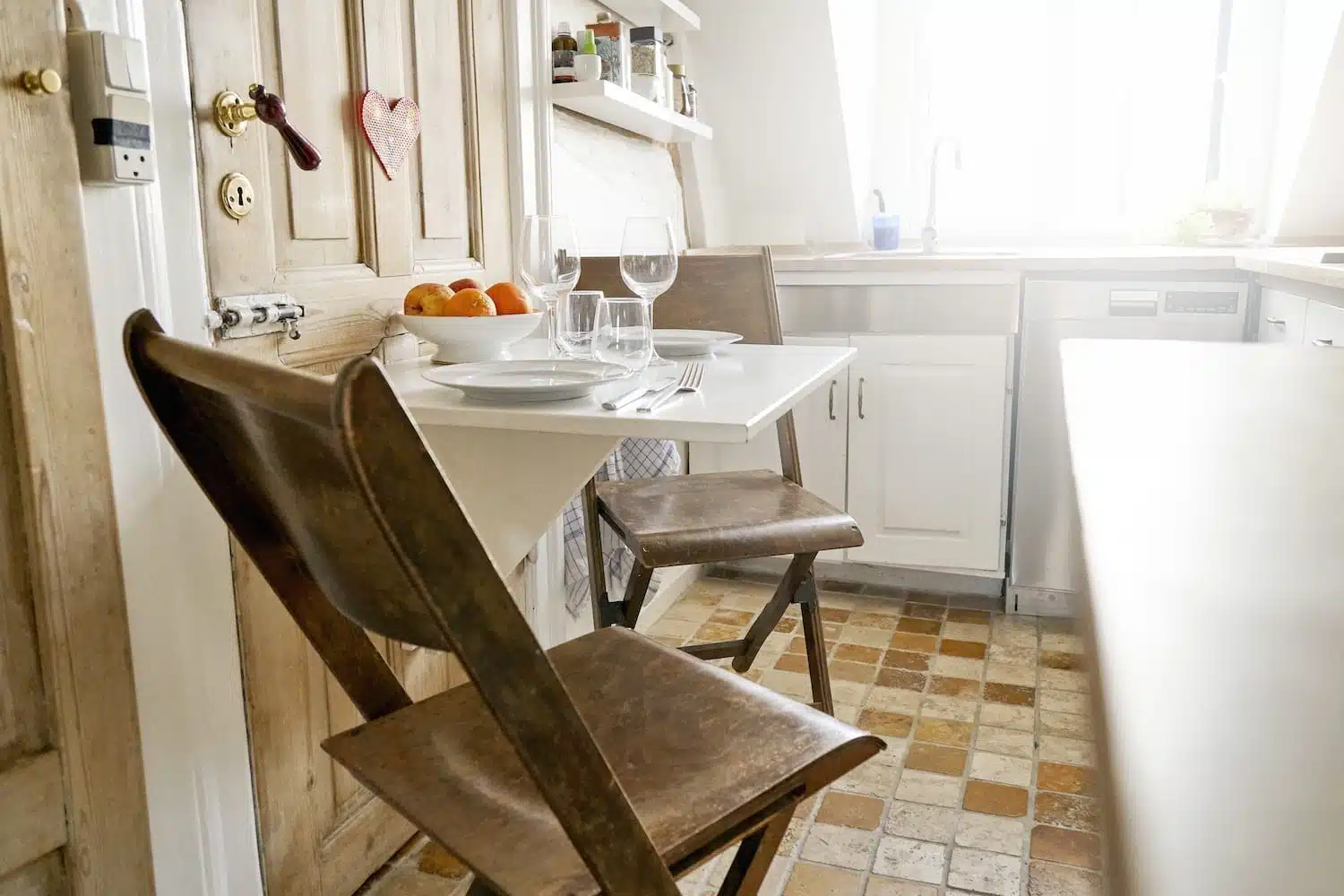 15 Easy IKEA Hacks for Small Spaces
Faced with ever-increasing rents and ever-shrinking apartments, inventive tenants are treating their lack of space as a creative challenge, and sharing their decorating and storage solutions to help the rest of us maximize our square footage. They've found that when it comes to small-space furniture, good ol' IKEA has an abundance of solutions that can be applied and repurposed in a variety of ways, from clever storage ideas for small bedrooms and bathrooms to kitchen and bedroom organization. Whether you're moving into a dorm room or making the most of a tiny home or studio apartment, you can make it all work on a budget with these clever IKEA hacks for small spaces.
1. Hang Small Storage Containers
The PLUGGIS containers from IKEA offer a budget-friendly option for adding storage to any nook or cranny. Use a couple of Velcro strips to secure it to the inside of a cabinet or on the side of the wall for easy storage. In a dorm room, these containers are a great way to add storage to the inside of your wardrobe for socks and shoes, or on the wall beside your desk to organize pencils and notepads. Running low on counter space in your kitchen? Put your sponges and dish soap in a PLUGGIS container attached to the inside of your lower cabinet.
2. Repurpose a Picture Ledge
If you've got a bathroom that's not much bigger than a postage stamp and a matching pedestal sink that offers absolutely no storage or counter space, install a MOSSLANDA picture ledge from IKEA. You can fit it right above the sink and — Voilá! You've got a stylish spot for keeping toiletries, makeup, and other essentials where they're easy to see, grab and use.
3. Convert Bed Slats into Wall Storage
If you've got an old IKEA bed or futon that's ready for the dumpster, try this ingenious IKEA hack that uses the wooden bed slats as a wall storage solution that can work in your office, living area, or even the kitchen. Add a few S-hooks to attach hanging house plants or baskets for storing odds and ends. You can also display magazines, organizing clipboards, and notebooks where you won't be so likely to forget about them. Wondering where you'll get your hands on an old IKEA bed? No worries – you can just order the slats.
4. Transform a Towel Rail
IKEA BROGRUND towel rails are like the ninjas of Transformer toys – ready for all kinds of action. Save counter or cabinet space by mounting a rail to the inside of a cabinet or on the wall to hold all the lids for your pots and pans. Need to tame all those spice jars? Install multiple towel bars on the wall a few inches apart, and you've got a spot to keep all those spices in line, right where you can see 'em.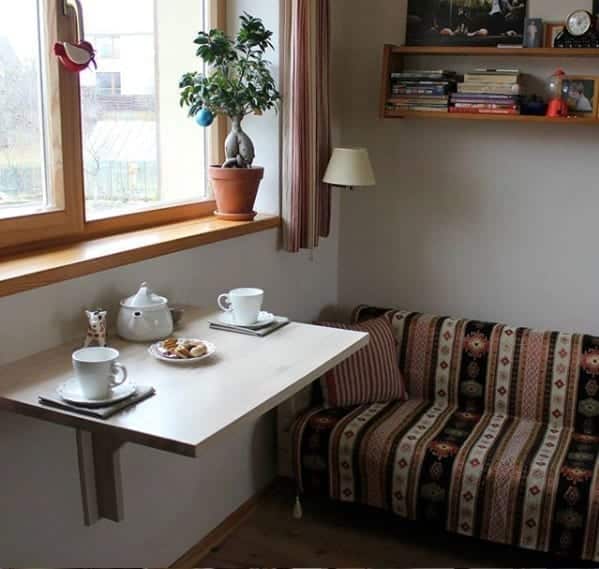 5. Mount a drop-leaf table on the wall
If you're living in a studio apartment, then this is a hack you don't want to ignore. Honestly, this idea doesn't require any actual hacking per se, just taking advantage of a great design. IKEA's BJURSTA wall-mounted drop-leaf table can seat two for dining and work double-duty as a desk. When not in use, it keeps a low profile against the wall when you need the room. If you're feeling handy and want to get more creative, here's a bunch more ideas for DIY wall-mounted desks and tables.
6. Upgrade a Plain Wardrobe
If your small bedroom lacks a closet – or the one you have was designed for a bygone era – you can add storage space with a free-standing wardrobe. Give a standard IKEA wardrobe like the BRIMNES an upgrade just by adding some additional wood detail and new hardware. Then, it feels like a piece that can bring style to any room, whether it's acting as your bedroom closet or a catch-all cabinet in your main living space.
7. DIY a Platform Bed with Cabinets
This one would fall under the category of IKEA Studio Apartment Hacks. When the footprint of your bedroom is small, it's best to maximize space wherever you can. Consider mounting your bed on top of IKEA kitchen cabinets for added storage — this DIY article shows how to create a platform with steps to reach your bed. The project is no small undertaking, but it makes a clever way to save space, while turning your bed into a conversation piece.
8. Use a Slim Desk as an Entryway Table
Turn an IKEA laptop desk like the VITTSJÖ into a sleek and elegant solution for a small entryway space. It's slim enough to fit in even a small entry or hall, or it can provide separation to define areas in a small apartment. As a desk, we like how it's got a small shelf to stash your laptop, and even comes with self-adhesive cable clips to keep your cords in place and out of sight. Plus, you can upgrade your IKEA piece with removable contact paper on the top for an elevated look that's easy to swap out.
9. Add Vertical Shoe Storage
The worst part about having a small entryway is not having space for all your shoes. IKEA's shoe cabinets (HEMNES and TRONES) are ultra slim, so they take less room than most shoe racks. The cabinets tilt open so you can tuck your shoes neatly away and out of sight, yet still handy when you need them. (Bonus: There's enough area on the top for keeping small items like your keys, wallet, and phone close at hand.)
10. Convert a Shelf into a Closet
If you need more space to hang your clothes (and who doesn't?!), mount one of the BERGSHULT / SANDSHULT shelves to your wall, then add a metal rail from one of the IKEA hanging systems like MULIG. It gives you a bit more real estate for hanging clothes, plus you can still use the shelf space for folded tops and sweaters, hats, and accessories.
11. Transform Ikea Frames into Rolling Underbed Storage
Get clever with your under-bed storage by combining a few of IKEA's RIBBA picture frames with some casters and hardware. Take on this fun DIY project to create closing suitcase-style storage that rolls under your bed with ease, or keep it simple and leave it open for out-of-sight shoe storage.
12. Convert a Cabinet into a Stylish Bedside Table
This clever IKEA Hacker used one of IKEA's large EKET cube cabinets and some hairpin legs from Etsy to create a stylish (and dare we say, mid century modern-esque) bedside table. Depending on your own personal style, you can use any sort of legs and paint the EKET to match your decor.
13. Use a Spice Rack to Organize Necklaces
Keep your necklaces untangled and off your dresser with this simple IKEA spice rack hack. Simply install a BEKVÄM spice rack above your dresser or beside your vanity and secure as many small screw hooks as you please for a convenient (and cute) way to store and display your necklaces and bracelets. (Bonus: The small shelf on top is a great place to put beauty products!)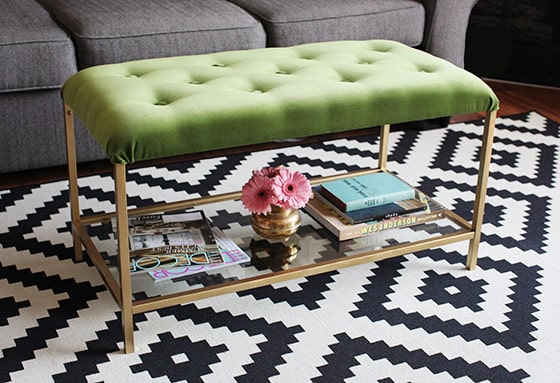 14. Make Your Own Chic Ottoman from a Simple Coffee Table
This DIY project is definitely a project, but it's totally worth it. Blogger, stylist, and photographer Krys Melo came up with this ingenious (and stunning) IKEA hack and we're so glad she did! Basically, you start with the simple VITTSÖ glass-top, nesting tables from IKEA, build the frame of the longer table, spray paint it, attach a support board and foam to the top, cover with fabric, add buttons, and VOILA! (Be sure to check out Melo's blog for more detailed instructions and pictures!)
15. Turn IKEA Baskets into Multi-Tier Hanging Planters
This is a great hack for those of us who like to fill our homes (no matter how small) with all manner of house plants. Using the cute FRYKEN basket set from IKEA, some paint, and 10 inches of parachute cord, you can create the hanging planter of your dreams. This cute and functional three-tiered planter is super customizable, looks amazing, frees up floor and counter space, and keeps your precious plant babies safely out of reach of any cats or dogs that may be cohabiting your space.
While living in a small space often requires streamlining your stuff, it can be fun to get creative with your storage solutions. We hope these hacks help you make the most of your limited square footage and maximize your small home with just a few tools, DIY ideas, and IKEA basics. In addition to these hacks, you can always take a walk through the IKEA showroom to get more inspiration. Just remember, you don't have to use something exactly the way it's intended. Hang it up, turn it on its side, or pair it with another piece. Have fun!
Looking for more space-saving solutions? Check out our tips for small spaces or learn about storing your stuff in a PODS container at one of our Storage Centers.
Get a Quote
Choose the service you need
Comments
Leave a Comment
Your email address will not be published. Required fields are marked *