We've all felt it. Stepping into a room and feeling oppressive odd angles and ill-placed objects dragging down the "vibe" of the space. Humans are creatures of order and balance, and that's why the idea of feng shui is as relevant now as it was hundreds of years ago. Even if your interior decorating could use a little *ahem* work, that intangible feeling of imbalance can usually be solved with a little reorganizing. Follow these tips to course-correct your space and help feng shui your home.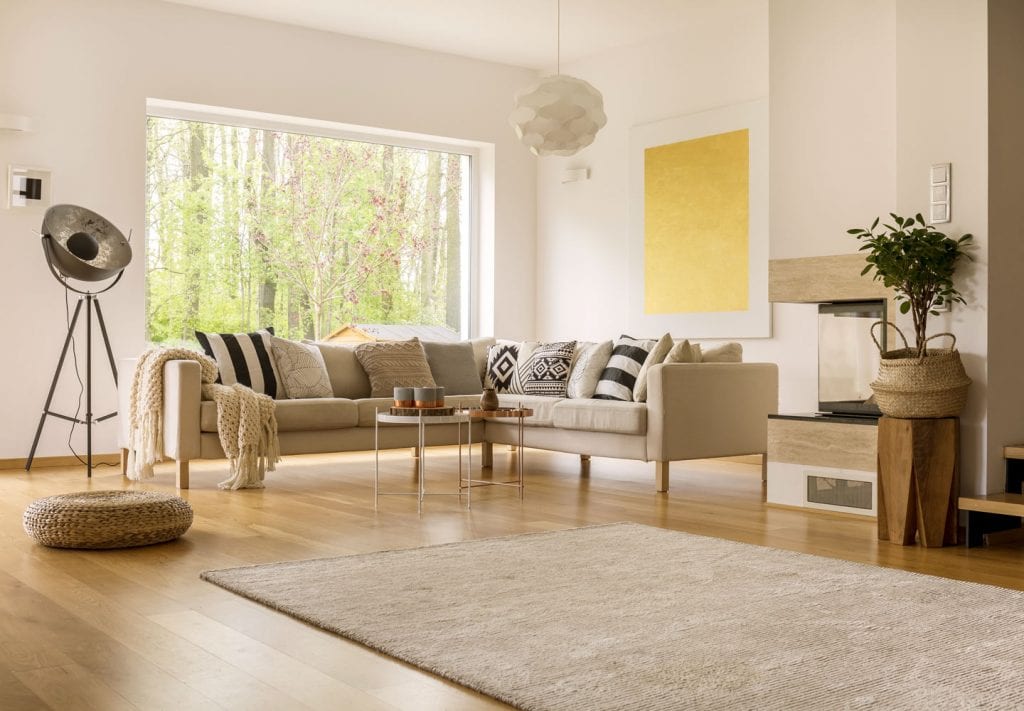 Living Room feng shui
Words to live by: Leave some room!
Here's a general rule of thumb: Furniture size and placement is key to making any space — big or small — feel totally functional and breathable.
When arranging furniture in a living room, don't crowd the area. A good start if you want to feng shui your home is to measure your furniture and create a rough sketch on paper. This will help you visualize your new placement and see what fits before you start the heavy lifting. Consider selling extra, over-large furniture items or putting them in storage.
Decide on a focal point to help you with space planning, such as a fireplace or TV. Once you have this set, let the furniture naturally fall into place around it. What feels right to you? What creates not only aesthetic but more importantly energetic symmetry between objects? If your focal point is your TV, remember to leave 8 to 12 feet for prime viewing distance if possible.
Also, make sure to leave room for foot traffic so you and your guests aren't bumping into furniture when you move around, messing up that oh-so-important energy. Aim to provide at least 3.5 to 10 feet between seating options. Consider the walking paths you most often take in this space. Plan for the greatest efficiency and you'll be closer to the greatest balance. Place seating furniture like chairs and couches across from each other to ensure face-to-face conversations, and center the space in between with a rug.
Bedroom feng shui
Bedroom feng shui is must. After all, you'll be spending at least a third of your life there. Still, bedrooms can be tricky. Window placement and odd corners can often dictate your functional space, especially in smaller spaces.
The focal point of the bedroom is always your bed. If it isn't, we're guessing it feels cramped in there. The standard is to place it in middle of the main wall of your bedroom, but sometimes you have to get creative. The key again is what feels right to you, but also what you'll enjoy.
Pro Tip: If you're prone to sleepless nights, avoid placing your bed facing towards a window or near any electronics.
Apart from your bed, try to use only essential furniture. Limiting the bigger pieces will make the room feel more spacious without sacrificing too much storage space or functionality. Think bookshelves and dressers, and maybe forego that bulky Chaise Lounge. Toss those bulky babies into storage or consider letting them go.
It's okay to break some of the design rules, like putting your bed at an angle or in front of a window. Try to maximize as much space as possible while still making your bedroom comfortable. Check out our storage hacks for small spaces, too.
Bathroom feng shui
To feng shui your bathroom, you need to make organization a priority. Most bathrooms are smaller and don't allow much furniture, so eliminating clutter is essential for an optimal bathroom space. Anything ancient or not being used (looking at you, unopened Kleenex box) should be thrown out or donated. Score some brownie points by giving away any unused makeup and spa products to friends and family.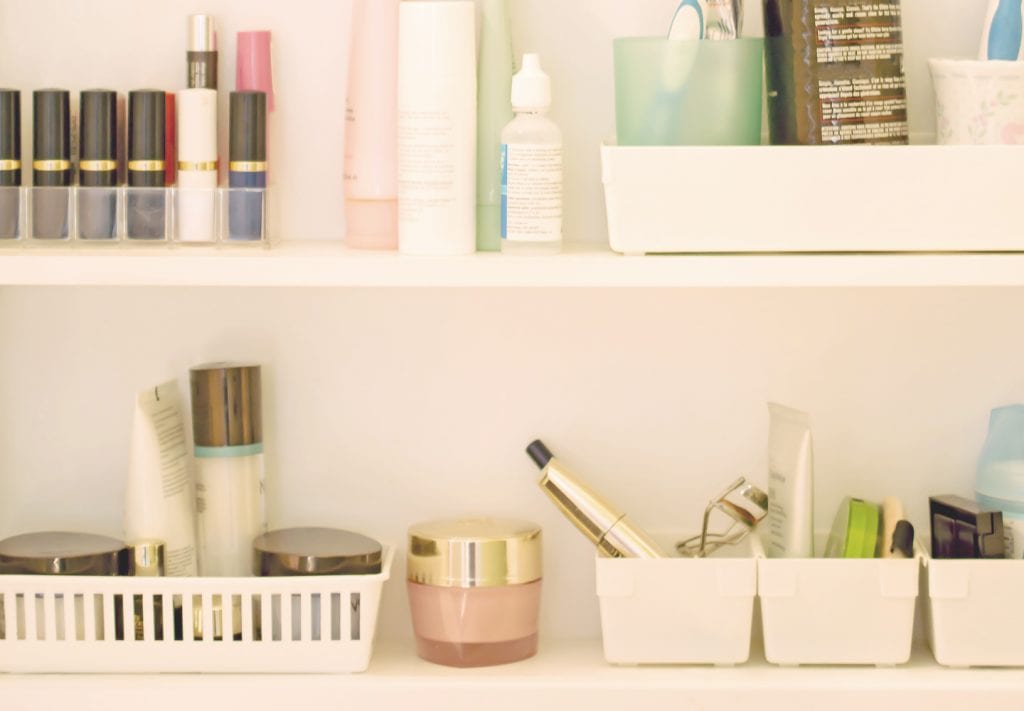 There's a lot of under-utilized storage in our bathrooms. Use command strips and hanging baskets in cupboards and behind doors for hanging towels, blow dryers, and straighteners.
Place magnet strips in your medicine cabinet and even behind the medicine cabinet door. This is great for tweezers, clippers, hair clips, and more.
Use boxes to place in your drawers to organize your things. You can use gift boxes or the tops of shoe boxes, or you can purchase drawer organizers from Amazon, Target, or (one of our personal favorites) Ikea.
All of these organization tricks are to say: You need to clear out and organize everything you can, because cleanliness is especially important to the feng shui of your bathroom.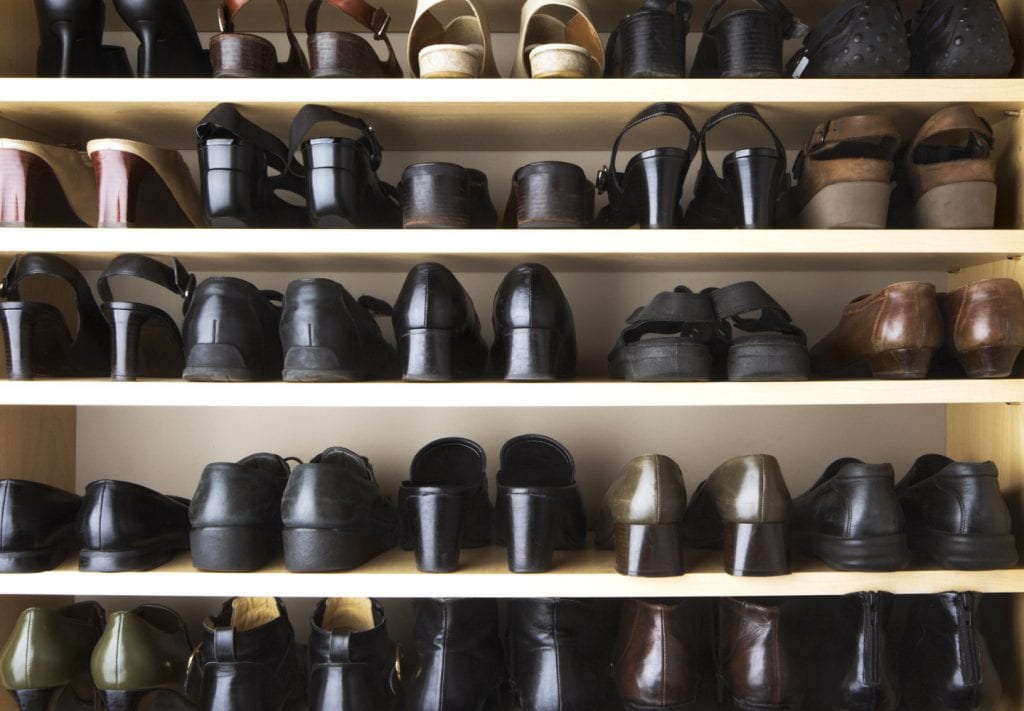 Closet feng shui
It's okay, our closets need some feng shui work, too. It's easy to let such a personal space get disorganized. Once you start thinking about your home in broader terms of feng shui, however, meaning how each room balances with the others, you'll see the value of brightening a spot normally hidden away.
Whether you have a walk-in closet or normal one, you can always find ways to organize it and make more room. First, it's important to get rid of clothes you never wear. Go ahead and also install a second bar if you don't have one so you can hang more items and open up more floor storage.
Don't forget underutilized space either. You can hang shoe racks or hooks on the back of your door and even install corner shelves into the corners of your closet. You'll definitely want to check out our closet storage hacks for some more creative ideas.
You've Got This
Once you've cleaned up, rearranged, organized,and balanced each room in your house, you'll immediately begin to feel the calming effects of that feng shui energy. Who knows, maybe starting with your personal space can lead you down a path to balance out your car, office space, and beyond!
Get a Quote
Choose the service you need
Comments
Leave a Comment
Your email address will not be published. Required fields are marked *