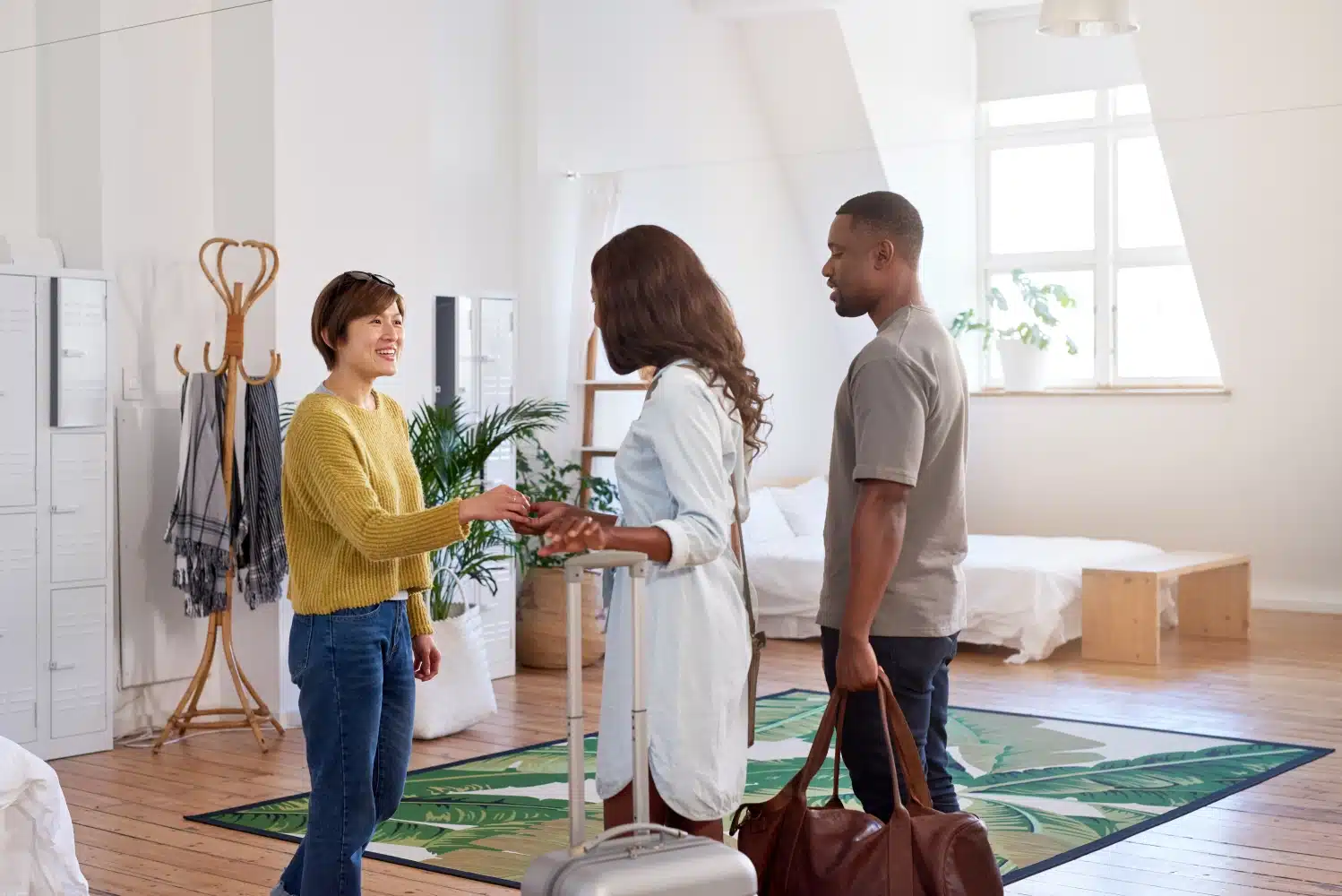 Everything You Need To Know About Airbnb Hosting
Do you have a spare room, guest house, or second property? Are you able to leave your own home for long periods of time? Then you're probably considering being an Airbnb host and interested in Airbnb hosting tips. And it makes sense. It's a pretty nice way to make some easy money, right?
Well, it may not be as easy as you think. Airbnb hosting takes a lot of hard work — and homework and prep work and … you get the picture. It takes work. What you put into it affects what you get out of it, so if you want to be successful, you've got to put in some literal and figurative elbow grease.
Whether you're beginning your Airbnb hosting venture or looking to pick up some new tips, we've got the inside scoop on how to turn your house into an ideal home away from home with this Airbnb hosting guide.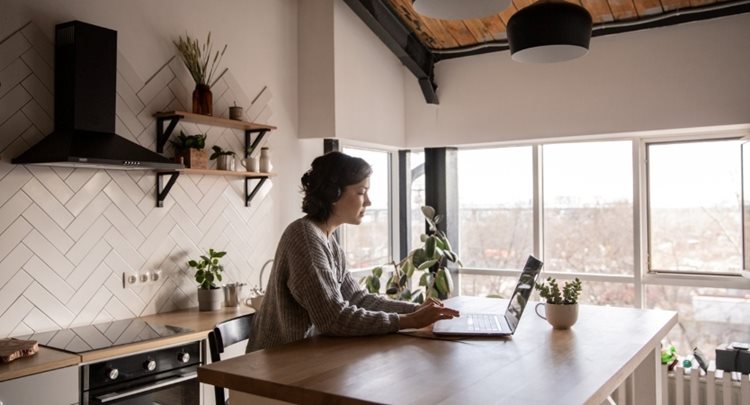 (Source: Ekaterina Bolovtsova via Pexels)
1. Do Your Research
We talked to Superhost Leslie Taylor about her Airbnb host experience, and she offered some insight into what it takes to be a highly rated host. Leslie currently owns a one-bedroom apartment in Bozeman, MT, that she lists on Airbnb, and she's also rented a room in her Maryland home.
She's stayed at numerous Airbnb rentals herself, so she knows what it takes to be successful — as well as some common mistakes to avoid.
To start, she suggests getting in the right headspace by setting up an Airbnb account, looking at other listings in your area, and reading articles on what it takes to be an effective host (you've already got a jump on that one!).
There are lots of great resources out there — even one managed by Airbnb.
Before Creating Your Own Listing, Consider the Following:
Nightly Rates
One of the top questions new hosts ask is, "How much do Airbnb hosts charge?" There's not an exact science to pricing your listing. An easy way to gauge the right range is to look at prices for various types of accommodations and amenities in your area. Note their size, neighborhood, decor, and amenities to get an idea of how to price your own property.
Booking Availability
Are you able to offer your home throughout the year, or are there times when your listing will be unavailable? How much turnover time do you want? Leslie says that most of her guests stay for a week, but she's had bookings ranging from two nights to two months.
Airbnb Rules
Are you fine with children and pets in your home? How many people can comfortably sleep there? Consider what's feasible and what's out of the question.
Airbnb Hosting Fees
Even though the point of renting your property on Airbnb is to make money, that doesn't mean it's not going to cost you anything. Remember, Airbnb wants to make money on this transaction, too. So how much does it cost to start hosting an Airbnb? For starters, Airbnb charges hosts a service fee for each booking. This fee varies but is typically around 3 percent. If hosts have an incredibly strict cancellation policy, this fee can go as high as 14 percent.
It's also a good idea to create a budget before you list your property. Chances are, it's not ready to rent as is, so you'll need to set aside some funds for updates. This can include insurance, new furniture, utilities, decor, light groceries, and possibly even a photographer to take pictures of your space (more on this below). ProjectionHub estimates that the average host spends $6,000 in start-up costs.
Co-Hosting Opportunities
If you don't live in the same city as your Airbnb rental property, or if you don't have the time and skills to handle daily management tasks, you may want to consider adding an Airbnb co-host to your listing. This is a trusted person who's allowed to assist with support and property management.

As a host, you choose the co-host and set their permissions. This can range from cleaning and turnover to general repairs. As the listing owner, you are fully responsible for your co-host, so select carefully.

Design Ideas
As you peruse Airbnb listings, you'll notice that some look much better than others. What makes the spaces stand out? Maybe it's the
minimalist décor
, clean paint colors, or special amenities. What do you like or dislike? Make a list you can reference as you plan your own
home makeover
.
Photography Assistance
In the age of smartphones, we all think we're photographers, but there's a reason why some photos look better than others (Hint: They're taken by experts). A quick look at Airbnb listing photos, and you can easily tell the ones that were snapped by the host's iPhone and the ones that were shot by a photographer. If you want your listing to stand out, consider hiring a pro. This is a great investment that will pay off in future revenue.
Your Competitive Edge
Is there anything that makes — or could make — your property stand out? Ask yourself why guests should choose your home over the other options in your city. "Read the reviews to get a sense of what's out there," Leslie says. "That way, you can understand what people value and what things they're looking for — or missing — in a place to stay."
Q: How much do Airbnb hosts make?
A: Is Airbnb hosting still profitable? You bet! However, renting a property on Airbnb doesn't come with a guarantee that you'll make money. With some time and effort, though, chances are this investment will pay off in the long run, especially if you live in one of these states. According to SmartAsset, the average annual profit of a two-bedroom apartment or house Airbnb listing is around $21,000. This is a nice amount of money, but it's likely not enough to replace your day job income. If you want to host full-time, consider renting multiple properties.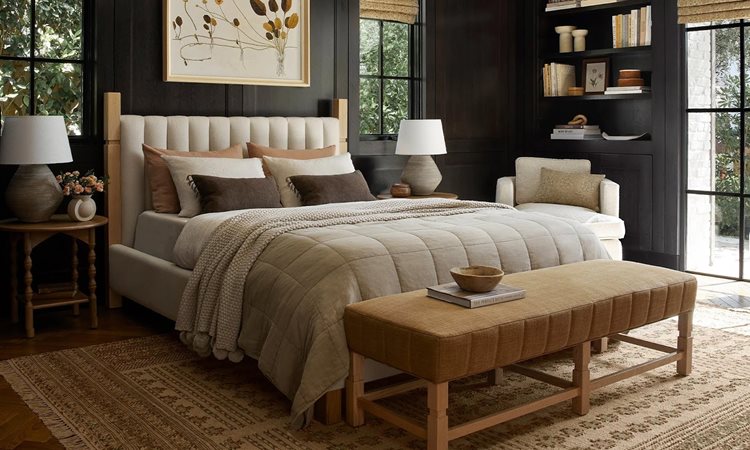 (Source: Lulu and Georgia)
2. Give Your Space a Guest-Friendly Makeover
To make your place suitable for guests, you'll probably need to make some updates or additions. Having a space that keeps up with the latest design trends and doesn't look dated is going to help a great deal when it comes to attracting renters.
Before you add, though, focus on subtracting.
People typically like a clean aesthetic, so a great first step is to declutter and organize. If you're not going to be living in the space full-time, consider cleaning out personal items like picture frames, portraits, and albums. If you're cleaning out things that you don't want to throw away or donate, use a portable storage container or self-storage unit.
Looking for Other Enhancement Opportunities? These Features Are a Big Hit With Guests:
Food Prep Area
Leslie notes that most of her guests like to cook and eat in. If possible, provide at least a coffee machine, electric tea kettle, and refrigerator or mini fridge.
Internet Access
Check your internet service and speed. "Good WIFI access is a must," says Leslie.
Room for a Family
If you want to make the most of a small space, add bunk beds or a pullout sofa.
Storage
Have a dresser, closet, or chest where guests can store their things.
Plenty of Lighting
Everyone loves good lighting. Put a lamp by the bed for nighttime reading.
Easy Check-In
If you don't want to fool with exchanging or hiding keys, a keyless entry pad is a game-changer. "I code mine with the last four digits of my guests' cell numbers," Leslie says. "This is a nice personal touch."
Good Sleep = Good Reviews
Some hosts don't put enough thought into their beds, according to Leslie. They use cheap sheets and mattresses, and the poor night's sleep results in poor reviews. One of her top Airbnb hosting tips is to invest in a nice mattress and high-quality, white, cotton linens. You don't have to spend a fortune on Egyptian cotton, either. Many retailers carry quality options for reasonable prices. Putting some effort into making the bedroom a peaceful place for rest and relaxation goes a long way with guests.
Pro Tip: If you're cleaning out things you don't want to throw away or donate, or if you're doing some serious remodeling to get your home Airbnb-ready and need to clear the clutter, consider using a portable storage container, which you can store either in your driveway or at a secure storage facility for as long as you need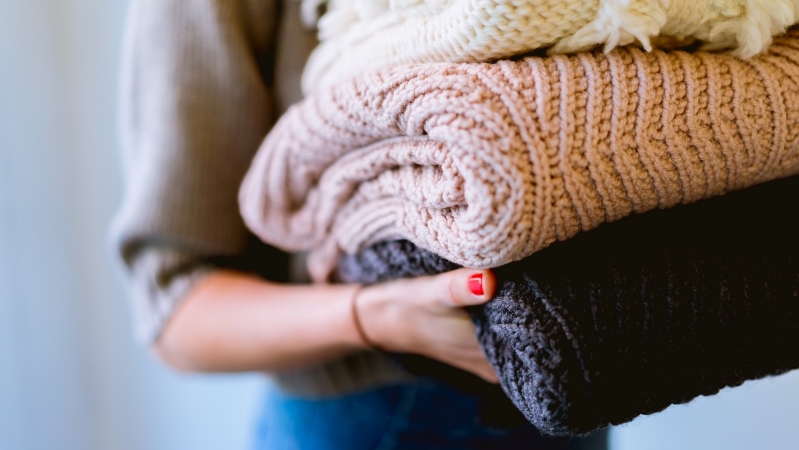 (Source: Dan Gold via Unsplash)
3. Stock Up on Supplies
You're going to need more than a comfortable place to sleep to keep guests happy. You don't have to go overboard, but you do want to keep your Airbnb home stocked with at least these basics.
For the Kitchen
Bottled water
Coffee
Tea
Creamer
Sugar/sugar substitutes
Salt and pepper
A few basic cooking spices
Paper towels
Hand soap
Basic cookware
Basic dining ware and utensils
For the Bathroom
Toilet paper (and lots of it)
Towels (and lots of them)
Soap
Shampoo and conditioner
Hair dryer
Hand Lotion
Cotton swabs
Individually wrapped toothbrushes
Miscellaneous
Extra blankets
A television
Local maps/lists of places of interest
Magazines/books
Board games/cards
Disinfectant wipes/other cleaning supplies
Pro Tip: Leslie says guests love using pump dispensers. From hand soap to conditioner, try to provide as many products as possible in pump form.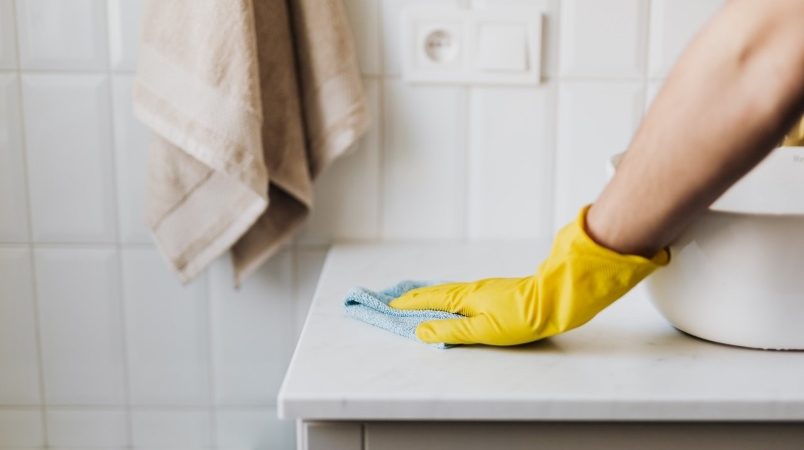 4. Remember the Golden Rule
As you start working with guests, think about how you'd like to be treated if you were the guest.
Here Are Top Hospitality Traits That Go a Long Way:
A Clean Home
According to Leslie, this is the top priority for most people — and understandably so. Now more than ever, they want to know that their temporary home or apartment is clean. In addition to keeping her Airbnb homes decluttered and organized, Leslie uses a professional cleaning service between visitors to ensure a positive experience.
Open, Friendly Communication
Did you know Airbnb allows you to digitally store and send documents to your guests? Let them know how to get to your home, gain entry, and any other pertinent information.
Accessibility
Sometimes things go wrong and the guests need to get in touch with you quickly. Make sure they have your contact information — and that you'll be around to take their call, answer their email, or respond to a text. If your guests have a major problem, it needs to be dealt with right away.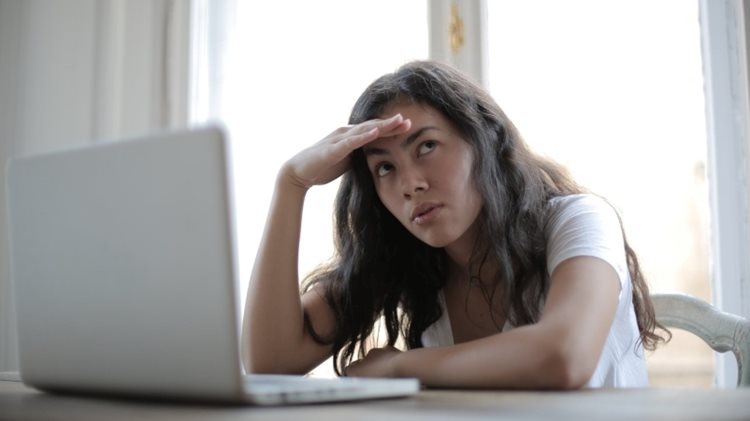 (Source: Andrea Piacquadio via Pexels)
5. Expect the Unexpected
Speaking of things going wrong, it happens. Keypads fail, electricity goes out, toilets overflow. The important thing is to be prepared.
"You need to have a plan and people you can rely on," says Leslie. This includes a property manager (if you're unable to do it yourself) and some go-to contacts for repairs, like plumbing and heating or A/C.
But what happens if something goes wrong that isn't home-related, like a personal injury? While Airbnb has liability coverage, Leslie recommends two Airbnb hosting tips:
Let your insurance provider know you're going to use the residence for Airbnb hosting purposes.
Set up an LLC and use it as your hosting company. This isn't as complicated as it sounds. A limited liability company protects your assets if you're faced with a lawsuit.
To show your guests you're putting their safety first, have smoke detectors and carbon monoxide detectors installed in your home. Check them regularly to make sure they're in good working order. And if you're going to host families with children, you need childproof outlet covers and other child-focused protective measures.
Also, create an emergency plan. This can include contact information for local law enforcement and fire protection services as well as an evacuation plan. Leslie emails this information to her guests and leaves a printed document in her apartment for quick reference.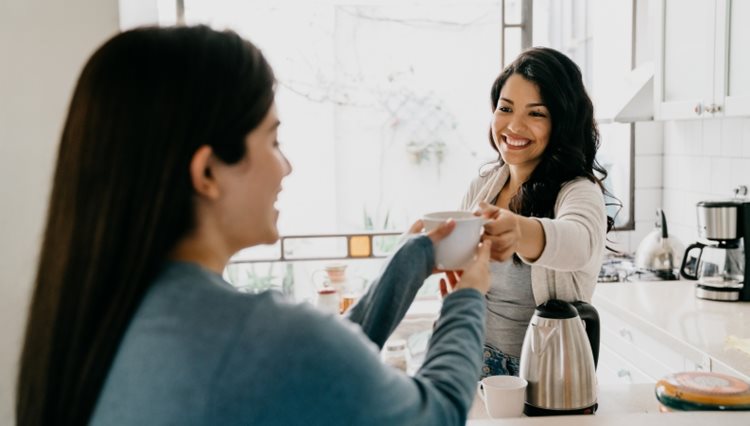 6. Unleash Your Inner Superhost
Airbnb has an algorithm that puts certain listings at the top of the search results, and one thing that affects that placement is reviews.
If you have several positive reviews and meet a few other criteria, you could become an Airbnb Superhost. This status is earned by experienced hosts who exemplify superior service.
To earn positive reviews, you have to provide a positive experience. It's a no-brainer. But in addition to following the previously mentioned tips, Leslie suggests going above and beyond and letting your guests know that they can personally contact you if anything goes wrong.
She admits that this is easier to do when a guest is renting a room in a host's home, but if you're not going to see the guests during their stay, ask them to please contact you to correct any issues. This (hopefully) prevents them from taking out their frustrations in the reviews section of your listing.
Unfortunately, once a bad review is published, there's nothing you can do about it. And, like your GPA in college, somehow one bad review seems to have a bigger effect on your overall rating than you might think.
Don't let the thought of negative reviews scare you, though. Overall, Airbnb hosting is a fun gig. "In my experience, most guests are good, nice people," says Leslie. "And Airbnb is an efficient, transparent system."
Sure, becoming an Airbnb host requires putting in some hours and keeping your property well maintained — which you're hopefully doing anyway — but think about all that you get in return. You're not just making a little cash on the side; you're getting an opportunity to meet new people and provide a helpful service. That's pretty priceless.

LB Gabriel is a freelance writer and frequent PODS Blog contributor. When she's not on a deadline, you can find her on a tennis court or golf course.
Get a Quote
Choose the service you need
Comments
Leave a Comment
Your email address will not be published. Required fields are marked *