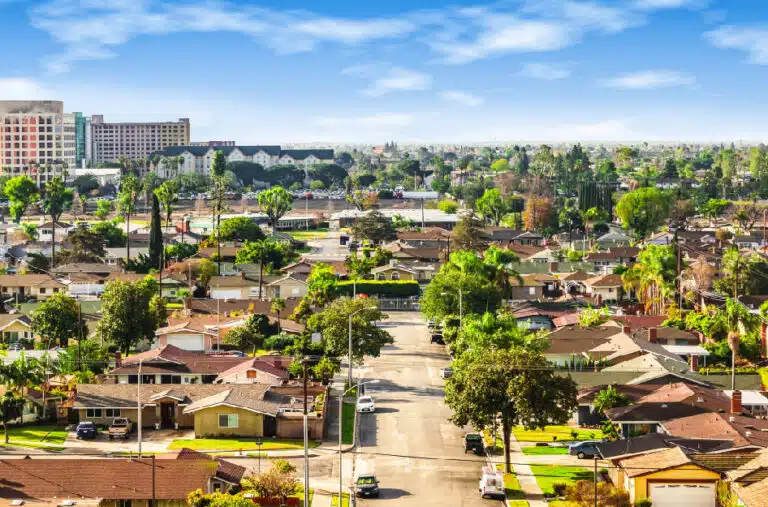 Living in Anaheim, CA: The Affordable Way to Live Near L.A.
Searching for your place in the SoCal sun but prefer to skip the drama (and price tag) of Los Angeles? You may want to consider living in Anaheim, CA, a sweet spot, ripe for the picking. If all you've heard about Anaheim is that it's home to Disneyland, don't fret. We've got you covered with everything you need to know about Anaheim before you start looking for your new home in the heart of Orange County.
Located just 30 minutes from Los Angeles, Anaheim has a lot more going on than just the Mouse. This citrus industry city is a draw for young professionals, singles, and families who want to enjoy great California weather and big city amenities while getting a decent bang for their buck. Many love the high quality of life so much they end up living in Anaheim for many, many years, if not indefinitely. With nearly 350,000 residents spread out over 50 square miles, Anaheim is nearly ten times smaller than LA, with more than 10 times fewer people. 
To get a local's perspective, we turned to Realtor Paul Kott, who grew up in Anaheim and has specialized in real estate there since 1982. As an Anaheim Citizen of the Year (twice over!), Paul was more than happy to share his insider knowledge of this sunny SoCal city. You'll learn about the best places to look for apartments and houses, Anaheim's most popular neighborhoods, schools, and fun things to do.
But first, take a quick 20-minute tour of Anaheim with this video:
What's so special about Anaheim?
"Anaheim is a big city — it's 22 miles from tip to tip," Paul says. In addition to being a haven for young professionals, Paul says young families are drawn to living in Anaheim, CA, because the city offers so much in its quality of life, sense of community, and forward-thinking government. He also notes that Anaheim is a city of diversity, citing its German colonial history, huge Hispanic influence, and hearty Middle Eastern population — all of which lend to the city's multicultural feel, blended culture, and excellent food options.
Tourism is a huge element of the city, especially Disneyland tourism. Paul explains that the city's transient occupancy tax "puts money into our city coffers exceeding $150 million a year," and this extra income "pays for a great deal of vital services, including fire protection, police protection, first responders, and all the other amenities that are needed in a major city." This helps Anaheim avoid the financial difficulties often faced by other cities — even cities in the same county.
For home buyers, a big perk of this sunny SoCal city is how well connected it is. "Anaheim might have the finest freeway accessibility in the state,'' Paul says. Surrounded by four freeways (the 55, the 591, the 22, and above the hills, the 55) and sporting the Anaheim Regional Transportation Intermodal Center (aka the ARCTIC) — a mecca for catching taxis, rail, buses, and other transportation services — it's easy to get wherever you're going.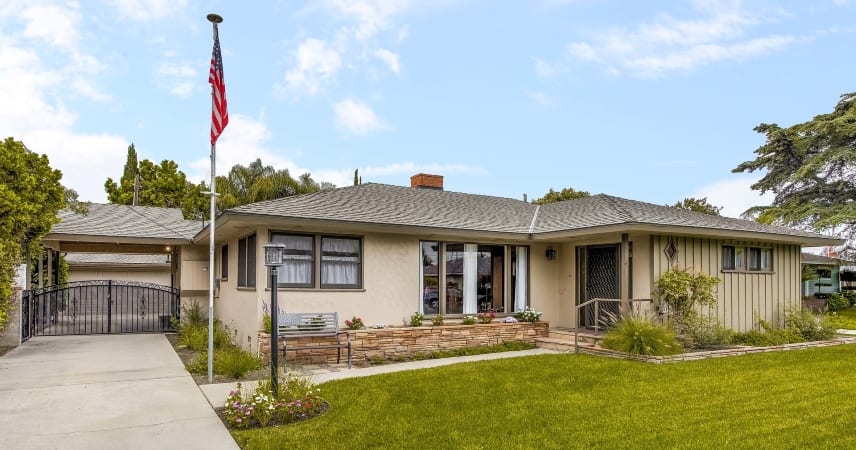 How much do homes cost in Anaheim?
"Anaheim may be the most broadly appealing city in the entire county of Orange," gushes Paul. "It has every type of price range of home." Paul says Anaheim's access to plentiful transportation is a boon for buyers, allowing them to live in any type of environment, with any type of price range. He explains that residences here span from entry-level condos to multi-million dollar estates, and according to Zillow, the average home value in Anaheim is about $790,000. After experiencing a market that heated up during the pandemic, the second half of 2022 marked a downward shift in home sale prices. 
Is Anaheim cheaper than LA? The short answer is yes. According to Zillow, the average home value is almost exactly $100,000 less in Anaheim than in LA, though overall housing sales numbers have decreased more in Los Angeles, according to Redfin data. 
Map of Anaheim, CA
Best neighborhoods to look for homes for sale in Anaheim, CA
What's it like living in Anaheim, CA? Residents here can easily scratch the outdoors itch, thanks to the plentiful parks and green spaces in the city. In fact, Paul tells us Anaheim has more parks than any other city in Orange County. "The parks have not only good walkability in terms of people just exercising, but they have other amenities including soccer fields, softball diamonds, [and] swimming pools." However, Paul says that, for now, parks are mostly located in the better neighborhoods — something to keep in mind, depending on your park priorities. Here's a look at a handful of different neighborhoods in Anaheim — plus a popular neighboring city, just for good measure.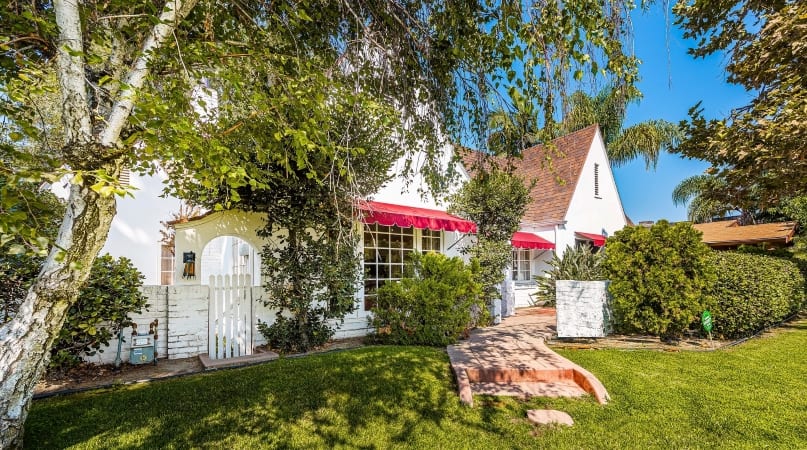 Anaheim Colony Historic District
This is Anaheim's largest and first historic neighborhood. It's the area where the first German colonizers settled, with boundaries that are still honored and held today over 250 years later. It's also home to a big number of the city's parks and the Packing House District, which features four historic landmarks, including Anaheim Packing House, one of the last remaining citrus packing warehouses in OC, preserved and retrofitted as a great American market hall.
The vibe here is young, bustling, and a bit glitzy, thanks to a handful of famous residents past and present, from the silver screen to the baseball diamond. The area is full of new townhomes (mostly near the Packing District) and historic homes, like mid-century modern gems and 1920s Craftsman-style homes. According to Paul, prices here can range anywhere from $350,000 to $1 million.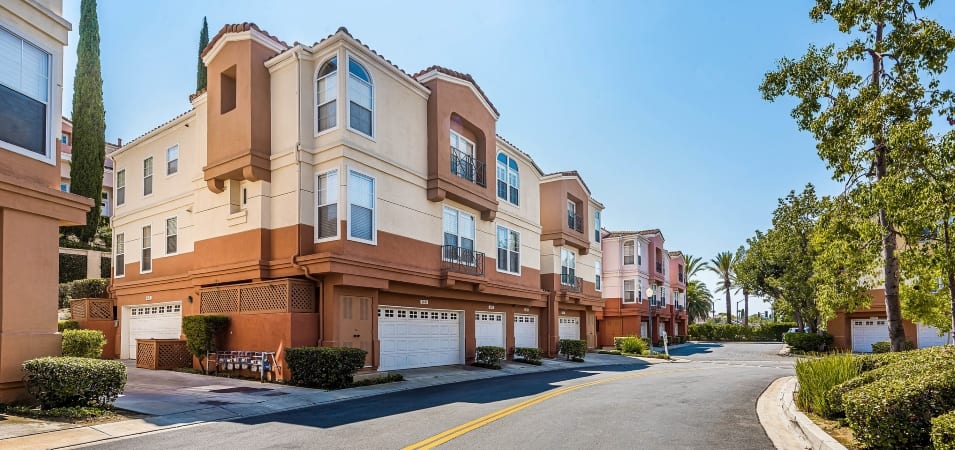 Anaheim Hills
Located way out on the most easterly end of the city, Anaheim Hills is one of the city's most unique neighborhoods. This area is designated as part of the Scenic Corridor Overlay Zone, which protects the beautiful views over the mountains and hillsides. "You get up in the hills and it's a totally different environment from the flatlands of Anaheim," Paul says. Residents of this upscale neighborhood are community-driven, diverse, and hard workers who enjoy the quiet the location affords.
He's quick to note that the neighborhoods here cover all price ranges, but are usually between $800,000 to $1.2 million — anything from condos for first-time home buyers to multi-million dollar estates and mansions that appeal to baseball players and high-powered execs. He says the average home here is likely going to be newer builds (generally four years old or younger) in a modern Mediterranean style, with two stories, somewhere around 3,000 square feet, and maybe sporting a three-car garage with a typical lot size of about 7,500 square feet.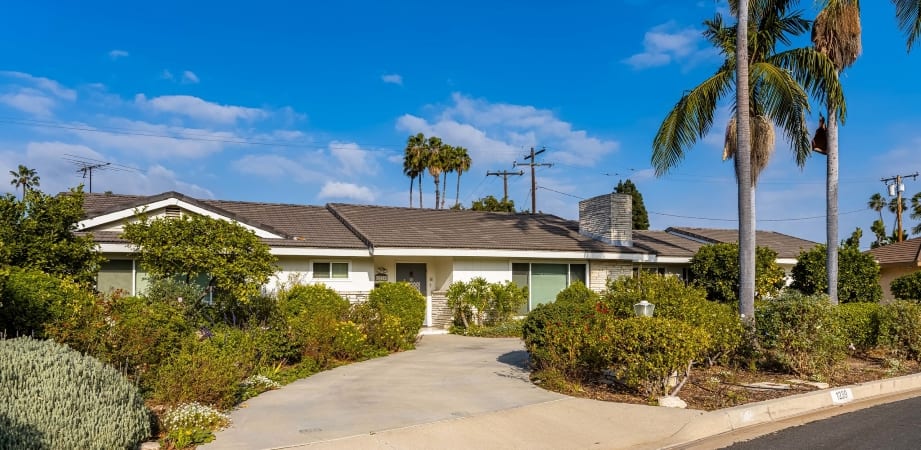 Westmont
"Let's suppose someone is looking for a nice mid-century modern," says Paul. "Something built in the '50s, '60s, or '70s. The Westmont neighborhood is filled with custom and semi-custom mid-century modern homes." He also mentions that these single-story, ranch-style homes come with generously sized lots, ranging from a quarter-acre up to an acre. In this slightly more affluent neighborhood, Paul says you'll find a big sense of community, manicured lawns, and an overall upscale vibe. Homeowners here tend to be more mature, own businesses in Anaheim, and enjoy the quiet atmosphere.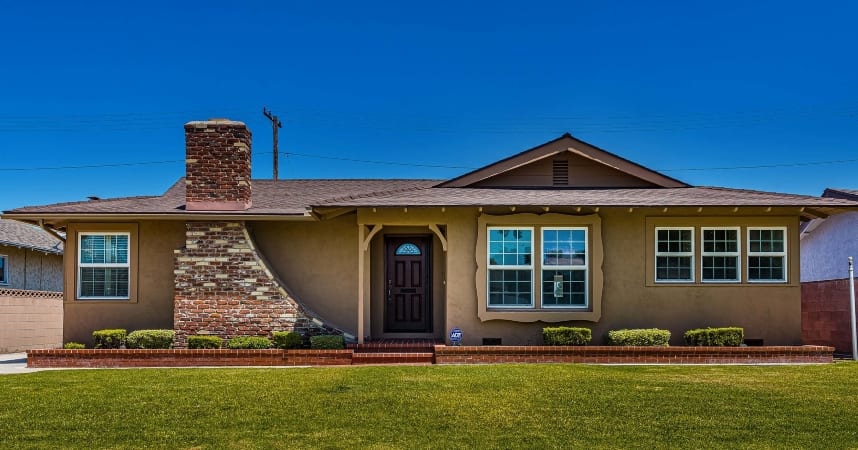 West Anaheim
"A fabulous area of Anaheim is the westside because you can buy a fantastic home in a good neighborhood, in a good school district, near parks, and for a very good price," says Paul, referring to the area between Euclid Avenue and Beach Boulevard. This is where you'll find thousands of beautiful homes — mostly a mix of styles, usually built post-1970 — in terrific family neighborhoods. The price range here falls between $650,000 to $800,000. "People have lived here for years," he says. "They've raised their families here, enjoyed the lifestyle. And it continues to be an excellent place to live."
Ready to start planning your relocation? Get a no-obligation moving quote by visiting PODS.com for local moves within the Los Angeles area, or call 877-350-7637 if you're moving long-distance. 
The best areas to find an apartment or condo in Anaheim
If you're looking for an apartment in town, we've got good news and not-so-good news. "There are certainly substantial numbers of apartments," Paul says. "But we have high occupancy rates — like 97% — so there's hardly ever any vacancies." If you do find an apartment for rent, you can expect monthly rent to start at about $1,500 for studios and one-bedrooms and about $1,700 for a two-bedroom apartment. Luxury buildings are slightly higher at around $2,000 per month for a one-bedroom and $2,500 for a two-bedroom unit.
So where to look? "If you want something where there's some activity going on all the time, you might look for an apartment downtown," Paul suggests. "If you're looking for something that's going to be just more quiet and you can be left alone, you might want to be up in Anaheim Hills or on the west side. If you're looking to be kind of where it's upscale and there are more upscale amenities or maybe near the ballpark, you're gonna go to the Platinum Triangle."
What are schools like in Anaheim?
According to Niche, Anaheim's schools have a "B" rating even though several schools boast an A rating individually. Of the schools serving the Anaheim area, three schools rank on the list of the top 100 schools in California: Valencia High School (in the Placentia-Yorba Linda Unified School District), Portola High School (in the Irvine Unified School District), and Beacon Park (in the Irvine Unified School District). Schools in the Orange Unified School District are also some of the best schools in Anaheim, while those in the Anaheim Union High School District have some of the lowest ratings. Since the city is served by several different districts that can vary greatly in terms of school quality, it's worth doing your homework and taking districts into consideration while looking for homes — or weigh the pros and cons of utilizing one of Anaheim's many private schools, all of which are highly rated.
Top things to do in Anaheim
There's a lot going on here. At any given time, there are several different experiences at the ready, including hanging out at Disneyland, catching a professional sports game, treating yourself to first-class dining, hitting clubs, and more.
Go Greet the Mouse
Anaheim is home to Disneyland, meaning that, whether you want to or not, you'll probably end up in the land of Mickey Mouse at some point. Best not to fight it.
Spend Some Time in the Middle East
Affectionately known as Little Arabia, this part of Anaheim is a gateway to delicious food and culture by way of the city's Middle Eastern residents.
Step Into the Big Leagues of Baseball
Anaheim is only one of 30 U.S. cities to have its own major league baseball team, though they are named The Los Angeles Angels. Checking out a home game is a must. 
Quack It Up at a Hockey Game
This SoCal city's professional hockey team, The Anaheim Ducks, are polarizing for fans, but there is something to be said about watching a hockey game in sunny California. (Plus, who doesn't love a pro team that was spawned by a movie?)
Pack Your Night Full of Food and Fun
Make any night a memorable one by eating your way through local gourmet eateries at the Anaheim Packing House (a revamped historic citrus packing plant) and then soaking in activities within the Anaheim Packing District (think games and live music).
Pay Tribute to Anaheim's First Europeans
Grab a taste of Germany at Jaegerhaus, where you can sink your teeth into traditional Bratwurst, salty soft pretzels with mustard, and schnitzel. As you might expect, the beer selection is pretty hearty, too.
Bonus: A Quick Guide to Fullerton, CA
Fullerton, CA, is a small city outside of Anaheim that may be worth the 10-minute drive to take a gander. Paul says that while Anaheim is known for Disney and professional sports, "Fullerton is the major hub of higher education in North Orange County." Home to Fullerton College and California State University, Fullerton "not only includes the campuses but all of the prominent ancillary services and housing" that go hand-in-hand with a collegiate environment.
The average home value in Fullerton, according to Zillow, is somewhere around $870,000 — $20,000 less than in Los Angeles. Paul notes that you can find condos starting at around $400,000 up to multi-million dollar mansions. He recommends heading to the historic Downtown Fullerton area if you're into beautifully renovated California Craftsman or Spanish Revival homes of many different sizes. Buyers who prefer mid-century modern homes might want to look at listings in the newer parts of Fullerton, while those seeking more contemporary digs should check out homes in established neighborhoods like Sunny Hills or near Hillcrest Park. 
"The City of Fullerton has also done an outstanding job with respect to providing different types of housing for its residents," Paul says. "Ranging from first-time home-buying opportunities for young families to very expensive large estates in Raymond Hills, Sunny Hills, and other established neighborhoods." Fullerton offers the total package, with its charming historic downtown district as well as a vibrant collection of restaurants and businesses of all types. "It remains one of the most attractive and frequented destinations in North Orange County."
Have fun!
---
Based in Los Angeles, Alex Keight is a freelance writer and frequent contributor to the PODS blog. She has moved 20+ times because she loves to experience new places. Alex most recently moved from Los Angeles, CA, to Portland, OR.
Get a Quote
Choose the service you need
Comments
Leave a Comment
Your email address will not be published. Required fields are marked *