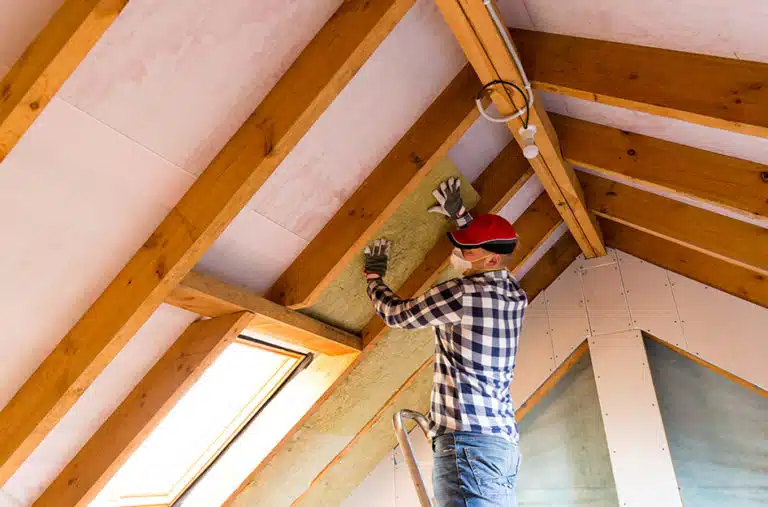 Attic Renovations and Remodeling: Five Ideas and a How-To
When you think of an attic, do you envision a small, dingy room used only to store extra holiday decorations or boxes filled with old, rarely visited memories? Or how about the perfect setting for a horror movie — that you wouldn't dare consider "hanging out" in?
It's time to change that thinking! A usable attic area can be a treasure trove of space to add to your home. And with the right attic renovations, that can result in added value to your home.
In a nutshell, an attic remodeling will enhance your home's functionality. And who couldn't use more of that? Redoing your attic will help you make the most of every corner and potentially add living space to your home — without adding an uber-costly addition. You can get as creative as you want and add an extra guest room or bedroom, home office, children's playroom, or even a hobby room with the existing space.
Are the wheels in your head turning yet? Take a look at these answers to common questions about attic renovations and remodeling, and see if a change in layout is right for you.
Can all attics be finished?
Finishing an attic essentially means turning that unused space in your home into usable space. Any attic, as long as it meets building codes, can be finished.
Here's the simplest, most basic way of renovating your attic:
Go ahead and do a deep clean of your attic, since it's likely the dirtiest room of your home.
Next, ensure the staircase leading to the attic is fully functional.
The floor should be solid. If not, opt for simple plywood flooring or even carpeting.
If your walls are still in the insulation phase, add some new rolled insulation, if desired.
Add drywall to the walls, along with a couple of coats of paint.
Add a bulb for lighting.
Just like that, your attic is a finished space!
Important! Before starting a larger renovation, ensure your attic meets these requirements:
You're following the "rule of 7s" (more on that in the next section).
You have an emergency exit (usually a window).
You have a permanent, full-size staircase leading to the attic. Sorry, pull-down stairs and ladders don't count.
You acquire a permit if you're planning on knocking down walls or installing electric or ventilation systems.
How do you know if your attic can be converted?
That depends on what you want to do with the space. Every attic space is different, after all. For example, you can easily convert a small, narrow, or simply odd-shaped attic into a storage unit or extra closet.

If you have a larger attic and are thinking of converting it into an extra room or flex space, follow the "rule of 7s." That is, according to codes, at least half of a finished attic must be at least 7 feet high and a minimum of 7 feet wide and 70 square feet. Using this rule of thumb can help you decide if your attic can be converted into an extra bedroom, playroom, and more.
How do I redo my attic?
An extra closet or storage space in the house can be super useful, but to make it as functional as possible, you'll need to have a plan. Instead of piling boxes on top of boxes of seasonal items, clothes, and sentimental things in the attic for "later," opt for some of these fun options. Go a step further by labeling sections and you'll always have what you need — quickly.
In addition to using the basic attic finishing steps above, start organizing your space with the following tips:
Use your attic trusses to suspend a hanging rack or floating shelving. An open design will help display clear holiday décor bins and winter clothing easily.

Use built-in shelving or cabinets against walls for storage. A corner unit is space-saving and efficient, too.

Mounted wall and door hooks can hang knickknacks all on full display, ready to grab and go.
For an extra room attic renovation, you'll need to do more than just the simple finishing steps stated. The basics are manageable, but better-quality flooring and paint will level up your space, as well as these tips:

Ventilation is of the utmost necessity when redoing your attic into a room. Proper insulation and cooling and heating functions should be installed correctly.

For a room, an operable window is important. The minimum window area must be at least 8% of the usable floor area, and the openable area must be a minimum of 4%. That means you'll need at least eight square feet to provide outside access through the windows.

The eyes are usually drawn up in attics. Try detailing the ceiling with a contrast paint color and shiplap or other textural styles that will make your space pop.

Once your space is set, use this PODS Blog for inspiration on how to spruce things up even more. After all, beauty is in the details!

Pro Tip: These projects, no matter how big or small of an undertaking, will need an extra temporary storage space to place things in and move back and forth. From construction materials to boxes and bins in your attic, a PODS container in your driveway is the perfect solution — a place to keep everything out of the way but within arms' reach. One can be delivered right to your driveway. Use it as long as you need, and when you're done, PODS will come and pick it up. Easy breezy!
Attic renovation ideas and inspiration
Now that you have all the need-to-knows before starting your reno, here are some ideas to get those creative juices flowing.
1. Live it up
This attic was transformed into a comfortable, cozy living room with everything you could want for a perfect Sunday afternoon nap — including plenty of sunlight.
2. Turn the attic corner into a picturesque bedroom
Keep it sleek and stylish but sleepy by turning your attic into another bedroom. This is great for those nights when you just need some space to yourself or want to give your guests a private room away from it all. If you have a steel attic, opt for a modern feel with metal furniture to match. If your attic is wood, keep it classic with traditional wooden pieces.
3. Cook up a lofty meal
An electrified attic becomes a perfect place for a small extra kitchen. Light snacks, tea time, and your morning coffee get a whole new feel with the low ceilings and plentiful sun pouring through the windows.
4. Get crafty and creative by converting your attic into an art station
For the artists out there, the tighter spaces of the loft can make your creative side really come out. The inherent limits of the space force you to think outside the box when it comes to organization, and that thinking can translate into your work.
5. Learn a thing or two when you transform your attic into a study or work space
Get your thinking caps on for this one. With some choice furniture pieces and work necessities, you can transform your attic into a perfect place to focus and churn things out. Bring up a desk, pens, paper, and whatever files you need, and you've got yourself your own home office right overhead.
Is an attic renovation worth it?
Absolutely! An attic renovation will result in a more functional space for you and your family, regardless of how in-depth your renovation is. From an extra closet or storage unit to a whole new guest room, you'll be utilizing this space from now on. You'll probably even wonder why you didn't do it sooner!
Generally speaking, the average attic remodel cost (to turn it into a living space such as home office or bedroom) is about $40,000-$50,000. However, after the attic renovation, your home's value will rise. Properly adding a room to your home will increase its square footage — your house just got bigger, even by another floor! And resale values provide at least a 53% return on investment when you're ready to move.
Furthermore, when it comes time to sell your home, you're looking at a big plus from a buyer standpoint, too. Finishing unfinished space in the house is the most cost-effective way to offer what potential buyers would be looking for, especially in older neighborhoods with smaller homes. The extra space is an asset for sure.
Any renovation project can be challenging, but when thinking of attic remodeling, go for it. You'll clean up and use previously wasted space for you and your family to utilize, be it an extra closet, home office, flex space, or bedroom. Finishing your attic and renovating it into a special space is a plus all around, increasing your home's value and your happiness, too.
---
Kiran Bahl is a freelance writer who loves discovering how to make something better yet simpler at the same time. She lives happily and peacefully amongst her family and enjoys dessert every day — especially after meeting a writing deadline early.
Get a Quote
Choose the service you need
Comments
Leave a Comment
Your email address will not be published. Required fields are marked *