Curious about what living in Texas looks like? Sure, Austin and Houston get a lot of love in Texas, but there's plenty of Lone Star State to go around. And we're happy to give you a closer look at those two popular metros, as well as a handful of other favorite Texas cities to live in.
Moving solo or with the kids in tow? No problem; we've got you covered. Want a city where you don't need a car? There are options. Hungry for a superb dining and entertainment scene? We'll cover that, too.
Besides a rundown of cool places to live in Texas, we'll also go over a few of the need-to-know basics, like overall city vibe, housing costs and options, things to do, job market, city size, and what it's like to live in each spot, depending on what you're looking for.
Here's a look at the best places to live in Texas. Follow us — we promise we won't lead you astray.
Best Places to Live in Texas — FAQ
Q: What is the #1 city to move to in Texas?
A: As of October 2023, Niche lists Cinco Ranch, a suburb of Houston, as the No. 1 place to live in Texas. However, Austin, Houston, and Dallas-Fort Worth have all become top Texas cities to move to, according to PODS moving trends data for 2022 and 2023. Big tax breaks for businesses and no state income tax are large draws, but these cities have also become entertainment, creative, health, and tech hubs.
Q: What city in Texas is safest?
A: According to 2023 rankings from Safewise.com, Trophy Club is the safest city in Texas, followed by Fulshear and Highland Village.
Q: Where is the most affordable place to live in Texas?
A: According to 2023 Niche rankings, Dilley, Diboll, and Falfurrias are the most affordable cities in Texas (for safety's sake, we've only included cities and towns that have above a C rating). Each has fewer than 5,000 residents and also ranks within the top 20 most affordable places to live in the United States. Keep in mind that your own cost of living will vary, depending on whether you rent or buy a home, drive or use public transportation, dine out frequently or opt for home-cooked meals, as well as other aspects of your personal lifestyle.
Q: Where should I move in Texas?
A: Choosing where to live is a deeply personal decision. We suggest making a list of your top priorities — affordability, sense of community, good schools, stellar public transportation, good job market, etc. — and evaluate your options based on these criteria.
Q: Where should you not live in Texas?
A: First things first: Don't move anywhere that doesn't meet the majority of your criteria or doesn't feel safe. Beyond this, take into account your tolerance for dealing with potential natural disasters like hurricanes along the coast or flash floods, plus how you feel about proximity to necessities and other big deal breakers that might help you determine your no-go cities.
Q: What part of Texas is best to live in?
A: Drawn to a thriving music scene? Check out Austin (also among the best places to live in Texas for singles). Interested in aerospace and aviation? Houston might be your best bet. Want to be immersed in a rich cultural history? El Paso could be calling your name. Bottom line: Texas is a big state, with a lot of big cities and small towns with all kinds of different characteristics. Do your research and figure out which is best for you.
Q: What city in Texas has the best healthcare?
A: The "best" healthcare depends on your own personal circumstances and preferences. But Houston is a hub for healthcare — in particular, the M.D. Anderson Cancer Center, which is home to world-renowned physicians, researchers, and innovation.
Q: What part of Texas is the greenest?
A: San Antonio recently took top Texas honors for the most greenspace in the state — and the No. 15 greenest city in the U.S. But while San Antonio is certainly a standout, Houston, El Paso, and Austin also made the top 22.
Q: Where is the warmest place to live in Texas?
A: Pretty much every city in the Lone Star State has the potential for hotter-than-hot summer days — particularly in recent years, when temperatures broke records on what felt like a weekly basis. But the warmest place overall in 2023 was Rio Grande Village in Big Bend National Park, which hit regular average highs of 110 degrees Fahrenheit.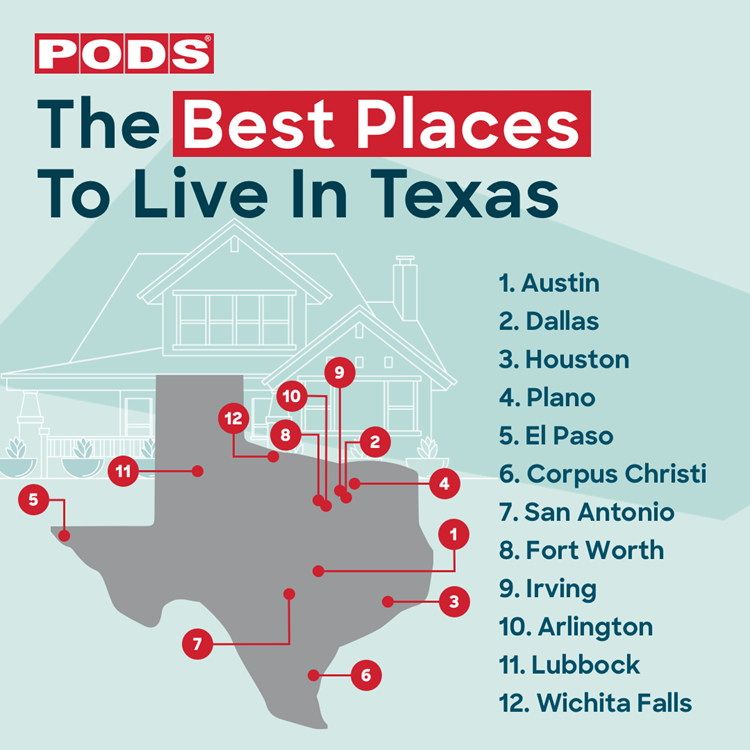 12 of the Best Places To Live in Texas
Let's address the elephant in the room: Texas is huge! If we talked about all the great Texan towns you might enjoy living in, we'd be here for days. So before we go stepping on anyone's toes, know that we recognize there are heaps of great cities and towns in the Lone Star State. We've just narrowed it down to a handful of our favorites (and some of the most popular) to give you a good running start in your search.
As far as pricing goes, it's worth keeping in mind how housing costs stack up against the national averages. As of October 2023, the average rent for a one-bedroom apartment in the U.S. is $1,700, and the average home value is around $348,500 — up 1.1 percent since October 2022.
In Texas, the average rent for a one-bedroom apartment in October 2023 is $1,200, according to Zillow data. But, of course, figures vary widely, depending on the part of the state you're looking at. Cities like Austin and Dallas-Fort Worth are on the pricier side, at $1,800 and $1,600, respectively, for a one-bedroom apartment, while average Houston rentals only run around $1,350 per month for a one bedroom. And Zillow lists average home values at $300,100 in October 2023, a 1.8 percent drop from the same time last year.
All right! Now, let's jump into our list of the best places to live in Texas, starting with a long-time favorite: Austin.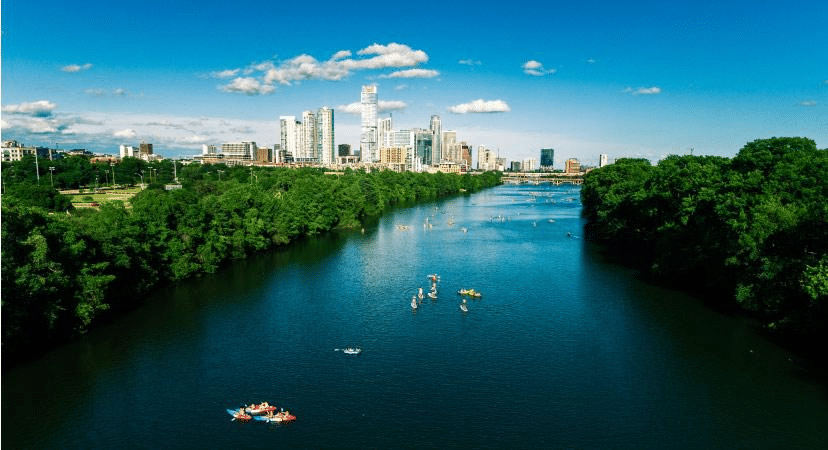 1. Austin, Texas
Austin is an amazing city to live in — if what it offers is what you're looking for. From all four seasons, excellent public transportation, great schools, and a strong job market, to a thriving live music scene, incredible restaurants, and gorgeous greenspaces — Austin really is the good kind of weird. People here are young, social, and hip, and there are a lot of them — which means crowds and traffic (perhaps one of the few downsides to living in Austin). Still, it's one of the best places to live in Texas for young adults and families.
Its popularity has also made Austin an expensive place to live. Austin's cost of living is about 37 percent higher than the rest of Texas overall and 29 percent higher than the national average. The main reason for this is housing — which is 89 percent more expensive compared to the national average. The average home value in Austin is $543,400, and the average rent for a one-bedroom apartment across the city is $1,800, as of October 2023. However, average rent in the coveted downtown Austin neighborhood jumps to more than $3,400 a month (eek!).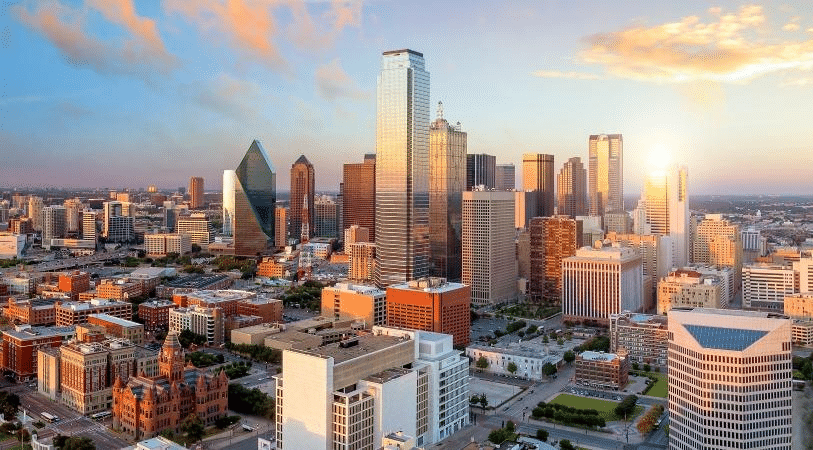 2. Dallas, Texas
As the ninth-largest city in the country, Dallas makes good on the Texan promise of going big. This metropolis offers a little bit of everything — making it a perfect pick for folks who love to sample the buffet of life.
With B-rated public schools and nearly 40 colleges and universities, Dallas couldn't hide its studious side if it tried. The city is definitely one of the best places to live in Texas for families and college students.
In addition to education, top industries in town include business and financial services, health services, and information technologies, so you have plenty of options when it comes to employment.
And as expected, a city as diverse as Dallas serves up a heaping variety of housing options. There is something for everyone here, from historic homes to high-rise apartments — and they are all fairly affordable.
The average home value in Dallas is just shy of $307,000, around $42,000 less than the national average home value, as of October 2023. Average monthly rent for a one-bedroom apartment is $1,600 — but certain Dallas neighborhoods edge into the $3,000s and above.
The city's decent public transit system can get you around in a pinch, but it's still best (and most convenient) to have a car. Plus, it'll make it easier and quicker to get around to sample everything the city has to offer, from live shows at the AT&T Performing Arts Center or a Dallas Cowboys game to grabbing top Mexican cuisine at Meso Maya Comida y Copas and family outings to the Dallas Zoo.
On the plus side, those cars deliver Dallas residents to everything the city has to offer, from theater and live music at the AT&T Performing Arts Center to family outings at the Dallas Zoo.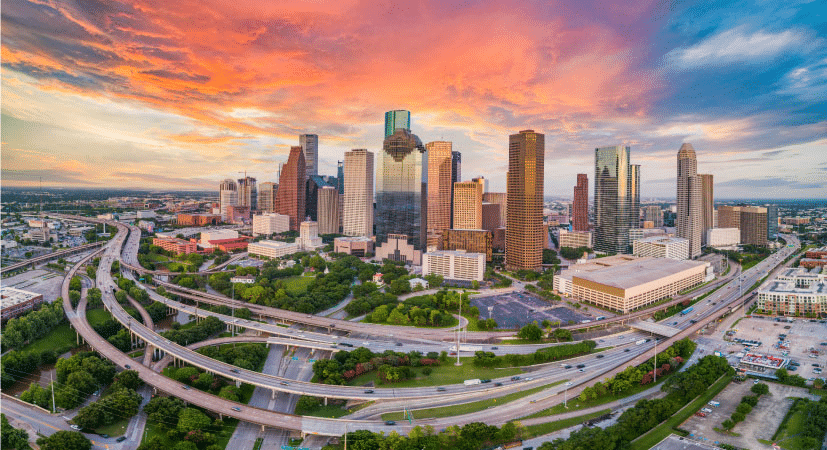 3. Houston, Texas
If you take I-45 south from Dallas and drive (and drive and drive), you'll find yourself in lovely Houston. This culture-rich metropolis is the fourth largest city in the U.S. and — with all that it offers its residents — we're not surprised. World-class dining, pro sports teams, rave-worthy Texas BBQ, and enough entertainment options to make your head spin — if you decide to call Houston home, nobody would blame you. The city is also full of perks for residents 65+, thanks to myriad volunteer programs, medical centers, and senior discounts. No wonder it's considered one of the best places to live for retirees.
Housing costs in "Space City" are generally decent, with the average home value sitting below the national average at $263,100, as of October 2023. And according to RentCafe, the average monthly rent for a one-bedroom apartment in Houston is about $1,350. Of course, there are pricey parts of town where you'll see that average rent increase by more than $800 a month.
While housing costs in Houston are lower than in Texas overall, the cost of living in this southern city is a little higher — especially when it comes to groceries and transportation. Overall, Houston offers a big bang for your buck, so if you can take the heat and humidity (and traffic), this Texan city may be just the ticket.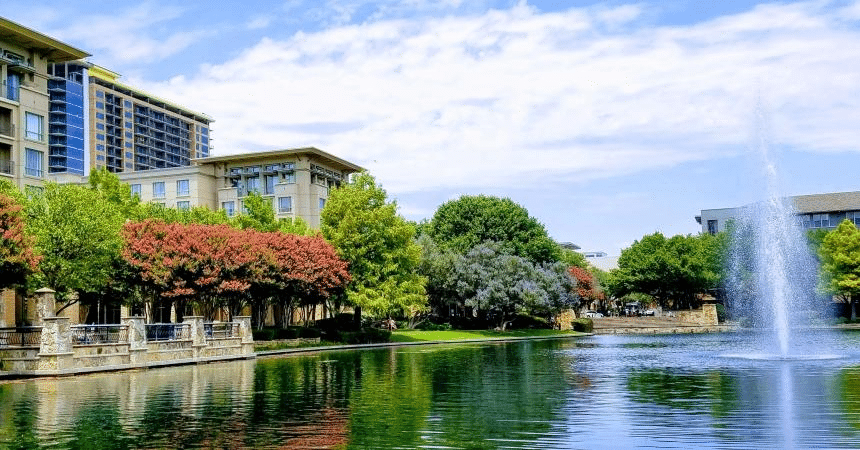 4. Plano, Texas
Plano is a well-manicured suburb in the Dallas Metro Area, located 20 miles north of the city. It has a dense suburban vibe and population close to 290,000, based on 2022 U.S. Census Bureau estimates. And according to Niche, Plano is one of the top 10 cities to buy a house in the country — unsurprising once you learn this suburb scores big on everything from schools and family-friendliness to nightlife and diversity. Plus, in Plano, you're close to all the big-city amenities in nearby Dallas.
However, expect to pay more than what you would in Dallas. According to Zillow, the average home value in this popular suburb as of October 2023 is $509,400 — well above the national average of $348,500 and the Texas average of $300,100.
And as for getting around? You'll definitely need a car in this suburban spot. In fact, folks commuting into Downtown Dallas can expect a 30-minute drive at the very least, traffic notwithstanding.
Life in Plano may be quiet, but it's certainly not boring. Locals pass the time hiking on the many nearby trails, shopping in antique shops, visiting museums, and eating their way through the town's tasty restaurants. Bonus? It's also less than 30 minutes from Dallas/Fort Worth International Airport.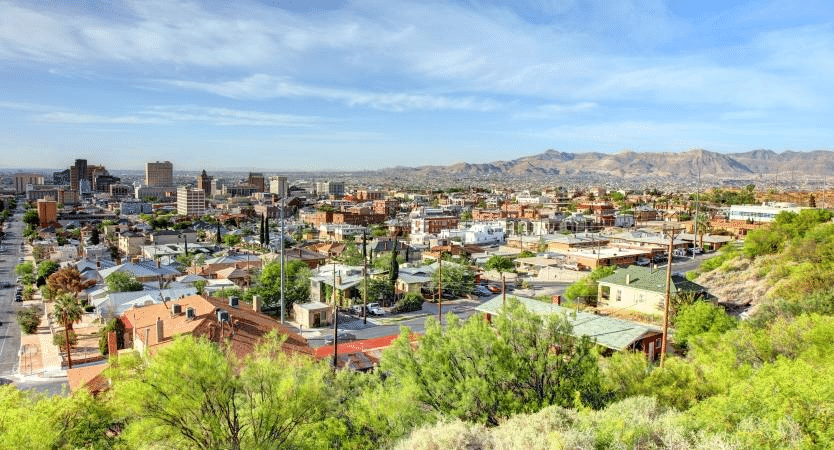 5. El Paso, Texas
Straddling the borders of Texas, New Mexico, and Mexico, El Paso is one of the most affordable cities on our list. According to Zillow, the average home value as of October 2023 is just about $212,000 — considerably lower than the national average. Renters also benefit from lower rates, with the average rent at $1,050 per month for a one-bedroom apartment.
It's worth noting, however, that the city's affordability can be offset by its lower earning potential. According to the most recent data from the U.S. Census Bureau, the median household income in El Paso is only $51,325, compared to the national median of $69,021. The top industries center around food, government, trade, and transportation. Young professionals may consider looking elsewhere, but the lower cost of living makes it one of the best places to live in Texas for retirees and families.
And speaking of transportation, here's something to consider: A pro for some and a con for others, this western-most Texan town is far, and we mean far, from any other cities. San Antonio, the closest big city, is an eight-hour drive away. Still, the city's above-average schools, good nightlife, sense of community, and diversity are big draws for everyone from families to professionals.
Make no mistake, El Paso locals make the most of their city, hitting up the downtown area and popping through the different districts, visiting the city's many cultural spots, like the El Paso Museum of Art, Plaza Theatre, and the 19th-century adobe-style Magoffin Home State Historic Site. The outdoorsy and the foodies in El Paso have plenty to do as well — from hiking or rock climbing in nearby parks to getting their fill of the city's famous Mexican food, along with other international tastes like Greek at Zino's or Spanish tapas at Tabla.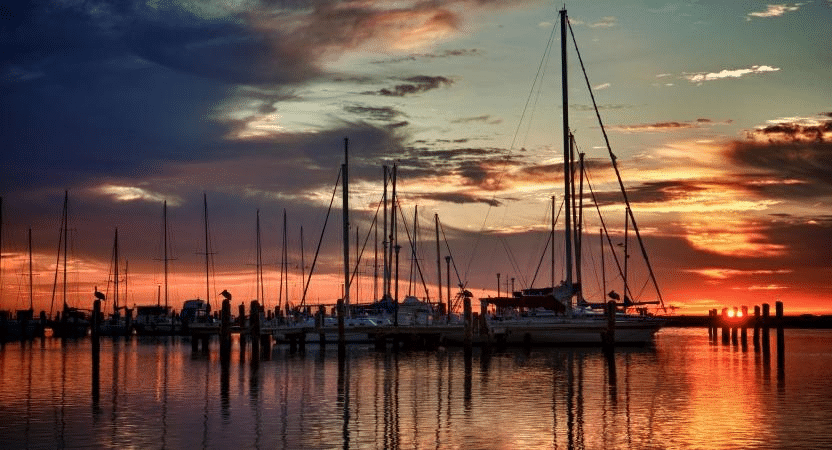 6. Corpus Christi, Texas
Anyone looking for a hint of island life should put Corpus Christi on their list. Nestled in southeastern Texas along the Gulf of Mexico, this coastal city has been a long-time favorite for spring breakers — but there's so much more to offer in the state's eighth-largest city.
Weather here is sunny and humid, though the breeze off the water does help to keep temps a bit cooler than you'll find inland. Summer highs can boil at more than 90 degrees Fahrenheit, but the flipside has winter temps around 65 degrees Fahrenheit. Vibes here are chill and relaxed, and there's never a lack of things to do. In fact, Niche rates Corpus Christi as an overall B+, giving it above-average grades for its schools, nightlife, diversity, and as a place for families. It's also one of the best places in Texas for retirees, as roughly one-in-five residents are above 60 years old.
Top Corpus Christi industries include petrochemicals, military, and tourism — and who doesn't want to live where other people vacation? Luckily, it's pretty affordable, too. As of October 2023, the average home value is about $216,800, according to Zillow, and the average rent for a one-bedroom apartment is $1,150 per month — both lower than the national averages. It's a great spot for anyone looking for waterfront living without the usual huge hike in housing prices.
Why do we especially love Corpus Christi? Because you can really get the most of the outdoors here, thanks to gulf and bay access, the South Texas Botanical Gardens & Nature Center, the Padre Island National Seashore (home to endangered sea turtles), and a plentiful number of parks (75 percent of residents here live within a 10-minute walk to a park). If you move here, you'll want to make sure to have a car, though, since the city isn't quite set up for a car-free life.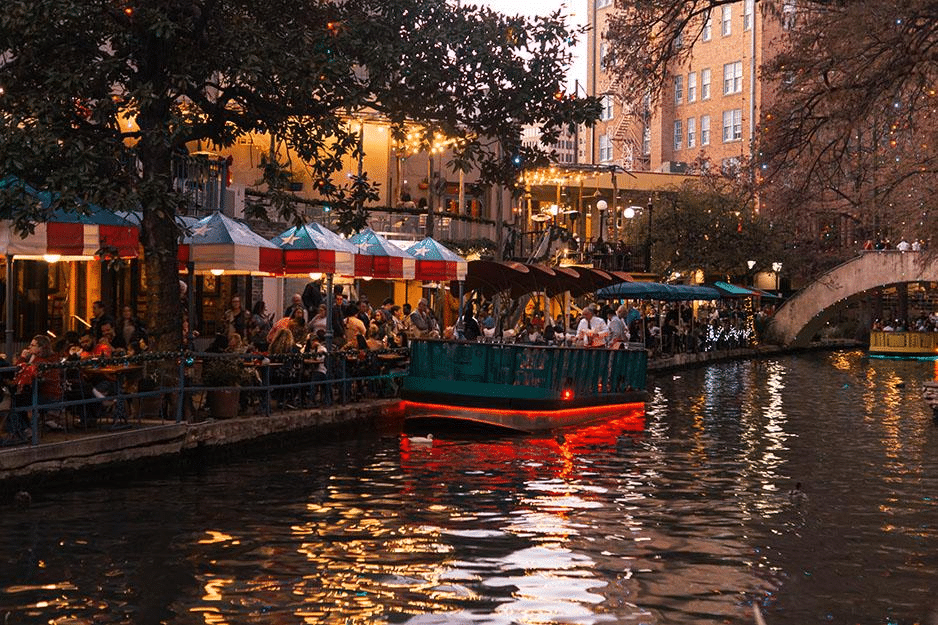 7. San Antonio, Texas
River walks are found across the United States, but perhaps none of them are more iconic than San Antonio's. The 15-mile-long stretch of street along the San Antonio River attracts both locals and tourists to the tune of millions per year, and if you've had the pleasure to visit, that's no surprise. The River Walk is simply breathtaking.
Beyond a picturesque place to spend your evenings, San Antonio has tons to offer its residents. For the working crowd, the city is a scientist's dream, as major industries include Healthcare and Bioscience, Aerospace, IT and Cybersecurity, and the New Energy Economy. Additionally, as is the case in any city worth its salt, there's a thriving retail, professional services, and leisure & hospitality industry.
The cost of living in San Antonio is slightly lower than the average cost of living in Texas and significantly lower than the national average. And the average San Antonio home value is about $259,700 — roughly $40,400 less than the state average. One-bedroom rentals here go for about $1,300 a month, on average, according to October 2023 data from RentCafe. Perfect for those looking to live a Texas-sized city life without paying the premiums in Dallas, Austin, and Houston.
And speaking of other major Texas cities, San Antonio is just a hop, skip, and a jump away from Austin, and a leap away from Houston. Dallas is a bit further, but doable in a day if you start early. So if you're in the mood to catch a Cowboys or Texans game, it's accessible to you. If fall Saturdays are more your speed, both UT and A&M are about an hour-and-a-half away. Of course, you can always stay local for the Spurs, if basketball's your game. The city's proximity to the coast has also made it one of the best places to live in Texas for young adults who are on a budget, as well as a top place for retirees.
S.A. has plenty of fun, too. Aside from the River Walk (which is to die for), major attractions include Six Flags Fiesta Texas, SeaWorld, the San Antonio Zoo, and who could forget the Alamo?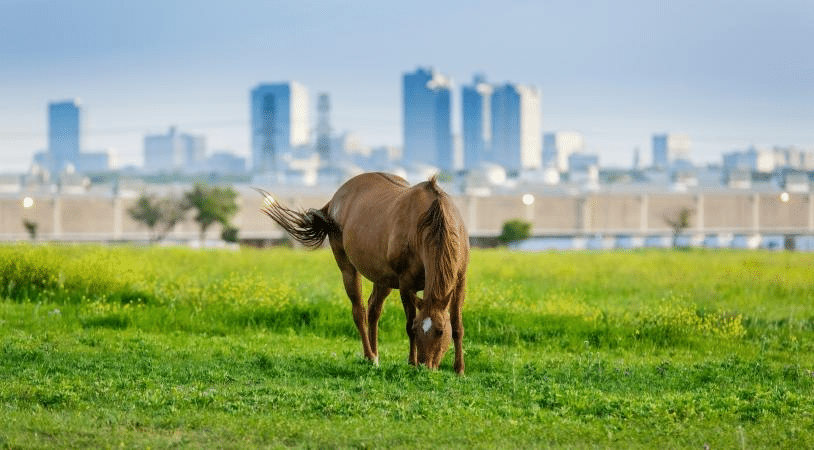 8. Fort Worth, Texas
Looking for a city that can cater to the cowboy and the city person in you? Loop your lasso around Fort Worth. This North Central Texas city is often spoken in the same breath as Dallas (which is just 32 miles to the east), but the truth is that these two spots are worlds apart.
Despite being the 13th-largest city in the U.S., Fort Worth maintains a smaller-town vibe, affordable cost of living, and a seamless stitching of cowboy charm and urban sophistication. We love that this is a place where one can soak in culture at top-notch museums, sip craft cocktails, or nosh upscale eats and kick up some dirt at the historic Fort Worth Stockyards, catch a legit rodeo or wild west show, and go to a honky-tonk at Billy Bob's Texas. It's clear why this is considered one of the best places to live in Texas for young adults.
And as you wander around town, know that Austin ain't the only place where Texas gets weird. Fort Worth's quirky residents, healthy job market, and cowboy-meets-cultured vibe attract young professionals, singles, and families alike.
Fort Worth also has a wide variety of housing options, from bungalows and ranch-style, single-family homes to condos, high-rise apartments, and townhomes. According to Zillow, the average home value in Fort Worth, as of October 2023, clocked in at just under $305,500. Average rent in Fort Worth comes in well below the national average at $1,450 per month for a one-bedroom apartment, according to RentCafe. And as for schools, Niche rates the district a B-.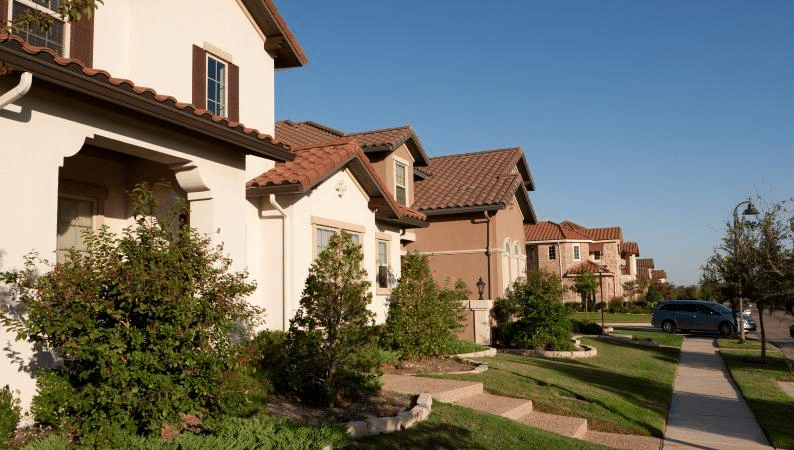 9. Irving, Texas
Irving is popular among families and young professionals looking for a relaxed and communal suburban feel — without sacrificing proximity to big-city amenities. Another perk of being just 12 miles northwest of Dallas? Irving has a lot of Dallas commuters, adding diversity to the city's population of more than a quarter-million.
In fact, Niche gives Irving an A+ for diversity. It's also ranked in the top 40 best cities in America to buy a house. Irving also receives good marks for its schools, nightlife, and family-friendliness. As far as owning a car is concerned, Irving is only a 20-minute drive to Downtown Dallas (or you can take the DART), but you'll still probably need to own a car for day-to-day convenience.
According to Zillow, the average home value in Irving is nearly $339,400, as of October 2023. Interestingly, while Irving's average home value is on par with national numbers, RentCafe lists the average monthly rent for a one-bedroom apartment at $1,550, a couple hundred dollars less than the national average.
And although the culture and amenities of Dallas are nearby, life in Irving offers plenty of things to do in its own right. Art is big here, from the famous Mustangs of Las Colinas sculpture that gallops through the fountain in William's Square to the Irving Arts Center's 10 resident arts organizations.
Take in a performance of the Las Colinas Symphony Orchestra, and tour the BAPS Shri Swaminarayan Mandir, a Hindu temple that is open to the public. There are also tons of tasty food spots, outdoor activities, and community events. Oh, and it's also just 15 minutes to Dallas/Fort Worth International Airport.
First time moving to the Lone Star State? Find out what you need to know with our Texas Moving Guide.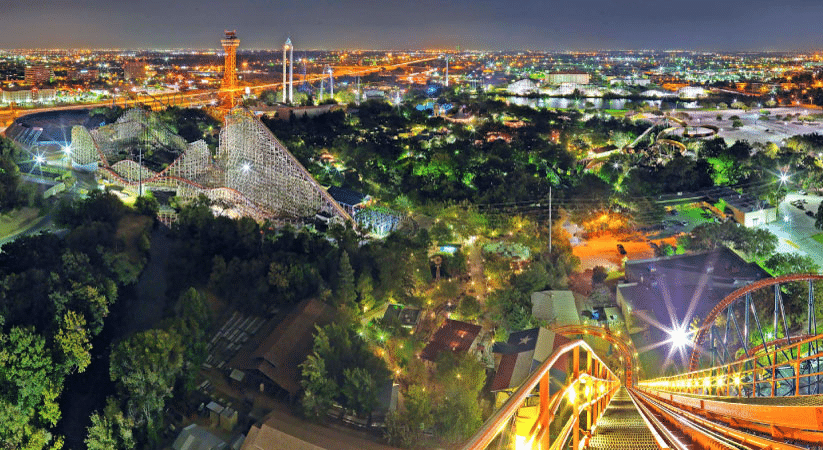 10. Arlington, Texas
For those of you who can't decide between living in Dallas and living in Fort Worth, Arlington may be the place for you. Located about 24 minutes from Downtown Dallas and 20 minutes from Downtown Fort Worth, this metroplex staple makes visiting either DFW hub easy-peasy.
Arlington is an impressive city all on its own, and you definitely don't have to leave the city limits to have a good time. This city of nearly 400,000 is home to the AT&T stadium (home of the Dallas Cowboys) and Six Flags Over Texas (the original Six Flags).
With 4,700 acres of parkland, 49 tennis courts, 21 basketball courts, 53 miles of park trails (and more), fans of the outdoors can feel right at home in Arlington. You can hike along the Trinity River and through the woods at River Legacy Park, or play a game of the increasingly popular disc golf at Veterans Park.
Arlington covers nearly 99 square miles and is serviced by the Arlington ISD (Independent School District), the 17th most diverse school district in Texas. The city was given an overall A- grade by Niche, with a B for its public schools and an A+ for diversity. Many college-age students are attracted to the city in pursuit of higher education at the University of Texas at Arlington (UTA) — a Texas Tier One university known for its excellence in academics and research.
The average home value in Arlington is $314,300 — lower than the national average of $348,600. And though most Arlington residents own their homes, about 45 percent are renters. The average rental is 829 square feet and goes for about $1,350 a month.
Special Shout Out: Pantego and Dalworthington Gardens (Dallas + Fort Worth + Arlington — get it?) are two little "cities within a city." Located in midwest Arlington on the Fort Worth side, they offer a small-town feel with close proximity to happenin' bars, restaurants, and music venues. Definitely worth checking out!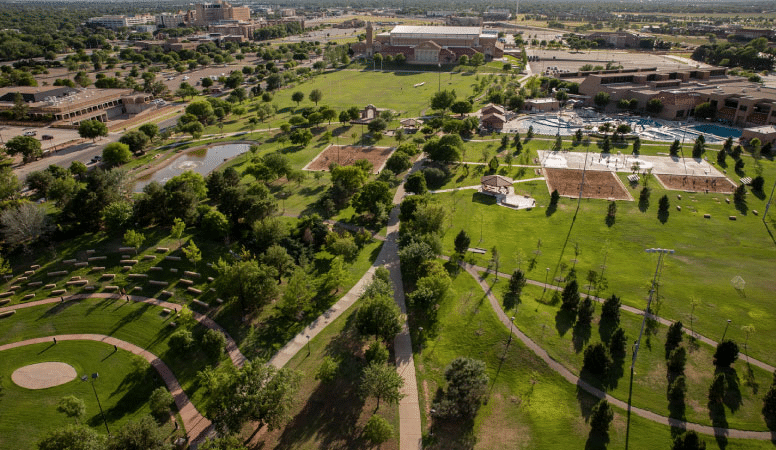 11. Lubbock, Texas
In northwest Texas, two hours south of Amarillo, you'll find the city of Lubbock. Originally a simple college town, this South Plains hub is now home to around 264,000 people across generations. At an elevation of just over 3,200 feet and far from the coast, residents in Lubbock experience a dry climate of mild winters and hot summers with very little rainfall. This beautifully rugged, dry, and dusty region is prone to tornadoes and dust storms at certain times of the year.
This desert city boasts a lively music and arts scene, delicious eats, and an array of family-friendly activities. Lubbock is home to Texas Tech University (and more than 40,000 students), one of the largest in the U.S. Tech occupies 1,900 acres of land and is the only university in Texas that includes a law school, medical school, undergraduate and graduate university in the same campus. It offers about 100 master's degree and 60 doctoral degree programs.
Cultural interests collide in Lubbock, which is known for a few interesting things: being the hometown of Buddy Holly, the top producer of wine grapes in the state, and a true "honest-to-goodness" cowboy town.
You can visit the huge Buddy Holly Statue or the Buddy Holly Center, where you can view a vast collection of the singer's personal belongings, including his guitar, iconic clothes, and record collection. Or stick around for the annual Bud Fest celebration!
Check out the cowboy culture at the National Cowboy Symposium, an annual must-see event for any old western fans that includes cowboy cookoffs, horse parades, live music, and Native American art exhibits (and more, of course).
Finally, for all you winos out there, you can sample award winning vino on a tour of the Llano Estacado Winery, the second oldest in the state.
As of October 2023, the average home value in Lubbock is $206,700, significantly less than the national average. And, surprisingly, only 51 percent of residents own their homes here. The other 49 percent rent with an average cost of $1,125 per month (and an average rental size of 921 square feet).
Niche gives Lubbock an overall grade of A- (not bad!), and applies the same rating to its public schools and the local nightlife.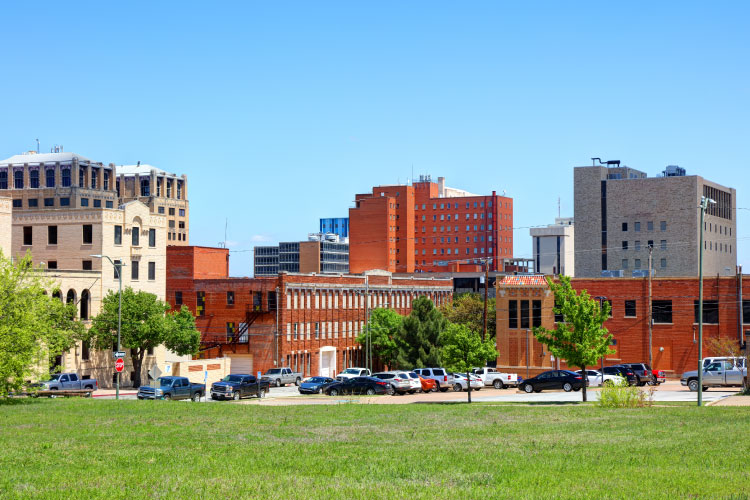 12. Wichita Falls, Texas
This unassuming North Texas town on the Oklahoma border may surprise you. For starters, the namesake waterfall doesn't exist; it was washed away in a violent flood in the 1800s. But in true Texas fashion, locals built The Falls, a 54-foot cascading replica that's now the centerpiece of Lucy Park.

Just two hours north of the Dallas-Fort Worth metroplex, Wichita Falls boasts a strong manufacturing history and continues to attract businesses in the aerospace and aviation sector. The median income in the area is $50,856.
The Wichita Falls Business Park, spanning 525 acres, offers cost-competitive square footage tailored to meet the unique needs of distributors, high-tech enterprises, and manufacturers.
But it's not all-work-and-no-play in Wichita Falls. The city is home to a thriving downtown area, with innovative dining, shopping, and Wichita Falls Alliance for Arts and Culture events, including a weeklong residency of the Texas Shakespeare Festival Roadshow. And with its affordability factor, it's clear Wichita Falls is one of the best places to live in Texas for retirees.
With 24 schools serving more than 13,000 students, the Wichita Falls Independent School District (WFISD) earned a B+ from Niche.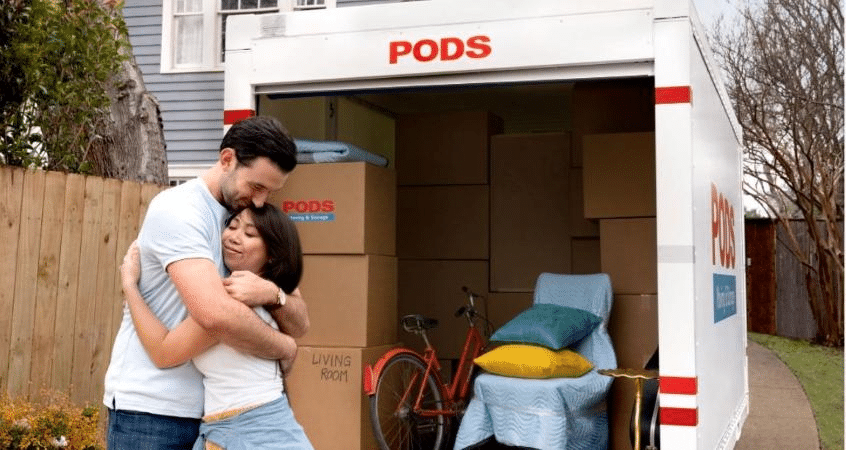 Seeking out smaller cities in Texas?Read our guide on thebest small towns in Texasthat features 16 quaint hometown heroes with tons of Texan charm.
Planning Your Move
Whether you're relocating locally or heading across the country, using portable moving containers is a great way to go about it. When you move with PODS, you can ditch the driving and extra costs for gas and hotels and have the freedom to load and unload on your schedule. We also offer flexible scheduling, which can come in handy for those last-minute or unforeseen challenges. No matter which of these Texas cities you end up in, PODS has locations all over the Lone Star State (and the rest of the U.S., as well as Canada) to help make your move as easy as possible.
---
Alex Keight is a writer who has lived — and moved — all over the country and the world. She is an expert at packing, whether it's for a long-distance move or short weekend trip. She currently lives in the PNW.
Editor's note: Monthly rental prices were rounded to the nearest $25 and home values were rounded to the nearest $100 for ease of reading.
Get a Quote
Choose the service you need
Comments
Leave a Comment
Your email address will not be published. Required fields are marked *