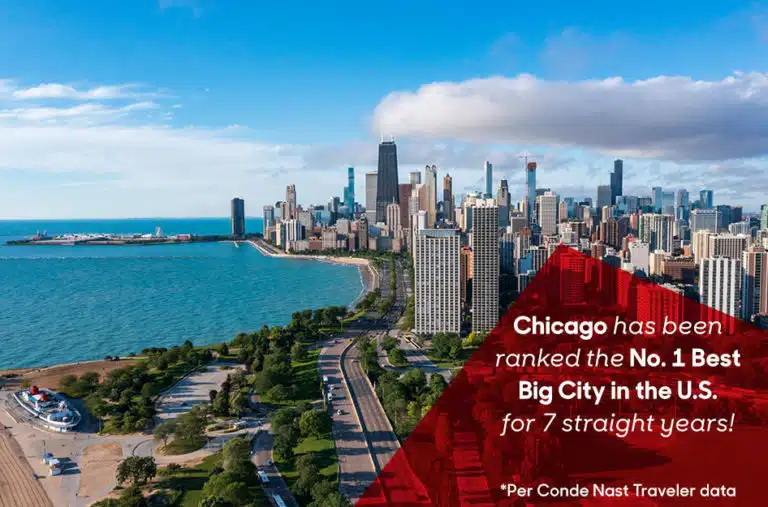 Moving to the Windy City? Here are the Best Places to Live in Chicago in 2022
Chicago might be called the Second City, but there's no doubt the Illinois destination gives every other metropolitan area a run for its money. Music, art, theater, dining, recreation, pro sports powerhouses — there's not much Chicago lacks when it comes to quality of life. And many people agree: Conde Nast Traveler readers have ranked Chicago the No. 1 Best Big City in the U.S. for seven years in a row.
One big reason why people love the city so much? The surrounding neighborhoods and towns that make up Chicagoland are pretty stellar. So stellar, in fact, that we've put together a quick guide to the best places to live in Chicago — including the 'burbs. But before we dive in, let's talk about a few of those nicknames we always hear to get some revealing insight into what makes Chi-town tick:
12 Chicagoland Neighborhoods to Explore
No matter where you land in the metro Chicago region, the array of arts and entertainment, dining, and sports and recreation is beyond abundant. From the Magnificent Mile and its dazzling shopping options to the Art Institute of Chicago, the Navy Pier, and Millennium Park, there is quite literally something for everyone's taste. And with a public transportation system second only to New York City's, Chicago keeps it all within easy reach: The Chicago Transit Authority has eight train lines and 129 bus routes, and the high-speed Metra rail connects the suburbs to the city center.
Here's a look at our favorite suburban-Chicago neighborhoods — including close-in districts and a few far-flung but still accessible areas worth checking out. And, of course, each 'hood has its own flavor and vibe, so picking the best for your move depends entirely on what you're looking for. Who knows? One on the list could be your kind of town!
1. Bucktown
About 30 to 40 minutes to downtown via public transportation, Bucktown has become a sought-after neighborhood with a more affordable profile than its super-pricey hood next door, Lincoln Park. And with all the amenities in Bucktown, there's really little reason to go into downtown Chicago, anyway. Live music venues, dozens of restaurants, and an abundance of parks are at your doorstep in Bucktown, one of the best places to live in Chicago for young adults. Check out the Bloomingdale Trail, known as the 606, a once-abandoned rail line that's been transformed into a three-mile multi-use greenspace.
2. Naperville
Situated about 30 miles west of downtown, Naperville is actually the third-largest city in Illinois – after Aurora and, of course, Chicago itself. The city was named Niche's 2021 and 2022 Best City to Raise a Family, and the reasons are endless. For starters, the Riverwalk along the DuPage River draws residents and visitors alike to stroll its two miles. Rent a paddleboat, kayak, or paddleboard for an afternoon at the Paddleboat Quarry, and cap the day with dinner at the Riverwalk Cafe.

3. Evanston
Getting to the downtown Chicago Loop will take about 30 minutes from this cozy suburb on the shore of Lake Michigan. A bit pricier than some neighborhoods, Evanston boasts among its half-dozen beaches Lighthouse Beach, home of the Grosse Point Lighthouse. This historic site was built in 1873 as the main beacon guiding traders from the Northeast into Chicago. At its heart, Evanston is a college town — home to the prestigious Northwestern University — with a quaint downtown area of restaurants, retail, and *arts and music venues. Check out Bill's Drive-In on Asbury Avenue, a local mainstay for burgers, sausage, and famous Chicago hot dogs since 1949.
4. Oak Park
A vibrant downtown district makes Oak Park a desirable suburb — the next-best-thing to living in center-city Chicago – with just a 15-minute drive to the Loop. Breweries are plentiful in this cozy region known for tree-lined boulevards and lush greenspaces. Oak Park is also the birthplace of two titans of American culture, Frank Lloyd Wright and Ernest Hemingway. Annual celebrations include the Frank Lloyd Wright Races every October, with a path that takes runners by eight Wright-designed homes, including the famed architect's own home and studio. At the Hemingway Birthplace Museum, restored to look just as it did when the Pulitzer-winning author was born in 1899, visitors can take a guided tour through the Victorian home that was the first in the city to have electricity.

5. Wilmette
Top-tier homes are the hallmark of Wilmette, one of the priciest Chicago suburbs just 15 miles from downtown. Among the village's attractions is The Baha'i House of Worship, one of just seven in the world, and beautiful lakefront parks and beaches.
6. La Grange
The village of La Grange, a cozy suburb of just 2.5 square miles, is named after its founder's hometown in Tennessee. About 15 miles from the Loop, the downtown area is dotted with historic sites, including the La Grange Movie Theater, which opened as a live stage in 1925 and now has four screens. Like Oak Park, the village boasts homes designed by Frank Lloyd Wright, with guided walking tours that showcase the master's designs. Outdoor lovers enjoy Denning, Sedgwick, and Gordon parks, with greenspaces, picnic shelters, playgrounds, ball fields, and trails.
8. Midlothian
One of the more affordable best places to live in Chicago suburbs, Midlothian is a quiet, family-friendly village that boasts almost 60 acres of public park land. The Midlothian Meadows Trail is a three-mile biking and walking trail, part of the Meadows Forest Preserve.
9. Crete
Crete is a peaceful, affordable village about 30 miles south of downtown Chicago — near the top of the list of best places to live in Chicago for families. A public art mural series illustrates the history of the town in a series on area businesses, including crafting stores and antique and collectibles shops.
10. Lincolnshire
About a dozen parks dot the town of Lincolnshire, a suburb about a half-hour from downtown Chicago. At the eight-acre Spring Lake Park, the first village park, residents have gathered to celebrate every Fourth of July for half a century.
11. Park Ridge
Good for: Young professionals, affluent singles
Average monthly rent: $2,580
Typical home value: $510,936
The hometown of former Secretary of State and First Lady Hillary Rodham Clinton and actor Harrison Ford, Park Ridge is among the best places to live in Chicago for young professionals. An affluent suburb with an easy commute to O'Hare International Airport and about 30 minutes from downtown, the village offers a business center of restaurants and shops.
12. Ravenswood
Just 25 minutes from downtown Chicago, Ravenswood is home to Winnemac Park, a 23-acre public greenspace. In the village hub, residents and visitors enjoy a variety of dining options along with locally owned boutiques and other businesses.

If you still haven't decided where you want to put down Chicago roots (and who can choose, with all these options!), give yourself time to get to know the city better by renting a place short term. Take what you need with you, and pack the rest into a PODS portable moving and storage container. You can keep it at a PODS Storage Center for as long as you need to, and when you've found your perfect neighborhood, have it delivered right to your new doorstep. Easy!

Looking for the big-city life but not quite sold on Chicago? Check out the PODS Blog for the inside scoop on moving to New York City, Toronto, Miami and other exciting metro destinations.
---
Shannon Jacobs is a Tampa-based freelance writer and frequent contributor to the PODS Blog. She has lived in Atlanta, the Berkshires, and Nashville, but always returns to the warmth of Florida's Gulf Coast.
Get a Quote
Choose the service you need
Comments
Leave a Comment
Your email address will not be published. Required fields are marked *