The Windy City, The Second City, City of Big Shoulders, The City That Works — if its many nicknames are any indication, Chicago has a lot going for it. With an estimated population of nearly 2.7 million people, it's the third largest city in the U.S. Chicago's motto "herbs in horto" translates to "city in a garden," and points to the splendid (and historic) park system. Offering big-city living, impressive public transit, lakefront beaches, and world-class dining and entertainment — it's no wonder you're ready to take on your Chicago long-distance move!
Use this guide to get acquainted with your soon-to-be hometown and learn some tips and tricks for making your Chicago long-distance move a breeze.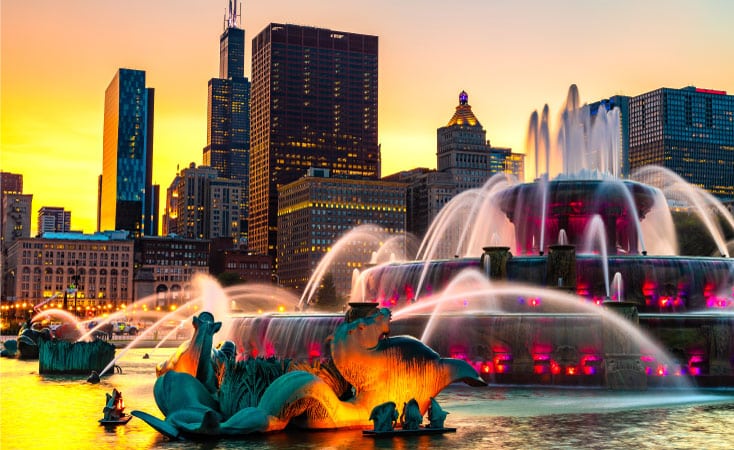 How to Get Ready for Chicago Long-Distance Moving
Long-distance moving can be intimidating, especially if you've only ever moved locally. Add to that the complications that come with moving into a big city like Chicago, and it's enough to make your head spin. Fortunately, there are tried and true moving tips you can utilize to simplify any move. Let's start with the basics.
Iron Out the Details
Once you've made the decision to move, it's time to figure out the where, when, who, and what — starting with the where. Choose your neighborhood and begin your house/apartment search. If you're not sure which neighborhood you want to settle in, consider a short-term rental while you explore the city. You can avoid "moving twice" by moving with PODS. Simply keep the bulk of your stuff stored at a PODS Storage Center until you're ready to have it delivered to your forever home. If you need something in the meantime, just give us a call and we'll have your container ready for you to access.
Set the Date and Choose Your Moving Partner
Whether you're moving by yourself, with family, or friends, you're going to need a moving service to help you get everything to Chicago. You can go the DIY route with a moving truck rental, drop the big bucks on full-service movers, or try a hybrid move with a PODS portable moving container. If schedule flexibility and built-in storage sounds good to you, PODS is the way to go.
Declutter and Downsize Before Your Move
The fewer things you have to move, the easier (and cheaper) your move is going to be. No sense in packing up boxes and boxes of items you don't need, want, or use, just to have them delivered to your new home where they'll continue to sit and collect dust. Do a quick inventory of your things and bag up anything that isn't useful or absolutely adored. Then donate, recycle, or throw it all away. Decluttering first makes packing and unpacking a breeze.
Pack Up Your Belongings Right (and in the Right Order)
You know it. I know it. Packing sucks and it takes forever. But doing it right (and in the right order) always pays off in the end. Start by getting all your packing materials together — moving boxes, tape, markers, labels, and bubble cushioning roll. Pack up rarely used items first (e.g. seasonal clothing, holiday decorations, sports equipment), then work your way through the house, labeling every box with what's inside and which room it belongs to. Check out the PODS Blog for long-distance packing tips to avoid damage.
Use a Moving Checklist
There's a lot involved in moving, and the last thing you want to do is forget something important (like setting up your internet!). Use a moving checklist to keep track of each step of the process, so you don't miss anything.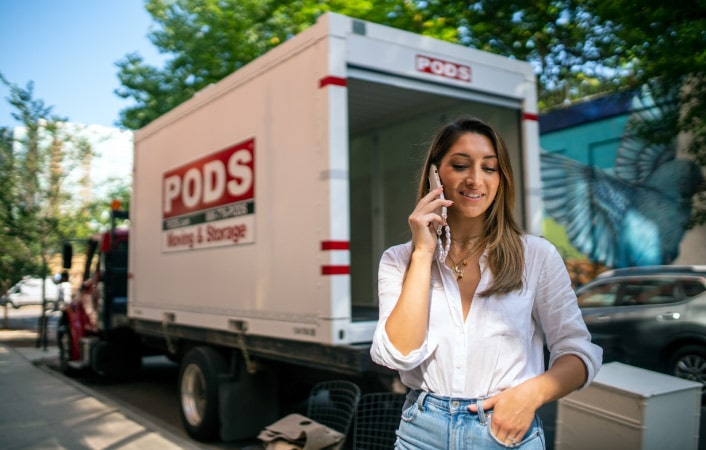 PODS City Service for Big-City Moves
If you're moving into a more urban part of Chicago, limited parking, busy streets, and city restrictions can make a move seem almost impossible. That's where PODS City Service comes in. It's hybrid moving with portable moving and storage containers, designed specifically for big-city moves. Here's how it works:
A PODS portable moving container is delivered right to your home where you can take your time loading it on your own schedule.
When you're ready, PODS will pick up your container and hold onto it until you're ready to have it transported to Chicago.
At your scheduled time, a PODS driver will bring your container to your new big-city home and wait with the truck while you (and your helpers) unload your things from ground level.
While you're unloading your container, the driver will guard it against theft and parking citations while you get it unloaded.
You can also store your container as long as you need, and get easy access to your stuff while it's in a PODS Storage Center.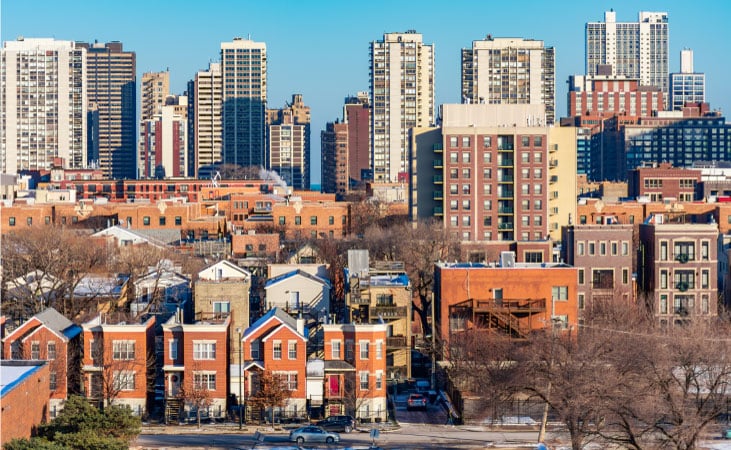 The Best Neighborhoods to Live in Chicago
Deciding to take on the long-distance move to Chicago is the first step in the process, now you've got to narrow it down to the neighborhood. There are plenty of wonderful places to live in The City That Works, but just how wonderful each really depends on what you're looking for. Let's take a look at some of our favorites and see if we can hone in on the best Chicago neighborhoods for you.
NEAR NORTH SIDE & THE GOLD COAST
Good for: Young professionals, history buffs
If you're looking for luxurious living in one of the richest neighborhoods in all of Chicago, then you should definitely check out the Near North Side and Gold Coast area. These neighborhoods offer high-end boutiques, and picturesque residential streets overflowing with charm. Gold Coast is actually known for being the home of the original Playboy mansion, a 30,000 square foot, 70-room limestone residence built in 1899. This area is also located beside the Magnificent Mile, known for its high-end department stores and incredible restaurant scene.
LINCOLN PARK
Good for: families, nature-lovers, walkability
Average monthly rent: $2,150
Median home sales price: $629,000
Lincoln park is a nature-lover's dream. Known for its namesake park, this neighborhood features lovely residential streets, an abundance of lakeside greenspace, and sweeping views of the city. There's always something to explore in Lincoln Park, from the Lakefront Trail and North Avenue Beach, to Theater on a Lake and the Lincoln Park Zoo. And when you've experienced all the outdoors have to offer, you can head to one of the many museums, boutiques, or restaurants in the area.
THE LOOP
Good for: young professionals, culture vultures, walkability
Average monthly rent: $2,714
Median home sales price: $355,000
If you're a young entrepreneur looking for tons of business opportunities, then the Loop is where you belong. Located in the heart of downtown Chicago, the Loop affords easy access to public transportation, restaurants, coffee shops, and (drumroll, please) the award-winning Chicago Riverwalk. This 1.25 mile pedestrian-only path is lined with waterfront restaurants, cafes, bars, museums, public art displays, water excursions — and a stunning view of the city.
STREETERVILLE
Good for: water lovers, families, big-city living
Average monthly rent: $2,970
Median home sales price: $382,000
This stunning enclave affords its residents easy access to Lake Michigan as well as a plethora of indoor and outdoor activities to keep everyone entertained. From the historic Navy Pier (a family-friendly attraction with rides, restaurants, and gift shops) to the Museum of Contemporary Art and the Chicago Children's Museum. Not to mention the Chicago Shakespeare Theater, Winter's Jazz Club, Ohio Street Beach, and more.
LAKEVIEW
Good for: vintage hunters, nightlife, active and laidback living
Average monthly rent: $1,795
Median home sales price: $440,000
Gorgeous lake views? Check. Easy commute to downtown? Check. Laid Back vibe? Check. Bustling nightlife, walking trails, tennis courts, golf course, driving range, boat harbor, amazing restaurants? Check, check, check, check . . . you get the idea. Lakeview is on this list for a reason, or rather a lot of reasons. From arts, culture, comedy clubs, and live music, to boutique shopping and outdoor activities galore, this neighborhood has something for everyone.
Get Excited About Your Chicago Long-Distance Move
Since you're reading this blog post, it's probably safe to assume that you're considering — if not flat-out dedicated to — making Chicago your new home. It's a special city to be sure, but if you haven't spent much time there, you may not be fully aware of all that Chicago has to offer. Whether you've made up your mind already or are still sitting on the fence, it's time to get pumped about The Windy City! Here's our quick list of what you have to look forward to when living in Chicago.
Delicious Food Abounds
WalletHub ranked Chicago among the Best Foodie Cities in America for 2022 — above both Los Angeles and New York City! From classics like the deep-dish and tavern style pizza pies, to Italian beef sandwiches and Michelin-starred restaurants, Chicago has something for every palate. Oh, and speaking of amazing restaurants — Chicago is home to Kasama, the first Filipino restaurant to receive a Michelin star and definitely worth a visit!
All that Jazz
If you're not already a fan of Jazz, prepare to become one when you move to Chicago. In the first half of the twentieth century, Chicago's manufacturing, railroad, and meatpacking industries attracted a wave of new residents to the city. With more people, came more music, and Jazz was introduced to Chicago. With roots in the Mississippi Delta and New Orleans, Chicago-style Jazz (along with Chicago Blues) began its evolution in small local clubs in the South Side before becoming increasingly popular and expanding across the country. Jazz and Blues musicians of the time helped to influence a new wave of genres — including pop, modern rock, alternative music, and more. So, if you're a music fan of, well, anything, you probably have Chicago to thank. Be sure to check out the Chicago Jazz Festival every year on Labor Day weekend.
A Treasure Trove of Architectural Gems
The famed architect Frank Lloyd Wright worked as an apprentice in Chicago before opening his own successful practice in 1893. His home in Oak Park, Illinois, also served as his studio from 1889 to 1909. This home was the first project over which Wright exerted complete creative control and was also where the Prairie School of architecture was born. Wright designed over a thousand architectural works in his lifetime and realized 532. You can tour over a dozen of his completed projects right here in Chicago, including his Oak Park residence, Unity Temple, Robie House, and The Rookery.
Of course, there's much more to Chicago architecture than Frank Lloyd Wright. Be sure to visit Millenium Park and Cloud Gate (aka "The Bean"). Located in the heart of Chicago, this space is one of Chicago's most iconic sights (and selfie spots). Looking up at The Bean's reflective surface, it can seem like the whole of Chicago is looking back at you.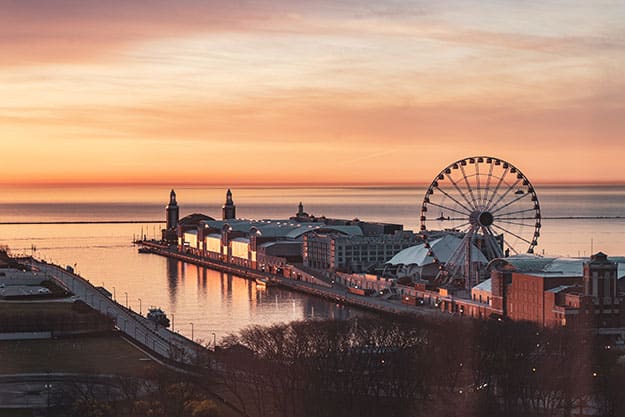 Want to learn more about Chicago beyond the move? Visit the PODS Blog to explore more of the Best Chicago Neighborhoods and learn the 12 Things You Need to Know About Living in Chicago.
Get a Quote
Choose the service you need
Comments
Leave a Comment
Your email address will not be published. Required fields are marked *